The New York Giants go to 0-3 after an embarrassing loss to the previously winless Carolina Panthers.
Full game analysis and grades are below.
Final:
New York: 0
Carolina: 38
New York Giants Game Grades

| | | |
| --- | --- | --- |
| Positional Unit | 1st Half Grade | Final Grade |
| Pass Offense | F | F |
| Run Offense | F | F |
| Pass Defense | B- | C- |
| Run Defense | B- | D |
| Special Teams | C- | D |
| Coaching | D | F |
at Panthers Week 3
Game Analysis for the New York Giants
Pass Offense: The offensive line allowed seven sacks, the receivers struggled to get open and Eli Manning threw an interception in Giants territory that all but sealed the loss early in the third quarter.
New York had some bad games throwing the football in Manning's rookie season. This might have been the worst performance for this unit, however, in over a decade, considering the amount of talent they have at the skill positions.
Run Offense: The final total of 60 yards rushing is actually deceiving. If you take out a 14-yard run by Manning on the first drive of the game and a few decent gains by David Wilson in garbage time, this unit was actually far worse.
The main culprit was an offensive line that looked overmatched by Carolina's front seven.
Pass Defense: For most of the first half, this unit was good, frustrating Newton with consistent pressure and strong coverage in the secondary. However, they fell apart on the Panthers' final drive before halftime and never recovered.
In total, three touchdown passes and 223 yards allowed is a bad performance, especially considering that the Panthers ran out the clock for most of the fourth quarter.
Run Defense: They played fairly well in the first half, with most of the damage coming on runs by Cam Newton. The second half, though, was a different story. The aggressiveness and strong pursuit that was present in the first 30 minutes of the game was clearly gone by early in the third quarter and it never came back.
Overall, they allowed an unacceptable 194 yards rushing.
Special Teams: The only highlight was a first-half fumble recovery by Larry Donnell on a Steve Weatherford punt that first hit the leg of a Panther.
A missed field goal by Josh Brown and short punts by Steve Weatherford contributed to an overall poor effort by this unit. Also, an offsides penalty on a Carolina punt early in the fourth quarter gave the Panthers a first down instead of the Giants offense the ball. Carolina scored its final touchdown of the game a few minutes later.
Coaching: Tom Coughlin and Kevin Gilbride did a terrible job game-planning to contain Carolina's front seven. They also failed to make any adjustments in-game, such as going to hurry-up, shotgun or three-step drops to account for the pressure on Eli Manning.
The halftime speech by Coughlin clearly did nothing, as New York allowed two touchdowns, without an answer, within the first eight minutes of the third quarter.
Finally, the decision to leave Manning in the game until late in the fourth quarter was irresponsible.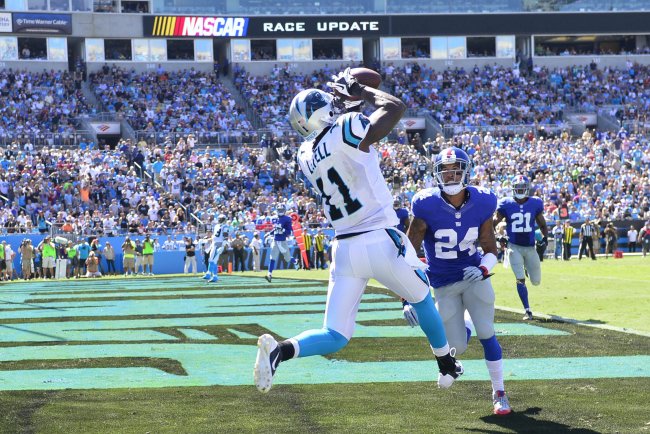 Bob Donnan-USA TODAY Sports
First-Half Analysis for the New York Giants
Pass Offense: Simply put, one of the worst performances by this unit in the Eli Manning era. Terrible protection, an inability for the receivers to get open and Manning's unwillingness to throw the ball away has all contributed to six first-half sacks allowed.
The only positive is that Manning has not thrown an interception.
Run Offense: The offensive line has done a horrible job blocking the Panthers' front seven. They have consistently allowed defenders into the backfield before David Wilson and Brandon Jacobs can get a head of steam.
To make matters worse, the best run of the first half, a 17-yard scamper around the left side by Wilson, was negated due to a holding call on left tackle Will Beatty.
Pass Defense: They've held Newton to a respectable 112 yards passing and a completion rate of under 50 percent. However, they did allow him to heat up on the last drive of the first half, where he accumulated more than half his yardage and threw a 16-yard touchdown pass on 3rd-and-long with less than 20 seconds left.
Aaron Ross deserves credit for an interception and a great break-up of a potential touchdown in the end zone early in the second quarter.
Run Defense: The Panthers have 66 yards rushing but this total is largely due to the running of Cam Newton off pressure or a designed play. Overall, the Giants have done a good job containing what can be a very difficult rushing attack.
Special Teams: A missed 38-yard field goal by Josh Brown highlights the play of this unit. Steve Weatherford's punting has been inconsistent, mixing short and long punts in his five attempts.
Kudos to Larry Donnell on a fumble recovery off a Weatherford punt.
Coaching: The failure of Tom Coughlin and Kevin Gilbride to adjust to the pressure of Carolina's front seven is confusing. They have not tried going to a hurry-up attack once or mixing in a few three-step drops for Manning to get the ball out quicker.
On a positive note, Coughlin's message to protect the ball seems to be finally resonating after three weeks. The Giants do not have any turnovers.
If you want more, follow Tamer's tweets, become a fan or like his Facebook page.