David Haye's Eye Injury Should Not Be Considered an Excuse to Avoid Fight
Shaun Botterill/Getty Images
The highly anticipated fight between David Haye and Tyson Fury was postponed due to an unfortunate circumstance but not anything intentional.
Haye posted on his personal website news about an eye injury that occurred during training that required six stitches. The boxer had this to say about the situation:
Gutted isn't even the word. Mentally, I'm on the floor at the moment. I'm devastated most of all for my loyal fans, my family and my team, as well as Tyson Fury and his team.

I know injuries and cuts are part and parcel of our sport, but this doesn't change the feeling of disappointment and sadness I'm experiencing right now. To everyone who has bought tickets, booked hotels, and followed this fight since it was announced, there is absolutely nothing I can do except apologise from the very bottom of my heart.
He also posted this picture to really show the extent of the injury: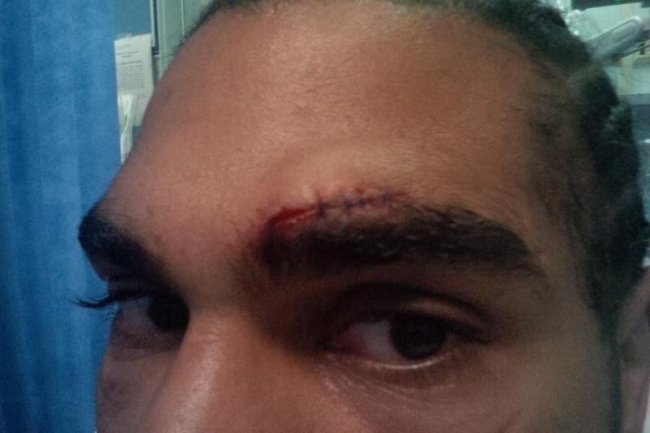 This is obviously a disappointing situation for everyone involved. Fans were set to watch a battle between two of the best heavyweight boxers in the world in a meaningful bout for the future of the division.
Throughout his career, Haye has proven to be an elite fighter who has earned plenty of respect around the sport. He has amassed a 26-2 record and was the WBA heavyweight champion until falling to Wladimir Klitschko by decision in 2011.
If Fury is able to defeat the veteran, it will prove that he is truly one of the top young talents in the sport. The 25-year-old boxer has a 21-0 record, but he is still largely untested. A strong performance against Haye would give the indication that he might be ready for a title shot against Klitschko.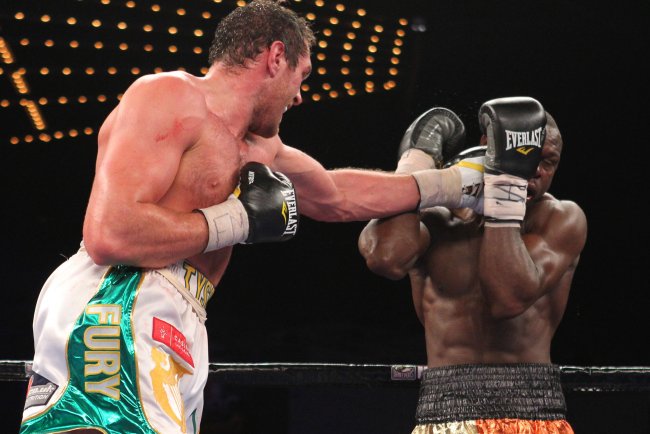 Ed Mulholland-USA TODAY Sports
Unfortunately, it now seems like we will have to wait longer to see these two top boxers in the ring.
While Haye's injury appears to be a freak occurrence, Fury took it personally. After hearing about the incident, he sent this tweet:
Sorry for every1 who bought tickets & hotels. Haye excuses r boring. He don't want to fight me!

— Tyson Fury (@Tyson_Fury) September 21, 2013
It seems understandable for an opponent to make this claim as a way to talk trash before the bout, but this really makes little sense.
Critics will point to Haye's previously scheduled fight against Manuel Charr, which was canceled after the veteran sustained a hand injury. However, he made no intention to reschedule the fight at that time.
In the latest situation, he appears fully intent on making this match happen. In reality, he has as much to gain as Fury, with a possible rematch against Klitschko with a strong showing.
Haye was also favored in the match before the postponement. According to Oddschecker.com, he was the favorite at -350.
ESPN's Dan Rafael and former heavyweight champion Lennox Lewis also believed Haye would have won the bout:
Couple of things: Yes, I saw the photo of Haye's cut and I also had picked him to win by knockout. #boxing #nothistoe

— Dan Rafael (@danrafaelespn) September 21, 2013
Funny thing about Fury is that I think he stopped liking me when he heard that I thought Haye would beat him. #TruthHurts

— Lennox Lewis (@LennoxLewis) September 17, 2013
There is simply little reason to fake an ailment to get out of a match he likely would win anyway.
The consecutive injuries are nothing more than a bad coincidence and not some sort of conspiracy to avoid tough fights. At this point, the only real thing we have learned is that he should probably change his training regimen.
Hopefully, the two sides figure out a way to reschedule the match to provide fans with the show they want to see.
Follow Rob Goldberg on Twitter for the latest breaking news and analysis.
This article is
What is the duplicate article?
Why is this article offensive?
Where is this article plagiarized from?
Why is this article poorly edited?