FYI WIRZ: NASCAR Playoffs Shift North as NHRA Playoffs Blast South to Texas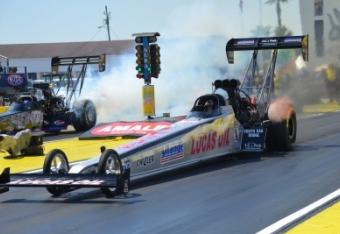 NHRA Top Fuel Dragster warm tires with burnouts before a fast run. Credit: Gary Larsen

The NHRA Mello Yello Drag Racing Series turns south to hot air in Dallas, Texas this weekend for the AAA Texas NHRA Fall Nationals at Texas Motorplex.
Meanwhile, NASCAR is headed north for much cooler air in New England at New Hampshire Motor Speedway in Loudon, N.H.
Both motorsports series will be in the heat of their season playoffs—Chase for the Sprint Cup for NASCAR and Countdown to the Championship for NHRA—even while the air temperature has a frequent 20-degree difference for them.
These race cars have a big variance as well—as much as a 7000 horsepower difference in Top Fuel compared to stock cars. NHRA fuel classes use volatile nitro methane for an extreme burst of power.
The biggest difference, of course, between NASCAR and NHRA is that stock cars turn left and sometimes right in fast traffic, while drag cars go straight side by side at higher speeds.
NHRA has four professional levels: Top Fuel Dragster, Funny Car, Pro Stock Car and Pro Stock Motorcycle. All will compete in Texas.
Top drivers will face fierce competition that will line up for four final rounds after qualifications. Only one driver will be left standing in each class.
It's often said that fans need to go to an NHRA event to experience the power and visual effects—burst of noise, tire smoke, vibration, incredible acceleration and the rapid occurrence of speed to the win light.
Leading drivers had comments prior to the fast action. The thoughts of experienced drivers who routinely risk speeds of 190 mph on a motorcycle, 210 mph in a car and more than 300 mph in a fuel car can be compelling.
Spencer Massey in Top Fuel Dragster knows that muscling 8000 horsepower is no easy task, but he is eager to get on track.
"It would mean a lot to me to win at Texas Motorplex," Massey said. "I've been coming here since I was a little kid, dreaming of driving Top Fuel here. We've definitely got momentum on our side heading into Dallas."
Massey leads second-place driver Shawn Langdon by only 24 points, a little more than one round.
"We just can't go out there and beat ourselves," Massey said. "That's what we've said all season long. Now it's time to show it."
Matt Hagan in Funny Car has the largest point lead in NHRA pro classes right now at 82. That might seem as if he has about four rounds to spare, but that's not the way he called it recently.
"We're starting off with good momentum going into Dallas," Hagan said. "I'm just going to go up there and do my thing like I have been doing all year long. It's a tough Funny Car class. We've been consistent all year. We're aiming to do that these last five races."
Mike Edwards has won one championship in Pro Stock Car and had a 200-point buffer before the 2013 Countdown playoff reset. He and his team still have momentum and lead by a slim 10 points or half of a round after Jeg Coughlin Jr. won the first playoff race. Edwards commented on the big prize.
"Everybody wants to win the championship," Edwards said. "Right now there is no dominance in Pro Stock. It's going to be anybody's championship. It's just going to be whoever makes the least mistakes. Whoever runs the best, and it's a team effort.
Jeg Coughlin Jr. has won four Pro Stock Car championships and wheeled his JEGS.com Dodge Avenger to the first win in the current Countdown to the Championship in Charlotte. Coughlin shared his fast thoughts.
"We won't be changing our mindset at all, "Coughlin said. "We're going to race Dallas as if it was the first race in the playoffs. We can't let up at all."
Coughlin remembers last year when teammate, Allen Johnson, won the coveted Wally trophy at Dallas, Texas.
"What sticks in my mind about Motorplex was A.J. climbing on his hood scoop in a cowboy hat and rode like it was a bucking bull," he said. "It's pretty neat that the winners get a cowboy hat and I'd sure like to earn myself one this time through."
Hector Arana Jr. in Pro Stock Motorcycle has been a two-wheel force all year, and by his tone, he has plans to keep rolling.
"Points matter," Arana said. "We've got to stay focused and still take things one round at a time. We can't go out in the first round. We can't go out in the second. We have to go rounds."
Arana Jr. and team seem to have good results planned.
"We have good notes from Dallas from last year," he said. "We seem to run strong there. We'll take our best tune-up and go from there."
The roar of the engines and feel of vibration will no doubt thrill fans with tickets for the Dallas stands soon. For fans and new viewers not in Dallas, ESPN2 will air the eliminations show at 8:30 p.m. on Sunday.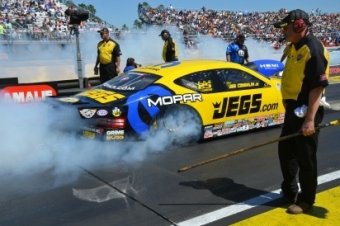 FYI WIRZ is the select presentation of topics by Dwight Drum at Racetake.com. Unless otherwise noted, information and all quotes were obtained firsthand or from official release materials provided by sanctioned and team representatives.
This article is
What is the duplicate article?
Why is this article offensive?
Where is this article plagiarized from?
Why is this article poorly edited?