Bismarck Du Plessis and 10 Other Controversial Red Cards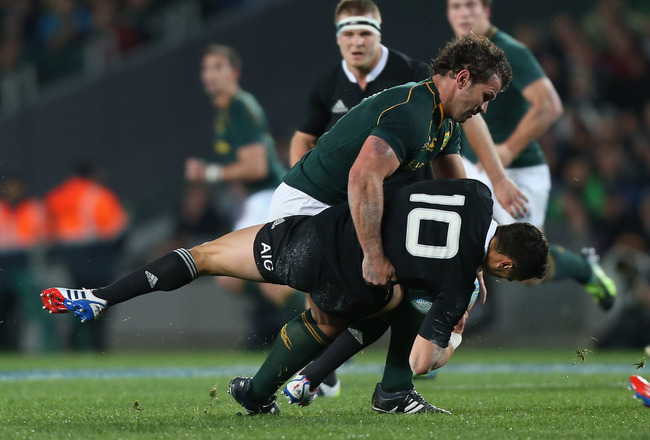 Sandra Mu/Getty Images
Last weekend saw Bismarck Du Plessis sent for an early shower after receiving two yellow cards in South Africa's Rugby Championship loss to New Zealand.
A decision that would eventually go on to have a massive impact on how the game's second half panned out, many would have been justified in their suggestions that at least one of the prop's cautions wasn't deserved.
Whether it's due to the circumstance in which the player was sent off or because of a debatable decision from the referee, let's take a look at some of the more controversial decisions from down the years.
10. John Hayes' Stamp on Cian Healy
John Hayes wasn't always the most aggressive of players, but he also wasn't one to shy away from a scuffle, as he showed in a tense 2009 Magners League encounter between Munster and Leinster.
The former Irish international was caught here stamping on the head of then up-and-coming front-rower, Cian Healy, and was soon shown red for his volatile reaction.
Ironically enough, Healy, the man on the receiving end in this instance, would go on to be caught in a stamping controversy of his own four years later.
9. Ali Williams Stamp
In a 2005 Super Rugby fixtures between the Blues and Crusaders, Ali Williams showed that the brotherly bond between New Zealand internationals only runs as deep as the All Black strip they're donning.
Losing badly to a team led by Richie McCaw, Williams proceeded to not just stamp, but repeatedly claw at the head of his international compatriot, deservedly being shown an early exit as a result.
In rugby and the southern hemisphere game more specifically, blood often boils over into savage pieces of physical play, but Williams' habits for the vicious were on full display in this instance.
8. Adrian Morley Gone in 12 Seconds
Somewhat of an exception given that it took place in a rugby league fixture, but Adrian Morley's contender for quickest red card ever deserves it's place among a list of most controversial sendings off ever.
Clearly looking to make his mark in an international meeting between Australia and Great Britain, the towering Englishman wipes out Robbie Kearns with his first contribution of the match, writing himself into the game's history books in the process.
As a result, Morley left his side with a disadvantage for 79 minutes, showcasing his nature for being overzealous.
7. Chris Hala'ufia's Monstrous Challenge
In rugby, there's hardly ever two tackles that are absolutely identical, meaning that referees have to take illegal matters on a case by case basis.
One might argue that this massive hit on Seb Jewell courtesy of Chris Hala'ufia was within the regulations, but there is evidence to defend the referee's decision in this case.
6. Montpellier Brawlers
Sometimes, a red card can spill over from the individual matters and into more of a team effort, just as Montpellier discovered in a European fixture against Northampton Saints.
It's often difficult for a referee to keep a hold of matters and decide just who's worthy of some time on the sidelines when maximum entertainment is also a priority.
In this case, the French outfit had two pretty senior figures shown the red, although some might say that Saints deserved a dismissal of their own.
5. Jannes Labuschagne Targets Jonny Wilkinson
At the height of his ability, Jonny Wilkinson was the very heartbeat of the English national team from which everything was created.
Jannes Labuschagne was clearly aware of this fact and left his South African teammates with just 14 men on the pitch after clearly following through late on the English playmaker during a 2002 encounter.
4. Sergio Parisse off for Dissent
An aspect of rugby that's not as evident as it is in other sports, dissent is something that players are generally quite good with, paying respect to their officials for the most part.
However, Sergio Parisse was adjudged to have overstepped his mark during a Stade Francais match against Bordeaux, where the referee felt his words to have been a step too far.
The Italian talisman was sent for an early shower as a result, but one can see from Parisse's reaction that he was in a genuine state of disbelief concerning the incident.
3. Sam Warburton's World Cup Tip Tackle
In a vital World Cup semi-final clash between France and Wales, Sam Warburton was denied the chance to lead his side to 2011 glory after he was shown a straight red for this tip tackle on Vincent Clerc.
Given the stage of the competition and the fact play was only in the 18th minute, there was swirling controversy that might still go on to this day as to whether a yellow card may have been more just on referee Alain Rolland's behalf.
In the end, Wales would go on to lose by just a single point in the 9-8 result and one might think an in-form Warren Gatland side may still have gone on to challenge New Zealand for the world title.
2. Dylan Hartley Insults Wayne Barnes
One more case where a player has been deemed a little too comfortable in their surroundings came earlier this year when Dylan Hartley was sent off for having insulted referee Wayne Barnes.
Barnes noted that he had already warned the Northampton hooker of talking too much, and the season's Premiership final was influenced majorly as a result.
1. Duncan McRae Pummels Ronan O'Gara
Among the most obviously savage acts on a rugby pitch, Duncan McRae temporarily traded his rugby career in for a life of bare-knuckle boxing when the British and Irish Lions came to face the NSW Waratahs in 2001.
The Australian saw his opportunity and took it as he laid into O'Gara for one of the most iconic moments of any Lions tour, where O'Gara's face said everything that need be said.
An ugly example of what rugby can sometimes turn into, McRae's actions are the kind that send out a bad image of the sport.
Keep Reading