Why Danny Garcia Deserves a Shot Against Floyd Mayweather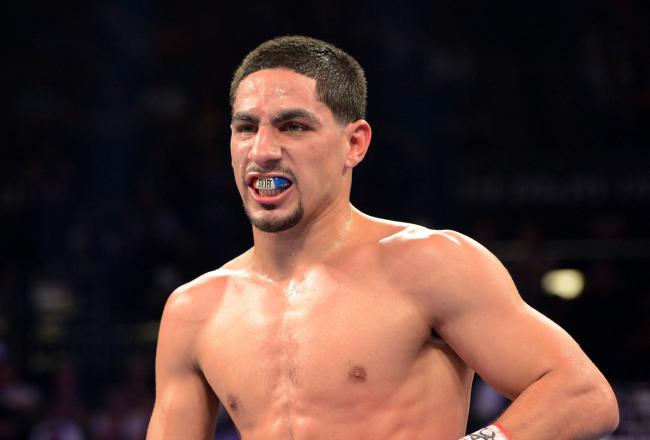 Jayne Kamin-Oncea-USA TODAY Spor
Junior welterweight Danny Garcia defeated Lucas Matthysse Saturday night in Las Vegas to prove he deserves a shot against pound-for-pound king, Floyd Mayweather.
Garcia, 25, of Philadelphia, stood toe-to-toe with the wrecking ball named Matthysse, 30, of Argentina, to prove his elite status in the kingdom of boxing. If Mayweather is the king, Garcia is at least a prince.
Who should Floyd Mayweather face next?
Undefeated and now lineal champion of the junior welterweight division, Garcia has nowhere to go but up. Literally.
Up, of course, is where Mayweather lives now: fighting at the welterweight limit and beyond.
Mayweather's dominant win over Canelo Alvarez in Saturday's main event made the former 130-pounder the lineal champion of 154 pounds. Impressive in its own right, it's almost nothing compared to the mastery Mayweather displayed against a larger, younger opponent. Such a performance gives pause to even the most ardent doubters of the 36-year-old.
Can Mayweather be beat? Maybe not.
But Garcia has now faced and defeated opponents who'd look impressive on any man's ledger. Garcia has now defeated Amir Khan, Erik Morales, Zab Judah and Matthysse in succession, via BoxRec.com.
And each bout seemed to teach him something different.
Against Khan, Garcia learned the remedy for blazing hand speed was timing and power mixed with fearless gumption. He thumped the former British Olympic star in just four rounds.
Against Morales, a rematch of Garcia's unanimous decision win seven months prior, Garcia blasted out the aging veteran in heinous fashion—just as a young, hungry champion should. In Round 4, Garcia planted Morales to the canvas for good.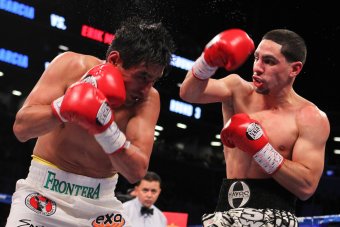 Ed Mulholland-USA TODAY Sports
When he faced Zab Judah earlier this year in April, Garcia found himself in deep waters against a talented veteran fighting in front of his home crowd looking to capture his last bit of glory. Judah looked good in spurts. But Garcia was the one who could swim the entirety of the night, so he took home the bloody but unanimous decision victory.
And against Lucas Matthysse, the hard-hitting monster of mayhem, a man referred to as "The Machine," Garcia proved something sometimes forgotten among boxing people. The best way to beat a puncher is sometimes to outfight him.
The astute Bart Barry noted this in his Monday column for 15rounds.com. Very few punchers, he said, men who can exterminate their opposition with one punch like Matthysse can, "respond effectively to someone hitting them back."
But Garcia knew this, and while it flies in the face of the natural reaction to a concussive force like Matthysse heading your way, Garcia did exactly what he had to do on Saturday night to win the fight. From Barry:
It is what Garcia did in Saturday's meaningful fight – "The One," as it were – each time Matthysse landed clean, whether with a right cross or left hook; Garcia followed his plan, resolute in a belief that if Matthysse was striking him hard, Matthysse was overcommitted and therefore open to be struck hard.
Judging by the social media crowd on Twitter, very few fight fans and media (myself included) expected Garcia to defeat Matthysse. Fewer still would've said he'd close Matthysse's eye early on in the fight, or batter him to the ground in the 11th.
In fact, if you had asked your favorite boxing pal who was going to win the fight beforehand, you'd have been hard-pressed to find someone brave enough to pick Garcia.
But Garcia doesn't rely on the bravery of others. He has enough of that himself.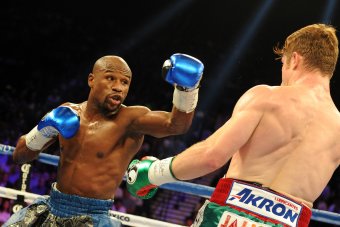 Jayne Kamin-Oncea-USA TODAY Spor
He'd need it against Mayweather. The former Michigander, who now fights out of Las Vegas, is the preeminent force in the fight game today. He's outlasted every one of his rivals to the point that it is now borderline absurd to hail him anything other than the greatest pugilist of his era (Manny Pacquiao notwithstanding; there is an argument for him, too).
And when the lights are raised on fight night, when fans pore into the arena and millions of people spend gobs of money to watch the bout from miles and miles away, no one is more comfortable in it than Mayweather.
But there's something about this kid from Philadelphia. He's young, fearless and now a proven commodity in the sport. He's quick, packs a wallop in each fist and brave enough to not know when he should lose.
Garcia deserves a shot.
This article is
What is the duplicate article?
Why is this article offensive?
Where is this article plagiarized from?
Why is this article poorly edited?