Ranking Blue Jays' Top 10 Prospects After the 2013 Minor League Season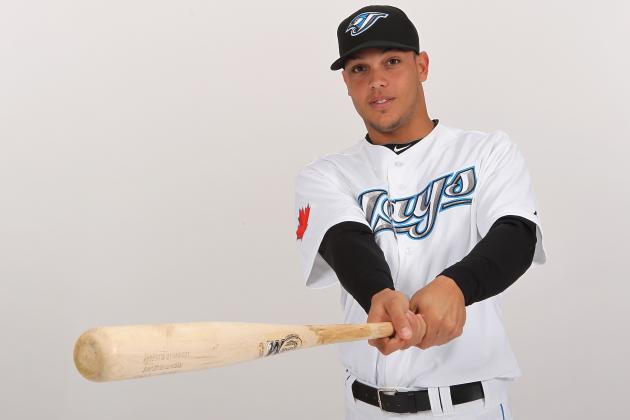 Nick Laham/Getty Images

As the 2013 minor league season comes to an end, it means the end of the year for some players. A few will join MLB clubs as September call-ups but many will begin to look forward to the 2014 season.
The Toronto Blue Jays farm system includes the Buffalo Bisons (Triple-A), New Hampshire Fisher Cats (Double-A), Dunedin Blue Jays (Single-A) and Lansing Lugnuts (Single-A), as well as a number of other teams including the Vancouver Canadians and Bluefield Blue Jays.
The Blue Jays have top prospects playing in every level of their minor league system and now have a full year of baseball on which to evaluate them.
So how did the Toronto Blue Jays top prospects fare this season? Let's have a look.
The following rankings are courtesy of MLB.com
Statistics courtesy MiLB.com
Begin Slideshow

»
2013 MiLB statistics: 22 G, 4-5, 3.34 ERA, 88.1 IP, 40 BB, 70 K
Aaron Sanchez was ranked as the number one prospect in the Blue Jays organization at the beginning of the season for two reasons. The first is that he is an elite young talent, and the second is that the Blue Jays traded away a lot of their top prospects in the offseason.
The fact that they held on to Sanchez speaks volumes about the organization's belief in him as a future MLB ace moving forward.
Sanchez played the entire season with Single-A Dunedin Blue Jays. He was on a strict pitch count all season, but still managed to pitch 88.1 innings and strikeout 70 batters.
Next year the Blue Jays will likely start treating Sanchez more like a professional and less like a kid meaning he will be able to pitch more and develop more. Based on this tweet which Sanchez retweeted, it seems like it is what he wants.
If Sanchez can improve on his control, and in doing so cut down on his walks, he should have no problem making the jump to the next levels.
Expected ETA: 2015
2013 MiLB statistics: 10 G, 3-5, 5.53 ERA, 42.1 IP, 11 BB, 51 K
Roberto Osuna only made ten starts this season but at just 18 years old, his work load should not be the focus of his evaluation. Whereas most 18-year-olds are still playing amateur baseball, Osuna has had the opportunity to have professional coaches guide his development in Single-A Lansing.
Don't be too worried about his 5.53 ERA either. Osuna has an above average fastball that can reach into the mid-90s and a slider that has been developing well since he turned pro.
The Blue Jays were cautious with him this season and will most likely continue to keep him on a strict pitch count throughout the 2014 season as well. Although he has the talent, and is developing nicely, do not expect the 18-year-old to make his MLB debut for a number of years.
Expected ETA: 2017
2013 MiLB statistics: 20 G, 9-5, 3.30 ERA, 111.2 IP, 27 BB, 129 K
Marcus Stroman entered the Blue Jays organization in 2012 as a highly regarded relief pitcher out of Duke University. He was suspended 50 games for violating the Minor League Drug Prevention and Treatment Program but had a season to remember when he returned.
Stroman was dominant in his transition from the bullpen to the starting rotation as he struck out 129 batters while walking only 27. He pitched a lot of innings and kept opponents batting average to just .234.
Some people, myself included, think that Stroman would have made a nice addition to the Blue Jays as a September call up, but regardless he had a great season. What does Stroman think? You be the judge.
Expected ETA: 2014
2013 MiLB statistics: 24 G, 2-7, 3.97 ERA, 90.2 IP, 46 BB, 100 K
Daniel Norris spent the entire season in Single-A, spread between Lansing and Dunedin and put up some decent numbers.
Norris has an athletic build that has allowed him to compensate for some weak pitching mechanics. He will need to refine his motion to be successful as he progresses. He has a solid fastball and has the potential to develop a plus changeup and serviceable curveball as well.
Norris issued far too many walks this season and will need to work on his control in order to become the elite pitcher the Blue Jays hope he can be. There is work to be done on Norris' game but the potential is certainly there.
Expected ETA: 2016
2013 MiLB statistics: 20 G, 3.01 ERA, 110.1 IP, 35 BB, 116 K
Sean Nolin made his MLB debut this season and the results were less than favorable, unless you are a Baltimore Orioles fan. The Orioles roughed him up for six runs in just an inning and a third before he was sent back to the minors to continue his season.
Double-A and Triple-A were much kinder to Nolin where he appeared in 20 games and recorded a 3.01 ERA. He has an average fastball and curve, but a strong changeup. As with most young pitchers, Nolin needs to improve on his control to be successful at the highest levels.
Expected ETA: 2014
2013 MiLB statistics: 35G, 2.17 ERA, 49.2, 15 BB, 53 K
John Stilson spent the entire season coming out of the bullpen for Double-A New Hampshire and Triple-A Buffalo where enjoyed moderate success. He held opponents to a .217 batting average and even recorded five saves on the season.
He has battled shoulder injuries his whole career but in his first full season, he proved he can handle the workload. He has a plus fastball that can reach above 95 MPH, a good changeup as well as a curveball and slider.
Stilson projects to be a relief pitcher or a middle of the rotation starter. Do not be shocked to see Stilson spend significant time with the Blue Jays next year.
Expected ETA: 2014
2013 MiLB statistics: 58 G, 225 AB, .240/.323/.418, 54 H, 6 HR, 25 RBI, 26 BB, 76 K
DJ Davis spent his rookie season with the Bluefield Blue Jays in the Rookie Appalachian League. He stole 13 bases in 2013 and added 21 extra base hits. He has the potential to be a threat at the plate and on the base paths, but at just 19 years old, it is too early to tell how he will develop.
In 2014, he will most likely start the season in Single-A and if he can continue to play the way the Blue Jays believe he can, he will make his way through the farm system rather quickly. Whereas the Blue Jays tend to be cautious with young pitchers, they are not afraid to test their young outfielders at an early age (Anthony Gose, Kevin Pillar, Moises Sierra).
Expected ETA: 2016
2013 MiLB statistics: 6 G, 22 AB, .227/.414/.409, 5 H, 2 RBI, 6 BB, 6 K
Anthony Alford appeared in only 6 games for the Bluefield Blue Jays this season before leaving the team to play football at Southern Miss.
Alford has the potential to be a true power hitter moving forward, but while his focus is split between two sports he will not be able to refine his raw talent. He has plus speed, something that has helped him on the football field and the basepaths in his career.
Although Alford has yet to commit to either sport, the potential upside for the Blue Jays if he chooses baseball is enormous.
Expected ETA: 2017
2013 MiLB statistics: 67 G, 261 AB, .287/.332/.406, 75 H, 4 HR, 38 RBI, 18 BB, 42 K
One of the most exciting prospects in the Blue Jays organization is AJ Jimenez. After starting the year on the injured list, Jimenez made his 2013 debut in Single-A. However, he did not last long as his play warranted a promotion to Double-A New Hampshire. He spent the majority of his season there where he hit .276 with 29 RBI before being promoted to Triple-A.
Jimenez has an outstanding arm as well as the ability to hit for power and contact. He has always been considered to be a defense first catcher, but this season he proved he can swing the bat as well.
Catcher is not a heavily crowded position within the Blue Jays organization, so don't be surprised to see Jimenez continue his climb through the farm system next season.
Expected ETA: 2014
2013 MiLB statistics: 15 G, 0-2, 7.01 ERA, 25.2 ERA, 26 BB, 27 K
The third left handed pitching prospect in the Blue Jays Top 10 is Matthew Smoral. The other two, Sean Nolin and Daniel Norris are expected to be with the Blue Jays before Smoral, but don't discount the 6'8" leftie from making his way to the MLB.
Smoral spent the year with the Bluefield Blue Jays in Rookie Ball and although he posted a 7.01 ERA, he made some positive strides. He has the ability to develop a plus fastball, which he can currently throw at 92 MPH, and a strong changeup.
He has a lot of development ahead of him, but a big left handed pitcher such as Smoral is a valuable commodity that the Blue Jays would like to see develop.
Expected ETA: 2017
Hit me up on Twitter: Follow @applebyinc