Fight of the Year Watch: September 2013 Edition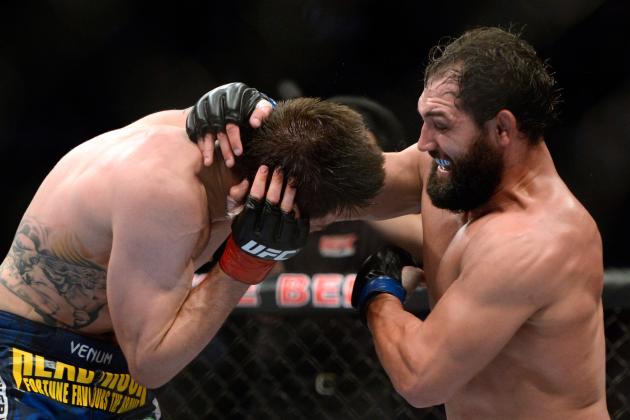 Eric Bolte-USA TODAY Sports

MMA has supplied us with numerous excellent fights this year. A great fight does not have a blueprint.
It could be an all-out brawl, a back-and-forth affair or a spectacular display of elite level technique between two of the world's best. It doesn't hurt to have something big on the line or significant interest behind the bout that adds to the overall feel of the fight.
There is no secret formula to having a great fight.
2013 has had a collection of excellent bouts that covers many of these areas.
As September rolls on toward UFC 165, this is your Fight of the Year watch list.
Begin Slideshow

»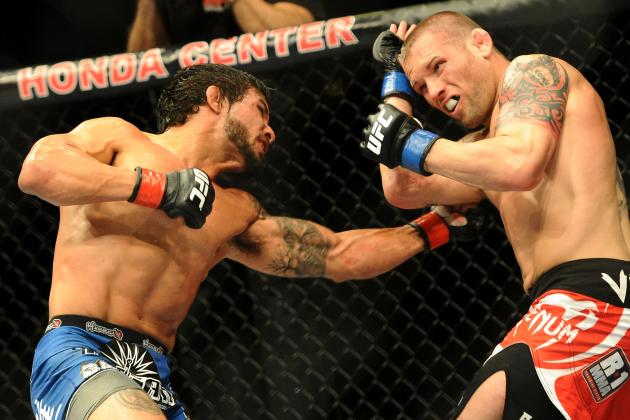 Jayne Kamin-Oncea-USA TODAY Sports

Event: UFC 157
Official Result: Dennis Bermudez defeats Matt Grice by split decision (29-28, 29-28, 28-29).
There was not much hype surrounding this fight at UFC 157, but it quickly stole the show.
Matt Grice and Dennis Bermudez went back and forth early in the first round, and Grice dropped Bermudez with a left hook late in the round. It would seem that Grice had the early advantage in the bout.
Despite landing the left hook repeatedly in the second frame, Bermudez's pressure won the round for him on two of the three judges' scorecards. It would turn out to be the deciding factor in the fight, and one that would cost Grice the decision.
Bermudez stormed back in the third by hurting Grice again and again. Grice managed to avoid being stopped, but the dominant round allowed Bermudez to capture the win. The exciting featherweight bout was virtually too close to call, but the judges found a way to raise a few eyebrows.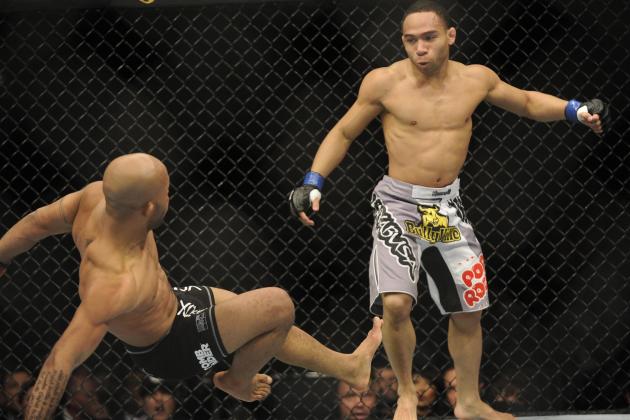 David Banks-USA TODAY Sports

Event: UFC on Fox 6
Official Decision: Demetrious Johnson defeats John Dodson by unanimous decision (48-47, 49-46, 48-47).
The main event of UFC on Fox 6 was for the UFC Flyweight Championship, and it kicked off in excellent fashion. Demetrious Johnson and John Dodson had a high-level competitive first round. It was a true MMA round with fantastic stand-up, amazing transitions and takedowns.
Dodson hurt Johnson in the second round, but the champion's resolve was on display as he quickly recovered. Dodson was tired, but he was never out of the fight. Johnson was able to retain his title with a unanimous decision that was only one round difference on two judge's scorecards.
The quality of action and importance of the bout puts it in at No. 4 on the watch list.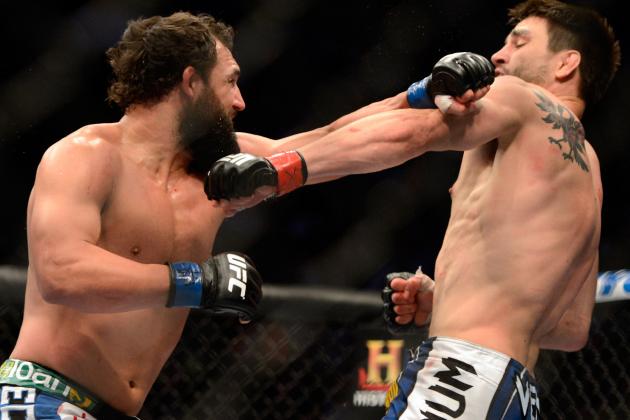 Eric Bolte-USA TODAY Sports

Event: UFC 158
Official Result: Johny Hendricks defeats Carlos Condit by unanimous decision (29-28, 29-28, 29-28).
Georges St. Pierre was set to defend his UFC Welterweight Championship against Nick Diaz in the main event, but the co-main event was going to determine the next challenger. In spite of being the co-main, they outshined the champion.
Sadly, this was only 15 minutes long. However, the two top ranked welterweights put forth one hell of a showing.
They came out and looked for the knockout. When Hendricks was threatened he took Condit down, but the former title challenger repeatedly sprung back to his feet. They came out as the Fight of the Night at UFC 158.
When Bruce Buffer accidentally called this fight the main event of the evening, he could not have been more right.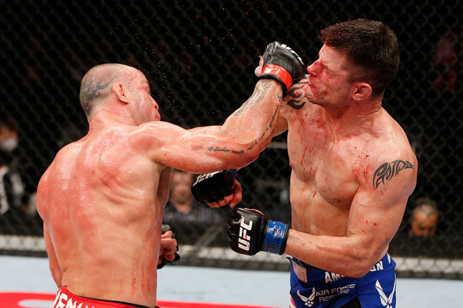 Photo by Josh Hedges/Zuffa LLC/Zuffa LLC via Getty Images
Event: UFC on Fuel TV 8
Official Result: Wanderlei Silva defeats Brian Stann by KO at 4:08 of the second round.
For many, this is the Fight of the Year. They can make a valid case, and it definitely deserves consideration as 2013 continues to move forward.
This was not a technical affair.
It was a brawl.
A wild, entertaining and spectacular brawl.
The Saitama Super Arena in Japan is a special place for Wanderlei Silva and it always seems to bring out the best in him. UFC on Fuel TV 8 was no exception. The first round of the fight will be hard to beat for Round of the Year.
The first five minutes of action saw Silva get dropped twice and he returned the favor once on Stann.
It was wild.
The second frame started slower, but they quickly got back after it. Eventually, Silva would hurt Stann and finish the match.
There was not a lot on the line, but they delivered anyway. It was just a fun fight. Capital F-U-N.
Event: Invicta FC 5
I have purposely left out the result of this bout as many still have not seen it. Unfortunately, Invicta does not have the brand or reach of a larger promotion at this point. Thankfully, the organization has made this fight available via YouTube.
Let me set the stage for you:
Jessica Penne won the inaugural Invicta FC Atomweight Championship and this was her first defense. Penne is a well-rounded fighter, but she is known more for her ground work. Penne is one of the tallest in the division and holds a significant reach advantage over much of her opposition.
Michelle Waterson is the challenger. A striker who primarily trains at Jackson's MMA. She has a decent ground game in her own right, but the bout is essentially a striker vs. grappler battle.
All I will say about the bout is that it is high-level MMA at its finest. The fight is beautiful to watch wherever it goes. As 2013 has been the premiere year for women's MMA, this fight gives an MMA fan everything they want out of a fight. And it features high stakes and high drama with it.
Take a half-hour out of your schedule and watch this spectacular battle.