Ranking Boston Red Sox's Top 10 Prospects After the 2013 Minor League Season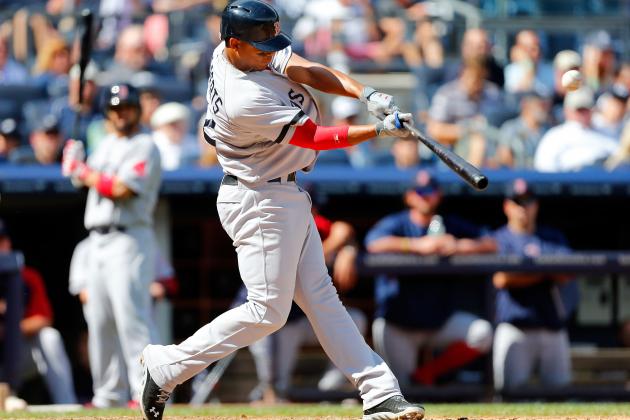 Jim McIsaac/Getty Images
Top prospect Xander Bogaerts is batting .303 through 13 games with the Red Sox
Boston's dismal 2012 season at the major league level overshadowed the organization's enormous progress made on the farm.
This year, many of the prospects that took a step forward last season have played a role in the team's overwhelming success, as they enter Tuesday's game with an MLB-best 92-59 record and are on the verge of clinching a postseason berth.
The Red Sox have received contributions from several top-10 prospects including infielder Xander Bogaerts, outfielder Jackie Bradley, right-handers Allen Webster and Brandon Workman, and even left-hander Drake Britton. While I omitted Workman from this article due to the chance of him eclipsing 50 innings in the major leagues this season, the rest of the aforementioned players should retain rookie eligibility for 2014.
What I like about Boston's system is their combination of hit tools and projectable arms. All of their top position prospects possess a unique feel for hitting and advanced approach, and should continue to move up the ladder quickly as a result. Meanwhile, the organization as a whole boasts numerous future big-league starters, most of whom are already at the Double-A level or above.
Here's a detailed look at the Red Sox's top 10 prospects after the 2013 minor league season.
Begin Slideshow

»
Position: LHP
DOB: 6/27/1994 (Age: 19)

Height/Weight: 6'6", 185
Bats/Throws: L/L
Drafted: First round, 2013 (New Castle HS, Ind.)
ETA: 2017
GCL Red Sox: 7 IP, 6.43 ERA, 2.29 WHIP, .357 BAA, 5/6 K/BB (5 GS)
Scouting Report
Tremendous athlete; height and delivery give big downhill plane to fastball; very long limbs that get great extension on delivery, though tends to cut off arm after release; plenty of room to fill out frame, adding velocity to pitches and power; stands tall over the rubber and generates very good arm speed; needs to use lower half more to relieve some pressure on shoulder, but not a huge concern.
Flashes plus velocity in 92-93 mph range, but will sit 89-91; velocity will improve as he develops physically; could sit mid-90s at maturity; not a ton of movement on the pitch presently, though that should change as he learns to finish delivery; command is inconsistent at present but will get better with age.
Above-average curveball that lacks consistent release point; excellent shape and depth; sits in upper-70s with late break; potential weapon when he learns to command it; still learning to throw changeup; will need to use pitch more as a professional; features late fade in the zone that already induces weak contact; good velo separation relative to fastball; works in 76-80 mph range right now and should will gain a few ticks in the future; good arm speed and natural deception should make it at least an average offering.
Position: 2B
DOB: 10/07/1992 (Age: 20)
Height/Weight: 5'9", 156
Bats/Throws: R/R
Drafted: Fifth round, 2011 (John Overton HS, Tenn.)
ETA: 2015
Low-A/High-A: .314/.417/.506, 93 R, 55 XBH (15 HR), 38 SB, 57/81 K/BB (127 G)
Scouting Report
Plus athlete despite diminutive 5'9", 156-pound build; outstanding feel for the game; showcases plus speed on both sides of the ball; right-handed hitter with plus bat speed; short and quick to the ball; loose hands; preternatural bat-to-ball ability with barrel control; development of over-the-fence power, in addition to his present gap power, has his stock on the rise in a big way; approach is geared towards entire field, but he's not afraid to turn on the ball; plate discipline is among the best in the minor leagues; highly advanced pitch recognition.
Solid defender at second base who will continue to improve; not particularly flashy, but makes all the plays; range is above average; has athleticism to handle any position on the field; average arm strength.
Position: RHP
DOB: 09/09/1989 (Age: 24)
Height/Weight: 6'7", 230
Bats/Throws: R/R
Drafted: First round, 2010 (Louisiana St.)
ETA: 2014
Double-A/Triple-A: 140 IP, 2.96 ERA, 1.14 WHIP, .219 BAA, 127/47 K/BB (25 G/24 GS)
Scouting Report
6'7", 230-pound right-hander has power frame ideal for eating innings; works from high three-quarters arm slot; struggles to work on consistent downhill plane and get on top of pitches; repeatable, low-effort delivery; good tempo; lacks deception.
Fastball sits in the 89-93 mph range; pitch lacks movement when he doesn't get on top; decent arm-side action when working down in the zone; flat and very hittable when elevated; will always throw strikes, but fastball command is inconsistent; slightly above average offering overall.
Throws a big overhand curveball at 77-82 mph; two-plane break with some downer action; serves as his go-to offering; feel for adding and subtracting; only bat-misser in his arsenal; changeup is a below-average pitch; inconsistent arm speed and finish; tends to push or float it at 81-85 mph; will need to be at least average to be a starter in the major leagues.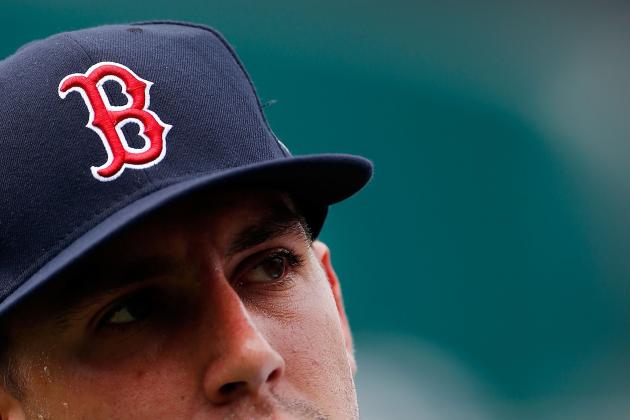 Jamie Squire/Getty Images

Position: RHP
DOB: 6/17/1990 (Age: 23)
Height/Weight: 6'4", 205
Bats/Throws: R/R
Drafted: First round, 2011 (Connecticut)
ETA: 2014
2013 Stats
Double-A:/Triple-A: 113.1 IP, 4.13 ERA, 1.44 WHIP, .261 BAA, 142/48 K/BB (25 GS)
Scouting Report
6'4", 205-pound right-hander has a tall, durable frame; built for innings; clean, repeatable mechanics that result in effortless velocity; high three-quarter arm slot creates good downhill plane; works from third-base side of the rubber; slight wrap at the end of his arm stroke.
Best pitch is his fastball, which sits around 94-96 mph; holds velocity deep into starts; commands the pitch to both sides of the plate; uses it to dominate inferior hitters; curveball has a nice shape with two-plane break and decent bite; command of the pitch needs refinement; too easy to recognize out of his hand; flashes above-average potential; throws changeup too firmly in the mid- to upper-80s; lacks feel for the pitch; average potential.
Position: C
DOB: 4/3/1992 (Age: 21)
Height/Weight: 6'1", 180
Bats/Throws: S/R
Drafted: First round, 2011 (V Sue Cleveland HS, N.M.)
ETA: 2015
High-A: .298/.366/.428, 38 XBH (7 3B), 7 SB, 63/41 K/BB (103 G)
Scouting Report
Switch-hitter with similar and consist swing from both sides of the plate; demonstrates potential for above-average hit tool from both sides of the plate with line-drive swing; present bat speed to handle velocity; has raw power and can tag a baseball, but lack of lift in swing impedes over-the-fence pop; drives the ball to both gaps; aggressive approach that plays thanks to bat-to-ball skills; average runner with good instincts.
Athletic and agile behind the plate with quietly strong 6'1", 180-pound frame; room to add considerable strength as he develops without getting bulky; stays low; receiving skills improved significantly this season; average blocker that will continue to improve quickly given work ethic; good, consistent footwork; advanced catch-and-throw skills with a quick release; plus arm strength with accuracy; aggressive thrower.
Position: RHP
DOB: 02/10/1990 (Age: 23)
Height/Weight: 6'2", 190
Bats/Throws: R/R
Drafted: 18th round, 2008 by Dodgers (McMichael HS, N.C.)
ETA: 2013
Triple-A: 105 IP, 3.60 ERA, 1.09 WHIP, .190 BAA, 116/43 K/BB (21 GS)
MLB: 27.1 IP, 9.55 ERA, 1.90 WHIP, .333 BAA, 21/15 K/BB (7 G/6 GS)
Scouting Report
6'3" right-hander employs easy and repeatable delivery; was a shortstop in high school, but moved to the mound upon turning pro; untaxed and fresh arm relative to most pitchers his age; works from three-quarters arm slot and repeats it well; excellent drive from his back side; good balance; will pull off with front side and jerk head at times.
Fastball is most effective in 91-96 mph range with sink and some arm-side life, and he'll occasionally scrape 97 mph in shorter bursts; average command; heavy sinking action when located down in the zone; generates considerable amount of ground-ball outs; features a mid- to upper-80s slider with plus potential; tight spin and late break; highly effective offering when down; changeup improved significantly this past season; outstanding arm speed with huge deception; registers in low-80s with late sink and fade.
Position: LHP
DOB: 7/21/1992 (Age: 21)
Height/Weight: 6'6", 205
Bats/Throws: L/L
Drafted: First round, 2011 (Edinson HS, Calif.)
ETA: 2015
High-A/Double-A: 135 IP, 2.67 ERA, 1.13 WHIP, .177 BAA, 169/68 K/BB (26 GS)
Scouting Report
Highly projectable 6'6" left-hander; Owens repeats his mechanics despite long, lanky frame; stride toward the plate is shorter than expected; stays on line with the plate; creates natural deception; consistent high-three-quarters arm slot; works on a downhill plane.
Fastball typically sits at 88-92 mph and can be difficult for hitters to pick up out of his hand; features sink when working down in the zone; lacks significant movement; sometimes loses feel for arm angle; changeup is best secondary pitch and projects as a plus offering; thrown in upper-70s with late sink and fade to the arm side; curveball flashes average potential and he's adept to adding and subtracting when necessary; would like to see him use it to back-foot right-handed hitters more often; good shape when on.
Position: 3B
DOB: 4/20/1991 (Age: 22)
Height/Weight: 6'2", 200
Bats/Throws: L/R
Drafted: Fourth round, 2010 (Alfred M. Barbe HS, La.)
ETA: 2014
High-A/Double-A: .322/.443/.471, 80 R, 47 XBH (7 HR), 23 SB, 86/94 K/BB (129 G)
Scouting Report
The 6'2" left-handed hitter has projectable frame and should continue to add strength as he fills out. Love his swing; one of the more impressive hitters I've seen in person this season. Plus-bat speed and superb bat-to-ball ability gives him the potential for an above-average-to-plus hit tool.
Compact swing yields consistent, hard contact; gets extension after deep point of contact, which allows him to drive the ball from line to line. Present gap power could evolve into solidly average power in big leagues; plate discipline and pitch recognition are highly advanced and polished. Possesses slightly above-average speed but is an instinctual and adept base stealer; isn't afraid to earn the extra base on a knock.
Background of a middle infielder in high school; shifted to third base upon turning pro and has adjusted quickly to new position. Has giving hands and solid defensive actions; can be a bit choppy and boxy at times, but good instincts give him slightly above-average range; solid body control; plus arm is best defensive tool and will allow him to stick at the position. Still learning intricacies at the hot corner and will need to make adjustments.
Position: OF
DOB: 4/19/1990 (Age: 23)
Height/Weight: 5'10", 195
Bats/Throws: L/R
Drafted: First round, 2011 (South Carolina)
ETA: 2013
Triple-A: .275/.374/.469, 57 R, 39 XBH (10 HR), 7 SB, 75/41 K/BB (80 G)
MLB: .154/.258/.282, 14 R, 6 XBH, 26/9 K/BB (29 G)
Scouting Report
Left-handed hitter flashes potential for an above-average-to-plus hit tool; compact bat path; uses whole field; present feel for the strike zone; mature approach and secondary skills; falls into slumps when he pulls off the ball; natural stroke is back up the middle and the other way; pitch recognition against breaking balls needs refinement; above-average speed plays up due to excellent instincts.
Profiles as a legitimate big-league center fielder; gets excellent reads; has a quick first step; above-average range in all directions, especially laterally; arm strength is slightly above average and ideal for center field; could suffice at a corner spot if necessary; bat is better suited for center field.
Position: SS
DOB: 10/1/1992 (Age: 20)
Height/Weight: 6'3", 185
Bats/Throws: R/R
Signed: August 2009 (Aruba)
ETA: 2013
Double-A/Triple-A: .297/.388/.477, 72 R, 44 XBH (15 HR), 7 SB, 95/63 K/BB (116 G)
MLB: .303/.361/.455, 6 R, 3 XBH, 4 RBI, 8/3 K/BB (13 G)
Scouting Report
At 6'3", 185 pounds, Bogaerts is a right-handed hitter with one hell of a bat; employs an upright stance; has eliminated some of the height to his leg lift during load; still gets all of his weight to backside and then through the ball; aggressive swing results in loud contact to all fields, but doesn't sell out for power; possesses plus bat speed with plus raw power to every field; backspin carry; lift to stroke and flight of ball; extension after contact; can turn around good velocity.
Hit tool has developed quickly with adjustment to approach and improved pitch recognition; legitimate plus, maybe plus-plus, potential; cut down on strikeouts this year and using the entire field consistently; still prone to chase good breaking balls off the plate; approach will continue to improve against advanced pitching.
Will continue to develop as a shortstop unless he's forced to move from position; obviously already more than qualified to handle third base in the major leagues; solid hands; plus arm strength; lacks quick feet and explosiveness for surefire up-the-middle future, but can certainly hold his own; demonstrates excellent overall athleticism; slightly above-average speed with similar range; could lose a step as he matures.