The Minnesota Vikings fell to 0-2 Sunday in part due to the offense's inability to turn red-zone opportunities into seven points.
After settling for three short field goals and failing to score a red-zone touchdown against the Chicago Bears, Minnesota has now converted just 40 percent of its chances inside the 20-yard line into scores this season. It's the 25th best conversion rate in the NFL, and also a 12 percent drop-off from where the Vikings finished last season.
Coming Up Short: Vikings in the Red Zone vs. Bears

| | | |
| --- | --- | --- |
| | Att/TD | Third Down |
| Sunday vs. CHI | 3/0 | 0/4 |
| | Att | Yards |
| Adrian Peterson | 6 | 3 |
| | Cmp/Att | Yards |
| Christian Ponder | 1/5 | 9 |
Source: ESPN
The failures in the second half Sunday kept the door open for Jay Cutler, and the Bears quarterback took full advantage with a clinical drive that ended with a game-winning touchdown pass with just 10 seconds remaining.
The Vikings could have made Chicago's clinching drive a moot point by being more efficient inside the red zone to close out the contest.
On each of its final three series, Minnesota marched down the field with clock-eating drives that shifted momentum the Vikings' way. But each drive also ended with a field goal instead of a touchdown, and what could have been 21 game-deciding points ended with just nine, which wasn't enough to leave Chicago with a win.
Blame for the struggles inside the 20 could be evenly divided among one drop, a mental mistake from Adrian Peterson, questionable play-calling and a misfire from Christian Ponder.
The first of Minnesota's three field-goal drives came midway through the third quarter.
After Ponder hit Jerome Simpson for 37 yards down to the Chicago 14-yard line, the Vikings ran just three plays before calling on Blair Walsh for the game-tying field goal.
On first down, Peterson picked up four yards. Ponder then threw incomplete to John Carlson underneath before second-year receiver Jarius Wright had a first-down catch slip out of his grasp inside the 5-yard line. The Vikings would have been looking at a 1st-and-goal situation from around the 3-yard line had Wright held on.
Instead, Walsh came on for a 28-yard field goal that tied the game at 24.
A drive later, the Vikings converted on fourth down inside the red zone. But Peterson rather foolishly lost 13 yards on the next play, and the Vikings were unable to pick up the necessary 23 yards over the next two plays.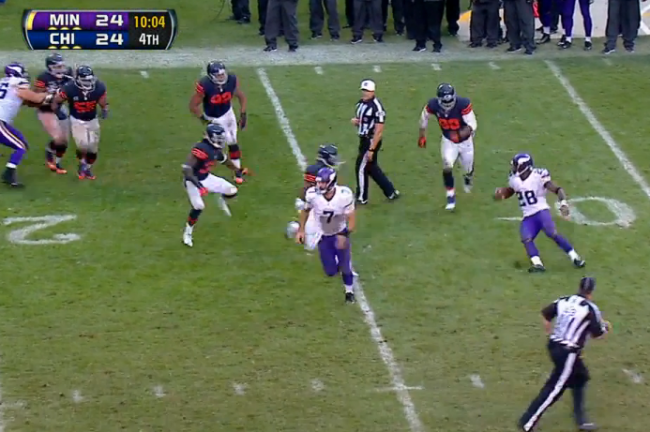 While Peterson has made a career off keeping plays alive, he killed Minnesota's drive when he spun out of a tackle attempt from Lance Briggs and then tried to reverse field. What should have been a short loss turned into a 13-yard decision that backed the Minnesota offense into a drive-killing hole.
Ponder found Kyle Rudolph for nine yards on third down, but the attempt was well short of the sticks and Walsh again came on. His second 28-yard kick gave the Vikings a 27-24 lead with 8:05 left in the fourth quarter.
The most damaging of Minnesota's red-zone failures came on the final drive.
An eight-play march that took up more than three minutes of the remaining clock finished with another Walsh field goal, this time from just 22 yards out. The Vikings had three shots from inside the Chicago 10-yard line but were unable to punch the ball into the end zone.
Offensive coordinator Bill Musgrave gave Peterson a carry on first down that netted two yards. On second, Ponder went play action to Peterson and tried to find Rudolph in the right flat. His throw was too high. Rudolph, the offense's best red-zone receiver from 2012, was one-on-one with a linebacker, but Ponder didn't give him an opportunity to make a play on the football.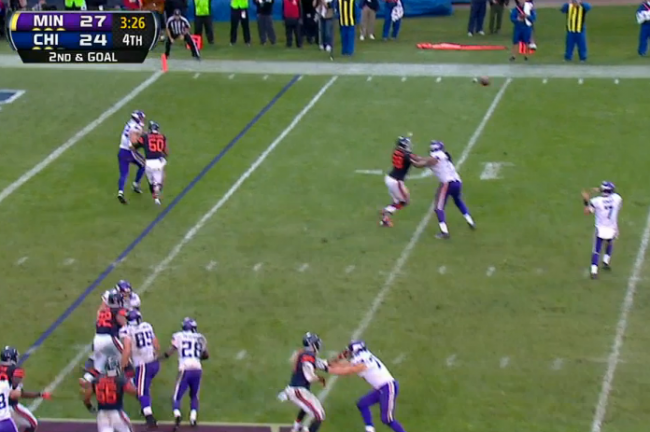 On the game's biggest third down, the Vikings went back to Peterson against a Bears front that had nine players in the box. It was power against power; Minnesota's downhill running game against Chicago's defensive front.
Even the game's best running back couldn't find any space with so many bodies littering the area. Peterson was stopped for no gain as the Bears held heroically on third down.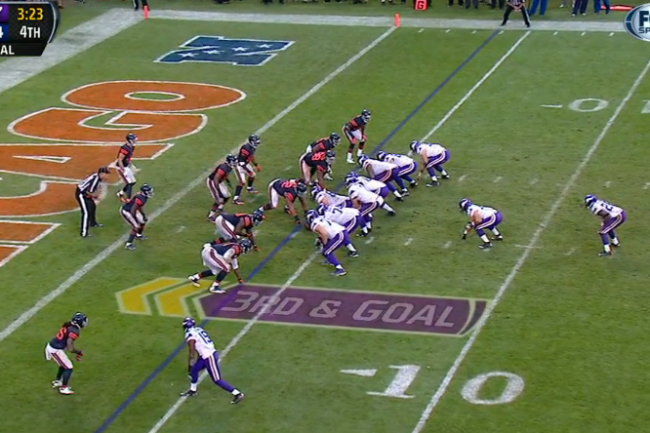 Walsh's third field goal of the afternoon put Minnesota up by only six points, and Cutler erased that slim deficit with a 10-play drive that saw Martellus Bennett catch a 16-yard score with 10 ticks remaining.
Had the Vikings scored seven points instead of three on any of the three red-zone trips in the second half, it's certainly conceivable that Chicago's final drive would have accounted for nothing more than desperation points in garbage time.
Instead, Minnesota left the door open on the road, and then paid the price. What could have been a bounce-back win against a divisional rival turned into a disheartening defeat that dropped the Vikings to a disappointing 0-2.
Who knows how Sunday's loss will eventually alter the playoff picture down the road, but it's worth noting that only 22 of 212 teams that have started 0-2 since 1990 have qualified for the postseason. Since 2009, all 30 of the teams that begun a season with two losses failed to make the playoffs.
The Vikings will now have to beat long odds to qualify for the postseason for a second-straight year. And while there's plenty of blame to go around for the 0-2 start, Minnesota can certainly look back on Sunday's failures inside the red zone as a principle reason why a Week 2 loss was snatched from the jaws of victory.
Scoring zero touchdowns on three late trips inside Bears' 20-yard line helped keep the Vikings at zero wins in 2013.