The Biggest Hits in World Rugby This Week, Leguizamon Dominates Wallabies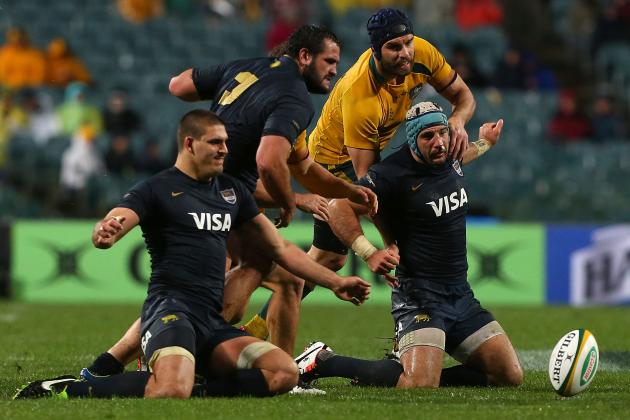 Paul Kane/Getty Images

In a bumper edition of the week's biggest rugby hits, an even bigger selection of mammoth maulings has meant an even bigger gallery for your viewing pleasure.
For one reason or another, discipline seems to have taken a backseat worldwide this week as Europe's top divisions dished out as many as 25 yellow cards, while the Southern Hemisphere was also privy to some outside-the-rules engagements.
One could rank this beastly assortment in just about any way and it would still make sense, but feel free to drop a comment in the forum below if you think we've missed a trick.
As always, special thanks to TTRugbyVids, KostazHDPlus and RaboDirectPro12 for content prior to editing.
Begin Slideshow

»
Obviously inspired by Floyd Mayweather's fight against Canelo Alvarez, Scarlets and Treviso decided to give those at Parc y Scarlets a punch-up of their own in preparation for the Las Vegas bout.
After picking a member of the opposition off the floor with the help of a teammate, the hosts' half-back Gareth Davies decided he just wasn't ready to drop it and a slew of fisticuffs transpired between the two sides.
In the end, Davies and the visitors' Alberto Di Bernardo were sin binned for their extra-curricular activities and the Llanelli crowd got a little more for their money at the same time.
Coaches will always advise young players to try and avoid taking the ball into contact from a static position.
Well, Paul Willems was given a kind reminder of the basics after Taz Fuzani and Pat Cilliers were on hand to show him exactly why it's always good to have a bit of momentum behind you coming onto the ball.
One of two entrants from the entertaining encounter between Munster and Zebre, Kameli Ratuvou was rightfully sent to calm down for 10 minutes after this ridiculous tip tackle on Andrew Conway.
With the ball clearly gone and matters still firmly within his grasp, the Fijian followed through on the young Irishman regardless, evidently leaving his mark on the former Leinster man.
One of Argentina's more reliable assets in this Rugby Championship, Juan Manuel Leguizamon was again at the heart of matters during the Pumas' loss in Perth this weekend.
While the result may not have gone in his favour, Leguizamon can hold his head high on an individual level, with this low tackle on Australia's Nick Cummins one of several impressive moments in defense.
A bit of a rare gem this weekend is Kensuke Hatakeyama's rampaging hit against the Shining Arcs as his side saw out a 32-6 win over their Japanese Top League opponents.
The Suntory Goliath prop's collision goes on to set up his side for a try, showing that backs really would have a difficult time of things were it not for their big, bad pack.
Another prop who impressed with his carrying was France's Thomas Domingo, who teammate Jamie Cudmore saw fit to use as a human cannonball against Grenoble, all for the good of the cause, obviously.
As if Domingo wasn't a big enough force to contend with, the 28-year-old front rower was propelled off the opposition only to be launched back into the fray at twice the speed.
Cudmore might actually be onto something here.
Making his second appearance for Australia in this year's Rugby Championship, Cummins on occasion had a difficult time against a very physical Argentina side.
The winger did well in his duties overall, however, and even got a shot at redemption after being mowed down by Leguizamon earlier in the fixture.
This time, Gonzalo Tiesi was on the receiving end as Cummins shot out of the defensive line and timed his tackle to perfection.
Commentators get used to seeing big hits, so when you can almost hear them leaping out of their seats at the point of contact, you know it's a big one.
This was the case when Vili Fihaki laid out Gary Redmond in North harbour's win over Tasman this week. Fihaki could have had a highlight reel of his own after this performance.
The referee may have seen nothing wrong with it, but that doesn't mean Quintin Geldenhuys' slightly late hit on Johne Murphy was anything short of bone-crunching.
The Italian international lock steps out of his line with speed and uses his 6'5" frame to crash into the Munster back.
Murphy did well to recover, but even the rugby world would have forgiven the Irishman for taking a breather after this collision.
The hit heard around the world this weekend, Bismarck Du Plessis' monstrous tackle on Dan Carter in the first 10 minutes of the meeting between South Africa and New Zealand was the beginning of the end for the Springbok.
Much to the bemusement of the commentators and fans, Du Plessis was sin binned for what appeared to be a legal hit, later being sent off for being shown a second, more agreeable yellow.
Irrespective of South Africa's 29-15 loss at Eden Park, Du Plessis' colossal impact resulted in a slight scuffle between the two sides, but really there was nothing the All Blacks could say as Carter lurched off the pitch with a shoulder injury.
Timed to absolute perfection by Juan Manuel Leguizamon, it is a wonder how James O'Connor managed to scamper away from this hit as swiftly as he did, pride perhaps playing as big a role as anything else.
The Wallabies starlet was smashed into next week by the Argentine big man, leaving the ball behind as he went.
Quade Cooper's inside ball to O'Connor was very much taken straight from the training ground. Instead of it putting O'Connor into a gap, however, the utility back will be having bad memories of it for some time.