Tennessee vs. Oregon: 10 Things We Learned in Volunteers' Loss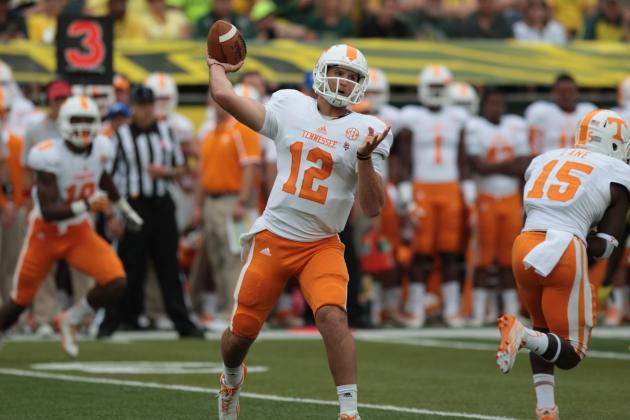 Scott Olmos-USA TODAY Sports

The Tennessee Volunteers traveled 2,500 miles west to face the No. 2 team in the nation, the Oregon Ducks. Las Vegas predicted a 28-point Duck win, but the reality was a 59-14 beatdown. No loss is a waste unless you learn nothing from it. To make sure this game is a stepping stone on the road to rebuilding, here are 10 things we learned from the game.
Butch Jones stated in a post-game interview that the performance against Oregon was unacceptable and "not the way we're going to play Tennessee football."
While Vols fans hope that's true in the long-term, it's too much to expect immediate upset victories over the nation's elite teams in Jones' third game as coach.
If Tennessee can learn from this game and have a great week of practice, the Florida Gators, who aren't having too great of a season themselves, could be on upset alert.
Begin Slideshow

»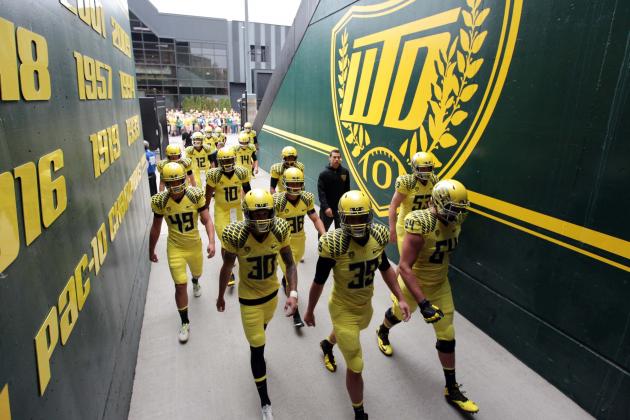 Scott Olmos-USA TODAY Sports

First things first, the Oregon Ducks are a bona fide national powerhouse. Along with Alabama, they have commanded the college football landscape for the past seven years.
As a rebuilding program, Tennessee losing to a national powerhouse is almost to be expected. The question is, how did the team look in the face of tremendous adversity?
The team kept playing hard. The coaches didn't start going for it on 4th-and-10. The Volunteers drove for a touchdown even though the loss was inevitable.
Oregon is a powerhouse. Losing to them is okay, as long as you learn from it and improve.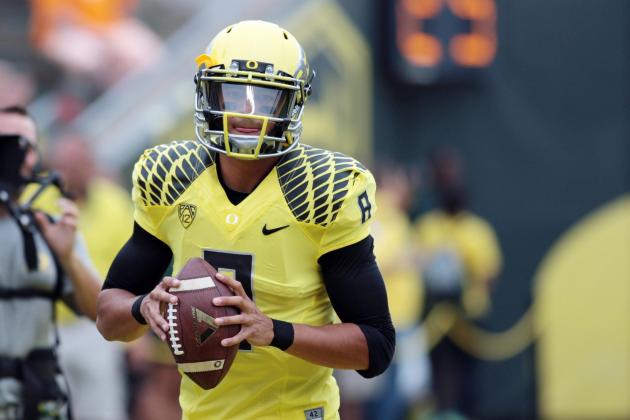 Scott Olmos-USA TODAY Sports

Not that Tennessee showed much ability to stop Oregon's offense in Eugene, but during the first quarter, the Volunteers had momentum because the Ducks were dependent upon Marcus Mariota's arm to move the ball.
Mariota is a highly talented quarterback and certainly a Heisman contender. But when the running game isn't clicking, the first quarter of the game against the Volunteers is proof that he's susceptible to getting flat and throwing a lot of bad passes.
Mariota started with only two completions on seven attempts before breaking loose. His offensive explosion coincided with De'Anthony Thomas finding his groove at running back.
You're welcome, Pac-12.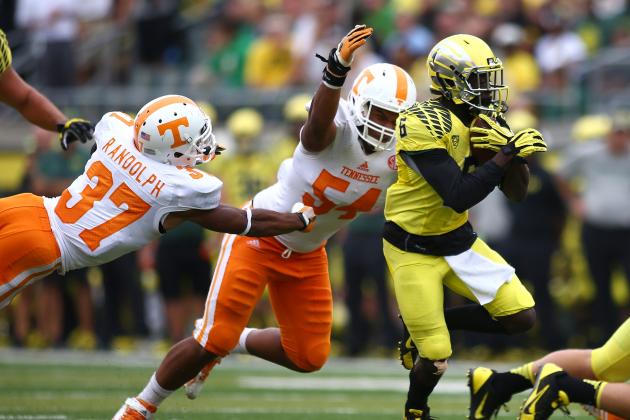 Jonathan Ferrey/Getty Images

Curt Maggitt, Corey Vereen, Trevarris Saulsberry and Dontavis Sapp all either missed the Oregon game due to injury or came off the field with injury.
As if the Volunteer defense had little room for error before, injuries or suspensions (as in the case of Maurice Couch) makes it that much harder. A thin depth chart because of injury is one thing, but a thin depth chart due to a lack of talent is entirely another.
Butch Jones has already begun the process of recruiting and developing that depth. It will take time, but the game at Oregon is evidence of the importance of having more than 11 guys that can defend a powerful offense.
Florida will be another test.
Jonathan Ferrey/Getty Images

In case you thought the offensive play-calling of the first two games were just a function of the weak opponents the Volunteers played, the Oregon game should be evidence that Tennessee intends to run and run a lot.
Whether it's because the coaches want to control the clock, use the talented offensive line, protect the new quarterback and his young wide receivers or some combination of these reasons, it's clear that Rajion Neal and Marlin Lane are the key drivers of the offense.
Against the Ducks, Tennessee ran it nearly 60 percent of the time. Oregon's offense might be a great proxy for what Butch Jones hopes to do in Knoxville: Run, quick snap, run, quick snap, hit the wide open receiver.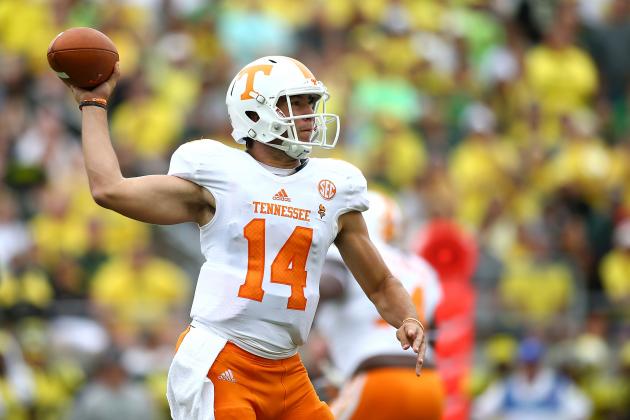 Jonathan Ferrey/Getty Images

After two lackluster performances against subpar opponents, quarterback Justin Worley needed to turn in a solid performance against Oregon to allay fears that he's not the guy.
Pat Ryan may be on to something here.
Worley finished 13 of 25 for 126 yards. He left at least 40 passing yards on the field with overthrows of Vincent Dallas and Brendan Downs, not to mention numerous 95 miles per hour fastballs at receivers 10 feet from him that resulted in incompletions.
It's clear that the junior is still jittery in the pocket. It was okay as a freshman and understandable as a sophomore. As a junior and presumed leader of the team, Worley has to become more comfortable and accurate as a passer.
The SEC demands it.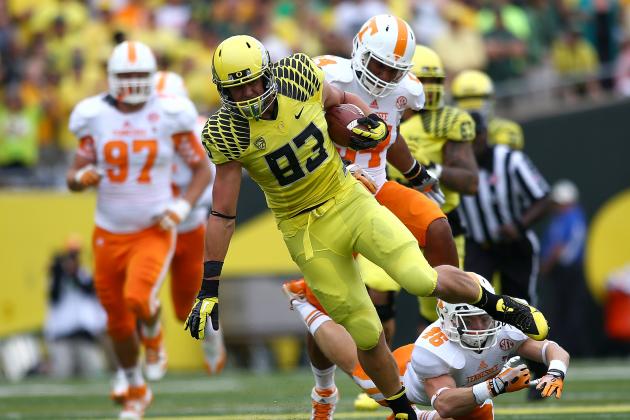 Jonathan Ferrey/Getty Images

How many open receivers did Marcus Mariotta find on Saturday? It's hard to gauge the talent of a defense when they aren't taking care of the fundamentals.
Give credit to Oregon. They used a strong rushing attack, mobile quarterback and inventive passing schemes to loosen the secondary's grasp on their receivers. But allowing the vast majority of passing yards to be gained on blown coverage is unacceptable for Tennessee.
With four new starters in the back seven of the defense, it's not hard to understand that communication could still be an issue. But Florida, Georgia, South Carolina and Alabama won't give any quarter to an inexperienced Tennessee secondary.
It's time to stop looking like Sal Sunseri is coaching this defense.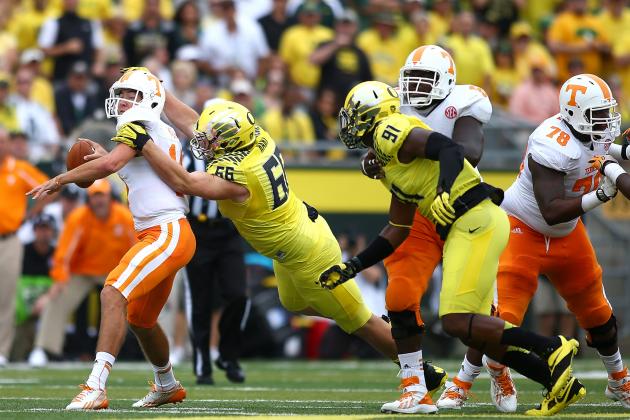 Jonathan Ferrey/Getty Images

I'm going to stop using the word "vaunted" before I talk about the Tennessee Volunteers' offensive line. The unit is full of highly talented young men with high ceilings, but the line isn't performing to its max potential. They need to earn that adjective.
Between Antonio Richardson, Ja'Wuan James, Zach Fulton, James Stone and Alex Bullard, you have no less than four future professionals, three future draft picks and one 2014 first-rounder.
Where is the pass protection? Where are the gaping running holes?
Though Justin Worley wasn't sacked against Oregon, he was hurried numerous times. For a line that's supposed to be one of the best in the SEC if not the country, we should be constantly astounded by the amount of time Worley has to throw and the huge running lanes for Rajion Neal and Marlin Lane.
The Ducks weren't impressed. Were you?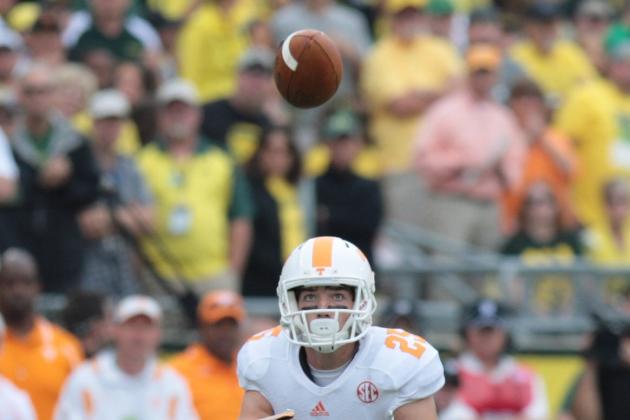 Scott Olmos-USA TODAY Sports

He has only four receptions on the year, but Josh Smith has shown a tendency to get open, cleanly catch passes and then sprint for extra yardage.
In the most exciting play of the game for the Volunteers, Justin Worley found Smith on the left sideline, delivered the pass and let Smith scamper down the sideline for a 51-yard gain. The play led to the Vols' first touchdown of the game.
Smith is where he needs to be when he needs to be there and is reliable. When you add in his speed and athleticism, you may have a diamond in the rough in the 2013 wide receiver recruiting class.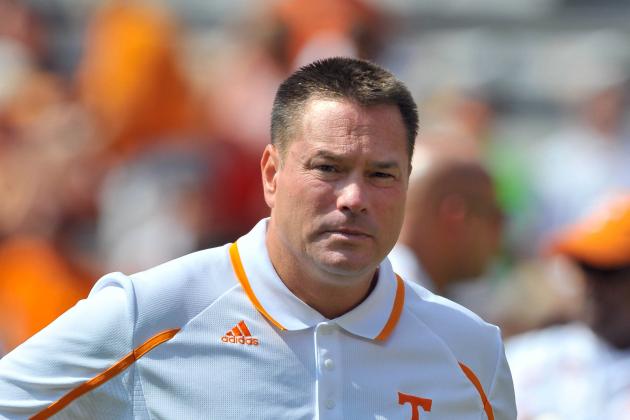 Jim Brown-USA TODAY Sports

For those fans silly enough to think that blowout victories over Austin Peay and Western Kentucky were a sign of things to come this season, the devastating defeat at the hands of Oregon was a nice reality check.
Optimists are depressed. Realists aren't surprised at all.
The Volunteers were all but guaranteed to enter the Florida week 2-1, and that's exactly what has happened. Whenever Tennessee is overmatched this season, the important thing to look for is the attitude of the team and the development of the players.
Did the Vols improve after playing the Ducks? We'll see in seven days.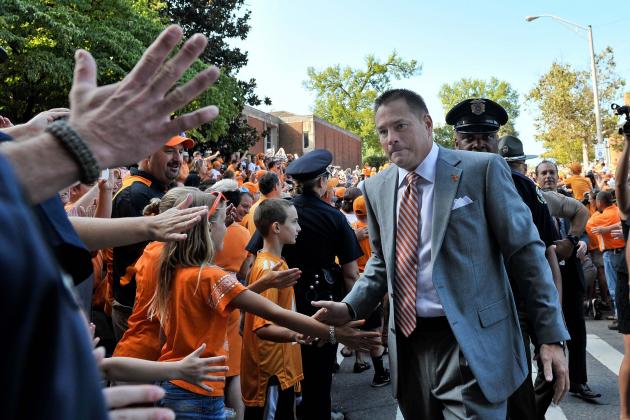 Jim Brown-USA TODAY Sports

For 10 years, Oregon has been known as the home of fast-paced offenses where athletic track stars go to play. Suffice it to say, if a high schooler registers a 4.2-second 40-yard time, everyone will immediately think of the Ducks as a potential suitor.
This reputation wasn't built overnight. It was built—wait for it—"brick by brick", Butch Jones' tagline to the Volunteer football brand.
If the coaching staff stays true to this foundation, recruits talent and develops players, the results will come. Oregon didn't build their program overnight, but the rewards are obviously great.