The Atlanta Falcons' red-zone offense isn't bad statistically. Atlanta scored touchdowns on two of its four red-zone trips last week against the Saints for a respectable 50 percent conversion rate.
Last year, the Falcons scored touchdowns a little over 57 percent of the time when they reached the red zone during the regular season and on half of their red-zone trips in their playoff games against the Seahawks and 49ers.
Despite the fact that Atlanta's offense has scored touchdowns on at least half of its red-zone possessions over the past year, the Falcons were stopped yards short of the end zone when the game was on the line against the 49ers in the NFC Championship game. And they've now lost two close games versus the Saints in that same time period by failing to score go-ahead touchdowns in the red zone with under two minutes to go.
Falcons quarterback Matt Ryan has rightfully earned the nickname "Matty Ice" for his late-game heroics. He's led 16 fourth-quarter comeback wins in his career, and he even threw a game-winning touchdown pass with under a minute to go against the Ravens in 2010.
Nevertheless, only one of Ryan's game-winning fourth-quarter drives (2009 at the Jets) ended with a touchdown with under two minutes to go when the Falcons had to score a touchdown in the red zone to tie or win a game.
What has kept Matt Ryan from working his fourth-quarter magic in the red zone when a field goal isn't enough to put the Falcons over the top? How can the Falcons be better in these situations in the future? We looked to the film from Atlanta's game against San Francisco and Atlanta's last two games in New Orleans against the Saints to look for answers.
Based on what we saw, play-calling, poor protection and questionable decision-making by Ryan have all contributed to Atlanta's late-game red-zone woes.
1. PLAY-CALLING
Scoring touchdowns in the red zone is difficult for even the best offenses because space is limited inside of the defense's 20-yard line. The offense faces an even tougher proposition when the defense has the benefit of knowing that the offense has to score a touchdown to tie or win the game because defenders can focus on guarding the goal line and keeping everything in front of them.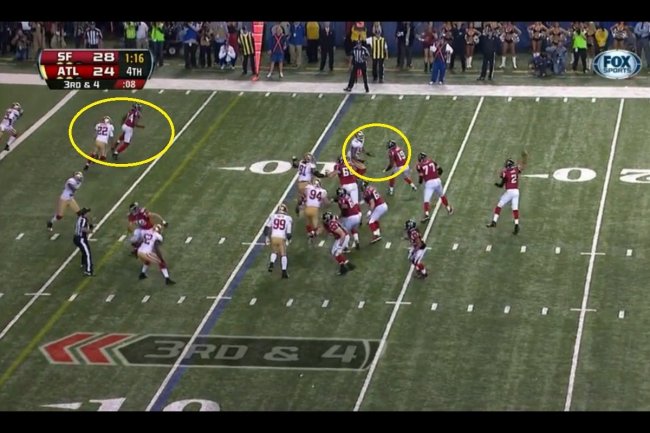 Here, Atlanta faces a 3rd-and-4 from the San Francisco 10-yard line. The play called for a roll-out to the right and a quick throw to Roddy White on an out route at the first-down marker.
While Roddy White did flash open, 49ers linebacker Ahmad Brooks tipped the pass, causing the ball to fall harmlessly to the turf.
The problem with this play is that it cut an already limited field in half because Ryan's only realistic option on the play was Roddy White.
With all of the firepower Atlanta has on offense, it seems as though the Falcons wouldn't have made the 49ers' task as easy as it was on this play since White was the only receiver who the defense had to account for once Ryan rolled out.
This play may have netted a first down earlier in the game, but the Falcons probably shouldn't have called a play that only gives Matt Ryan one option under these circumstances.
2. POOR PROTECTION
Because space in the red zone is so tight, the quarterback usually has to be able to put a little zip on the football when he throws it, so the defenders don't have too much time to react.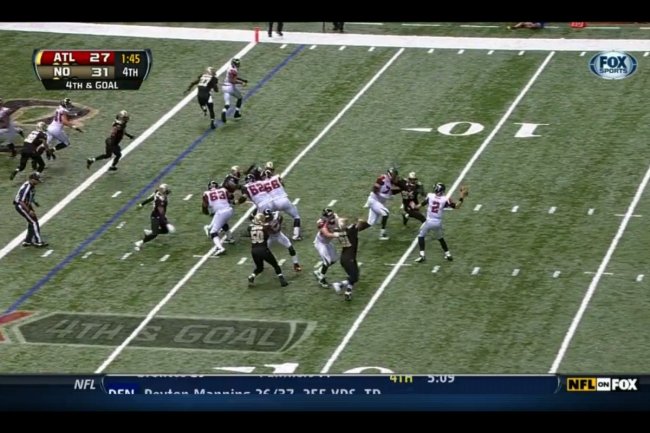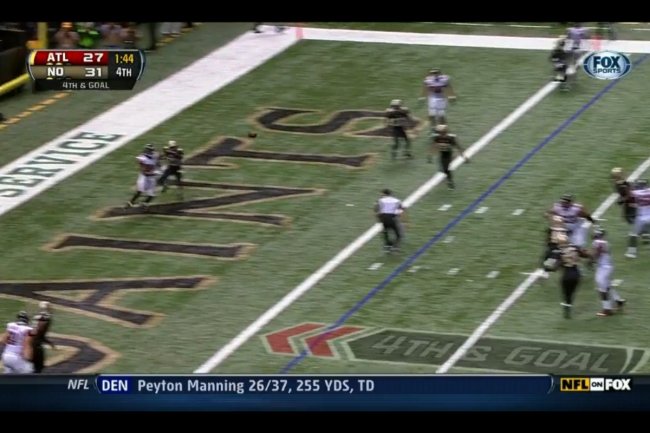 As you can see here, Matt Ryan wasn't able to get much zip on the ball on either of these fourth-down throws against the Saints because he was under pressure.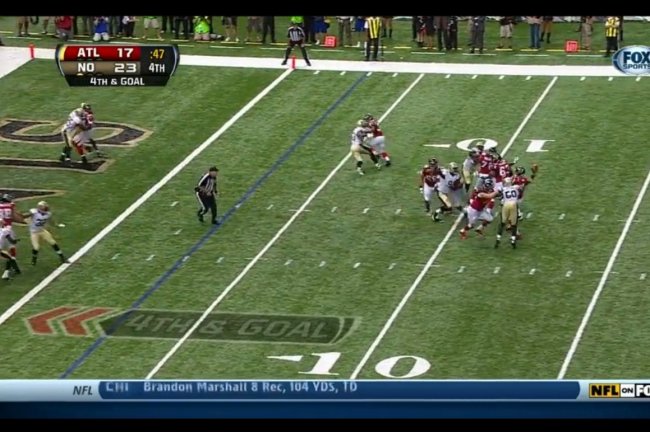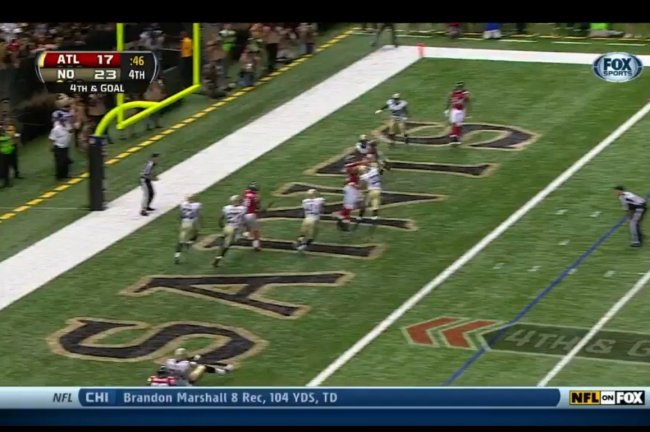 The Falcons would've had a better shot at completing both of these passes if Matt Ryan had been able to set his feet and make a crisp throw as opposed to tossing the ball off his back foot.
Instead, in both cases, defenders were able to react to the ball in the air and deflect would-be touchdown passes.
Sure, the defense did have the advantage of knowing that Atlanta had to score a touchdown in both cases, but in last week's case, the Saints were able to get pressure with three down linemen. Protection was also an issue on fourth down against the 49ers.
The Falcons need to do a better job up front in these situations so that Matt Ryan has time to work his magic.
3. QUESTIONABLE DECISION-MAKING
This is the first of the three factors that reflects on Matt Ryan. As we acknowledged, Ryan was under duress on this fourth-down play against the 49ers, but he appeared to commit to Roddy White a little early here.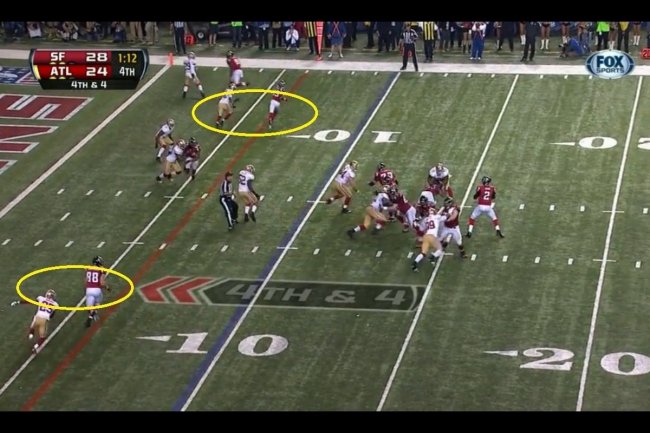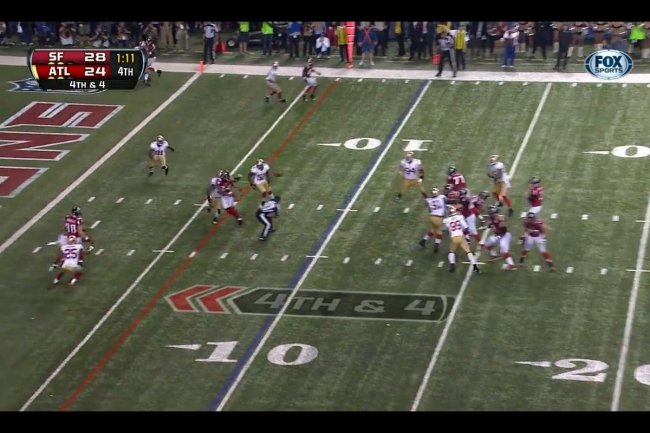 As you can see in this screenshot, Ryan had a shot at getting the ball to Tony Gonzalez early after he had beaten Tarell Brown to the inside (and before the safety came down to help), and he possibly could've hit Harry Douglas.
Ryan has proven that he won't rattle under pressure, so this kind of moment obviously wasn't too big for him. Because of that, it's not unreasonable to expect him to make a better decision here.
CONCLUSION
Matt Ryan and the Falcons offense may not find themselves in these situations frequently, but they could have to exorcise these late-game red-zone demons to win a game before the season ends.
In order for that to happen, Atlanta is going to have to learn from what happened in these three sequences and remain confident in its ability to score touchdowns when the late-game moment demands that it does so.
Matt Ryan has proven he can be a clutch player, but he may have to come out on top in a big game by winning in a late-game situation with a red-zone touchdown like the ones we reviewed before "Matty Ice" can become "Matty Elite."
All stats used are from ESPN.com, all historical reference are courtesy of Pro-Football-Reference.com and all screenshots are from NFL Game Rewind.