Austin Trout Picks Mayweather, Questions Canelo Alvarez's Conditioning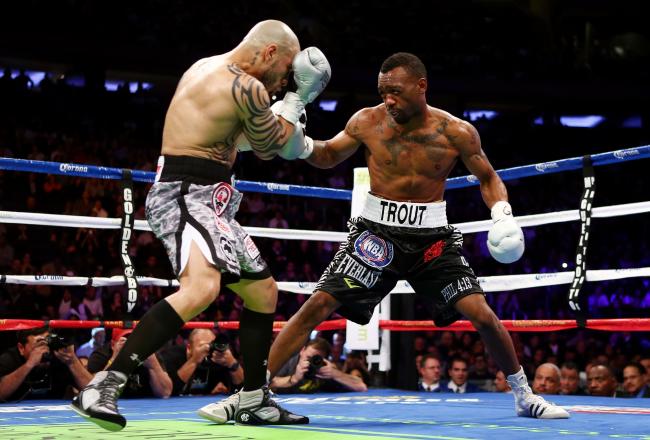 Courtesy of HBO Sports

Austin Trout was not very generous in assessing Saul "Canelo" Alvarez's chances against Floyd Mayweather ahead of their September 14 bout. This doesn't bode well for the 42-0-1 Alvarez, because Trout's perspective on boxing's biggest fight of 2013 may be second to none.
I spoke with the up-and-comer on Wednesday. Coming off a victory over Miguel Cotto, Trout fought Alvarez in the Mexican superstar's most competitive bout yet.
And while the scorecards showed a decisive victory for Alvarez, many felt the fight should have been scored closer, including Trout himself: "Absolutely [the fight should have been scored closer.] I felt like it was a very competitive fight. It was a back-and-forth and I still want a rematch."
Could Austin Trout defeat Canelo Alvarez in a potential rematch?
Sometimes, perception is more important than reality. Trout's protest of the scores is congruent with the court of public opinion, so his performance—rather than the result—may be enough to earn him a future fight against Floyd Mayweather, let alone the rematch against Alvarez that he wants.
When comparing the two fighters, Trout made no bones about the distinct advantages Mayweather will bring to the MGM Grand Hotel against Canelo.
Trout noted flaws in Alvarez's game, doubting he would have a chance to outclass boxing's pound-for-pound king past the fourth round. He gave Alvarez very little chance of earning a decision victory, saying, "You can't let it go to the judges because, you know, it's boxing."
This would put Alvarez in a similar situation that Shane Mosley was in against Mayweather back in 2010, where Mosley was presented a small window in the early rounds to unseat Mayweather. To his credit, he almost did.
Canelo's cardio will be just as important as any size advantage he'll have against Mayweather. Describing Canelo's conditioning based on their April bout, Trout said it "was not very good during [their] fight."
Calling Floyd a "smart fighter," Trout credited Mayweather's rhythm as one of the factors that will make a difference come Saturday.
"We did a lot of good things against Canelo," he said. "Floyd is a smart fighter and Canelo is going to have to find a way to break the rhythm up."
Trout sees Mayweather extending his perfect record by yet another fight. Against a young phenom in his prime, a win could be considered the 36-year-old legend's most impressive victory yet.
The outcome of this bout makes for an intriguing fallout for Trout, who admits a blemish on Alvarez's unbeaten record provides "even more reason for a rematch" if he is unable to secure a coveted fight against Mayweather.
Provided competent scoring, Trout fighting either of this weekend's combatants in the future could be too close to call.
[All quotes were obtained firsthand]
This article is
What is the duplicate article?
Why is this article offensive?
Where is this article plagiarized from?
Why is this article poorly edited?