Canelo vs. Mayweather: Alvarez Must Be Patient to Beat Money May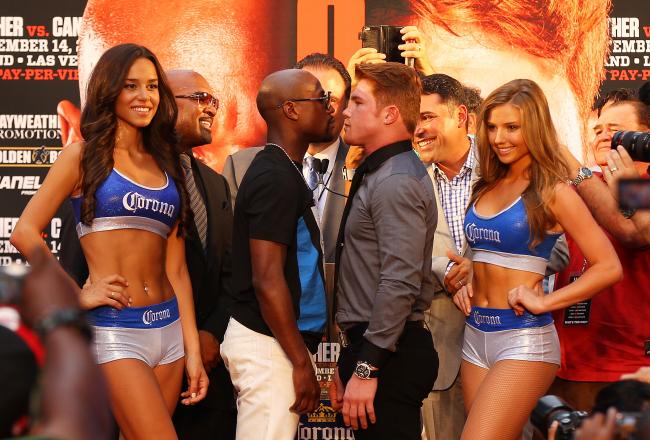 Mike Stobe/Getty Images
The upcoming Sept. 14 bout between Floyd Mayweather Jr. and Canelo Alvarez is being labeled "The One" and brings with it plenty of hype and money involved to raise the stakes.
For Alvarez to hold up his end in terms of expectations, though, he must be extremely cautious against his patiently tactical opponent. Mayweather has broken all 44 of his previous opponents' resolve at some point, even when he hasn't knocked them out.
Neither "Money" May nor Alvarez have been knocked out, and while Mayweather is a perfect 44-0, Alvarez himself is 42-0-1 at the tender age of 23.
The Mexican upstart also has a knack for landing jabs better than just about anyone, and he is going to enter this fight in Las Vegas' MGM Grand Hotel and Casino substantially heavier than his counterpart.
What is key for Alvarez is to not push too hard in the beginning and go for the knockout. Although he must come out and set the tone in an aggressive manner, it must be reined in to the point where he doesn't overexert himself.
It would take an unprecedented letdown of Mayweather's legendary defenses for Alvarez to register a knockout, so Canelo is probably in this one for the long haul.
As Kevin Iole of Yahoo! points out, though, the body punching ability that Alvarez has could be enough to neutralize the superior stamina Mayweather has exhibited in so many fights before:
Hitting a fighter of Mayweather's caliber in the head is nearly impossible, especially with regard to rattling off a combination of devastating punches. The reflexes, footwork and uncanny quickness Mayweather has won't allow that to happen.
Catering to Mayweather's patented methodical approach will actually work in Alvarez's favor.
How close wil Alvarez come to beating Mayweather?
Alvarez can use his heavier weight to absorb some punishment early on from Mayweather, whose punches don't pack quite as much punch.
Between doing that and chipping away at Mayweather's rock-solid core, the junior fighter will not be as vulnerable to Mayweather's legendary counter-punching.
That will also set up an opportunity for Alvarez to go for a knockout later in the fight, in the middle-to-late rounds.
Winning this fight would be a massive upset for Alvarez. Even just sticking it out and earning a split decision would earn Alvarez a ton of respect in the boxing community, given his relative lack of marquee opponents in the past.
Thus, he must prove he can control himself against the notoriously unbeatable force that is Mayweather, because otherwise, Alvarez will likely wear down by the end and get knocked to the canvas for good.
The body blows to Mayweather and the avoidance of being too eager to try to claim victory early on should make the outcome at least close for Alvarez—and could be enough to sway the judges in his favor.
This article is
What is the duplicate article?
Why is this article offensive?
Where is this article plagiarized from?
Why is this article poorly edited?