How Andre Iguodala Will Make Each Top Golden State Warriors Player Better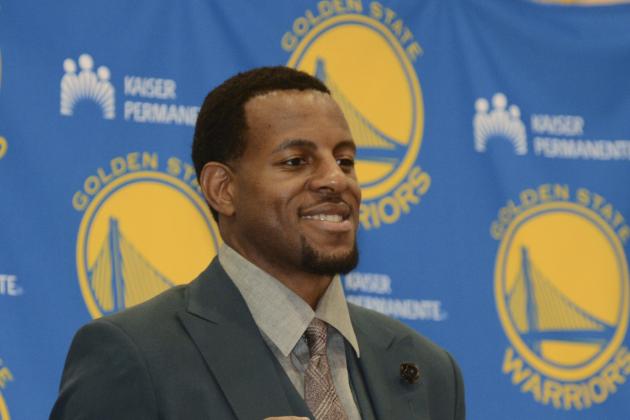 Kyle Terada-USA TODAY Sports
Andre Iguodala will help the entire team.
Andre Iguodala makes each top Golden State Warriors player better because he is an unselfish distributor who can create plays. He is the missing piece that the team has been lacking since Steph Curry took over the point duties.
Iguodala can play almost every position on the floor, so he understands what it takes to be successful at each position. Using that basketball acumen, he knows where to place the ball or what to do when he is moving without the rock.
The biggest eye-popping statistic that comes across with Iguodala is the number of assists that he produces at the 3 position. His No. 1 goal is to maximize each possession, even if that includes him not scoring. Iguodala forces defenses to over-commit, leaving one of the deadlier shooters in the league open for an uncontested shot.
Finally, he is one of the premier defenders in the Association. He can teach his new teammates the tricks of the trade and provide additional help when the time comes.
The addition of Iguodala will definitely help each member of the starting five, but let's take a closer look.
Begin Slideshow

»
Andrew Bogut will get major defensive reinforcements with Andre Iguodala on the floor. Instead of having to clean up the frontcourt, Bogut will have the flexibility to stay on his man and get a better read on the floor.
When Iguodala and Thompson are playing with him, Bogut can focus on getting that statement block, causing a turnover or positioning himself so that he can takeaway opponent's shots. As a result, Bogut should be playing at a level similar to last season's playoffs, if his health holds steady.
On offense, Iggy will open up the key for Bogut, as Iguodala can slash through the defense and make easy assists to Bogut. On the flip side, Iggy will be someone that he can kick the ball out to when defenses bring the double team.
With Bogut going into a contract year, Iggy will only enhance his ability to dominate the paint this season.
David Lee should receive a huge benefit by being flanked by Andre Iguodala and Andrew Bogut. He stated that he wanted to improve his defense now that he is 100 percent healthy.
Iggy will definitely help him on the floor, as Lee can focus only on his own man. Lee can also study some of Iguodala's strategies to play consistent defense and contain his opponent.
With Lee's projected post-surgery athleticism will make him faster and more explosive getting to loose balls and extending that extra effort to finish on defense. Iguodala will also push the transition after a steal or quick rebound, leading to a layup or an uncontested shot by Lee.
On offense, Iguodala will be the added weapon who can feed Lee in the frontcourt or work off screens that are set by Lee. Since Iggy is so unselfish with the ball, Lee should have an easier time getting double-doubles (if that is possible) and might have more opportunities for triple-doubles.
If Lee can improve on defense with the help of Iggy, Iguodala will have already made a huge impact.
The addition of Andre Iguodala moves Harrison Barnes over to the sixth-man spot and puts Barnes in a new territory. Barnes started every game he played last season at the 3 spot and now will have to get used to coming off the bench.
As a result of the move, Andre can give Barnes a chance to further progress at the power forward position and learn how to come in and light a fire under the team. Barnes can also use Iguodala for guidance and get a better understanding of what is expected out of him at the small forward position.
Barnes is a decent defender, but he can really study the style of play and techniques that Iguodala uses at the 3. Barnes can then implement those skills into his style of play and only further improve his game.
Barnes will also get a chance to play against the reserves of the opposing teams, where Barnes should excel and put up huge numbers. The diversity and athleticism of the roster with the addition of Iggy will give Barnes more flexibility to show off all of his tools, whether it is with the standard lineup or small ball.
The biggest lessons that Klay Thompson can learn from Andre Iguodala is how to finish at the rim and get to the free-throw line. Thompson finished last at his position in earning trips to the line.
Klay has primarily been a catch-and-shoot star, but his attempts at driving to the basket haven't been fruitful. He is currently working on making major improvements to his offensive game this summer.
Thompson will benefit by playing alongside Iggy, as Iguodala has played the position and knows the tricks of the trade to succeed in all facets. Iguodala's style of play will also open up the floor for Thompson to get another couple of steps before he makes a move.
If Thompson can develop a move to the basket that he can convert, Thompson's ceiling will rise substantially, and he can take his game to a Curry-like plateau.
The rich get richer as Steph Curry will only improve with the addition of Andre Iguodala. Iggy knows how to run the floor and with his moves, he can take the attention away from Curry and give him more room to roam.
As the distributor, Curry should have teammates open at almost all times, especially when they are in transition. He will also have a better chance at breaking the three-point record that he set last season.
On defense, Curry will benefit from being surrounded by two strong perimeter defenders. He wants to amplify his defense this season and now has someone to help him improve his weaknesses.
Iguodala will have the chance to run the point at times when Curry is on the bench, or when he slides over to the 2 spot. The agility of Iggy lets Curry do whatever is necessary to win games and advance deep into the playoffs.
Iguodala will definitely make each Warrior a better player.