Mayweather vs. Pacquiao: Dream Bout's Status Won't Be Impacted by Canelo Alvarez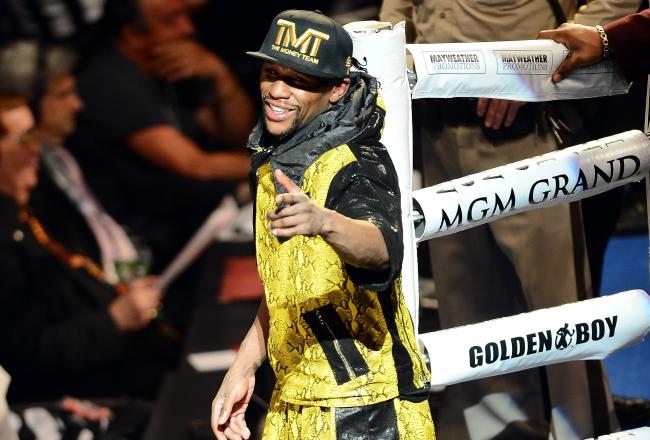 Ethan Miller/Getty Images
For the past couple of years, the most-talked-about fight in boxing has been one that has never happened and probably never will.
Floyd Mayweather vs. Manny Pacquiao is currently on the back burner due to Saturday's bout between Mayweather and Saul "Canelo" Alvarez, but the result of that contest won't impact a potential Mayweather-Pacquiao tilt one way or the other.
Both Mayweather and Pacquiao had plenty of opportunities to make a fight happen, but both sides ultimately made excuses not to square off. Boxing fans have taken a break from the Mayweather-Pacquiao talk since Mayweather vs. Alvarez was initially announced, but Mayweather told Kevin Iole of Yahoo! Sports back in July that Pacquiao would have to move from Top Rank Promotions to Mayweather Promotions in order for a fight between them to take place.
Knowing how close Pacquiao is with promoter Bob Arum, the odds of that ever happening are extremely long at this point.
Mayweather also told Iole that he offered Pacquiao big money to fight him at one point, but Pac-Man ultimately declined as he desired a 50 percent split:
I went to Pacquiao at one particular time and I offered him $40 million and I told him, 'I will wire you $20 million within 48 hours.' He told me he wanted 50-50 and he got off the phone. Some guy named Michael Koncz [Pacquiao's adviser] came down here. I don't know who he is. He looks like a little weasel. He came down here, was in my gym and talked to me. He said, 'If you want the Pacquiao fight, you talk to me.' I said, 'What about Top Rank?' He said, 'I run all his business.' That's what he told me. I've got everything recorded, everything on film.
Many of the things that have been said by both camps regarding Mayweather vs. Pacquiao need to be taken with a huge grain of salt, as neither side will admit that they are in the wrong.
According to ESPN.com, Koncz claimed in May that Pacquiao would be willing to give Mayweather 60 percent of the purse:
We're willing to do the blood tests whenever and any kind of testing as long as Floyd does the same and we're willing to give him 60% and we'll take 40%. Now it's all up to Floyd. I don't hold out my breath over whether that fight is going to happen. I don't blame Floyd, what his mentality thinking is I' not sure.
With so much hearsay involved, it's impossible to know what is fact and what is fiction. One fact does remain, however, and that is the 152-pound catchweight bout between Mayweather and Alvarez on Saturday night.
While Mayweather vs. Pacquiao would have been the biggest fight in boxing at one point, it can be argued that Mayweather vs. Alvarez currently eclipses it. After all, Alvarez is undefeated and considered to be the future of the sport, so there is a ton on the line.
At 34 years of age, Pacquiao appears to be on the downside of his career. He has lost consecutive fights to Timothy Bradley and Juan Manuel Marquez, respectively, and he is scheduled to take on Brandon Rios Nov. 23 in China. Pacquiao simply seems to be heading in a totally different direction than Mayweather.
Whether Mayweather wins or loses, it is virtually guaranteed that boxing pundits will try to handicap the chances of him locking horns with Pacquiao. There would still be a lot of money in a Mayweather-Pacquiao fight, but there's no reason for Mayweather to deal with the frustration of negotiating with Pacquiao's camp when he has plenty of high-caliber boxers already lining up to face him.
When will a Mayweather vs. Pacquiao fight happen?
Also, Mayweather has a massive, six-fight deal with Showtime, so he's going to get paid whether he faces Pacquiao or some guy off the streets. There simply isn't any incentive for Mayweather to face Pacquiao, especially now that Pac-Man has hurt his own stock in recent fights.
If all of that isn't enough to prevent a Mayweather-Pacquiao fight from happening, Pacquiao's political ambitions may be the icing on the cake. According to the Toronto Sun, Pacquiao is planning to run for president of the Philippines when he retires from the ring. Pacquiao is already a congressman on top of that, so it's very difficult for him to focus solely on boxing.
No matter if Mayweather wins or loses on Saturday night, a fight with Pacquiao is essentially dead in the water. The sooner that boxing fans come to that realization, the sooner they will come to appreciate the other intriguing fights that the likes of Mayweather and Alvarez could possibly engage in moving forward.
Follow @MikeChiari on Twitter
This article is
What is the duplicate article?
Why is this article offensive?
Where is this article plagiarized from?
Why is this article poorly edited?