It was only a matter of time before it happened, and it was ugly.
That "it" was the end to the United States' 12-match winning streak that included friendlies, World Cup qualifiers and the CONCACAF Gold Cup.
Everyone knew heading into the 3-1 loss that the Yanks were facing a side out for revenge. The odds were stacked against them, even more so when Michael Bradley was a late scratch due to an ankle injury.
Michael Bradley walking on crutches with his left ankle wrapped. Not looking good for Tuesday vs. Mexico

— Ives Galarcep (@SoccerByIves) September 7, 2013
Now that the defeat is over and done with, it is time to look at the positives. Yes, there actually are some that manager Jurgen Klinsmann can take into the match on Tuesday against Mexico at Crew Stadium in Columbus, Ohio.
The first thing to remember about Friday's defeat is that the Yanks had zero time to prepare for the Bradley injury.
Yes, Geoff Cameron is a decent option to replace Bradley in the defensive midfield, but he and his midfield partner Jermaine Jones were clearly thrown off in the first 10 minutes when Costa Rica delivered an expected onslaught of pressure that resulted in the first two goals of the match.
With Bradley's status unknown and Cameron out due to a yellow-card suspension on Tuesday, Klinsmann will be forced to rely on Kyle Beckerman, a player who gets a ton of flack from the American supporters.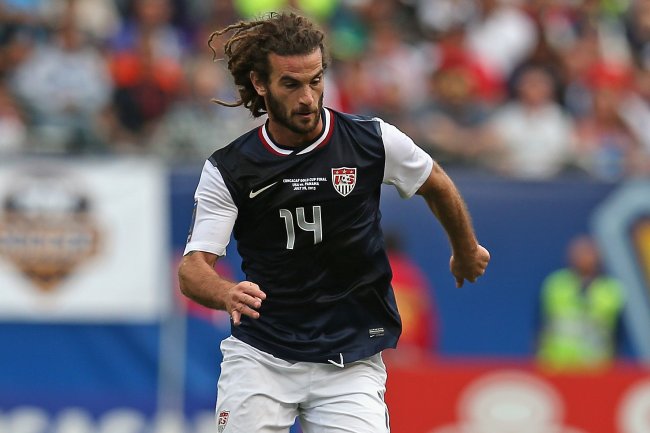 Jonathan Daniel/Getty Images
In all honesty, Beckerman is a solid replacement in the defensive midfield of the 4-2-3-1 formation. The Real Salt Lake veteran has been one of the best players in Major League Soccer over the last few seasons and was a stabilizing force during the Gold Cup matches.
When will the United States clinch their World Cup berth?
Utilizing his depth in the midfield and inserting Beckerman into the fold will not be the main lineup issue the United States manager has to deal with on Tuesday thanks to Jozy Altidore, who will be on a yellow-card suspension as well because of a late yellow against the Ticos.
As for Bradley himself, everyone needs to calm down a bit; it is not like he suffered a Stuart Holden-like injury that will keep him out for an entire year. He should be back in the fold by the Jamaica match on Oct. 11 at the latest.
Having depth at other positions will also help Klinsmann make decisions for the Mexico match since he will have to replace Altidore and center-back Matt Besler because of suspension.
Klinsmann could call in Clarence Goodson to the squad, and he should deliver another impressive performance for the Yanks, just like he did all summer.
My guess is that Clarence Goodson will almost surely have to be added to the #usmnt roster

— Brian Sciaretta (@BrianSciaretta) September 7, 2013
For those of you calling for John Brooks to be officially cap-tied to the United States, keep dreaming. Goodson is a much more reliable option at this stage in qualifying.
Up front, there are a plethora of options that the U.S. manager can choose from. He can either pick Aron Johannsson or Eddie Johnson from the bench and move them into a starting role, or he can start Landon Donovan or Clint Dempsey at that position.
The depth situation will figure itself out in due time, and this is why American fans should be extremely grateful that this is the deepest squad we have seen in history.
The most important thing to take out of the loss to Costa Rica is that this is a perfect teaching moment for Klinsmann. The Yanks needed to be knocked off their high horse before qualifying ended, and with three matches remaining in the Hex, the loss could not have happened at a better time.
If you look at the final three matches of qualifying, the Stars and Stripes will host Mexico on Tuesday and then welcome Jamaica to Sporting Park in Kansas City, Kan., on Oct. 11.
Both of those matches are very winnable given the lackluster form of the opposing sides and the blistering home form the Yanks have had in this calendar year.
The #USMNT has nine points from three Hex home games and four points from four Hex road games.

— Jonathan Tannenwald (@thegoalkeeper) September 7, 2013
#USMNT clinches on Tuesday with a win and a Honduras win/draw vs Panama.

— Paul Carr (@PCarrESPN) September 7, 2013
Taking six points from those two matches will render the trip to Panama on Oct. 15 irrelevant, at least for the Yanks. The United States are still going to qualify for the World Cup in 2014, and once their ticket is officially punched, we can begin to dream again about what this team can do in Brazil next summer.
Follow me on Twitter, @JTansey90.