Top 5 Drives at the Italian Grand Prix at Monza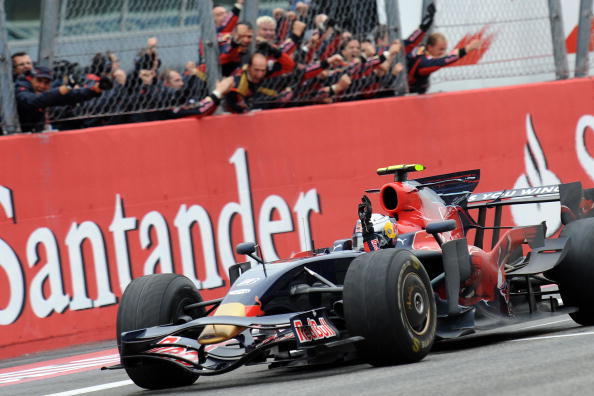 Sebastian Vettel stormed to his maiden GP win for Toro Rosso at Monza
The Italian Grand Prix at Monza is a race steeped in tradition.
A mainstay on the Formula 1 circuit since its inaugural grand prix in 1950 and set in the leafy backdrop of the famous Royal Park, the race has seen triumph and tragedy in equal measure.
In order to win at Monza's mix of long, high-speed straights and slow corners a driver needs a steely nerve, a reliable steed and no shortage of luck.
Here then, are our top five drives in the history of the Italian Grand Prix.
Begin Slideshow

»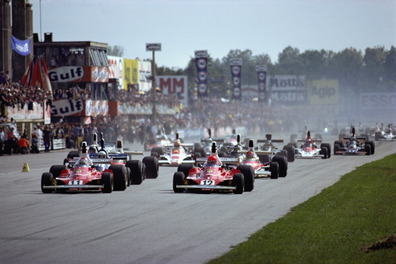 Clay Regazzoni and Niki Lauda lead the field at the start (Getty)
The 1975 Italian Grand Prix was one to remember for the passionate Tifosi. Ferrari had regrouped under the leadership of Luca di Montezemolo with Niki Lauda leading the drivers' championship.
McLaren's Emerson Fittipaldi and Brabham's Carlos Reutemann had to win in order to keep the championship alive with Lauda needing a solitary point, and Fittipaldi gave it a fair old crack.
After a multi-car pile-up on the opening lap, it was Lauda's Ferrari teammate Clay Regazzoni who took the lead with Lauda in close attendance.
Fittipaldi tore around the circuit in pursuit of the Ferraris and eventually passed Lauda for second six laps from the end but Regazzoni held out for victory with Lauda gaining the points he needed in third to take his first drivers' title and also the constructors' title in front of the jubilant Ferrari fans.
Clive Mason/Getty Images

The 2008 Grand Prix saw the emergence of a young German driver as a star of the future.
Sebastian Vettel, driving an unfancied Toro Rosso in only his second full season, set the fastest time of both Q2 and Q3 of a wet qualifying to become the youngest ever pole-sitter. But the best was yet to come.
Amidst torrential conditions, the race started behind the safety car, and Vettel pulled clear as the only driver with clear visibility. He never looked back and won comfortably form Heikki Kovalainen's McLaren.
In doing so he secured Toro Rosso's first and only victory to date, the first time an Italian-based team other than Ferrari had won a Grand Prix since 1957.
He also became the youngest ever winner of a Grand Prix, aged 21 and 74 days.
Benefitting from the retirements of others is a common theme of victory at Monza.
The exciting 1956 race saw title contender Juan Manual Fangio retire with a broken steering arm before Ferrari teammate Peter Collins, also in contention, generously handed his car to the Argentine after Luigi Musso refused to do the same.
Musso led after Stirling Moss ran out of fuel but Moss was able to refuel his Maserati and tore after Musso like a man possessed before the Italian retired with steering issues.
Fangio closed the gap to Moss but the Englishman held out for victory, second place enough for Fangio to secure his fourth drivers' title.
A remarkable finish to the 1969 Italian Grand Prix saw four drivers battle it out right to the chequered flag in one of the closest Grand Prix finishes in history.
Stewart had dominated the season and needed only six points to seal a first world title with three rounds still remaining. The Scot squeezed past pole-sitter Jochen Rindt at the start and then followed a gripping contest with no fewer than seven cars within striking distance of one another.
Stewart took the lead on lap 23, and Graham Hill then posed the main threat until Jean-Pierre Beltoise passed Hill's Lotus for second shortly before the Englishman retired.
Stewart, Beltoise, Rindt and McLaren were then almost inseparable on the final lap, Beltoise leading out of the parabolica before Stewart and Rindt slipstreamed past.
At the chequered flag Stewart somehow surged ahead of Rindt's Lotus by eight 100ths of a second to win one of the closest Grands Prix of all time, a mere 0.19 seconds covering the first four.
Only two years after the scarcely believable finish that saw Jackie Stewart clinch his first world title, the 1971 Italian Grand Prix saw an even closer finish as Britain's Peter Gethin edged Swede Ronnie Peterson by an even slimmer margin of one one-hundredth of a second for his only Grand Prix victory.
It was Peterson who got off to the stronger start, edging past Clay Regazzoni before first Jackie Stewart then Regazzoni again re-took the lead. Following Stewart's retirement on lap 16 and Regazzoni shortly after, the Surtees of Mike Hailwood and Matra of pole-sitter Chris Amon joined the lead pack of Gethin, Peterson, Francois Cevert and New Zealander Howden Ganley.
Amon dropped back after his visor fell off his helmet, and his engine then began to overheat, but onto the last lap Gethin dragged past Peterson through the long right-hander after the Parabolica and beat him to the flag with Cevert, Hailwood and Ganley less than half a second behind.
The 1971 race was the fastest ever up to that point with an average speed of 150.75 mph.
But for a broken fuel pump towards the end of an enthralling race, Jim Clark would have laid claim to possibly the greatest victory of all time instead of finishing third.
A storm washed out the final practice session to produce a mixed grid and Clark's race should have been all but over at the start, when he had to pit to change a punctured tyre after only 13 laps.
Although a lap behind, Clark drove like a man possessed and unlapped himself, passing both John Surtees and Jack Brabham with just laps remaining.
But with the impossible victory in sight, Clark's Lotus suffered a broken fuel pump, and Surtees and Brabham coasted back past him as he held out for an equally impressive third.