How Floyd Mayweather and Canelo Alvarez Are Growing Boxing's Fanbase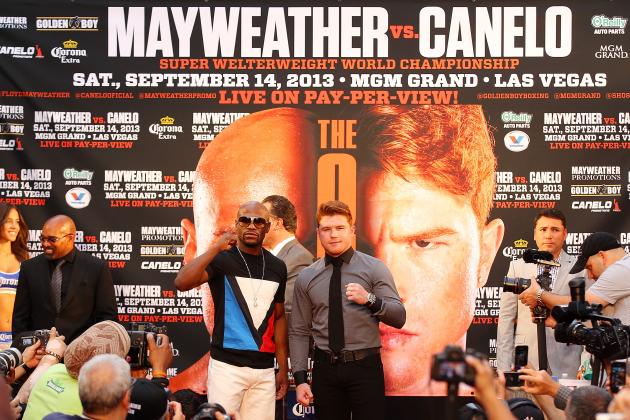 Mike Stobe/Getty Images
Floyd Mayweather and Canelo Alvarez are just days from finally meeting in the ring.
Floyd Mayweather and Saul "Canelo" Alvarez will meet for the junior middleweight championship in Las Vegas on Sept. 14, but already they've participated in the single largest marketing campaign in boxing history, and hope to break all sorts of financial records.
It's been dubbed "The One" and—if you're alive and breathing—you can't go far without being exposed to a television commercial, a radio spot or even brand integration which has included everything from alcoholic beverages to motor oil. It's the type of blanket coverage the sport has never seen before.
All of it has revolved around a central premise; that this is the biggest fight in the sport, featuring its two biggest stars and whether you're a hardcore fan, a casual fan or even no fan at all, you need to find a way to see this fight.
But it isn't just about selling tickets and making money—of course that's a huge part of it—it's also about growing the sport and finding ways to draw in new fans. Both Floyd Mayweather and Canelo Alvarez have personalities that are compelling, and they both have the ability to grow the sport.
That's exactly what they've been doing throughout their careers—and in particular the last few months—and here's how.
Begin Slideshow

»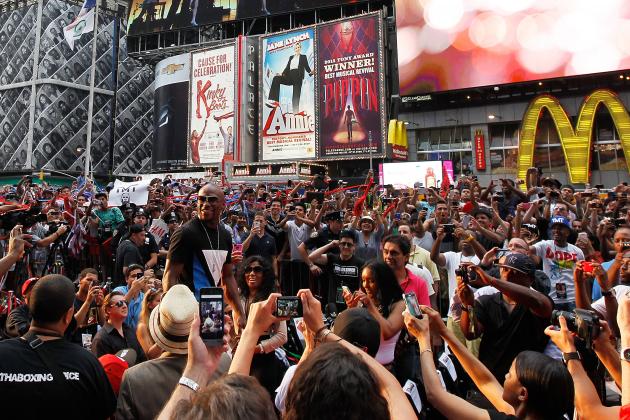 Mike Stobe/Getty Images
Times Square was packed for the opening stop of "The One" Press Tour on June 24.
Shortly after the fight was finalized, Golden Boy Promotions announced that Floyd Mayweather and Canelo Alvarez would embark on an unprecedented 11-city, two-country press tour to build interest and hype for their upcoming showdown.
It ended up being 10 cities over nine days—a scheduled Phoenix, AZ stop was cancelled in the wake of the tragic deaths of firefighters battling wildfires in the state—and drew in hundreds of thousands of fans.
Mayweather Promotions CEO Leonard Ellerbe says he was taken back by the outpouring of interest, and particularly the support shown for Canelo:
For Floyd Mayweather to be on top for as long as he has been, to be the biggest star in the sport and to go to these different cities, and to see there were more Hispanics, Mexicans than there were Floyd fans. I'm totally being honest, that's to me, a great indicator of why this is "The One."
Richard Schaefer, who is the CEO of Golden Boy Promotions, echoed these sentiments and emphasized the crossover appeal of this fight to fans and non-fans alike:
There were well over 200,000 people when you add it all [the 10 stops] together. What was interesting as Leonard mentioned as well, the fabric of the people who attended. There were children, there were families, female, male. It clearly is a fight which appeals to the masses and they came out.
The press tour got this fight off on the right foot. It emphasized that this was more than a fight, it was an event and it definitely built the type of interest that brings new people into the fold.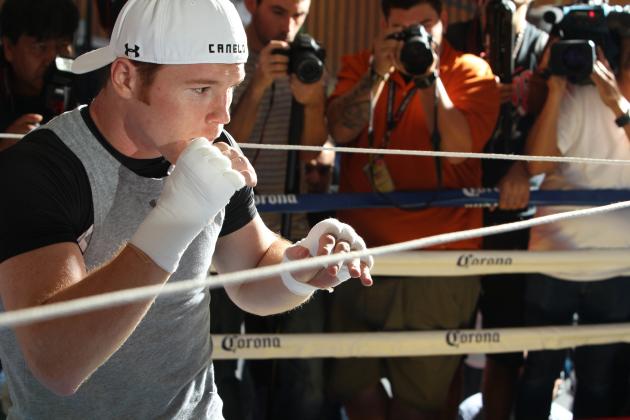 Alexis Cuarezma/Getty Images
Showtime's unique All Access program gives all fight fans the opportunity to feel like a part of the fight.
Floyd Mayweather and Canelo Alvarez have starkly different personalities.
Mayweather—as he's made a career doing—is brash, outspoken and extremely flashy in virtually everything he does. He's a great fighter, but he's possibly even better at marketing his brand to the masses.
By contrast, the younger Canelo is more business-like, reserved and quiet. He certainly doesn't shy from the spotlight, but he mainly allows his fighting to do the talking.
Sounds like the perfect setup for Showtime's All Access: Mayweather vs. Canelo, which premiered on the network Aug. 24 and will take fans all the way up through fight week and the big fight on Sept. 14.
In terms of growing the sport, and promoting the fight, there is no better vehicle than All Access, according to Showtime Executive Vice President of Sports and Event Programming Stephen Espinoza:
All Access is still the single biggest tool we have to promote this event. It is the single most effective piece of programming we have to get the regular fan, and our die-hard fan and even the non-fan engaged on an emotional level with this fight.
Anyone who watches the program knows this is pretty accurate. It's a unique, in-depth view of the fighters and their teams as they prepare for the big night. You get access to everything from the fighter's training camps, to their personal lives and even their sometimes candid feelings about the sport and the event.
In terms of growing the sport, Showtime has invested heavily in distributing the All Access program across media platforms. It's available across the CBS network, including online streaming, and has a Spanish language version produced by Univision.
This allows it to reach a huge amount of fans, many of whom have never tuned-in to boxing before. And that certainly doesn't hurt.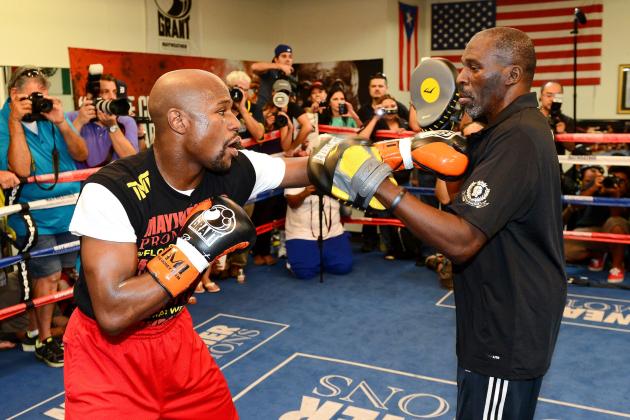 Ethan Miller/Getty Images
Mayweather and Canelo are using all forms of media to build their fight.
This isn't just a fight—it's an event—and everything Showtime, Golden Boy Promotions and Mayweather Promotions have done in terms of marketing emphasizes that fact.
From All Access, to live streams of open workouts featuring both fighters in their gyms, to virtually every minute of fight week that will be available online, fans have gotten an opportunity to get to know the fighters in a way that's never been done before.
The level of attention received by both Mayweather and Canelo as we head into the home stretch of this drama is mind-boggling.
It's been years since the eyes of the sports world, and not just boxing, have been focused on a major prize-fight. And that level of attention is great for the sport, and it befits the way the fight is being handled.
As Stephen Espinoza said, all the parties involved are treating this as an event, and not just a fight:
If we look at the other high profile events in sports today, whether it''s Super Bowl, or the Final Four or the World Series, this is the type of coverage you get. You get wall-to-wall, week-long coverage. We look at this as boxing's Super Bowl week. The fans demand it. They want this coverage
Those are some very heavy comparisons. What they're talking about are the single largest sporting event in the world, and two others that don't run far behind.
And that's a testament to both Mayweather and Alvarez who have taken a prize fight, and made it into something that transcends sports.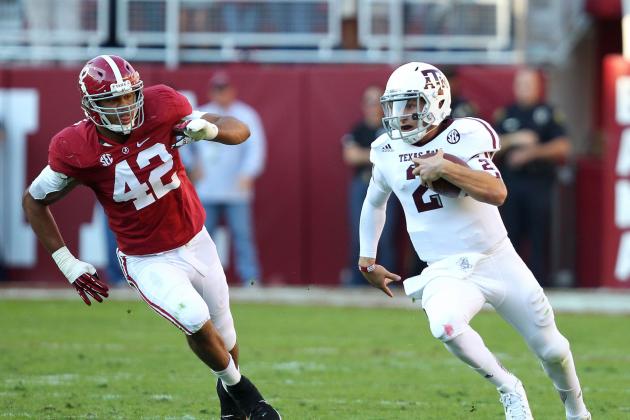 Mike Zarrilli/Getty Images
What does Johnny Football have to do with this fight?
So, by this point you're probably asking yourself what Johnny Manziel and the Texas A&M Aggies have to do with Mayweather vs. Canelo. The answer might surprise you.
Never before in the history of boxing has a fight received this level of mainstream exposure. That's by design, not by accident, and the best is yet to come.
When it comes to popularity and marketing, what is the first sport that comes to your mind? Don't take too long on this one, it's easy.
Football. The NFL is by far the biggest brand in all of sports, and the NCAA isn't far behind. The immense popularity of the game is shown by the tens of millions of viewers who tune-in each week on Saturday's to watch the future stars, and also on Sunday's to watch the pros do their thing.
How big would it be for boxing to piggy-back on that success, and find a way to reach a huge new audience. We're about to find out.
Stephen Espinoza had this to say on the subject:
There are really two crown jewels here of promotional exposure. The promotional support we are going to get during the NFL's first weekend on CBS, and the promotional support we're getting on the day of the fight in what will perhaps be the biggest college football game of the entire year. CBS on NFL averages in excess of 20 million viewers a week. Last year Texas A&M versus Alabama did 22 million viewers.
This is a whole new world for boxing. And if 'Bama and A&M had that many viewers last year—before Johnny Manziel's Heisman and subsequent disciplinary problems with the NCAA made him must-see TV—how many people do you think will be putting on their TV sets for that game this year?
This has the power to reach an astronomical number of people, and many of them have never seen this type of exposure for boxing before. That's absolutely huge for both fighters and the sport.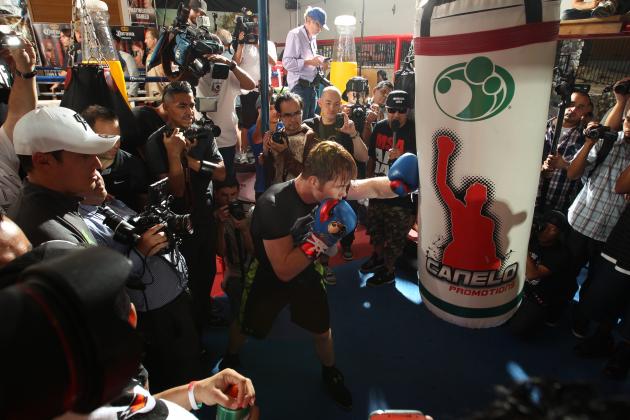 Alexis Cuarezma/Getty Images
Canelo is a huge draw, particularly amongst the Latin American community.
There are a lot of factors that have forced boxing from the mainstream of American sports attention, and relegated it to second-tier status.
Now that's not to say boxing is in trouble—in fact the sport's struggles have been greatly exaggerated and 2013 has been something of a banner year in which Mayweather vs. Canelo is the cherry on top—but it's not where it once was.
In that respect you couldn't have asked for two better personalities to take the sport back to the mainstream.
That's exactly what this fight intends to do, and Richard Schaefer believes that boxing is in a very strong position as a result:
I remember three, four, five years ago I was standing here and people were asking me well the sports is dying and all these negative comments. Now you don't see them anymore, now you don't hear them anymore because boxing is back. Boxing is better bigger, better and stronger.
How did we get to that position? The answer is very simple.
"Canelo-mania has swept the United States, and that's why the Hispanic market is so important," said Schaefer, who was discussing the role of Hispanics in the growing popularity of the sport.
But not to give credit to only his fighter, he was also short and sweet in his praise for the pound-for-pound king.
"Floyd has made the sport of boxing mainstream."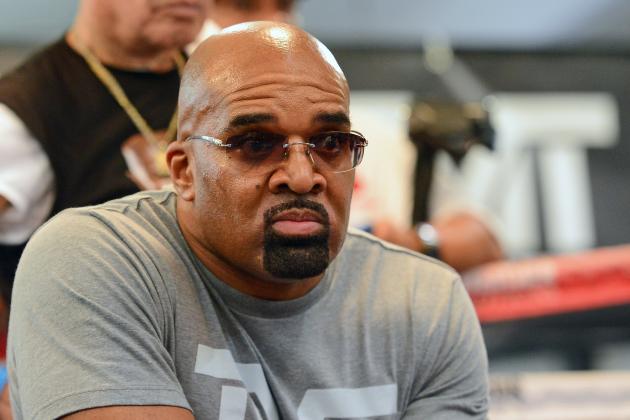 Ethan Miller/Getty Images
Mayweather, along with Leonard Ellerbe, has spent a great deal of time in cultivating his brand and making sure it lasts beyond his fighting career.
Does the sport live and die with Floyd Mayweather?
It was poignant question, and when Richard Schaefer answered it, there was some doubt, but also hope about the future of the sport.
So much of the recent past and future of the sport has been tied into Floyd Mayweather that it's legitimate to ask whether it will all go away when he eventually decides to call it a career. It's a worrying proposition for the sport's power-brokers and its fans, but Leonard Ellerbe for one doesn't seem too worried about boxing post-Mayweather:
Floyd also has put a lot of energy and effort into his own promotional company Mayweather Promotions. We're developing and cultivating the younger guys so that when Floyd decides to move on he'll be able to pass the mantle on and boxing will continue to evolve
That might be true, but a lot of the new viewers that Mayweather has attracted will be tempted to drop off once he exits the ring for the final time as a fighter.
But he's done a tremendous job marketing not just himself as a fighter and a personality, but the total package as a way of life. He's deeply involved in his promotional company and in helping new stars emerge, and forgotten ones—such as Ishe Smith who will defend his world championship for the first time on the undercard—get another chance.
That's the type of lasting impression that will keep him relevant in boxing even after he hangs up the gloves. Just look at Oscar De La Hoya if you need an example of how far an individual personality can go to grow the sport, even when he is no longer fighting.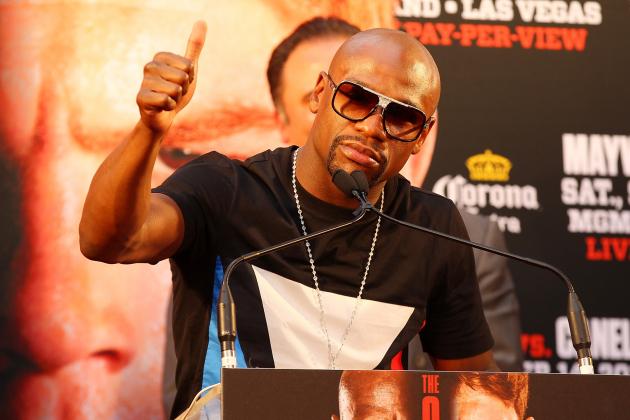 Mike Stobe/Getty Images
There's no question about who holds the top spot in boxing.
Unlike the NFL, or MLB—where multiple guys can make legitimate claims to being the man at any given moment—in boxing there is no question.
Floyd Mayweather is the man on top, and he's been there for quite some time now.
Being the face of a sport has its perks. According to ESPN.com it has $41.5 million perks, with that being the minimum amount of money that Mayweather will earn for facing Canelo on Sept. 14.
You don't make that kind of money for nothing.
In Leonard Ellerbe's eyes, it's Floyd's crossover appeal, and his ability to bring new people to the sport, that makes him boxing's face:
Floyd takes great pride in being the face of the sport. Because being the face of the sport, he's been able to attract new fans to the sport. Unlike any recent times, you see now more women who are watching boxing and one of the main reasons is he's been able to crossover to that mainstream world.
At this point you'd have to say that both Mayweather and Alvarez have crossed over, but Floyd certainly led the way.
Both Mayweather and Canelo are featured on the cover of a special fight issue of ESPN: The Magazine, and Alvarez certainly has a chance to unseat Mayweather as the face of boxing with an upset win.
Alexis Cuarezma/Getty Images
Canelo has huge appeal, and has won the hearts of a huge Mexican fanbase.
Canelo Alvarez is a rockstar. He's also the prototypical Mexican fighter.
He's aggressive, tough and he loves attacking to the body with great power and ferocity.
With his style, and personality, it's no wonder that Mexican fight fans have fallen in love with him, and they've placed the hopes of an entire nation on his shoulders when he faces Floyd Mayweather in Las Vegas.
He's already a star, and if he's able to knock off Floyd Mayweather the sky would be the limit.
Canelo's appeal, particularly with Hispanic's and in areas with large Hispanic populations, is impossible to deny. It was something that proved itself time and time again during "The One" press tour stops and particularly in Mexico.
In Mexico City, we were staying very close proximity to where the press conference was, to realize that not only were there going to be 20-30,000 people there, but the vast majority of those people were there four, five, six hours ahead of time. Houston there were 1,000 to 2,000 people lined up outside who couldn't get in. It's not just the crowd, it's their commitment to being there.
Stephen Espinoza's words emphasize a great point. For a man of his age, and his relatively recent emergence on the big stage of boxing, Canelo has a tremendous amount of support. He's on the cusp of something huge, and his popularity isn't going away anytime soon.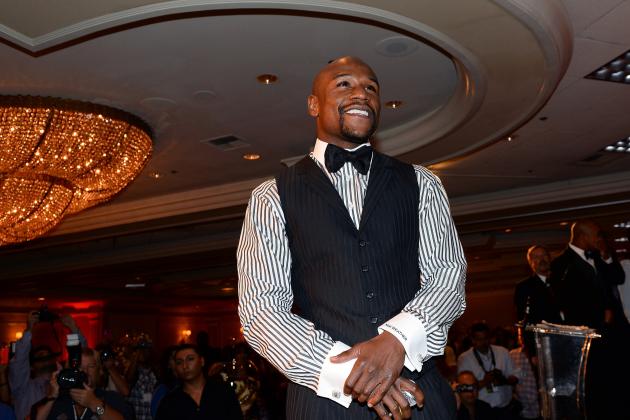 Ethan Miller/Getty Images
Both Floyd and Canelo have appeal with younger fans and potential fans.
Both Floyd Mayweather and Canelo Alvarez appeal to a younger generation of fight fans, and those are the exact fans the sport needs. With boxing, if you get them young, you usually keep them.
Mayweather has been largely successful at attracting younger viewers through his brand—The Money Team—and his heavy presence on social media sites like Facebook and Twitter. He's successfully tapped into a a huge new market that helps him continuously restock his fanbase.
Canelo's appeal to younger fans is largely based on two things. One, he's young himself and at just 23 years old is relative to younger viewers and two, he's good-looking, and has the personality of a rockstar.
It's because of both fighters ability to draw in a younger audience, according to Stephen Espinoza, that the fight has been marketed to a broader demographic than previous events:
That's for two reasons. One, because of Canelo's youth. As a young fighter. and as a new fighter, he has that appeal. And because of Floyd's generation. His fanbase remarkably has stayed young. There are people who have been Floyd Mayweather fans for 15 years, but he has stayed in touch with the urban fanbase, and not just African-Americans but the urban market. And he is as relevant to 22 or 25-year-olds as he is to people his own age.
That's music to the ears of anyone who loves the sport of boxing.
Both fighters have the ability to draw, and then retain, younger viewers, and anytime you can broaden your fanbase, you're winning.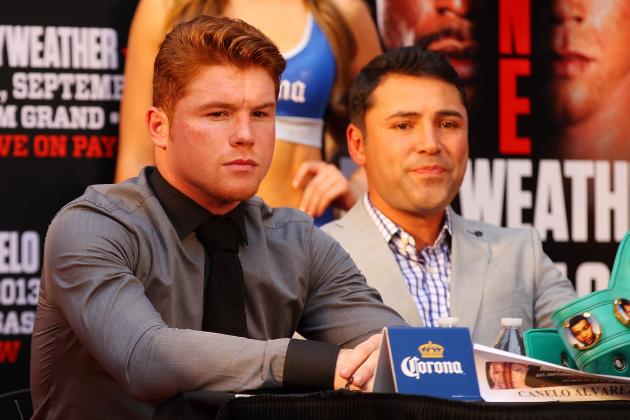 Mike Stobe/Getty Images
Canelo and Oscar are very popular with the ladies.
Women are a tremendously unvalued demographic when it comes to professional boxing. But before we proceed, let's get a lot of the stereotypes out of the way right up front.
Regardless of what you may think, boxing can be marketed to women, and they're receptive of it when it's done correctly. Women, like all other fans, will support the sport if you give them compelling figures, dramatic events and some value for their buck.
Oscar De La Hoya never had problems attracting women to his many fights, appearances and events. Similarly, Floyd Mayweather are both extremely marketable to women.
As Stephen Espinoza pointed out, there are various reasons that these two particular fighters are appealing to female viewers:
Floyd over-performs compared to other boxers in terms of women, but also Canelo for obvious reasons. He's a family guy, very good looking, does well with women. Just look at him. He looks like a movie star.
Those are compelling reasons, and they aren't all based entirely on his physical appearance. Although, that certainly plays a part in it, and it's something the promoters aren't averse to utilizing or pointing out.
"I have seen more females following Canelo on the press tour than I have ever seen with Oscar De La Hoya," Richard Schaefer said when asked if Canelo was more popular with the ladies than De La Hoya.
It's and interesting question, but in reality, all that matters is that new people are brought into the sport. And that's exactly what Mayweather and Canelo are doing.
All quotes were obtained directly.