There is going to be plenty of focus on the San Francisco 49ers and the upcoming 2013 NFL season.
Why wouldn't there be? The 49ers are heavily favored to contend for a Super Bowl championship, and it is a reasonable assumption that they will live up to those expectations. The conversation surrounding the 49ers' prospects for such a season have paralleled San Francisco's road to the 2013 season.
Twitter is no stranger to that conversation.
What are the hot trends surrounding the 49ers this year? Plenty surround head coach Jim Harbaugh while others have been focusing on budding-star quarterback Colin Kaepernick. Almost every tweet has one thing in common—what will happen to the 49ers this upcoming season?
---
Preparing for 2013
It is no secret that San Francisco has been making all sorts of changes and preparations for the upcoming season. With so many expectations, such preparations are necessary.
So what does Twitter have to say about it?
The recent final cuts of the 49ers generated plenty of tweeted speculation and material as San Francisco groomed its final 53-man roster.
Some of the cuts, including releasing 13-year veteran long snapper Brian Jennings, made widespread Twitter news.
The 49ers announced some of the last cuts through their own account.
The #49ers have trimmed their roster to 53. Find out which players made the team. http://t.co/YcgsQS1hb3

— San Francisco 49ers (@49ers) August 31, 2013
A number of these ex-49ers went on to be signed immediately by other teams, which prompted another wave of Twitter interest. The Kansas City Chiefs appeared to be fans of ex-49ers, already prompted by the trade that acquired former-San Francisco quarterback Alex Smith.
Then Kansas City grabbed wide receiver Chad Hall and cornerback Marcus Cooper, prompting one writer for Bay Area Sports Guy to post a frustrating tweet of his own.
Okay, Chiefs. You gave Alex a new home, took Chad Hall, whatever. But Marcus Cooper? Now you're getting on my nerves

— Ruthless Sports Guy (@Ruthless_Sports) September 1, 2013
Even ex-49ers can generate enough attention on Twitter.
Perhaps no other cut generated as much draw as that of Jennings.
This writer gave his own shout-out to Jennings after the news and Jennings appreciated the applause.
Here is my shout out to Brian Jennings @Jennings141. Go 49ers! http://t.co/euR1XivvzK

— Peter Panacy (@PeterMcShots) September 2, 2013
@PeterMcShots thank you for your kind words.

— Jennings 141 (@Jennings141) September 3, 2013
It is certainly nice to know favorite athletes are able to interact with their fans on a personal level via their Twitter accounts.
Yet at the end of the day, all that matters is that the 49ers are gearing up for 2013.
The Harbaugh Factor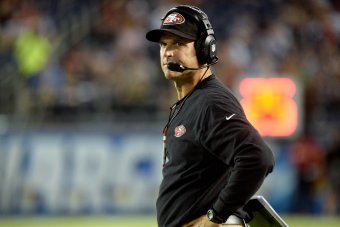 Robert Hanashiro-USA TODAY
I need not stress the importance and significance Jim Harbaugh has with this franchise. Enough has been said of that already.
Yet Harbaugh easily draws plenty of attention in the Twitter universe, partially because of his dynamic personality, but also because he has helped create one of the most thorough NFL franchises in recent years.
As a result, Harbaugh is no stranger to Twitter attention.
While Jim Harbaugh does have a Twitter account, it has remained dormant for nearly three years. Why, fans may ask?
Harbaugh thinks it is a waste of time. In an article published by Sam Laird of Mashable.com, Harbaugh states:
My personal opinion is it's a time drain. A lot of time is used on the Facebooking and the Tweeter and things like that. It seems unnecessary, though. It just seems like a modern-day diary.
Instead of Harbaugh tweeting out his thoughts, others are left to tweet about him.
Matt Maiocco of CSN Bay Area tweets out about a typical Harbaugh statement.
Coach Jim Harbaugh: "We're the San Francisco 49ers. We can do whatever we want." http://t.co/xj0AJjJvds

— Matt Maiocco (@MaioccoCSN) August 30, 2013
Harbaugh's personality has a personality of its own—if that even makes sense. It probably does to most 49er fans and to NFL fans in general.
Bleacher Report AFC West lead writer Christopher Hansen tweeted this about Harbaugh and his personality.
I wonder if the fact that Jim Harbaugh has a "personality" helps him manage the "personalities" on his team.

— Christopher Hansen (@ChrisHansenNFL) July 19, 2013
Most 49er fans would say Harbaugh has exactly that.
All Things Colin Kaepernick
Saying that Colin Kaepernick will have an essential role with the 49ers this season is kind of like saying "falling off a roof will result in contact with the ground."
Kaepernick is another personality worth noting in the realm of Twitter.
Did you know that he spent a week working out at the same Los Angeles gym as Green Bay Packers linebacker Clay Matthews? Thanks to San Francisco Chronicle writer Eric Branch's Twitter account, you do now.
#Packers LB Clay Matthews trained at same gym in LA for a week with #49ers Colin Kaepernick and other players in offseason ...

— Eric Branch (@Eric_Branch) September 4, 2013
Who knows if that will have any effect on the 49ers when they take on the Packers in Week 1. Matthews is excited for the matchup either way.
Packers LB Clay Matthews on matchup with #49ers: "It should be a good test against a Super Bowl favorite." http://t.co/17oOw4dDJZ

— San Francisco 49ers (@49ers) September 4, 2013
What is known is that Kaepernick can be savvy when it comes to addressing the media. After answering a plethora of questions that are preceding opening day, Kaepernick's responsive style found its way into social media.
Branch follows up by tweeting about Kaepernick's demeanor.
Perhaps a new record: Tight-lipped #49ers QB Colin Kaepernick just required 3 minutes, 32 seconds to field 879 questions.

— Eric Branch (@Eric_Branch) September 4, 2013
Kaepernick is no stranger to the camera, but it is obvious that he is keeping his cards—and the team's for that matter—close.
What About the 2013 Season?
There is already enough about individual personalities. What about San Francisco's prospectus for a Super Bowl championship this year?
After all, that is what matters right?
Well, there are plenty of opinions that stand in contrast to the high hopes and expectations the 49ers have going into 2013.
Niners Nation writer Aaron Malone tweets an ominous prediction about San Francisco's chances according to a source.
I've just gone over SI's NFL preview stuff...not one expert picks #49ers to win division, not one 49ers on their All-Pro list. Hmm....

— Aaron Malone (@GafflezMalone) September 4, 2013
Similarly, CSN Bay Area's Ray Ratto writes an article tweeted by @CSNAuthentic that states the 49ers may be heading towards rough times ahead.
History suggests it's downhill for #49ers (via @RattoCSN) http://t.co/nU38yNZdFs #NFL #49ersTalk

— Comcast SportsNet (@CSNAuthentic) September 4, 2013
Hopefully for San Francisco and its fans, these concerns are proven wrong. Only time will tell that answer however.
---
What is known is this: The 49ers are heading towards what promises to be an intriguing season filled with exciting plays and playmakers, with the hopes of returning to the Super Bowl.
It is a team filled with both characters and character, illustrated by individual stories and tweets alike.
While some of the aforementioned tweets have given fans insight regarding what to expect heading forward, it is an understatement to assume the conversation ends there. There will be more discussion in the weeks and months that follow.
In the meantime, fans will have to tune in to find out what happens.
Peter Panacy is a featured columnist for Bleacher Report, covering the San Francisco 49ers. Follow him @PeterMcShots on Twitter.