Ranking the Small-Team NASCAR Drivers Who Are Ready to Jump to a Bigger Stage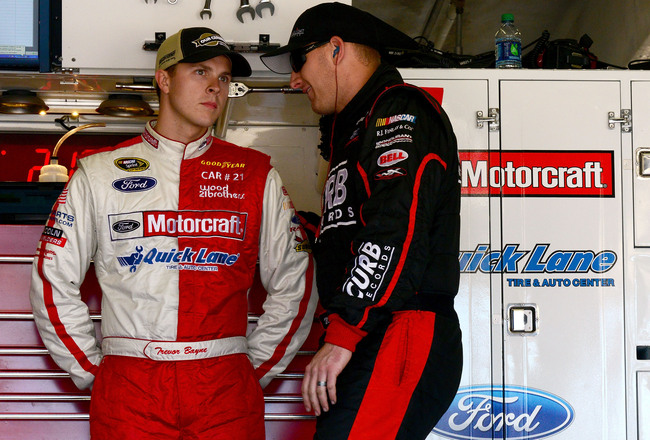 Trevor Bayne and Michael McDowell both deserve quality full-time Sprint Cup rides.
Robert Laberge/Getty Images
It is no secret that when the green flag waves to start any NASCAR race, some drivers are heavy favorites to win, while others have absolutely no chance.
It's not that these drivers aren't talented enough. They are just in a different situation than some of their peers. Approximately half of the competitors who make up a typical Sprint Cup Series starting grid come from teams that have unlimited resources, and the sky is the limit for their success.
The other half are on teams that have to scrape and claw just to get by on a week-to-week basis. These teams have fewer resources and people to help prepare the cars.
They continue to race because they love what they do. And just like anything in life, the harder you work at something, the better you will get. The hope for these small teams is to one day be on par with the top-tier organizations they are currently competing against.
Employed by these smaller teams are some very talented drivers. Because there are only so many quality rides, some competitors drive for these underfunded teams in the hope of doing a good enough job that they will be recognized by one of the top teams when a spot does become available.
In the slides ahead, we will take a look at five drivers who certainly have talent worthy of being a member of one of NASCAR's top organizations but are currently driving for a small team.
In some cases, these drivers have previously been on a top team, and for one reason or another it just didn't work out the first time around. But in other cases, some drivers have yet to get their opportunities to really show just how good they could be.
For the sake of clarity, we will say that Hendrick Motorsports, Richard Childress Racing, Joe Gibbs Racing, Roush Fenway Racing, Michael Waltrip Racing and, to a lesser extent, Earnhardt Ganassi Racing are the teams that cannot be labeled as small teams.
5. Michael McDowell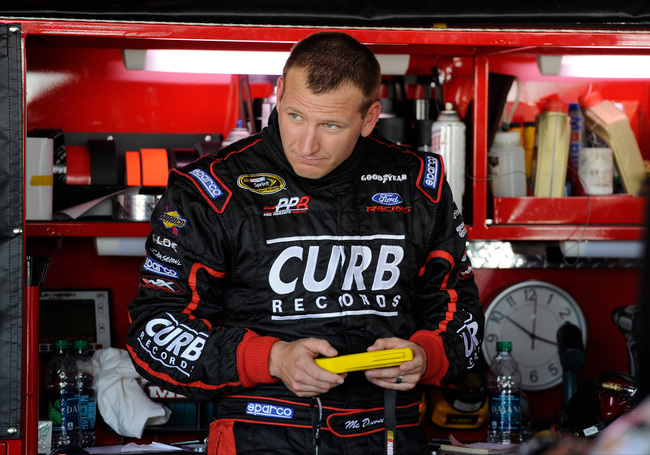 Michael McDowell deserves to be more than just a start-and-park driver.
USA TODAY Sports
With almost no NASCAR experience, Michael McDowell was thrust into a full-time job in the Sprint Cup Series in 2008. The results were disastrous.
After 20 races and only five finishes of 25th or better, Michael Waltrip Racing released him from his contract.
Since then he has managed to stick around the Sprint Cup Series, bouncing around from various underfunded teams, predominantly in a start-and-park role. One exception was at this year's Daytona 500 when his Phil Parsons Racing team elected to run the entire race. McDowell rewarded them with a ninth-place finish.
In the last couple of years, McDowell has received a few opportunities to drive the No. 18 car for Joe Gibbs Racing in the Nationwide Series. In his limited starts, he has proved that he is more than capable of driving for a big budget team.
McDowell has made 12 starts for Gibbs and has posted 10 top-10 finishes, including two runner-up efforts.
McDowell is long overdue his opportunity with a team that runs more than just a handful of laps in each event.
Even if he can't find a ride with a top-tier team, it would be nice to see him get an opportunity to run a few races from start to finish, just to see what he can do now that he is a veteran and has gained some experience.
4. AJ Allmendinger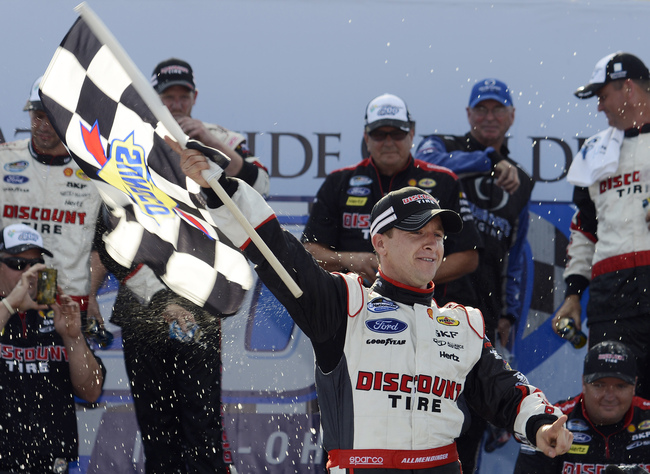 AJ Allmendinger has won both of his starts in the Nationwide Series this season.
Robert Laberge/Getty Images
AJ Allmendinger has just been announced as the full-time driver for JTG Daugherty Racing beginning in 2014. If not for his suspension last season, it is fair to assume that he would still be driving for Penske Racing and possibly enjoying the best seasons of his career.
After struggling immensely in his first few years in the sport driving for startup team Red Bull Racing, Allmendinger has improved with every new opportunity presented to him.
He spent three years driving for Richard Petty Motorsports, where he statistically improved each year, culminating in 2011 with 10 top-10 finishes and ending the season in 15th place in the point standings.
He signed to drive for Roger Penske beginning in 2012. Through 17 races he had posted three top-10s, including a runner-up finish at Martinsville.
Then it all went away.
After testing positive for a banned substance, NASCAR suspended Allmendinger, and Penske Racing released him from his contract.
He completed the Road to Recovery program and picked up a handful of races with Phoenix Racing to end the year. He has continued running select races for them again this year, along with a few stints in JTG Daugherty's No. 47 car.
Penske has also tabbed Allmendinger to run a couple of Nationwide Series races. Both times he has been behind the wheel of the No. 22 car he ended the day in Victory Lane.
While getting back into the Sprint Cup Series full-time is great for Allmendinger's career, it is highly likely that his results would have been better at Penske Racing than they will be for the single-car JTG Daugherty team.
3. David Ragan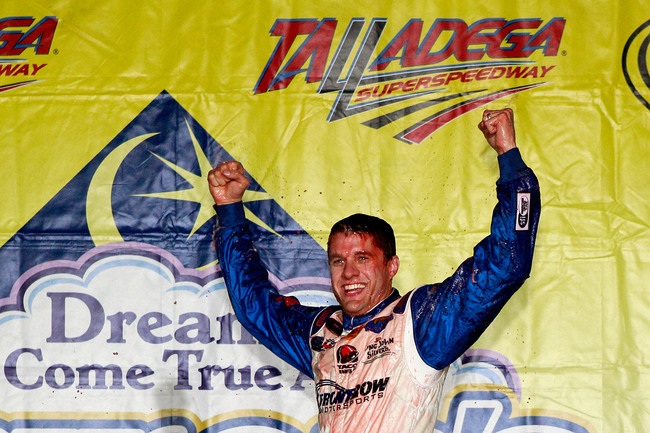 David Ragan pulled of a huge upset when he won at Talladega earlier in the year.
Sean Gardner/Getty Images
Critics may point out that David Ragan already spent an extended time driving for a top notch team, and it never panned out. While it would be tough to dismiss that argument, Ragan is ready for his second chance in one of the Sprint Cup Series' premier organizations.
When Ragan began as a full-time driver for Roush Racing in 2007, he had made just seven career starts in the Nationwide Series and was quickly rushed into his role of replacing Mark Martin in the No. 6 car.
After struggling through his rookie year, Ragan posted what is still the best season of his career in his second full-time campaign. He finished with 14 top-10 finishes and just missed out on qualifying for the Chase, ultimately finishing 14th in the standings.
The next three years with Roush Racing were a struggle. He posted a total of 13 top-10s and never finished better than 23rd in the standings. The one bright spot came in 2011 when Ragan scored the first win of his career.
For the last two years, Ragan has been driving for the underfunded Front Row Motorsports team. In 61 starts for the team, Ragan has managed to score three top-10 finishes, all coming at Talladega.
He did, however, score one of the biggest upsets in recent NASCAR history when he won this season's race at Talladega, giving FRM their first win in team history.
If given a second chance with a bigger budget team, Ragan would be much more successful this time around. There is no denying that he has talent, and at just 27 years old, Ragan still has a long career in front of him.
The fact that he is one of the nicer guys in the sport doesn't hurt anything either, as he would be a great representative for any potential sponsor.
2. Trevor Bayne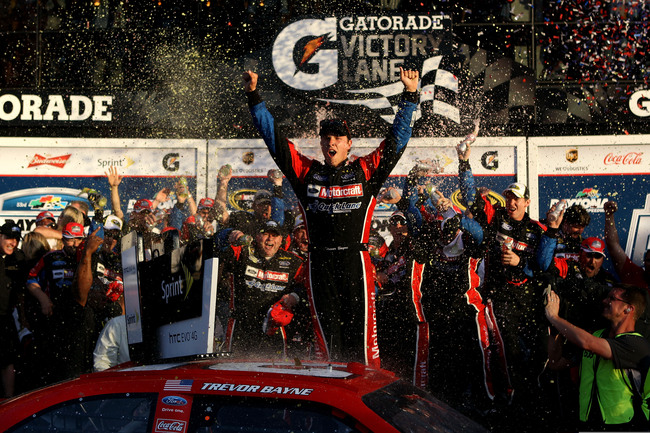 Trevor Bayne is a Daytona 500 champion and has yet to ever receive a full-time Sprint Cup ride.
Matthew Stockman/Getty Images
The story of Trevor Bayne is well documented. After failing to win a race in his first 51 Nationwide Series starts, he won the Daytona 500 in just his second Sprint Cup Series start.
Now, two-and-a-half years later, Bayne is still without a full-time ride in the Sprint Cup Series. He has continued to run select races for the Wood Brothers, who are a single-car team, with far fewer funds than the sport's top teams.
Bayne does have the luxury of being employed by one of the sport's upper echelon teams in the Nationwide Series. Driving for Roush Fenway Racing, he is running a full-time schedule in NASCAR's minor leagues for the first time in three years.
Through 24 races, he sits ninth in the standings, thanks to one win and 15 top-10 finishes.
Bayne's career would benefit greatly from making a full-time jump to the Sprint Cup Series with one of the top teams. Like Ragan, he is still very young and the type of person who sponsors would fall in love with.
1. Kyle Larson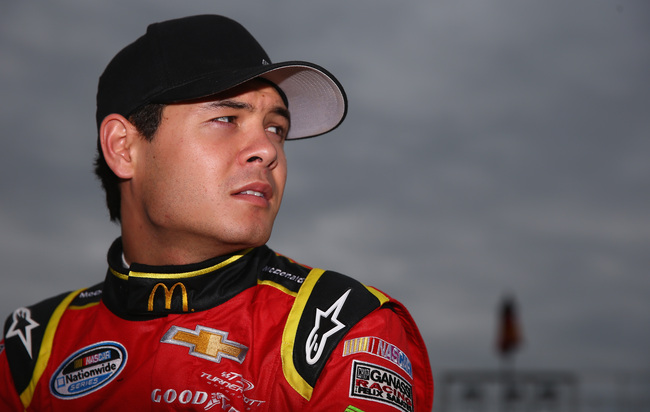 Kyle Larson will become the full-time driver of the No. 42 car in Sprint Cup competition in 2014.
Tom Pennington/Getty Images
Technically, we are breaking one of our outlined rules with this choice. Kyle Larson has signed to drive full-time in the Sprint Cup Series for Earnhardt Ganassi Racing in 2014.
While that is certainly great for him, and EGR is a very solid organization, it isn't a stretch to say that they are a little behind the likes of the Hendrick, Gibbs and Roush teams.
It would not be a stretch to think that in his rookie year, Larson could post some very impressive results. Ten or 15 top-10 finishes and a handful of top-fives are reasonable to expect.
But if placed in Hendrick or Gibbs equipment, those numbers could be even higher. Larson is an exceptionally talented driver, and paired up with one of the top two or three teams in the sport, he could quickly become one of the top competitors in the sport.
Larson is in his first season driving in the Nationwide Series and just his second year overall of driving stock cars.
Through 24 races he has posted 14 top-10 finishes and sits eighth in the standings. He has also scored a Truck Series win and a runner-up finish in just two starts in that series this season.
Larson is one of the top talents to come along in recent memory. He will undoubtedly be successful in the Sprint Cup Series, but it could be even more so if he were on one of the top three teams instead of one that is just a notch or two below.
Keep Reading