Ricky Burns vs. Raymundo Beltran: Preview and Prediction for Title Fight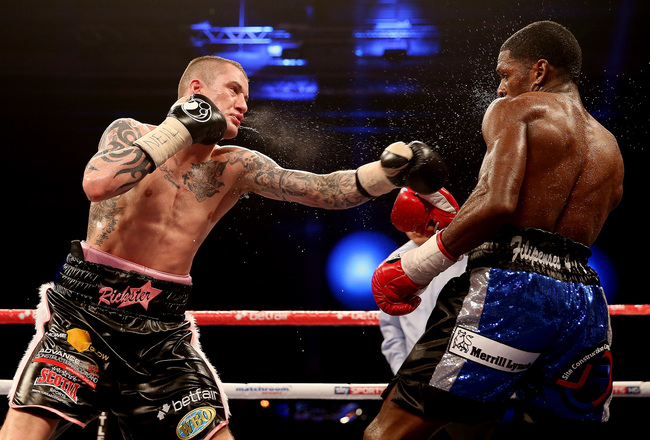 Scott Heavey/Getty Images
This Saturday in Scotland there is a significant lightweight title fight, as hometown hero and WBO champion Ricky Burns defends against the dangerously well-schooled journeyman Raymundo Beltran.
The fight in on Sky in the U.K. but is tragically limited to something called Wealth Television in the United States. This is a fight that matters on the world scene and it would have found a respectable audience among hardcore boxing fans on some sort of mainstream cable network.
Tale of the Tape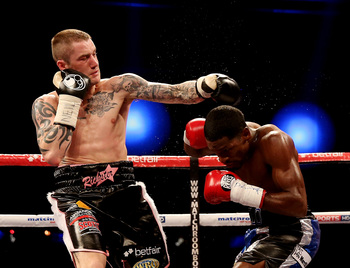 Scott Heavey/Getty Images
| | | |
| --- | --- | --- |
| Per Boxrec | Ricky Burns | Raymundo Beltran |
| Record: | 36-2, 11 KOs | 28-6, 17 KOs |
| Height: | 5'10" | 5'8" |
| Reach: | 70" | 68" |
| Weight: | 135 lbs | 135 lbs |
| Age: | 30 | 32 |
| Stance: | Orthodox | Orthodox |
| Hometown: | Coatbridge, Scotland | Phoenix, Arizona |
| Rounds: | 269 | 171 |
Burns has a two-inch advantage in reach and he fights with a clever style that takes advantage of his length and mobility. Beltran will have to play the come-forward bully in spots.
Burns will be fighting in front of friends, family, neighbors and well-wishers as he battles the stubborn and experienced Mexican warrior.
Main Storylines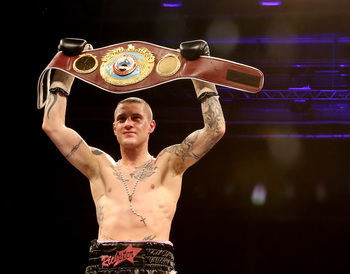 Scott Heavey/Getty Images
Since Adrien Broner vacated to move up to welterweight to fight Paulie Malignaggi earlier this year, Ricky Burns and Miguel Vazquez are left as the primary claimants to the crown at 135. So this is a legitimate world title fight.
Raymundo Beltran has a record that gives him the appearance of a journeyman, but there's a few tight decisions that could have gone his way inflating his loss column. His July 2012 decision over contender Henry Lundy on Friday Night Fights was a breakthrough win for him.
A big part of the story about Beltran is his long-time association with Manny Pacquiao and the Wild Card Gym, where he served as a sparring partner for the 8-time champion. As the Robert Garcia Boxing Academy seems to prove on a regular basis, where a fighter trains and who he spars with and generally surrounds himself with when he's "at work" can make a big difference in his progress and results.
Burns did not look terrific in his last fight against unbeaten, but previously untested Jose Gonzalez last May. Burns trailed by multiple points on all three cards when Gonzalez retired with a broken wrist after Round 9.
But Burns has beaten world-class talent to earn and maintain his status as a world champion. He beat former world-champion Michael Katsidisi by unanimous decision in November and stopped Kevin Mitchell in four in September 2012.
He is a significant step up for Beltran.
Strengths
Ricky Burns is a lengthy fighter with good footwork and a busy jab. He is a boxer-brawler who lets his hands go in quick combinations.
Burns has just 11 knockouts in 38 fights, but as he demonstrated against Kevin Mitchell, he can sit down on his punches and put an opponent away once he gets him in a bad position. He's a big lightweight with a deep gas tank.
Raymundo Beltran is a smart, pressure fighter. He throws a dangerous left hook off from the jab and frequently ducks and steps to the side before following up with a sneaky right hand.
Beltran strings his punches together fluidly while attacking both the body and upstairs. He's got some power as a puncher and is very difficult to discourage.
Weaknesses
Ricky Burns scored a high-profile Round 4 TKO of Kevin Mitchell in September 2012 but his 11 KOs in 38 fights is very low for a successful world champion. Against Gonzalez, he had a lot of trouble discouraging the undefeated challenger in the first half of the fight.
When Gonzalez was able to put serious pressure on Burns, Burns got aggressive but defensively sloppy.
Raymundo Beltran covers up and slips punches well when he's moving forward, but when an opponent is able to push him backwards, holes open up in his guard.
Beltran has ground away at the sport for years as a sparring partner and journeyman. It's given him valuable experience, but it's put mileage on his tires, too.
Ricky Burns Will Win If...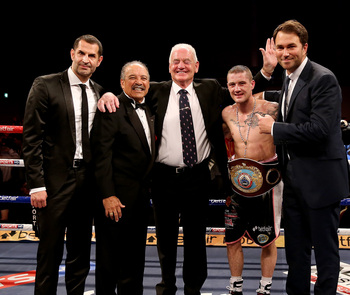 Scott Heavey/Getty Images
Ricky Burns needs to establish his jab quickly. He should use his footwork and a stiff, busy lead left to stop Beltran's movement coming forward.
The second he breaks Beltran's forward momentum Burns needs to let go with quick, scoring combinations. This is the opportunity of a lifetime for Beltran, so Burns is going to need to be his usual busy self to keep turning the challenger back.
Burns should throw a lot of punches to take advantage of fighting in front of a home crowd and keep them cheering loudly. In the excitement of an all-action fight, the hometown fighter can often win close rounds based on the crowd reaction to everything he does.
Raymundo Beltran Will Win If...
Raymundo Beltran needs to put smart pressure on Ricky Burns. Before he can do anything, he will need to slip underneath Burns' jab.
He should look to attack in quick bursts then regroup and attack again while Burns is trying to set himself.
Beltran should look to score with his lead hook, circle under and away from the counter, then follow up with a straight right.
Fighting in Scotland, Beltran is going to need to do everything he can to win rounds. He's going to need to keep coming forward with aggression from a variety of angles, and he's going to need to score often.
Prediction
The smart bet here is probably Ricky Burns. He's got length and skill. He's a world champion for a reason.
But I see Beltran as the kind of long-apprenticed journeyman who suddenly managed to step up to the next level. He boxed a smart, intelligent fight against the highly regarded Henry Lundy in July of 2012. He's stayed sharp with two wins in the year since.
I think Beltran is going to be able to apply pressure to Burns and force Burns to open up with wild counters, allowing Beltran to score again as he shifts position.
I'm picking Beltran for the upset by close decision, seven rounds to five.
Keep Reading