Advocare 500 2013 at Atlanta: Live Results, Updates and Analysis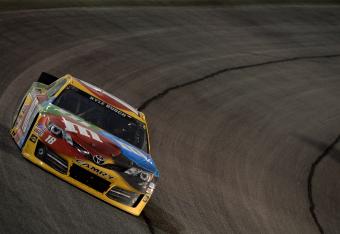 Patrick Smith/Getty Images
After an exciting race filled with cautions, Kyle Busch is the winner at Atlanta Motor Speedway!
We saw Chase hopes cut somewhat short tonight, as Brad Keselowski managed to lead the race at one point and looked like he was going to be in the top 10 heading into Richmond, but he would have engine troubles and lost cylinders.
Now he needs to go into Richmond and win if he wants to have any chance to be in the post season.
Jimmie Johnson also struggled tonight, and while he is a lock for the Chase, his recent string of bad luck cuts the monster momentum he had moving into the post season.
The 48 team looked like they would be the team to beat for the championship, but now they look like they will have issues to work out moving forward.
Other drivers like Jeff Gordon had a solid night, and moved up slightly in the Chase. Now Gordon needs to move into Richmond, a track where he runs well, and have a good finish if he wants to make the Chase.
The Goodyear tire stood up to the test at Atlanta, and drivers dealt with less tire issues than we've seen at other tracks.
Of course there were still some tire issues, but it's clear that Goodyear is now moving in the right direction with new tires to match the speed of the Gen-6 car.
Toward the end of the race, Joey Logano was running extremely strong, but after a caution came out, Kyle Busch was able to take advantage and started at the front of the field.
Logano made a strong effort to run down Busch, but ran out of time. He would finish in second.
Kyle Busch has even more momentum now heading into the Chase, and with how well the 18 team has been working together, this could be the year Kyle wins a championship.
Make sure to join us on the Bleacher Report next weekend as NASCAR heads to Richmond for the final race of the regular season.
Winner at Atlanta: Kyle Busch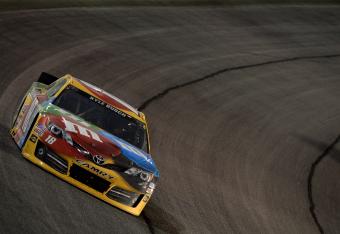 With this win, Kyle now has four victories this season and has huge momentum heading into the Chase.
2014 could be Kyle's year.
Thanks for joining us here on the Bleacher Report for the race at Atlanta!
Make sure to join us next week as we cover the last race of the regular season at Richmond.
Logano had a great run at the end, and if he hadn't been held up by Kurt Busch, he would have been able to pass Kyle/
Three Laps to go, Logano is now in second. Will he catch Kyle?
Kyle Busch is still holding strong, but Logano has moved up to third. He has five Laps to try and get close to Busch.
10 Laps to go, Kyle Busch is leading, but Joey Logano has the fastest car on the track.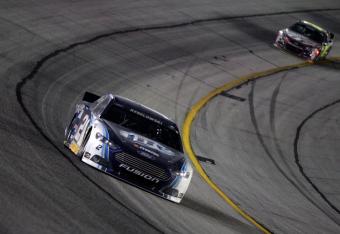 Brad Keselowski has finally lose his engine completely. This is greatly impact his Chase standings, and unless things go his way, he won't make the Chase.
Top 10: Kyle Busch, Truex Jr, Kurt Busch, Montoya, Ambrose, Logano, Newman, Gordon, Harvick, Kenseth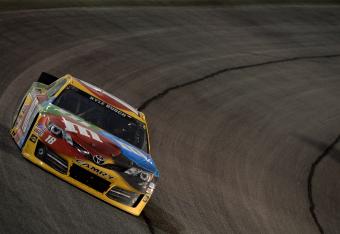 Kyle Busch maintain the lead on this last restart, and more importantly, no one has wrecked so far!
Only 21 Laps to go and these restarts keep getting crazy.
A lot is on the line tonight, but if a driver wrecks, it could ruin their Chase hopes. They need to race smart and not reckless.
Another crazy restart, followed by yet another caution. This time Richard Childress teammates get into each other as Jeff Burton had a tire go down and got into Austin Dillion.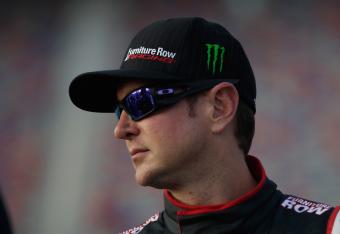 Kurt Busch had an impressive pass on that last restart.
He went from 10th to second.
Now he just needs to get past his rowdy younger brother.
And caution out again as Vickers takes a long slide through the grass. He saved the car though.
This will be the last pit stops for everyone as long as no more cautions come out. Everyone should be good on fuel to go to the end. 33 Laps to go.
Kyle Busch wins the race off of pit road, but will be starting next to Ryan Newman.
Let's not forget that Newman and Busch might not exactly be friends after Kyle called Newman an ogre this season.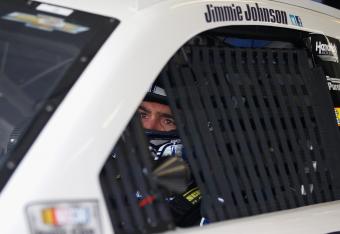 Caution comes out before green flag pit stops start. Jimmie Johnson spun in turn four.
Top 10: Logano, Newman, Kyle Busch, Harvick, Dale Jr, McMurray, Montoya, Ambrose, Gordon, Burton
Green flag pit stops should be starting soon.
Jeff Gordon is loose and falling behind. He was up toward the front at one point of the race, but now has fallen back to ninth and is continuing to slip.
He needs a caution to pit and make adjustments badly.
Even though he is struggling right now, if Gordon can maintain a top 10 finish, he would be in a good spot moving into Richmond next week.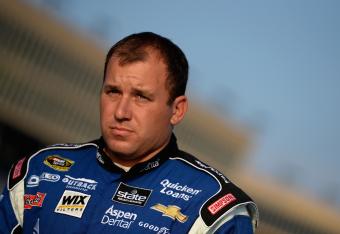 After taking damage earlier in pit lane, Ryan Newman is now in second place.
A win here would basically lock him into a wild card spot.
More importantly, it makes him look good heading into next season.
Top 10: Logano, Kyle Busch, Newman, Gordon, Harvick, Ambrose, Dale Jr, Stenhouse Jr, McMurray, Edwards
Keselowski went to pit road and they didn't lift the hood. He is going to ride around out their down a couple of cylinders to see what they can salvage of this night.
With his night over, Keselowski and the two team have to go into Richmond and win if they want to have any hopes of making the Chase.
After looking like he might just make the Chase, now their is a much stronger possibility that the two won't be in the post season hunt to defend their title. Things need to go their way next week, and lately that hasn't been happening.
Problems for @Keselowski "I just blew up" #NASCAR

— Lee Spencer (@CandiceSpencer) September 2, 2013
Keselowski is having problems. He is down two cylinders. His night is done, and his Chase hopes might be done as well.
Logano is chasing down Keselowski for the lead, on older tires.
Green flag pit stops should start soon, and Keselowski might lose his lead when he hits pit road because of where his pit box is. He could get stuck in traffic, while Logano is more toward the front of pit road.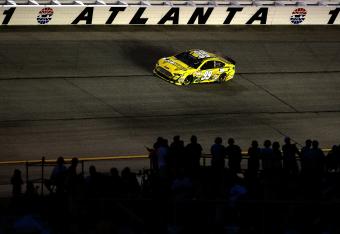 What happened to Carl Edwards? He's back to 18th after being the leader during the last restart.
This article is
What is the duplicate article?
Why is this article offensive?
Where is this article plagiarized from?
Why is this article poorly edited?