Why Manchester City Will Make the Champions League Knockout Stages This Season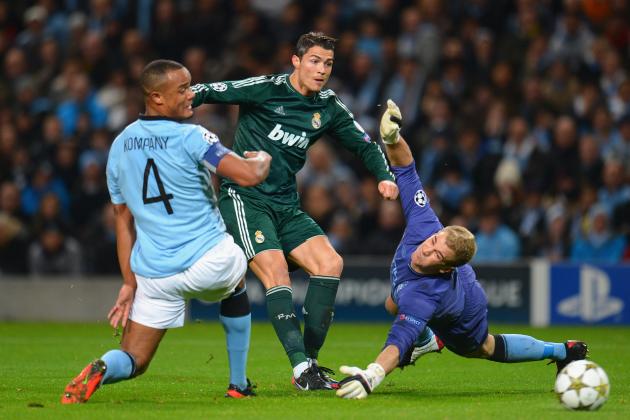 Shaun Botterill/Getty Images
City have struggled in their first two Champions League campaigns. How will they fare this time around?
Manchester City have been handed a tough task, as they strive to achieve something they have singularly failed to do in the last two seasons: make it to the knockout stages of the Champions League.
The Champions League draw put the Blues into Group D with Bayern Munich, the reigning European champions, CSKA Moscow and Viktoria Plzen of the Czech Republic.
But, as Rocco Lampone says while plotting the Corleone family's latest move late on in The Godfather Part II:"Difficult, not impossible."
First of all, it's the Champions League, and you have to play the best at some point, so why not face the Bavarian aristocrats so soon after their fifth European triumph? City were likely to face one of the big names given their poor record in recent years.
The two other sides will be no pushovers, but compared to the task facing Arsenal, City can look forward to the autumn campaign with some confidence.
Begin Slideshow

»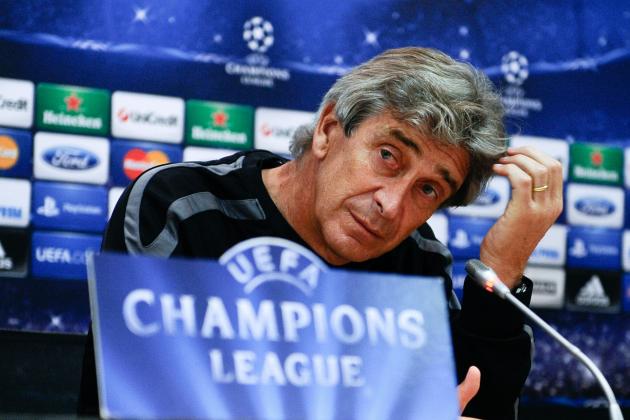 David Ramos/Getty Images

As manager at Villarreal, Manuel Pellegrini piloted an unheralded side to the semi-finals of European football's elite competition in 2006. Last season, he was a few minutes away from performing the same task with a relatively low-key Malaga squad, until Borussia Dortmund broke Spanish hearts late on.
How Roberto Mancini would like to have these moments as bullet points on his CV. The Champions League was the Italian's Achilles heel at both Inter Milan and City. He presided over poor performances in Munich and Naples in 2011 and threw a win away in Madrid last year, doing him no favours with City's demanding owners.
Pellegrini's one year in charge of Real Madrid saw them knocked out in the last 16, but the people who recruited him for City will point to his relative successes either side of that.
The Chilean knows how to get a side to the business end of the Champions League, and the implication is that with greater resources now at his disposal, he can use his nous to get City there this time.
No pressure there, Manuel!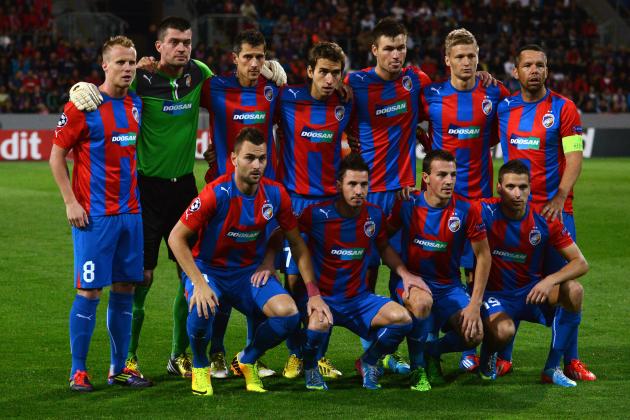 EuroFootball/Getty Images

That City will begin their campaign with a trip to arguably the weakest side in the group does the Blues a big favour.
The Czech side have come through three knockout matches to get to this stage, so they will be no slouches.
Even so, City must target this opening fixture to claim three points, and with their stellar squad this should be easily within their grasp.
Those of us of a certain age will remember the days when trips for British sides "behind the Iron Curtain" were filled with trepidation, but these days the gulf between the Premier League and others in terms of money and the quality of players available should ensure wins for City away and at home on Matchdays 1 and 5.
But take nothing for granted—funny things can happen in European football.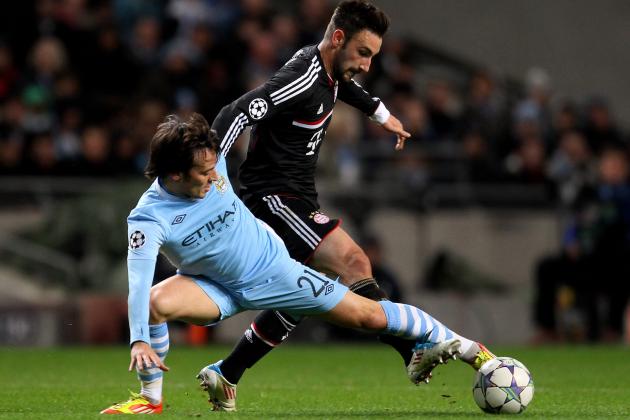 Alex Livesey/Getty Images

City face the European champions on Matchday 2 on home soil, and if they can glean three points from this they could be a long way down the road to the knockout phase.
It won't be easy. The Blues' win over Bayern at home in 2011 was not enough to secure progression that time around and will have no bearing on this first meeting.
On paper, City's squad has the talent to beat Bayern, but the Bavarian outfit has been there and done it at the highest level many times.
Still, the game at the Etihad Stadium should be put into the file marked "winnable." The away fixture is a different story, and City won't want to travel to Germany on Matchday 6 needing a win.
But if City can take care of business between the two Bayern fixtures, as they are perfectly capable of doing, they may not need to worry too much by the time they get there.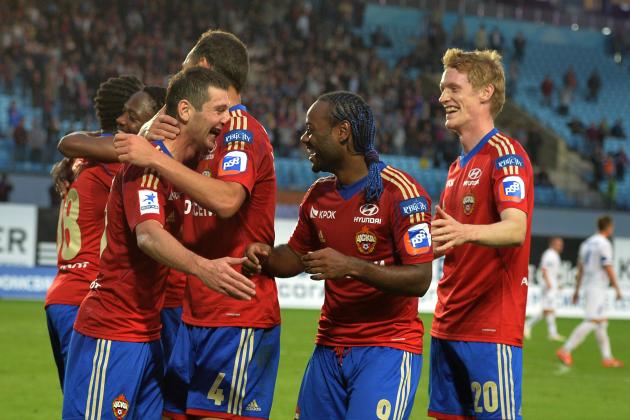 Epsilon/Getty Images

City face the Russian champions CSKA Moscow in the back-to-back fixtures on Matchdays 3 and 4, with the away match first.
Again, I'm going for optimism and saying these are very winnable, especially at home. If City have hit their stride mid-campaign by the time they face the Muscovites, they should have enough in the tank.
As Alex Richards has said elsewhere on Bleacher Report: "the Russian capital club and their Luzhniki Stadium don't hold the same fears for visiting sides that they may have done in past years."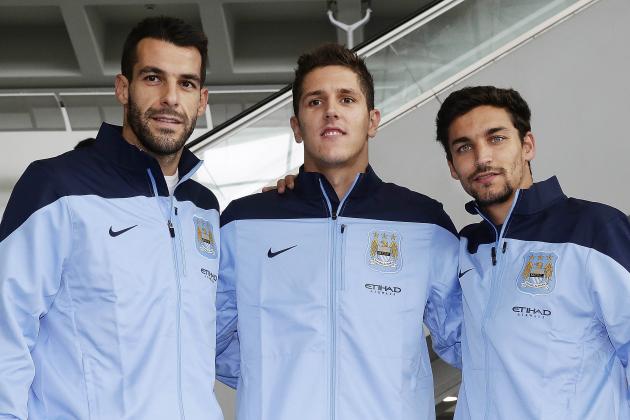 Jessica Hromas/Getty Images

City have, at the time of writing, spent around £90 million on new additions this summer, namely the pictured trio of striker Alvarao Negredo, fellow frontman Stevan Jovetic and winger Jesus Navas, plus midfielder Fernandinho.
OK, none have ripped up Europe for recent Champions League winners, but they will not be scarred by City's European failures of recent years. If they hit their straps they could help ensure qualification for the next round.
In particular, the skills of Fernandinho in a deep-lying role and those of Navas on the wing need to be utilised if City are to answer the questions European football poses.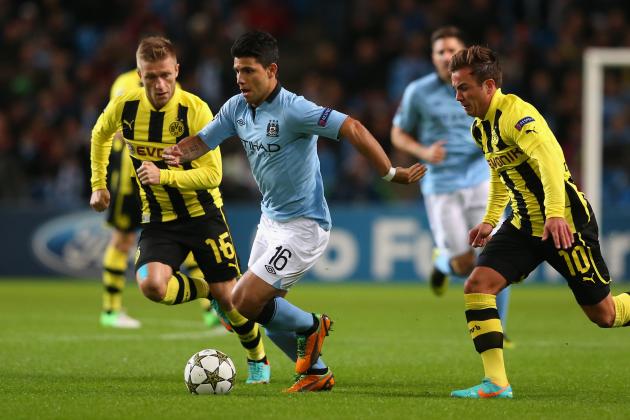 Alex Livesey/Getty Images

As for City's players who experienced the past two Champions League campaigns for the Blues, they have to build on what happened in 2011 and 2012.
The slow-slow-quick-slow nature of European football, when compared to the hurly-burly of the Premier League, seemed to baffle even City's multinational squad at times—maybe it was Mancini's tactics, though we'll never know.
But with a new man who knows what to do in this arena at the helm, this squad has enough to progress. It won't be easy, and Bayern should show why they are holders of the Champions League trophy, but the uncharted waters of the knockout stages are within reach for City.