Why LSU Needs Jeremy Hill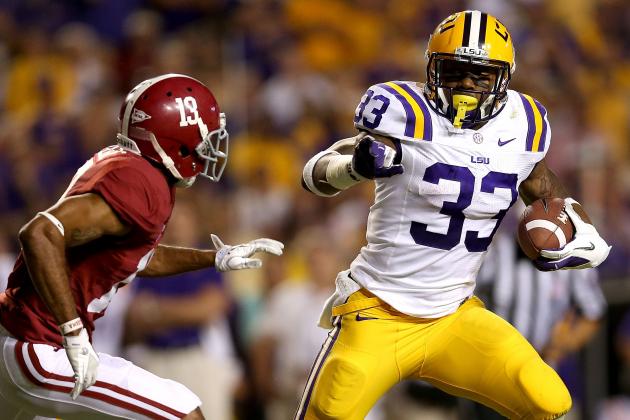 Matthew Stockman/Getty Images
Jeremy Hill rushed for 107 yards and a touchdown versus Alabama last season.
Jeremy Hill is very good at playing tackle football.
He is even better at breaking tackles.
Hill has the chance to be one of the best LSU running backs ever, which says plenty given LSU's rich history at the position.
Alabama's TJ Yeldon and Georgia's Todd Gurley are the best backs in the SEC. Hill belongs in that category.
But an LSU offseason is not an LSU offseason without run-ins with the law.
Hill viciously sucker-punched a man in the head outside of a Tigerland bar, but he avoided prison and was generously issued two years of probation.
Les Miles allowed players to vote whether Hill will be allowed back on the team for this season. His teammates voted unanimously for him to return and Miles controversially reinstated his star running back the day his probation was handed down.
Tigers fans can breathe easy now that Hill will be back on the field in 2013. Yet he probably would have been justifiably kicked off if he were a player of lesser team need and ability.
The players probably voted in Hill's favor because they are his teammates and would hope he would do the same for them. But he is also an elite running back, one who exponentially increases LSU's chances of winning.
And the LSU players, above all else, want to win.
LSU has been known for its deep running back units under Miles' tenure. Hill's backups are Alfred Blue and Kenny Hilliard. Blue and Hilliard ended last season averaging over six yards per carry.
LSU is not that deep at running back compared to years past. The Tigers only have four running backs on their roster. They could be the only team in the country that has more fullbacks than running backs.
If Hill had been kicked off, LSU would be going into this season with only three running backs total. Blue, Hilliard, and underachieving junior Terrence Magee will not win the SEC by themselves.
Miles knows this, which is why he put his reputation on the line with Hill.
LSU feels comfortable with Blue and Hilliard in the Tigers' opener against TCU, as well they should, but there will still be the rest of the season to go after playing in Dallas.
The backup duo is solid. LSU can win games with them, but the drop-off from Hill to Blue and Hilliard is bigger than people think.
Begin Slideshow

»
Kevin C. Cox/Getty Images
Alfred Blue celebrates.
Probably the most spectacular aspect of Hill's freshman season was his dominance versus SEC opponents.
But there was an asterisk.
Blue did not have his opportunity to prove himself. He suffered a season-ending injury versus Idaho last season before conference play began.
In 2011, Hilliard put up great numbers versus SEC defenses as a freshman, but he was eventually phased out last season after the emergence of Hill.
Blue and Hilliard's 6.8 yards per carry came against lesser defenses. Hilliard rushed for 130 yards on 37 carries against the SEC, which averages out to a pedestrian 3.5 yards per carry in 2012.
That is not going to cut it.
Hilliard ran soft. He did not break tackles or push the pile like his freshman season. Reports were that Hilliard was in Miles' doghouse and/or had personal problems. Hopefully for the Tigers, all of that is in the past.
The LSU offensive line struggled last season. The Tigers gave up 32 sacks, an uncharacteristically high amount under Miles.
The line drastically improved when senior Josh Dworaczyk was inserted into the lineup at left tackle against South Carolina. Dworaczyk dominated Jadeveon Clowney, as the line had its best performance of the season.
Hill also had his breakout game versus the Gamecocks. He was the beneficiary of a better effort the LSU offensive line from that point forward. But Hill also broke many tackles at the second and third level to extend plays, which is the goal of a running back who runs behind a great line.
Basic downhill running plays are usually designed where the play-side safety goes unblocked. It is up to the running back to make the safety miss in the open field to turn a great gain into an explosive one.
Hill was spectacular in blowing by defenses. In this video, Hill brushes aside the Clemson safety for a long touchdown run to begin the second half.
Hill also raked in long, backbreaking touchdown runs against Texas A&M and South Carolina. He danced around Alabama defenders to gain tough yardage.
While the offensive line did struggle in pass protection to start the season, run blocking was just fine. Blue, Hill and Hilliard often were not touched until five yards past the line of scrimmage or further.
Yet of the three, Hill is the most elusive. His power and deceptively quick footwork make him the best option to break long runs for touchdowns.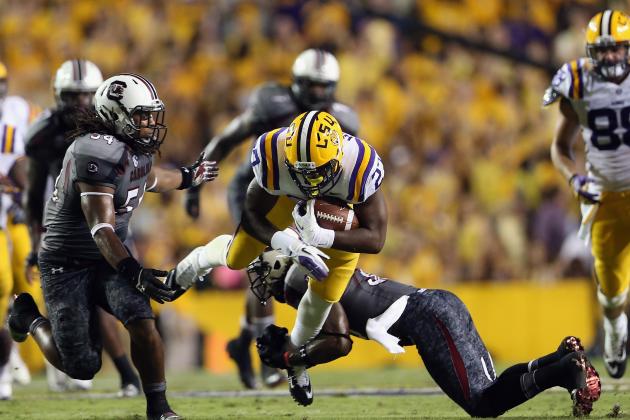 Ronald Martinez/Getty Images
Hilliard runs for tough yardage versus South Carolina.
Jeremy Hill's ability to punch (forgive the pun) the ball into the end zone is remarkable. He is viciously explosive at the goal line and hardly ever denied access into paydirt from close range.
Hilliard and Blue have been efficient at the goal, too, but Hill is a magician. He is great at reading the flow of the pile and of knowing whether or not to run or jump his way into the end zone.
In fact, it was a goal line play by Hilliard, not Hill, versus South Carolina that gave him the chance to "carry the load" for a majority of the game.
It came early in the first quarter when LSU drew up a simple running play to the right on third-and-goal from the 2-yard line. Miles had given the ball to Hilliard on the previous two possessions. On this run, he was stopped short at the 1-yard-line and failed get the ball across the plane of the end zone.
Miles had to settle for a field goal. Hilliard's failure to score essentially opened the door for Hill.
On the next drive, Miles inserted Hill on third-and-10. He called a swing pass for Hill, who broke multiple tackles for a first down. On the next play, Hill pushed a nothing running play forward for a four-yard gain. Later in the game, Hill fought through the tackle of bruising safety DJ Swearinger and reached the ball across the goal line for a touchdown.
Hill previously only had 13 carries over six games. He carried the ball 17 times against South Carolina and did not carry the ball fewer than 12 times for the rest of the season.
Hill remained the goal line back, which paid huge dividends for LSU.
The extra yard has defined the Miles' tenure. Jacob Hester and Steven Ridley's amazing ability to fall forward for extra yards won two of Miles' career-defining wins at Florida in 2007 and against Tennessee in 2010.
Blue and Hilliard are efficient at the goal line too. But Hill is Miles' best pile-pusher.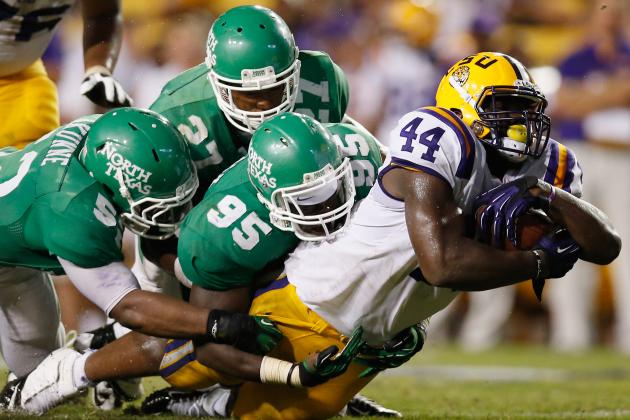 Chris Graythen/Getty Images
Fullback JC Copeland will pave the way for LSU running backs this season.
LSU can still win games without Jeremy Hill, but LSU fans should not view him as disposable.
There is not one aspect of Alfred Blue or Kenny Hilliard's game that is better than Hill's.
Blue can be a solid contributor to the team as well, but he is better at special teams than at running back. It is tough to have faith in a guy unproven against SEC defenses with a checkered injury history.
Hilliard's freshman year was spectacular. Like Hill, he did not start getting major carries until SEC play began. If he comes back to form this season, the LSU running back core will retain its elite status among the nation's best.
Blue and Hilliard are good, but not great.
Yet there are a few lessons the Tigers will learn from this.
LSU did not bring in a running back for the 2013 recruiting class. It may come back to haunt them now.
Of course, LSU did not expect to lose both Spencer Ware and Michael Ford to the draft. But a team that runs the ball as physically as LSU can never have enough running backs.
Hill, Hilliard and Blue are in a contract year in a professional sense. Blue, a senior, is in his final year of eligibility. Hill and Hilliard can both declare for the NFL draft at the end of this season.
They all understand the short lifespans of running backs in football. The thought of being injured is resting in the back of their heads. With the new NFL CBA restrictions, it is a race to the first and second NFL contracts.
Running timid and looking toward the future can happen, so LSU needs as many options as possible.
LSU now knows the importance of bringing in at least one running back in every recruiting class. Most freshman backs are hungry for the spotlight.
LSU's ability to run-block will help alleviate the running game. Fullback JC Copeland is a truckload as he became more prevalent as a runner and receiver in 2012. Connor Neighbors showed flashes, as well as a guy who moves linebackers out of the hole.
The offensive line does have question marks, as the personnel continue to play musical chairs. Offensive guard Josh Williford's career is probably over due to concussions. But the line should be fine when it comes to run-blocking with young starters who have plenty of game experience.
For the last three seasons, LSU has had a back emerge midway through the season in Hill, Hilliard and Ware. Who says Magee can't surprise us all? Maybe an athlete from another position steps in to provide a spark, such as freshman speedsters Jeryl Brazil and Anthony Jennings.
Quarterback Zach Mettenberger and the LSU passing game should improve under offensive coordinator Cam Cameron. This should help the running game as well.
There are some concerns for Hill. He began to physically wither some after his brilliant performance against Alabama and has yet to experience double-digit carries for an entire season. That task will become exponentially tougher after a mentally taxing offseason.
Nonetheless, Hill is LSU's most explosive offensive weapon. And if Hill is not playing, opposing defensive coordinators can breathe easier.