Manny Pacquiao to Remain Top Pay-Per-View Attraction Despite Successive Losses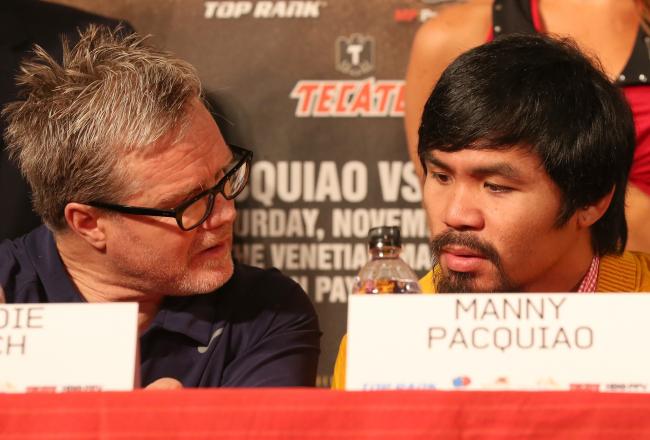 Manny Pacquiao with Trainer Freddie Roach
Stephen Dunn/Getty Images
Eight-division world champion Manny Pacquiao has started early training in the Philippines to prepare for his upcoming fight against Mexican-American Brandon Rios on Nov. 24 in Macau, China.
Pacquiao is coming off a split-decision loss to Palm Springs boxing sensation Timothy Bradley last June followed by a devastating knockout loss to Mexican counter-puncher Juan Manuel Marquez last December.
Despite the successive losses, Pacquiao has remained popular as millions of his fans around the world await his ring return after almost a year of inactivity.
In most cases, fighters who suffered successive losses in their career have also experienced sharp decline in their fight purses. But in the case of Pacquiao, his promoter Bob Arum has not confirmed a reduction in his purse.
In his last two fights, Pacquiao has made no less than $20 million in guaranteed prizes, which excludes shares in the pay-per-view sales. Arum has not announced a reduction of Pacquiao's guaranteed prize for the Rios fight.
Arum knows that Pacquiao's popularity has not diminished even with the devastating loss to Marquez. Obviously there are reasons why Pacquiao remains popular despite his recent losses.
First and foremost is his fighting style, which is opposite to the styles of unbeaten fighters like Bradley and Guillermo Rigondeaux.
The reason Cuban boxer Rigondeaux is not getting lucrative fights despite his recent victory over four-division world champion Nonito Donaire, could be traced to his boring and less entertaining fighting style.
Bradley seems to be shunned by promoters because he has a very low fan base, which could be similarly attributed to his less entertaining fighting style and poor rapport with boxing fans.
There are many reasons fans patronize certain fighters but none of them point to the number of losses of the fighters. Boxing fans buy tickets to watch a boxing match because they want to be entertained, or they look up to the fighter's skill which is worth emulating.
In the case of Floyd Mayweather, fans buy tickets to watch him perform in the ring because they want to see why he remains unbeaten despite his less entertaining fighting style.
Obviously they want to see how Mayweather beats his opponents with his unrivalled defensive skills, which usually lead to point conversions when he throws a clear shot as a result of his defensive posture.
On the other hand, fans buy Pacquiao fights because they want to see a good, entertaining fight.
Likewise, fans love to watch Pacquiao because of his gentle demeanor in the ring which exudes nothing much of the brutality that characterizes the otherwise violent sport.
His mystical demeanor was visible in his last fight against Antonio Margarito when he signaled the referee to find out if Margarito was still capable of taking more devastating punches because of his bloody face and damaged eyes.
Earlier, Pacquiao told ESPN he will continue fighting as long as he remains physically fit and he feels he is good for two or three more fights after the Rios match.
Another loss beyond the Rios fight will not keep Pacquiao out of the center stage until he declares he is finished and done with the sport that nurtured him to greatness.
This article is
What is the duplicate article?
Why is this article offensive?
Where is this article plagiarized from?
Why is this article poorly edited?