Rob Van Dam Is the Right Challenger for Alberto Del Rio's Title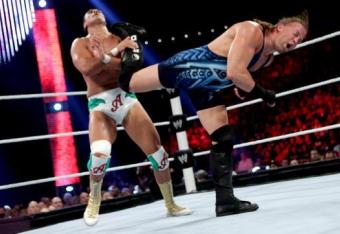 (WWE.com photo)

When WWE elevated Christian to the SummerSlam World Heavyweight Championship match with Alberto Del Rio and placed Rob Van Dam in the pre-show match, I thought that the company had put the brakes on any talk of an RVD run to the World belt.
Thankfully, I was wrong. Now, not only is an ADR-RVD feud for the belt going to happen, but it also shows that WWE finally has found the right opponent right now for Del Rio.
Van Dam brings freshness into the program. He's not the same old type of opponent that Del Rio has faced in the past. His hardcore ECW style differs from the men Del Rio has seen before in his championship career.
Because of that, this could be one of the better feuds Del Rio has had in any of his WWE or world title reigns. And he is at a stage in his career where solid booking is the difference between staying near the top of the roster and being mired in the midcard.
Going up against Van Dam gives Del Rio the chance to once again get over with the fans by going up against one of the most popular stars in WWE not named Daniel Bryan.
Remember, though, that Van Dam is no spring rooster—he's 42. But he is performing with a spark that we all thought had been drained from him by his years in TNA and the indie circuit.
Also, the World Heavyweight Championship is a title that Van Dam has never held. While others have ended their careers with far fewer titles than Van Dam has won (a total of 20 in almost 25 years of wrestling), it almost would feel incomplete if RVD were to hang it up without the only major title that has eluded him.
We've already gotten a taste of what to expect when the feud goes to the pay-per-view level thanks to their recent matches on free TV. The matches have been full of back-and-forth action to the point that the outcomes almost were unexpected. Monday night's meeting might have been the best so far because the Ricardo Rodriguez factor has been introduced.
If you remember the storyline, Rodriguez was attacked by Del Rio after a TV loss to Van Dam. And while everyone expected that Rodriguez would eventually be a factor in Del Rio's title future, no one even thought that Rodriguez would show up in Van Dam's corner. I do not expect that to be a longtime partnership, but it should last just long enough for Van Dam to capture the world title and add to his Hall of Fame credentials.
It also spills over naturally into the next phase of the World Heavyweight Championship picture. After Van Dam holds the title for a month or so, Damien Sandow cashes in his Money in the Bank briefcase, snags the belt from Van Dam and sets the stage for a WrestleMania XXX match (and probable loss) against former partner and popular new babyface Cody Rhodes.
But that's for the future. In the meantime, sit back and enjoy the RVD-ADR ride. It's going to be one of the most entertaining of the latter part of 2013.
Follow Bill Atkinson on Twitter at @BAtkinson1963.
This article is
What is the duplicate article?
Why is this article offensive?
Where is this article plagiarized from?
Why is this article poorly edited?