Fighters Most Likely to Crack Top 10 Pound-for-Pound Rankings in the Next Year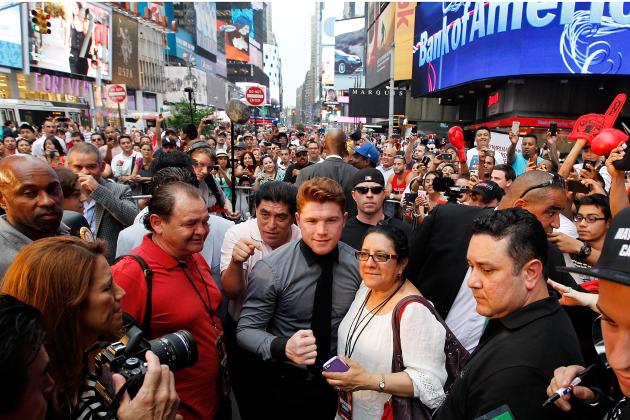 Mike Stobe/Getty Images

Pound-for-pound rankings are subjective by their very nature. Nobody will ever be able to put together a list that everybody agrees with.
At one point, The Ring rankings held a great deal of opinion-shaping sway over the boxing public. They are still worth looking at and considering, but since Golden Boy acquired the publication, they can't be taken completely seriously either.
Boxrec is the most important website in existence for hardcore boxing fans and writers. Their rankings are interesting, and the fact that they are compiled by a computer program gives them a degree of objectivity. But taking out the eyeball equation leads to some decisions that very few knowledgeable fans would agree with.
And right now, the pound-for-pound rankings are more up for grabs than they have been in years. In the past year, a number of consensus pound-for-pound top-10 stars have been beaten or have turned in performances that left many fans and writers re-evaluating them.
In boxing, this kind of uncertainty can only lead to more excitement in the ring.
Begin Slideshow

»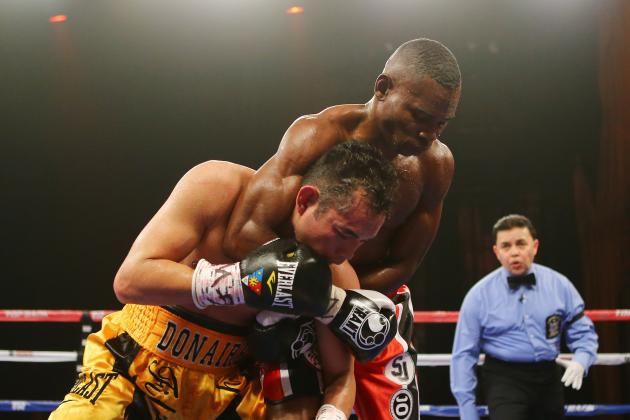 Al Bello/Getty Images

In response to Abner Mares' shocking loss to Jhonny Gonzalez last weekend, The Ring has finally moved Guillermo Rigondeaux into their pound-for-pound Top 10.
If you're like me, you wonder what took them so long. I've had Rigondeaux ranked in my pound-for-pound top 10 since he beat Nonito Donaire and can't understand the hesitancy of others.
For the last two years or so, Donaire was ranked between three and five on every pound-for-pound list in existence. In April, Rigondeaux gave Donaire a boxing lesson.
I understand that Rigondeaux fights are not the thrilling, rock-em-sock-em robot affairs that many contemporary fans want to see. But he is performing the art of boxing at a higher level than any other current fighters, aside from Floyd Mayweather and maybe Andre Ward.
So "Rigo" will keep winning against other elite boxers, and sooner or later, everybody will have to acknowledge his rightful place as a pound-for-pound superstar.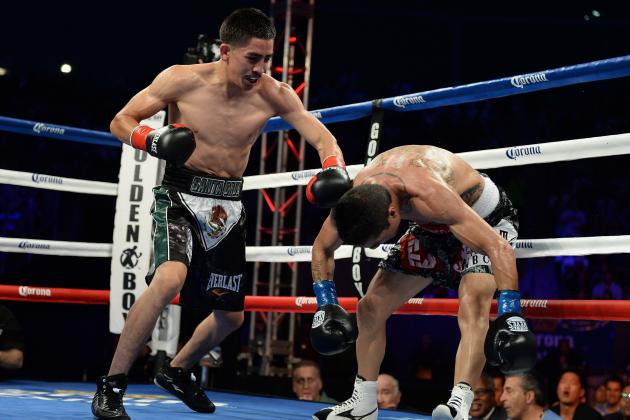 Harry How/Getty Images

I'm not completely sold on Leo Santa Cruz as a future pound-for-pound top-10 fighter, but there's no question that he warrants a mention as a potential candidate. He is 25-0-1 with 15 KOs and has already won world titles in two divisions.
I thought Santa Cruz would run into some degree of difficulty against Victor Terrazas last weekend. Terrazas was a legitimate world champion and equal to Santa Cruz in physical size, and Santa Cruz has benefited greatly from being able to physically dominate smaller opponents in lower weight classes.
Santa Cruz dominated Terrazas with speed and work rate. Santa Cruz is a volume puncher who lands with accuracy and does a fair job of covering back up at the end of a combination.
At 25, he is a very exciting fighter and will get the matches he needs to win to become a future top-10 fighter.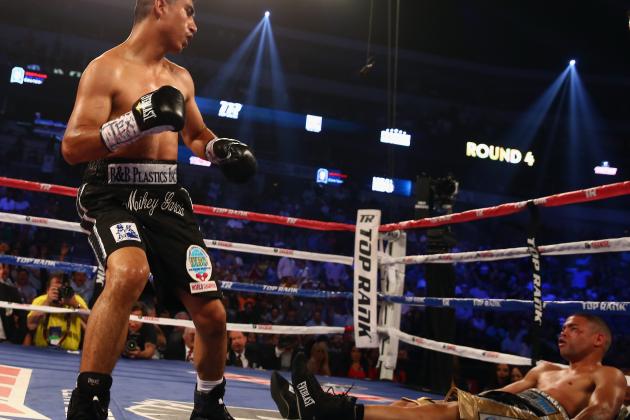 Tom Pennington/Getty Images

Miguel "Mikey" Garcia is another fighter whom I think already appears in a lot of pound-for-pound top-10 rankings. Within a year, I expect he will be in almost everybody's.
Garcia is the younger brother of super-trainer Robert Garcia. He grew up in a boxing family and has fought with the controlled maturity of a veteran since early in his career.
Garcia is undefeated and has knocked out 27 of 32 opponents. He knows how to study opponents and break them down over rounds. He also knows how to finish them in a hurry when they are vulnerable.
Garcia lost his WBO featherweight title on the scales when he failed to make weight against Juan Manuel Lopez last June. He will probably face Roman Martinez for the WBO super featherweight belt this fall.
I don't believe anybody at 130 or 135 can beat Garcia. I expect him to be a three-division world champion before he retires and a universal pound-for-pound top-10 fighter within the year.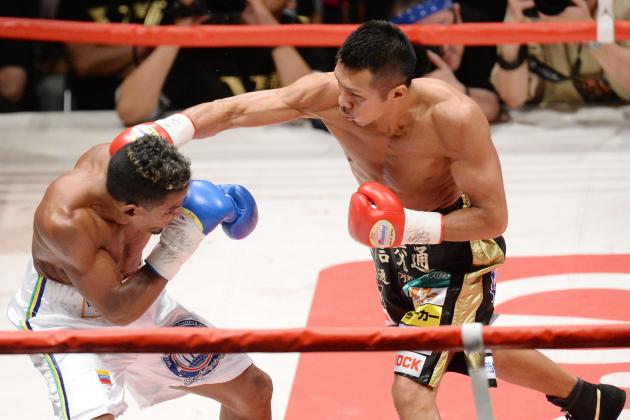 Atsushi Tomura/Getty Images

Takashi Uchiyama is still relatively unknown to North American boxing fans, but he is coming on fast. He is the WBA super featherweight champion and deserves top ranking in the world at 130 right now.
In 2010, Uchiyama recorded a Round 12 TKO over Juan Carlos Salgado in a fight where he was ahead on the cards. Last December, he beat undefeated Bryan Vasquez by Round 8 TKO.
Uchiyama is 20-0-1 with 17 KOs. He's an all-action fighter and would make a terrific matchup with Argenis Melendez or Yuri Gamboa.
It's tough for a fighter from Asia to win his way onto pound-for-pound lists in the United States. But Uchiyama has the look of a fighter who could do it.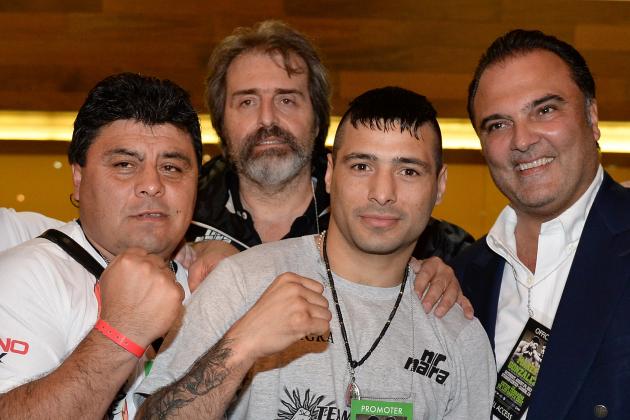 Harry How/Getty Images

I've included Lucas Matthysse and Danny Garcia together because they are scheduled to fight September 14 on the Floyd Mayweather vs. Saul Alvarez pay-per-view, and I think the winner will enter most pound-for-pound top-10 lists.
I'm picking Matthysse to win—and to win in an exciting manner. He's been a wrecking machine since suffering two controversial split-decision losses in 2010 and 2011 to Zab Judah and Devon Alexander, respectively.
Since the Judah fight, Matthysse's boxing skills have shown steady improvement and his ability to crush opponents has exploded. His methodical Round 3 TKO of Lamont Peterson last March was a revelation to the boxing world.
But Danny Garcia is much too good to look past. If Matthysse has a hole in his machine-like exterior, Garcia is the kind of quick-study fighter who will locate it.
Garcia's left hook is a fight-changer, as he demonstrated against Erik Morales and Amir Khan in 2012. If he can connect with it on Matthysse, he will end his second year in a row as one of the hottest fighters in the sport.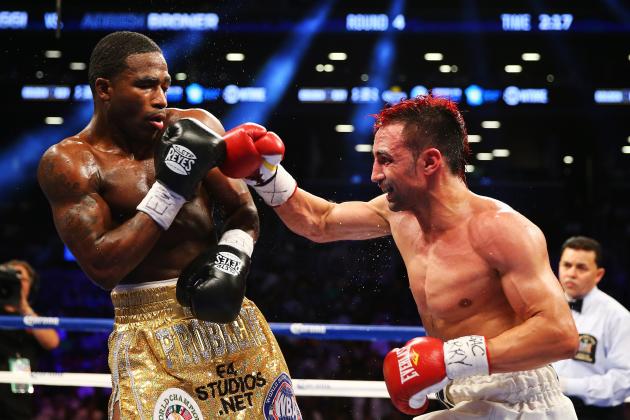 Al Bello/Getty Images

The Ring already has Adrien Broner ranked inside the pound-for-pound top 10 at seven. They stuck him up there after his impressive Round 8 TKO of Antonio DeMarcos last year.
Broner's promoter is Golden Boy, the same company that owns The Ring.
Broner did not look anything like a pound-for-pound top-10 fighter in his split-decision victory over Pauli Malignaggi last June.
It's true that Broner had jumped from lightweight to welterweight to win a world title in his third division, at only 23 years of age. But Broner had outgrown his first weight class long ago and was going to outgrow lightweight soon enough.
Broner's not a fighter like Roberto Duran who dominated for a decade at 135 and then moved up and won belts at welterweight and above. Broner's a welterweight who was able to suck down to lightweight for the early part of his career.
Still, there's no arguing with talent, and Broner has unquestionably got it. If he has the mental toughness to adjust to fighting larger fighters, he should become one of the sport's top pound-for-pound stars.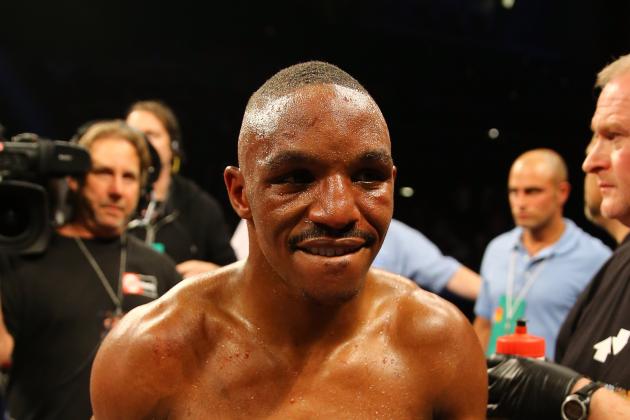 Al Bello/Getty Images

Devon Alexander has lost just once in his career, and that was to Timothy Bradley. Most observers felt he deserved to lose to Lucas Matthysse in 2011, when he got a hometown split decision in St. Louis.
Alexander moved up to full welterweight after the Matthysse fight and made no secret of the fact that he had found the 140-pound limit difficult to reach. In his first fight at 147, he certainly looked like a stronger fighter, as he hammered the always-tough Marcos Maidana for 10 straight rounds en route to a unanimous decision win.
Alexander's style doesn't always thrill the fans, but his accomplishments in the sport at just 26 are impressive. He is a technically gifted boxer with an extensive amateur background and decent power.
He has to be viewed as a potential pound-for-pound top-10 fighter.
Of the three young welterweights I am profiling in this slideshow, I would pick Keith Thurman as the one who will be the biggest star. "One Time" has the punching power to justify his name and an intelligent, tough-nosed approach to the sport.
Thurman made his reputation on the way up as a gunslinger, but since moving on to world-class competition, he's shown a solid ability to adjust in the ring and win a boxing match on craft and technique.
Adrien Broner won the WBA welterweight title from Pauli Malignaggi last June, and Keith Thurman captured the vacant, interim WBA welterweight title from Diego Chaves almost a month later. How Thurman and Chaves were fighting for an interim title that had changed hands only a month previous is yet another boxing mystery.
Either way, if Broner is the WBA champ and Thurman is the interim WBA champ, a unification fight should be a mandatory for both men.
I expect Broner to fight somebody else, but this is the fight I think Golden Boy should make. That's the kind of fight that would draw younger fans back to the sport and remind the old-school crowd of Ray Leonard vs. Thomas Hearns.
Mike Stobe/Getty Images

Saul Alvarez, like Adrien Broner, is also ranked in the pound-for-pound top 10 by his promoter's magazine, The Ring. They have him at nine.

But a lot of hardcore fans are still waiting to be fully sold on Canelo. Last April, he scored an impressive victory over fellow junior middleweight champion Austin Trout, and there's no question that Alvarez was the most popular possible candidate for Floyd Mayweather this September.
Still, the victory over Trout was Alvarez's first against a fellow champion in his prime. And Trout was largely untested himself.
It's also fair to question how good Alvarez would be if he ever moved up to full middleweight.
But Canelo is just 23 and has already won over 40 professional fights. In a couple of weeks, he will fight in the biggest boxing event in recent years. He's got star written all over him, and fans should expect to see him as a future fixture in the pound-for-pound top 10.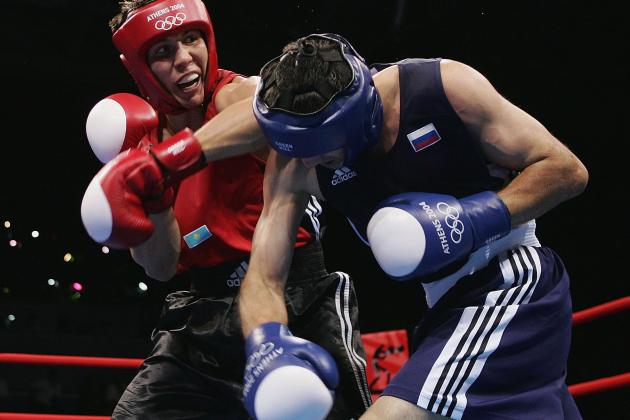 Al Bello/Getty Images

Since making his North American debut almost exactly a year ago, Gennady Golovkin has been the fastest rising star in the sport. The middleweight from Kazakhstan has been demolishing everybody in his path.
Golovkin is 27-0 with 25 stoppages. His only two fights that have gone the distance were a couple of eight rounders, early in his career and over five years ago.
Golovkin's last fight was in June against the very tough Matthew Macklin. Golovkin stopped him with a crushing body shot in Round 3.
Golovkin is very close to a pound-for-pound top-10 ranking already.
For historical reasons, Sergio Martinez is viewed as the king at middleweight. But I have to wonder how many writers and fans would pick Martinez over "GGG."
Edwin Rodriguez is still further out from the pound-for-pound top 10 rankings than most of the fighters on this list. But it's time for fans to start paying attention to the 24-0 (16 KOs) "La Bomba."
In July, Rodriguez recorded an extremely impressive Round 1 TKO of light heavyweight Denis Grachev. This fight wasn't broadcast in the United States, but American fans need to be aware of it.
Grachev was a solid contender at light heavyweight. He had gone to a unanimous decision against Lucian Bute and had beaten former world champion Zsolt Erdei.
Against Rodriguez, he was drowning in the deep waters from almost the start of the fight.
Rodriguez is a free-swinging and accurate puncher, with an imposing 76" reach. He's trained by Ronnie Shields, one of the best in the sport.
I'm buying on him now as a future star.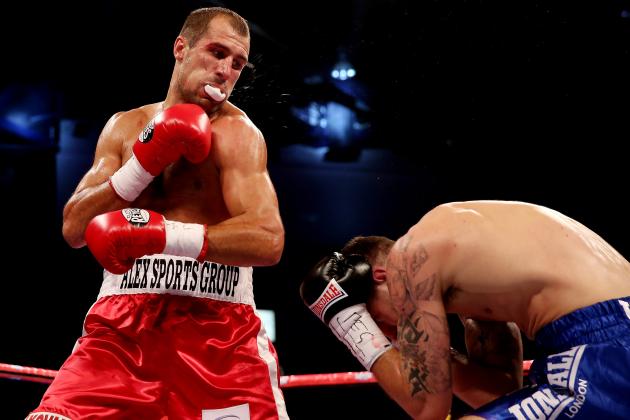 Scott Heavey/Getty Images

Sergey Kovalev has been this month's hottest fighter, following his Round 4 TKO of Nathan Cleverly in Wales, which garnered Kovalev the IBF light heavyweight title.
Cleverly came in as an unbeaten champion. He is a solid technician who normally manages a brilliant work rate. But he just didn't have the physical durability to stand up against the "Russian destroyer."
Kovalev is no mere banger. He is a very skilled, offensive boxer with extremely rare punching power.
Now that Kovalev has blown out a world champion and collected a belt, anybody who really wants to be taken seriously at light heavyweight will have to fight him. At some point, that should include Andre Ward.