Nicolas Anelka cleaned out his locker on Thursday morning at West Bromwich Albion's training ground and was granted compassionate leave by the club following the death of his close friend and one of his agents, Eric Manasse. That much is 100 percent certain.
A step into the unknown for West Brom and their 69-cap French international striker, however, is what comes next, with Anelka having seemingly mentioned in that moment that he would be retiring.
In Albion boss Steve Clarke's pre-match press conference on Friday, when asked if the 34-year-old had indeed said he planned to retire, Clarke, as reported by BBC Sport, said:
I'm not going to deny that he used that word.

But we've given him time to go away and think about it. I don't think we could do more in the circumstances.

I went in and had a very brief chat with him, and he wasn't in a good place. So the club have decided just to give him a bit of time to go away and think about it and get himself in a better place for the future.

That is as much as there is to tell on the situation. It wasn't dramatic, there was no big bust-up, he didn't storm out of the training ground. It is just a boy who is really quite upset.
Subsequently, Anelka hasn't been seen at the Hawthorns since and was, as expected, missing for his side's 0-0 draw at Everton on Saturday.
But what next for the mercurial Frenchman?
Some, such as French football journalist Julien Laurens, have sought to verify Anelka's future:
Just spoke to Anelka's agent (who obv is not dead!) One of NA closest friend died last week. He is not retiring but wont be involved on Sat.

— Julien Laurens (@LaurensJulien) August 22, 2013
Others, Albion fans in particular, have voiced their opinions via social media and football phone-ins. The underlying tone has simply been that they want him back as soon as he's ready.
Not the quicksilver striker he once was, Anelka has become a more intelligent, refined footballer in his latter years, and his arrival in preseason was cause for Hawthorns-goers to get excited.
The searing pace which once terrorised offside traps may be no longer, but the brain and touch remain as sharp as ever. His Premier League debut for Albion may not have gone to plan, as a rather docile performance saw them beaten 1-0 by Southampton, but there's no doubt that Anelka remains important to Steve Clarke's side and their ambitions over the course of the 2013-14 campaign.
Signed indirectly as a replacement for 17-goal Romelu Lukaku, who returned to Chelsea after his season-long loan deal in the Midlands, Anelka's performances in preseason were encouraging: Intelligently finding space, linking play, while also adding a genuine cutting edge, with seven goals in as many preseason games.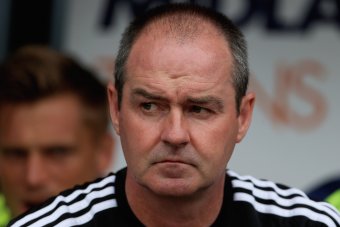 Matthew Lewis/Getty Images
Now without him for an indefinite period, Clarke finds himself in a tricky situation; rather like a man playing Blackjack who has just made 14 when the dealer is showing a 10, does he stick with what he's got or does he hit and hope for more?
The summer transfer window has seen Clarke add Anelka, defenders Goran Popov and Diego Lugano and forwards Matej Vydra and Scott Sinclair to his squad. Two free transfers and three loan deals—contrast that with the likes of Southampton and Cardiff City's summer spending.
Given Anelka's absence and the idea that Peter Odemwingie remains on his way out—though curiously hasn't gone yet—Clarke remains in need of forward options, most notably a genuine No. 9. Ireland international Shane Long and Markus Rosenberg remain from last season as the two main contenders for the role, though question marks remain over both: for the latter over whether he simply has the required quality and Long as to his ability to be a decisive enough goalscorer, having netted just eight league goals in each of the last two seasons.
Vydra, whose goalscoring exploits lit up the Championship last season, should prove an intelligent support striking option with his awareness and touch, but can he replicate his work at Watford in the Premier League? Sinclair meanwhile offers pace and directness from the flanks, something Albion have been lacking.
Thus in the absence of Anelka—perhaps even with Anelka, should he return—Albion appear in need of another centre-forward, such has been the goal-shy nature of their opening two matches.
Are West Brom potential relegation candidates?
Now with the news that goalkeeper Ben Foster will be missing for 12 weeks through injury, as reported by the club's official website, the Baggies have genuine concerns at both ends. Short on goals at one end and missing an outstanding goalkeeper at the other, at what point do last year's eighth place finishers become potential relegation candidates?
Steve Clarke and his board need to come up with a solution quickly. Spending money is no guarantee in the Premier League, something that a chairman as shrewd with finances as West Brom's Jeremy Peace will be quick to tell you. Finding market value has long been his modus operandi, but in the light of recent events both on and off the field, that may need to change as the transfer window reaches its climax.
The only guarantee in football is that scoring goals helps you win games. The more goals you score, the higher the probability that you win. At present, and not merely in light of the Anelka situation, goalscoring on a regular basis looks very much a problem for West Bromwich Albion.