The 10 Most Intimidating Fighters in MMA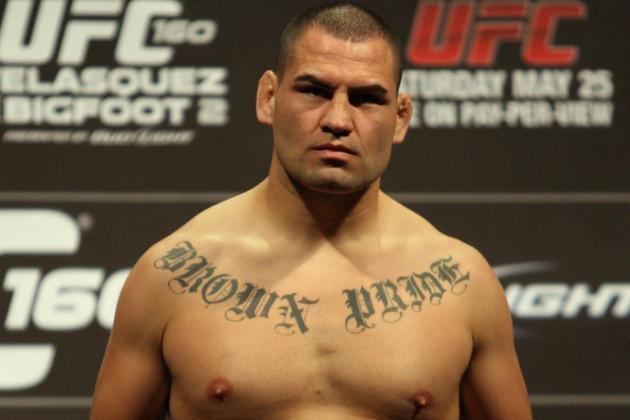 Bruce Fedyck-USA TODAY Sports
UFC heavyweight champion Cain Velasquez.
As a general rule, MMA fighters are pretty intimidating people. They're not baking cupcakes, after all.
And yet, some fighters are more imposing than others. Some are straight out of the central casting service of nightmare producers everywhere.
Here are the 10 most intimidating fighters active in the sport today.
This is pure physical intimidation. Personality is one factor, though rap sheets out of the cage are not as important as your appearance. Same thing goes for in-cage records and performance.
Begin Slideshow

»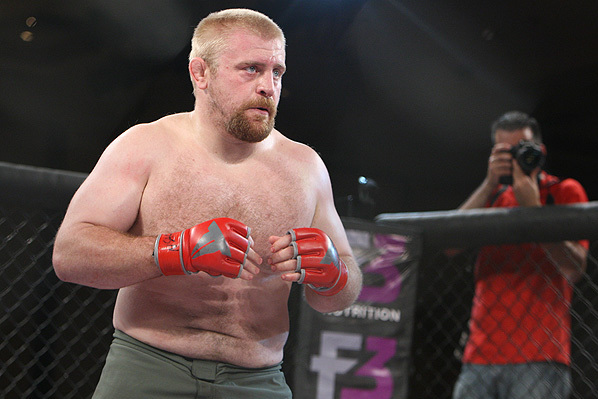 Photo credit: Cage Religion
Division: Heavyweight
Record: 3-0
Promotion: Resurrection Fighting Alliance
Steve Mocco looks like the scariest dude in the bar. He fights that way, too, only with about 20 times the talent of your average tavern-stool tough guy.
The former Olympic wrestler was in action earlier this month when he mauled Lew Polley at RFA 9. He's still decidedly unpolished in an MMA context, but he's got plenty of potential and certainly looks the part.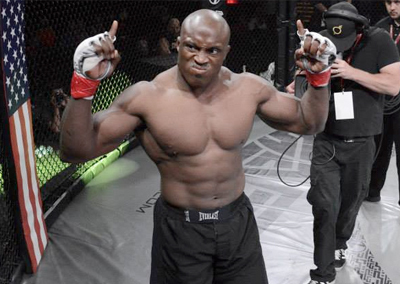 Photo credit: Global Warrior Challenge
Division: Heavyweight
Record: 9-2
Promotion: Global Warrior Challenge
The chiseled former pro wrestler appears to have muscles on top of muscles. He's also got this hairlessness thing going on that, in his case, greatly enhances the intimidation factor. He looks like he'd twist you into a pretzel just to stave off boredom.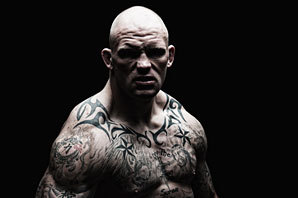 Photo credit: Bellator via Sports Illustrated
Division: Light heavyweight
Record: 68-18-1
Promotion: Championship Fighting Alliance
It's been a tough run of late for Travis Wiuff, who appeared poised to transcend his journeyman status when he reached the most recent Bellator light heavyweight tourney final. However, he lost by knockout in less than 30 seconds, and has since lost four straight and no longer appears on the Bellator website's roster even as he fights for CFA.
Nevertheless, he remains a highly intimidating character. Imagine if you didn't know he was a pro fighter. Imagine you were insane enough to challenge him to a fight. Imagine if you watched him take off his shirt to reveal his torso sleeve. I imagine you'd evacuate your bowels. I know I would.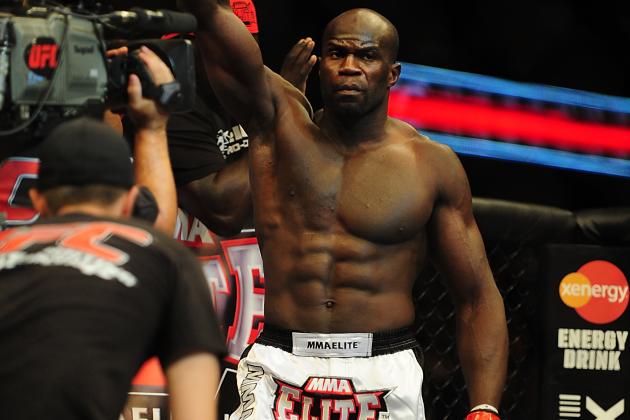 Anne-Marie Sorvin-USA TODAY Sports

Division: Heavyweight
Record: 18-8-2
Promotion: Bellator
The marble-cut French Congolese heavyweight is one of the most impressive physical specimens of this or any other era in MMA. He never really made it past gatekeeper status in the UFC; we'll see how the 38-year-old does in his new home of Bellator.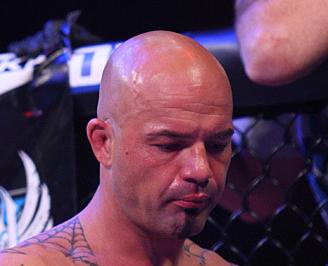 Photo credit: Keith Mills/Sherdog
Division: Middleweight
Record: 18-6
Promotion: Bellator
He's the total package of intimidation—the iron cross tattoo, the bald head with the d-baggy landing strip goatee, the unbridled aggression.
It's easy to picture him sweating bullets and gritting his teeth at all hours of the day. He seems to be the kind of guy who's just as scary while buying toothpaste as he is while plying his craft in the cage.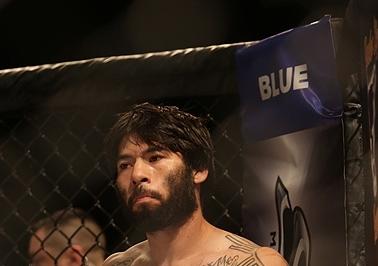 Photo credit: Andy Hemingway/Sherdog
Division: Bantamweight
Record: 16-8
Promotion: Legacy Fighting Championship
Give it up for Damacio "The Angel of Death" Page. When the day comes that he is no longer fit for the fight game, he has a sure-fire future as a bit player in prison movies and gangland TV shows.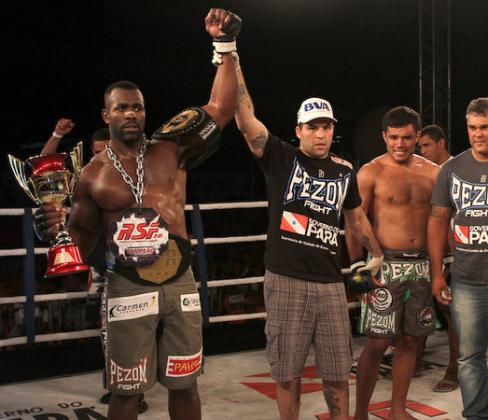 Photo credit: Marcelo Alonso/Sherdog
Division: Heavyweight
Record: 34-14
Promotion: Rondonia Show Fights
Here's my dark horse for the list.
Geronimo Dos Santos isn't the world's most famous fighter; he has only one fight outside his native Brazil and against a non-Brazilian fighter (both came on the same night in 2010 in a loss to Josh Barnett in Australia). He was set to debut in the UFC in 2012, but was derailed when he caught hepatitis.
Either way, Geronimo is a downright terrifying figure. Far more so than the UFC heavyweight who shares his surname and is far more famous.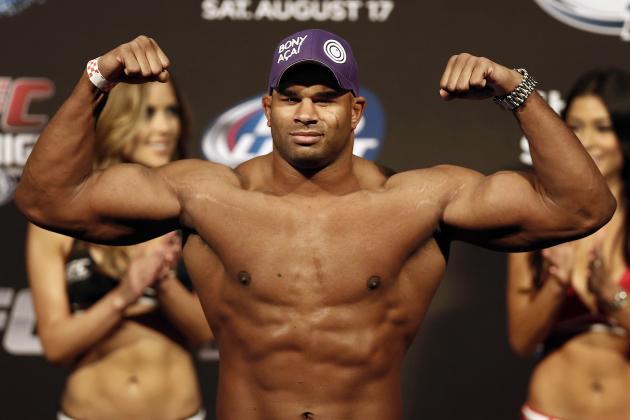 Winslow Townson-USA TODAY Sports

Division: Heavyweight
Record: 36-13-1
Promotion: UFC
Things haven't been going the big man's way these last couple of years. However, the fact that he's still built like the mythical centaur, and still has the best schoolyard-bully smirk in the game, keeps him at the top of this list.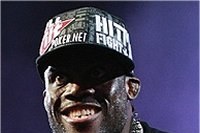 Photo credit: Sherdog
Division: Middleweight
Record: 27-11-1-1
Promotion: ONE FC
The bug-eyed knockout artist is now 37 years old and one of the more well-traveled veterans of the sport. He never quite got over the hump as a pro, but it certainly wasn't because of a reluctance or inability to fight like his very life depended on it.
The dog-collar-wearing Manhoef is one of the most intense and—when the proverbial switch is flipped—intimidating fighters ever.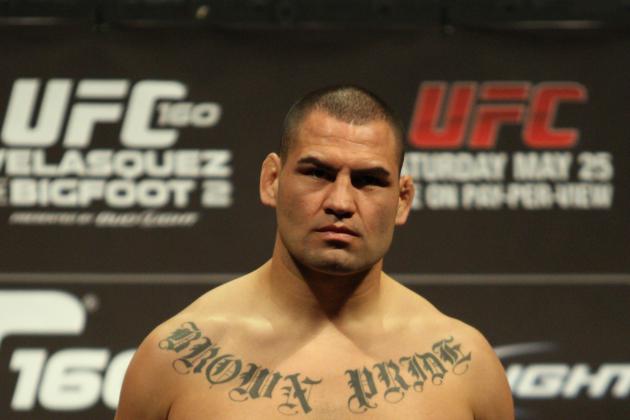 Bruce Fedyck-USA TODAY Sports

Division: Heavyweight
Record: 12-1
Promotion: UFC
Don't make direct eye contact. It's the quickest way to lose your soul.
Soft-spoken Cain Velasquez has a special brand of fury—colder than the night-time winter winds across the northern prairie.
It seems to take quite an effort to get the heavyweight champ to break out of his shell, or out of that steely stare. And he will deliver you to your maker with the same level of interest with which you toss your wet towels into the dryer. That, to me, is scarier than all the tattoos or muscles in the world.
For Velasquez, breaking your will to live is just another day on the clock.
Scott Harris is a featured columnist and unrepentant slideshow writer for Bleacher Report. He also likes to talk MMA and other things on Twitter. Find him there@ScottHarrisMMA.