Predicting Awards Honors for the Indianapolis Colts' 2013 Season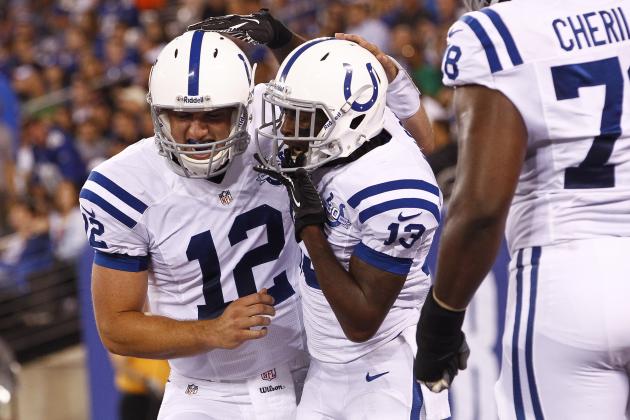 Jeff Zelevansky/Getty Images

After last year's storybook season, the Colts enter 2013 with higher expectations. After making it to the playoffs unexpectedly with a rookie general manager, head coach (and rookie interim head coach) and quarterback, the Colts now must do it again in 2013 to match fan expectations.
Last year's team was powered by veterans early on, while young players took on bigger and more important roles as the season went on. Those young players will have to be the driving force for a successful season this year, especially Colts quarterback Andrew Luck, on whom the long-term success of the franchise depends.
But who exactly will be carrying the Colts in 2013? Who will be the most valuable, most improved and most surprising players? Who will be the biggest disappointment? Which of the new faces will impress the most?
We take a look at six potential end-of-the-year awards for the Colts in this slideshow, projecting candidates and predicting winners. Take a look, and let us know your predictions in the comments.
Begin Slideshow

»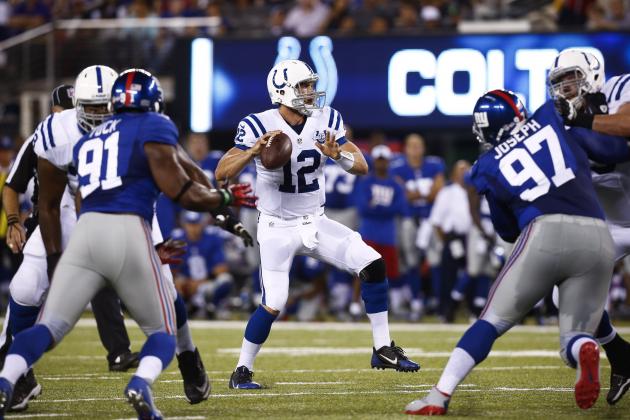 Jeff Zelevansky/Getty Images

Last year, this could have been debated. While Andrew Luck was the quarterback and driving force behind the unexpected success, both the leadership and stellar play of wide receiver Reggie Wayne made him a serious contender for the team's MVP award.
Going into his second year, however, Luck should be the unquestioned MVP. If the Colts hope for any type of success this season, Luck will have to be the MVP.
Luck's WPA (Win Probability Added) was fourth-highest in the league last season, a testament to all he did to drag the Colts to wins in 2012. A big contributor to that number was the league-leading seven game-winning drives that Luck engineered last year. If he shows even half of that late-game cool along with the expected efficiency improvements, the Colts will be in great hands.
WINNER: QB Andrew Luck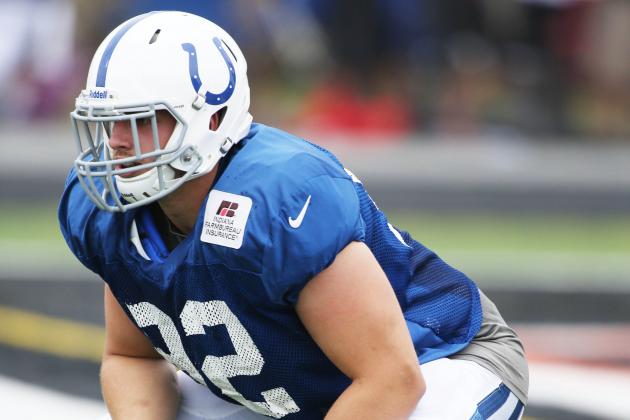 Brian Spurlock-USA TODAY Sports

The Colts have several rookies who could have big roles in 2013, and a number of them need to step up to fill big needs.
First-round pick Bjoern Werner is the obvious choice, a former defensive end at Florida State who will be an outside linebacker in the Colts' scheme. The Colts desperately need contributing pass rushers, and Werner was drafted to be exactly that. He'll rotate in with Robert Mathis at the ROLB (rush outside linebacker) spot, as well as playing opposite Mathis in nickel packages.
The Colts' third- and fourth-round picks, guard Hugh Thornton and center Khaled Holmes, also have the potential to contribute. Last year's starters at center and right guard, Samson Satele and Mike McGlynn, are the weakest links on the offense, and have continued to look shaky in the preseason (owning the team's lowest offensive line grades so far this preseason. Subscription required). Fans are praying that at least one of the two rookies can come in and contribute, but both have missed the entire preseason with injuries thus far.
Of the Colts' late round picks, running back Kerwynn Williams and tight end Justice Cunningham may be able to contribute in 2013. Both have entrenched starters ahead of them, but should still find a small role, and may be able to produce in case of injury.
WINNER: OLB Bjoern Werner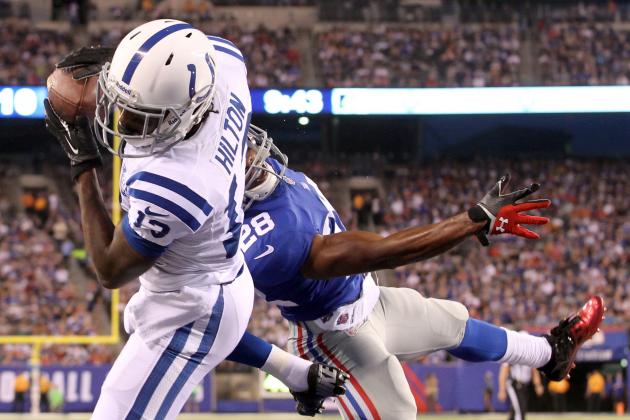 Brad Penner-USA TODAY Sports

Luck is another candidate for this award, and in a great scenario to improve significantly in his sophomore season under Pep Hamilton. But, in the case of fairness, we'll let some other players have the spotlight.
Colts fans have hoped all offseason that the winner of this award would be Samson Satele, who theoretically could excell with improved surrounding talent. Unfortunately, Satele's had a less-than-stellar training camp and preseason, and is still a major concern going into the season.
On offense, Coby Fleener was the main discussion point for most of the offseason. Fleener is in the best scenario possible to live up to his potential, with a fantastic quarterback and familiar offensive coordinator. He's had a few high-profile drops in the preseason that have been concerning, but he still has the potential to have a big year.
The other potential star on offense is T.Y. Hilton, who had a very good rookie season in 2012, but could be even better this year. The connection between Luck and Hilton has looked phenomenal this month, most recently exemplified by Hilton's picture-perfect touchdown grab in the corner of the end zone against the Giants.
WINNER: WR T.Y. Hilton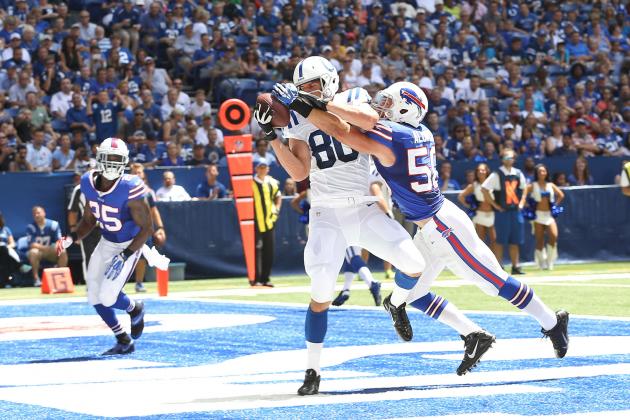 Brian Spurlock-USA TODAY Sports

The easiest target for this award is OLB Erik Walden, who signed a four-year, $16 million contract this offseason, but has been one of the league's worst OLBS in the last two years, according to Pro Football Focus.
Many Colts fans are already exasperated with Walden's contract, and will be looking for someone to blame if the Colts' pass rush has troubles. Walden recently had a sack against the Giants' David Diehl, which has relieved some fans, but some context is necessary.
First, it's the preseason, where things that run contrary to past experience usually only happen because it's the preseason. Second, the sack came against David Diehl, who's been one of the league's most inconsistent pass-protecting tackles over the last three years and is currently fighting to keep his job over rookie Justin Pugh.
Coby Fleener has a chance to be in this category as well, but for other reasons. There are high expectations for the second-year tight end, but if recent struggles in the preseason (including several high-profile drops, a fumble and injury concerns) are any indication of how Fleener will perform in the regular season, the Colts' second-round pick from 2012 will begin to hear whispers of "bust."
WINNER: OLB Erik Walden
Brian Spurlock-USA TODAY Sports

There are numerous candidates for this award, like the other ones, but my favorite candidate is one that fans may not be surprised by, but national media types might: Antoine Bethea.
Bethea had a down year last season, but was also stretched far too thin with Tom Zbikowski next to him and a thin, poor group of cornerbacks on the outsides. The lack of both run support and dependable bodies in coverage meant that Bethea was moving all over the field in an attempt to keep some semblance of order in the secondary.
With a true strong safety next to him (and a high-potential one in LaRon Landry) and a more talented group of corners (if health permits) in 2013, Bethea could see his play reach Pro Bowl levels, as it quietly was from 2007-2010.
WINNER: S Antoine Bethea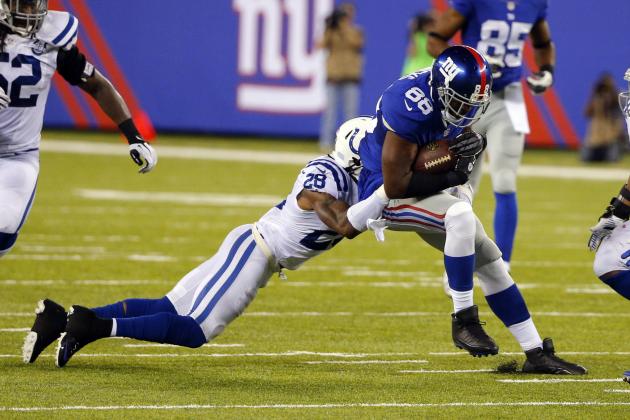 Jim O'Connor-USA TODAY Sports

The Colts spent $140 million on free agents this offseason, and hope that the money will translate into on-field impact in 2013.
The signings of offensive tackle Gosder Cherilus and guard Donald Thomas should be big upgrades on the offensive line. Unfortunately, they may not make as much impact as hoped if McGlynn and Satele are still poor in the middle.
Darrius Heyward-Bey has the potential to be a high-impact player, but must cut down on his drops first. Similarly, Greg Toler has a lot of potential at cornerback, but hasn't been able to stay healthy for most of his career. If he can stay healthy, he could be a playmaker in the Colts' defensive backfield.
Other potential winners would be defensive linemen Ricky Jean Francois and Aubrayo Franklin, signed to boost the Colts' run defense, and safety LaRon Landry, whom Indianapolis reporters have been high on this offseason.
WINNER: CB Greg Toler