Stock Up, Stock Down for NASCAR Drivers Fighting for 2013 Chase Berths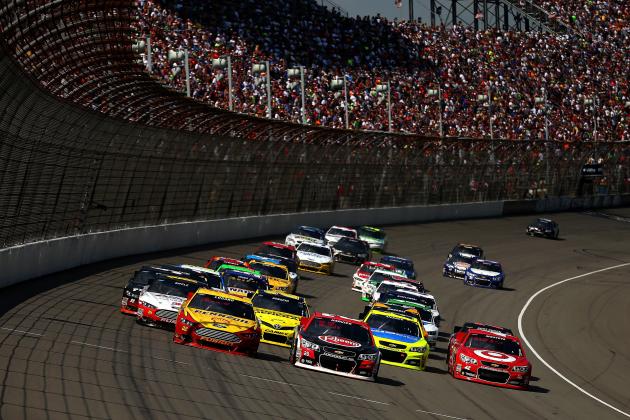 Mike Ehrmann/Getty Images
The scramble to the Chase for the Sprint Cup promises to get wild in the back half of the field.
Jimmie Johnson blew an engine Sunday at Michigan International Speedway. Kyle Busch wrecked once and spun twice. Even Clint Bowyer looped his car on the first lap.
All of the issues, however, weren't such a big deal in relation to NASCAR's looming championship battle. Thanks to the performances of all three drivers in season's first 22 races, a stumble in race No. 23 was simply frustrating. Chances to race into the Chase for the Sprint Cup weren't placed in limbo.
But beyond about sixth in the NASCAR Sprint Cup Series point standings, things aren't so rosy. Roughly nine drivers are locked in a tight battle for roughly six spots in NASCAR's postseason. Get in, and the Tiffany-designed trophy is in reach. Miss out, and the questions start to murmur from team owners and sponsors.
The final three races of NASCAR's regular season promise to feature plenty of drama. See how the nine drivers currently in reach are standing during the final sprint.
Begin Slideshow

»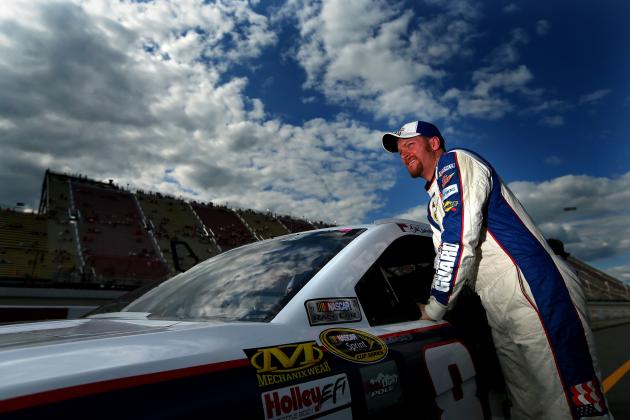 Mike Ehrmann/Getty Images
Recent woes have Dale Earnhardt Jr.'s stock dropping.
In the last two races, Dale Earnhardt Jr. has had an excellent chance to feel a lot more comfortable with three races left until the Chase for the Sprint Cup. At Watkins Glen, Earnhardt was headed for a finish near the top 10 when teammate Kasey Kahne spun in front and collected the No. 88 car. At Michigan, Earnhardt led the race and looked destined for a finish in the first five when he blew a tire and struck the Turn 2 wall.
The damage was more than to just the car—it was also to his standing in the cup series points. Earnhardt hemorrhaged more than 40 possible points in the two incidents, and now stands just 20 points to the good of the all-important 11th place in the standings.
Because Earnhardt has yet to win this season, more trouble at Bristol could move the No. 88 to a position on the outside looking in to the title race. He's been consistent all year long—Earnhardt has 12 top-10 finishes in 23 races—but as the regular season ends, that might not be enough. With any more bad luck, Earnhardt's championship dreams are flimsy at best.
Stock: Down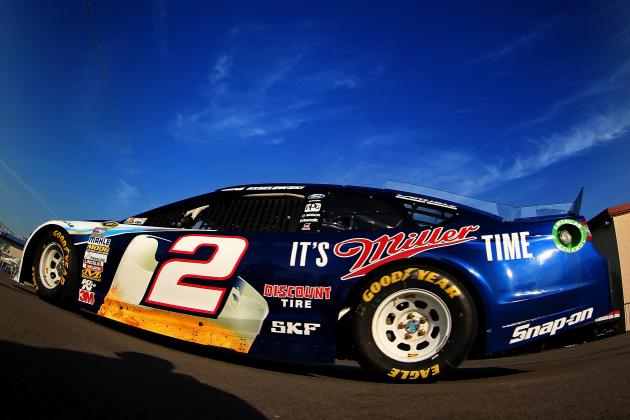 Mike Ehrmann/Getty Images
Brad Keselowski could use a win to secure his Chase position.
Another driver surprisingly without a win after 23 races of the cup series regular season is Penske Racing's Brad Keselowski. In fact, 2013 has been much more bumpy than a victory lap for the defending series champion.
Keselowski has started to find a bit of consistency again after a rough stretch in May, June and July, but his lack of a 2013 victory means that a wild card spot isn't available to the first-year Ford driver. Of course, that won't matter if he maintains a spot in front of 11th place during the last three races—something completely viable with Bristol, one of Keselowski's best tracks, in the mix.
As the three races elapse, however, Keselowski's decision to not race Kyle Busch more aggressively in the final laps at Watkins Glen will hang in the balance. Had Keselowski nudged Busch from the lead and won the race, his cushion would be larger. But he didn't—in an effort to preserve a respect with Busch—and wound up second.
Stock: Neutral
Mike Ehrmann/Getty Images
Kurt Busch was capable of winning at Michigan.
There were many ways that Kurt Busch and his new team, Furniture Row Racing, could have stumbled through the entire 2013 season, leaving both frustrated and looking elsewhere for 2014. Instead, the pairing has been better than anticipated to the point where Busch is a viable contender to make the Chase as well as depart for greener pastures at the year's end.
Busch, ninth in points after a third-place finish at Michigan International Speedway, has had three of his 11 top-10 finishes in 2013 in the cup series' last three events. Two were top-5 runs.
Busch's stock is up because it seems that more patience and a steadier personality than we're used to from the Las Vegas driver has paid dividends. Better in-race adjustments are being made. Practice runs are achieving desired results.
With Bristol and Richmond left before the Chase, Busch has modest chances to score a win. Should he do that—and continue his top-10 streak—we would certainly be looking at Kurt Busch, Chase contender.
Kurt Busch: Stock Up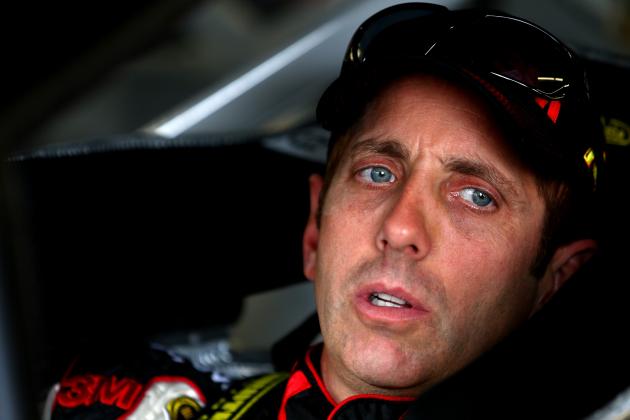 Todd Warshaw/Getty Images
Greg Biffle's win at Michigan in June will play a huge role in his Chase hopes.
Greg Biffle is the type of driver that seems ever-present in annual preview rankings. You just don't expect him to be outside of the Chase during hardly any year, yet he's rarely thought of in the elite list of actual title contenders.
Thanks to Ford's performance not quite measuring that of the Chevrolet's and Toyota's this season, 2013 has much of the same feel. Fortunately, Biffle is so good about being the driver who can turn a car into one that finishes about five spots ahead of where most drivers would otherwise do. That's paid off in the form of him both having a win in 2013 and being in Chase consideration.
Biffle's main numbers—three top-5 finishes and nine top-10 finishes—are the lowest of the top 10 drivers in the point standings. With trouble in the final three races, Biffle could face some heat from drivers in the wild-card race who have the same number of wins. But with his trademark consistency, Biffle is likely in.
Stock: Neutral
Jared C. Tilton/Getty Images
Kasey Kahne is feeling confident with his two wins.
The high that Kasey Kahne felt from his masterful win at Pocono Raceway is likely still carrying him some three races later. It's not often that a driver gets to beat a titan of the sport in a fair-and-square two-lap battle from behind.
But that's just what Kahne did to teammate Jeff Gordon in the second Pocono race to score his second win of 2013. The win was exceedingly important for Kahne, snakebit just a week later when he was wrecked out of a top-10 run at Watkins Glen. Kahne is a virtual lock for the Chase now as he both leads the wild card standings in points and wins.
More, Kahne returns to the track where he won in March (Bristol) in the final three-race sprint to close NASCAR's regular season. At this point, Kahne isn't worried—which might make for more assertive and aggressive racing from the No. 5 in a bid to unlock Chase bonus points.
Stock: Up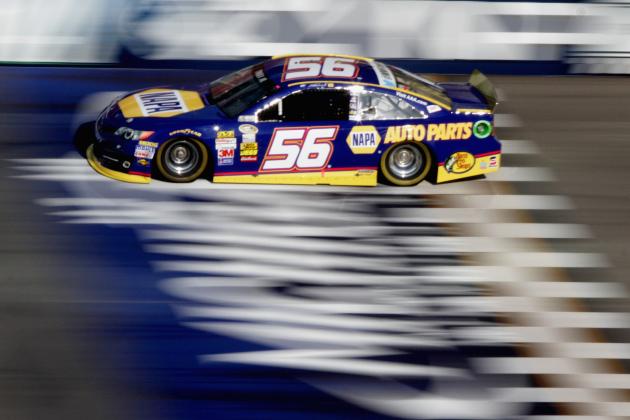 Jerry Markland/Getty Images
Martin Truex Jr.'s results leave his Chase spot unsecured.
Martin Truex Jr.'s win at Sonoma Raceway in June likely has him feeling good about his chances of making the Chase. But Truex likely also carries some trepidation about making the Chase thanks to the road-course win being his solitary triumph to this point.
Truex leads the brigade of one-win drivers outside of the automatic-qualifier ranks and with three races left would serve as the 12th and final Chase entrant. But Truex's roll toward the Chase hasn't followed the plan he laid out after winning Sonoma. Then, he talked about how the team had broken the ice of winning and that more would likely be coming in rapid succession. Obviously, that hasn't happened.
Instead, Truex has just two top-10 finishes since the Sonoma win and has an average finish of 15.5. It might be enough to get him to the Chase if those around him don't exhibit remarkable results, but it's not exactly a storming run into actual title contention.
Stock: Neutral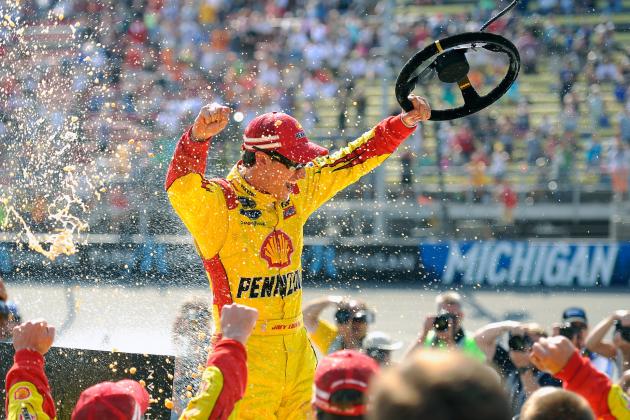 Jared C. Tilton/Getty Images
Joey Logano's Michigan win vaulted him to Chase contention.
All was well for Joey Logano's maiden season in Penske Racing colors until he lost a tire at Daytona in July. Fresh off a fourth-place finish at Kentucky Speedway, Logano had moved from 19th to 10th in points in five races. But Daytona wound up being the first of two consecutive 40th-place finishes for the No. 22.
Suddenly, Logano was back to 18th in points and seemed a long shot to make the Chase. A long shot, that is, until he won the latest race at Michigan Speedway. Combined with struggles of drivers like Jeff Gordon, Logano rocketed to 13th in points and now stands just seven points behind Martin Truex Jr. for the 12th Chase spot.
The Michigan win was nice for a driver bent on proving himself after facing demotion at Joe Gibbs Racing last season. It was even better for a guy looking to make a 10-race run at the championship.
Stock: Up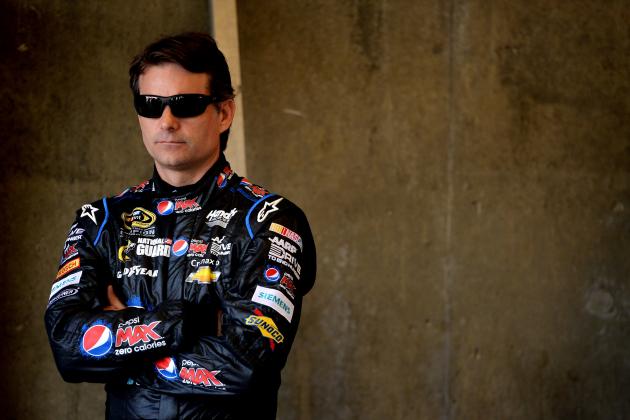 Patrick Smith/Getty Images
Jeff Gordon needs another comeback to make this year's Chase.
Jeff Gordon didn't get into racing for it to be easy. But you can bet he didn't enter 2013 expecting to repeat the valiant dash into the Chase he somehow pulled off in 2012.
But that's exactly where Gordon is after a combination of events in the last three races went decidedly the wrong way. First, Gordon was beat in a two-lap dash to the checkered flag at Pocono by teammate Kasey Kahne. Then Gordon wrecked on his own at Watkins Glen—a track where he once was considered a crowned ruler. Finally at Michigan, Gordon never found the handling he needed and struggled to a 17th-place finish.
Now Gordon, 14th in points, sits 26 points behind his target spot in 10th. Without a win, that's going to be a tough road for Gordon to travel in the final three races.
Stock: Down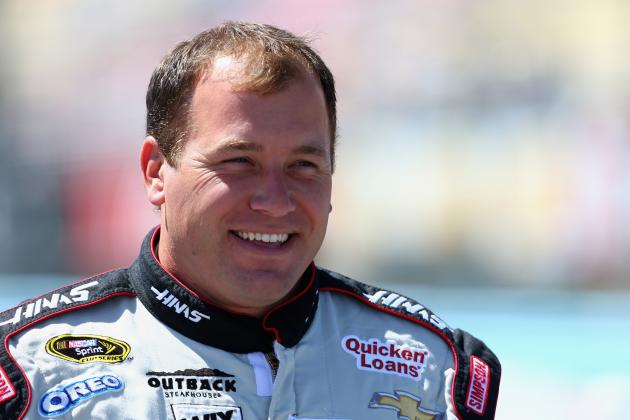 Todd Warshaw/Getty Images
Ryan Newman may not be smiling after the next three races.
Departing Stewart-Haas Racing driver Ryan Newman had a lot to smile about after scoring a home-state win in July's Brickyard 400. If he closes a gap of 17 points in the next three races, he'll be smiling more.
That's the gap Newman currently struggles with in a bid to make a return to Chase competition. Driver No. 39 stands as the third best of the one-win crowd for the wild-card spot. It's not a terrifically unfavorable position—Jeff Gordon would sure like to have a win under his belt—but it's still not ideal.
With news this week that Kurt Busch has been offered a fourth car at SHR in 2014, there has to be some legitimate concern about the state of affairs among teams in the three-car operation. When Newman was told he wouldn't have a ride at the team in 2014, a large reason for the abrupt change was due to the team not wanting to expand to a four-car operation. With Busch, that's exactly how things would be.
Ryan Newman needs a new ride in 2014, and would desperately like to make the Chase to help his search. For his sake, let's hope team drama doesn't influence team performance.
Stock: Neutral