The 5 Biggest Villains in Los Angeles Kings History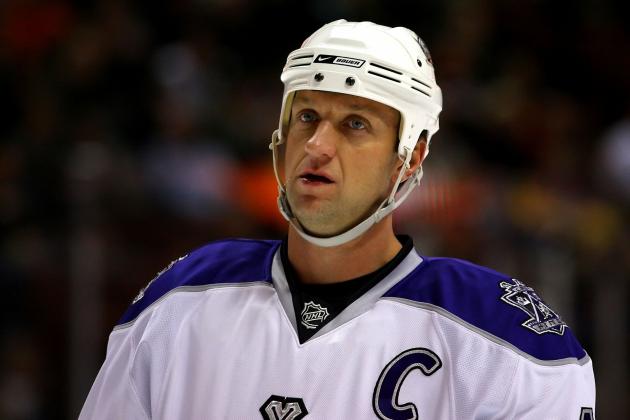 Christian Petersen/Getty Images

The Los Angeles Kings have endured their share of tough times. And, they have had their share of tough customers in the lineup.
From the team's inaugural season in 1967-68 through the 2013 campaign, the Kings have usually had someone playing the role of the villain.
There are different forms of villains in hockey.
Some may be tough guys who do right by their team and are hated by opponents and fans around the league. There are also those players who, for one reason or another, are no longer adored by the fans of a team they once played for.
This article takes a look at the biggest villains to ever suit up for the Los Angeles Kings.
Stats courtesy of NHL.com.
Begin Slideshow

»
The Paris, Ontario native was a key figure on the Kings' blue line throughout the 1980s.
A stay-at-home defenseman, Jay Wells was tough as nails and did whatever necessary to clear opposing players from the front of the net. That, combined with his quick fists, helped him gain villain status early on in his career.
Drafted 16th overall by the Kings in 1979, Wells would spend nine seasons in Los Angeles. By the time it was over, he had racked up 1,446 penalty minutes, which ranks third on the team's all-time list.
The player once known as "The Hammer" has been anything but a villain since his retirement.
He's currently an assistant coach in the OHL and has also spent time working with charities.
A list of the Kings' biggest villains wouldn't be complete without the NHL's all-time penalty minutes leader, Dave "Tiger" Williams.
Even though he was nearing the end of his career when he was traded to the Kings during the 1985 season, Williams still had plenty to offer.
In fact, he managed a career-high 358 penalty minutes during one season in L.A. When he wasn't in the sin bin, Williams made the most of his opportunities offensively, notching 49 and 34 points in each of his two full seasons as a member of the Kings.
He was an agitator, a physical force, but perhaps most of all, Williams was an entertainer.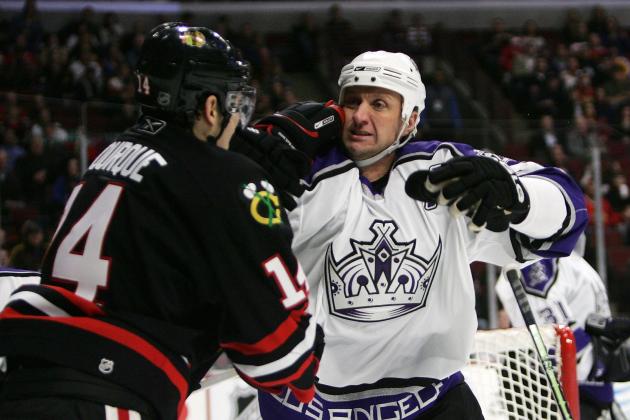 Jonathan Daniel/Getty Images

Rob Blake played for the Los Angeles Kings for 13 seasons and served as captain for about half that time. He went to the Stanley Cup Final with the team in 1993 and won the Norris Trophy in 1998.
Blake was a rugged, physical blueliner that forwards hated to play against.
And yet, for many L.A. fans, he's a villain.
Blake was set to become an unrestricted free agent following the 2001 season and it became clear early on that contract talks were not going well. Blake resigned as the team's captain in September and a few months later in February, he was sent to the Colorado Avalanche in a blockbuster trade.
Some say he was too greedy, others say he turned his back on the team. Regardless, his legacy in L.A. took a huge hit.
After a successful stint with the Avalanche which included a Stanley Cup championship, Blake returned to L.A. where he spent the 2007 and 2008 seasons. However, his performance was weak at best and in the end, he didn't earn back much respect from the L.A. faithful.
This offseason it was announced that Blake would return to the club as an assistant general manager and GM of the Manchester Monarchs.
Marty McSorley was acquired by the Kings as part of "The Trade"—at Wayne Gretzky's request.
One of the league's top enforcers, McSorley became known as Gretzky's bodyguard on the ice in Edmonton, a role he would maintain in Los Angeles.
At 6'2", 235 pounds, McSorley was a heavyweight who was never afraid to drop the gloves.
His toughness, along with his relentless style of play, are in part what made him a villain (along with the Donald Brashear incident).
However, for L.A. fans it's one illegal stick that's forever left a sour taste in their mouths.
With the Kings leading 2-1 late in Game 2 of the 1993 Stanley Cup Final, McSorley was given a two-minute minor for using an illegal stick. The Canadiens pulled Patrick Roy and scored to tie the game, which they would win less than a minute into overtime.
The series went back to L.A. tied 1-1, but the Kings didn't win another game, as Montreal went on to hoist the Cup.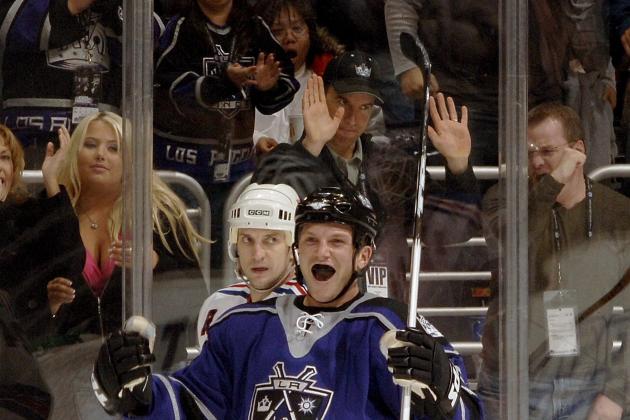 Noah Graham/Getty Images

Few players have played the villain in the way Sean Avery did throughout his entire NHL career.
He would spend parts of four seasons in L.A. and in total played 580 career games, racking up 1,533 penalty minutes along the way. Always a controversial figure, Avery was an agitator on the ice, but also a bully off it.
According to Michael Farber of Sports Illustrated, one of Avery's target's in L.A. was a young Dustin Brown. Avery would tease Brown about his lisp and his wife, Nicole. Ian Laperriere was quoted as saying, "this was bullying, like you might see in high school," as per Farber.
Avery would harass opponents on the ice verbally and silently.
An interesting example of the latter came when he was a member of the New York Rangers. In the first-round of the 2008 NHL playoffs vs. the New Jersey Devils, Avery turned to face Martin Brodeur and waived his hands and stick in an attempt to screen and distract the netminder.
The NHL announced the following day that such actions would result in a two-minute penalty for unsportsmanlike conduct.
He's been accused of going over the top with his trash talking, made inappropriate comments in media scrums and had issues with teammates and coaches.
It all adds up to a rather unique legacy for Avery, who is without a doubt one of the biggest villains not only in Kings history, but in NHL history as well.