Recapping and Grading WWE Total Divas for Aug. 18: 'The Fat Twin'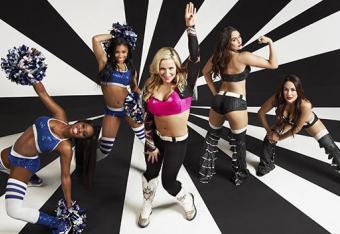 Total Divas cast (Photo by E!/WWE)

This week on Total Divas:
Nattie is frustrated with her fiance T.J. Wilson (Tyson Kidd) because their sex life has declined while he's been rehabbing his knee injury. Relationship shenanigans ensue.
The Bella Twins deal with a host of body-image issues. Shenanigans and questionable messages for young men and women ensue.
Ariane considers getting breast implants and awesomeness ensues.
A lot of things happen that make me question why this episode is the one E! aired while much of the male audience was watching SummerSlam.
The show opened with Nattie joining Nikki in a lingerie store. This scene, which includes one poking the other in the boob, was "why is this airing opposite SummerSlam" moment No. 1. Nikki convinced Nattie to try a couple numbers on "for T.J." and made lewd comments about what she should do while wearing the one she bought. Cue logo and theme song!
Nattie gave an exposition about her relationship with T.J., and it was kind of adorable: They've known each other for about 20 years, but as kids, Nattie thought T.J. was kind of a brat. When they were training to be wrestlers, she realized that he had a crush on her, they started dating and have been together ever since.
When Nattie returned home, she found T.J. is sitting on the couch watching Extreme Rules and basically ignoring her while she tried to make plans to go to a nice restaurant. She put on the new lingerie and sashayed into the living room. T.J.'s reaction? "What are you wearing that for?"
Obviously, no sexy time happened and Nattie rested her head in T.J.'s lap as she made a sad face. T.J., seemingly trying to get the most out of the contrived relationship drama, made his best Al Bundy face. Nattie wondered, "If I have to dress up as Daniel Bryan for him to notice me..."
When went they went out for lunch, Nattie and T.J. had a polite disagreement over what would constitute a "small" wedding. Since the Hart family is so gigantic (she has 36 cousins, for starters) and they want friends from WWE there, she proposed 150 guests, which T.J. was not crazy about. He felt that since they've been together so long, marriage is just a piece of paper now.
That all leads up to T.J.'s secret plan. He decided to take Nattie on a surprise car trip...to the nearest courthouse. To get married. In what Nattie declared a sketchy neighborhood. She said that this missed the point of her wanting a romantic storybook wedding: She got zero romance from him! She muttered they weren't getting married, leaving him hilariously confused.
At the end of the episode, Nattie returned home to find candles and rose petals everywhere with T.J. looking very dapper. He asked her to communicate with him better, she apologized, they talked about having a beach wedding, he asked her to put the new lingerie on again and that's that. Well, that was...simple.
The Bella Twins' storyline for the week kicked off in Kansas City earlier in the day of the Raw taping that ended the show last week, so they could have switched the episodes around fairly easily. Bryan and Brie are at a restaurant when she mentioned that the SummerSlam promotional photo shoot is coming up, so she may go on a cleanse to lose three pounds. Bryan tried his best to talk her out of it, since, well, look at her.
Meanwhile, Nikki was eating breakfast with the newbies and looking at Instagram when Eva Marie noticed a fan wrote, "Nikki is sooooo the fat twin" in a comment on a photo of her. Nikki was outraged, at least in part because, as she put it: "Why so many Os?" Well, that and presumably because she isn't anything resembling fat.
Actually, I'm not sure what the show wants us to think, because the next time we saw her, she was eating too much dessert while at dinner with Bryan and Brie. Frustrated that Nikki was doing this with the photo shoot coming up, Brie challenged her twin sister to do a 20-day cleanse with her where alcohol and desserts were banned.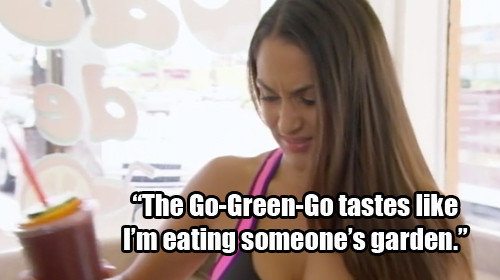 Nikki was clearly turning on the cleanse when she tried the green smoothies that Brie wanted to build them around. Thus, when Nikki was not herself when they were hanging out at her apartment that night, Brie suspected shenanigans. Brie ran to the kitchen trash can where she found a freshly emptied wine bottle.
Wow, someone could totally edit this out of context with interesting results if they really wanted to.
Anyway, this led to Brie's "no wonder people on Twitter call you fat, Nicole!" line we've seen in promos for weeks. They followed that up with our weekly scene of Nikki storming off. The argument didn't last past the commercial break, as they aired their grievances and Brie apologized for projecting her own issues onto Nikki.
Finally, we visit the Funkadactyls for the best storyline in the four-episode history of Total Divas.
Best scene from this episode?
In Kansas City, Nikki was bragging about her boob job as Brie disapproved, pointing out she knows what they looked like before. A crack about Ariane's cup size led to her telling the audience that she wants to be bigger up there, while Trinity felt this was misguided because she thinks Ariane's body parts wouldn't match if she got implants. After being needled by Nikki during an autograph signing, Ariane decided to set up a consultation with a plastic surgeon.
At the doctor's office, Ariane was accompanied by her dog Trinity and Jon, whom they left in the waiting room. Before Ariane could see the doctor, she and Trinity were greeted by a breast implant consultant. The breast implant consultant is a woman in a slinky dress who works for the doctor so patients can ask questions of someone who's been through the procedure.
It went much, much, further than that, though, and what soon played out contributed to my overall feeling that this episode should not have premiered opposite SummerSlam.
The breast implant consultant flashed Ariane and Trinity and asked them to feel her bosoms, which the breast implant consultant noted did not look fake at all. As far as we could tell, she was right. Trinity, somehow thinking this would lead to Ariane not getting surgery, called Jon in and gave him his one free shot: He completely cracked up laughing as the breast implant consultant flashed him and made him grope her.
I cannot do this justice, but it will be hard to top. Just go watch one of the replays if you didn't see the show. It was completely amazing.
Oh, and Ariane also saw the doctor. He gave her silicon implants to wear under her clothing so she could get used to the weight (is this a thing people actually do?) and said that if she gets surgery, she'd be out of the ring for a month.
Later, Trinity and Jon were at a swimming pool somewhere when Ariane showed up with the implants in her bikini to strut her stuff and dive in. When she popped up, one of the implants had fallen out. They found it floating in the water, which Trinity found hilarious. As did I, quite frankly.
Do you want to know who Vincent named "Janice" after?
The amazingness factor was ramped up a notch when Ariane went home to everyone's favorite boyfriend, Vincent. Vincent was mesmerized by the implants, and in a fit of creepy brilliance, he asked if he could name the left one "Janice." Vincent didn't have to try hard to top his first appearance. I mean...what the hell?!?! I wonder who in his life is named Janice.
Actually, on second thought, I'd rather not.
Also back this week was Sandra the seamstress, as Ariane asked her to sew the implants into her costume. Sandra was surprisingly excited by this development and really into the idea of Ariane getting the surgery. If that wasn't wacky enough, more shenanigans ensued, as Janice had been kidnapped. Ariane was panic-stricken at the disappearance of her new friend and shoved tissues in Janice's place.
After the match, Nikki was pointing and laughing because the tissue allegedly became visible on camera and oh my God this show is basically junior high school. Janice was returned without random, but somehow this experience taught Ariane that she didn't need surgery, and that was it for this week.
Overall thoughts and grade
What grade do you give "The Fat Twin"?
While the Bellas arguing and making up every week has been getting repetitive, as has most of the relationship drama, that didn't matter this week. The Ariane story was amazing. It was exactly the type of ridiculousness you want from WWE crashing into Keeping Up with the Kardashians.
A doctor employed a woman whose job was to flash everyone and/or be groped by them. A breast implant went flying into a swimming pool. Vincent possibly went insane as he met and named Janice, and then Janice was kidnapped, leading to drama normally reserved for 12-year-old girls.
Also: T.J. pulling an Al Bundy was awesome.
Final grade: A+
David Bixenspan has been Bleacher Report's WWE Team Leader and a contracted columnist since 2011. You can follow him on Twitter @davidbix and check out his wrestling podcasts at LLTPod.com.
This article is
What is the duplicate article?
Why is this article offensive?
Where is this article plagiarized from?
Why is this article poorly edited?