Eric Sogard is counting his blessings.
The Oakland Athletics shortstop had a big scare Thursday when half of Houston Astro Chris Carter's bat came flying at him on a broken-bat grounder.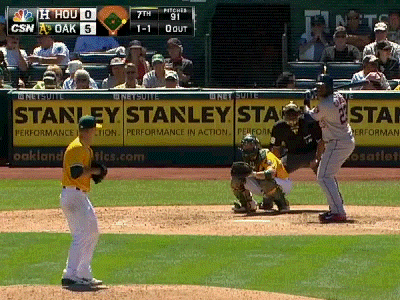 A's SS Eric Sogard caught a line drive just as he was knocked of his feet by a broken bat. That just happened.

— Brian McTaggart (@brianmctaggart) August 15, 2013
Thankfully, Sogard came out with only a minor scratch:
Sogard has a small scratch and a bruise on his left shin after getting struck by Carter's bat; he's totally fine. Saw it at the last second.

— Susan Slusser (@susanslusser) August 15, 2013
Broken bats are common. I find it puzzling that more incidents like this haven't happened. Bats go flying, but most of the time they miss everyone around.
Some people will call for more safety measures placed in baseball, but many would add it's just a part of the game.
Sure, the sport is dangerous when you're dealing with a baseball traveling 90 mph or more. But a comebacker up the middle is a part of the game.
Just last year, Minnesota Twins second baseman Jamey Carroll had to deal with a similar scary situation.
Video courtesy MLB Advanced Video via MLB.com.
In the same sense, wood bats break and sometimes players are going to get hit with the debris. Nobody really talks about bats flying into the stands, but they do. Why should a player's safety be more important than a fan's safety?
It's an inherent risk in the game, and something all players understand.
You hate to see anything like this happen, but it's just a part of the game. If players don't like it, I'm sure there is a minor leaguer who is more than willing to take their spot in the big leagues.