USMNT Roster: The 5 Best Current Players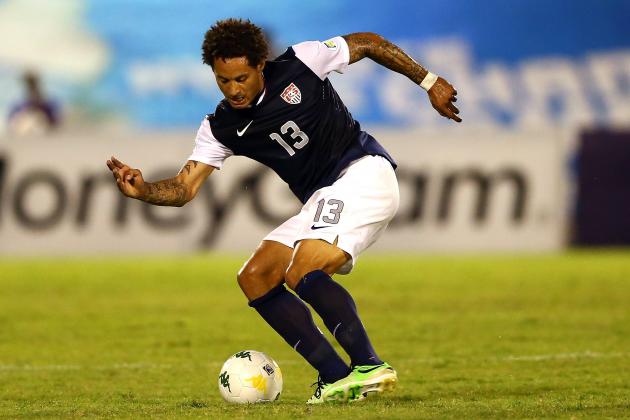 Streeter Lecka/Getty Images

After the U.S men's national team's famous 4-3 win against Bosnia-Herzegovina in Sarajevo midweek, and with the World Cup essentially 10 months away, I thought it would be a good time to tackle something that is subjective, but difficult to pin down: ranking the five best USMNT players.
And I would expect my ranking could very well surprise you. Remember, however, this is not a list of the greatest U.S. players of all time, or what these guys have done their entire careers. It's a rundown of the best USMNT players at the moment.
Honorable mention: Robert Green.
Begin Slideshow

»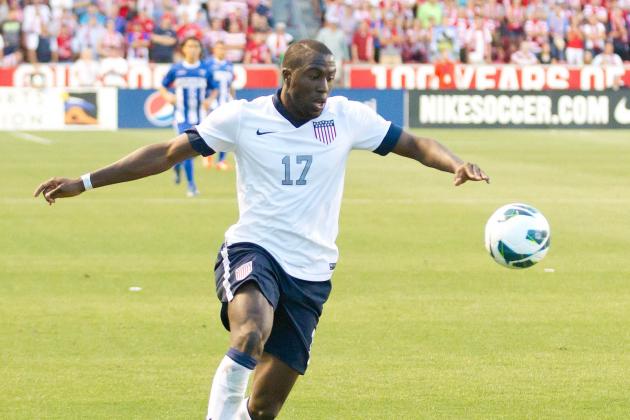 Russ Isabella-USA TODAY Sports

Jozy Altidore, although only 23 years of age, has been the United States' featured forward since he was in his late teens. While during most of that time he left something to be desired, he's been steady enough for club in the past few years and country this summer to earn a spot on this list.
It's been a long time since the USMNT had a consistently scoring striker other than Landon Donovan since Brian McBride left the side. For the past few years, Altidore had some success in World Cup qualifying and Gold Cups with his physicality and ability to hold the ball up.
It's only recently he's been able to really start doing what the U.S. need from a forward: consistently find the back of the net. 20 goals in 61 caps isn't awful for a striker, but only now is he rounding into form as the beast everyone knew he could be. He can even hit a free kick now, something I never expected.
If he continues this form with Sunderland in the Premier League, look out for him in Brazil next year. Not saying he'll win the Golden Ball, but he could easily score two or three times.
Did I mention he's only 23?!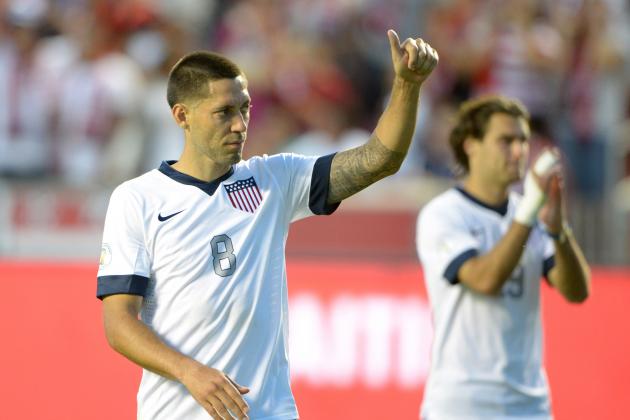 USA TODAY Sports

The new Seattle resident has been a consistent performer for the USMNT for many years, and at 30 still probably will be involved through the 2018 World Cup. Dempsey is an extremely versatile player who can play all over the field.
With 35 goals in 99 caps as a midfielder, he also is a great playmaker, creating opportunities for others. On top of that, his passion can be surpassed by no one. No other player wears the U.S. kit with as much pride.
Dempsey also has a history of scoring goals in the World Cup, which of course is where it's needed the most. At 30, he'll probably be past his peak soon, but at the moment can be relied on to turn in solid performances match after match.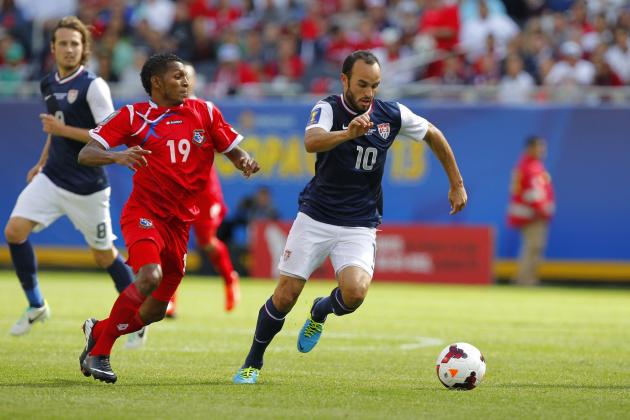 Dennis Wierzbicki-USA TODAY Sports

The 31-year-old Californian hasn't accomplished much at the club level outside of America, bar two short loan spells at Everton. However, with 56 goals in 151 matches for the USMNT, he has a strong case to be the best American player of all time.
Donovan's speed, shooting and passing abilities combined with great stamina have made him a nightmare for opposing defenses for a decade. His pure quality could put him as high as No. 1 on this list, and he tends to do well in the biggest matches, but his tendency to be uninvolved for large portions of a game prevents him from being higher on this list.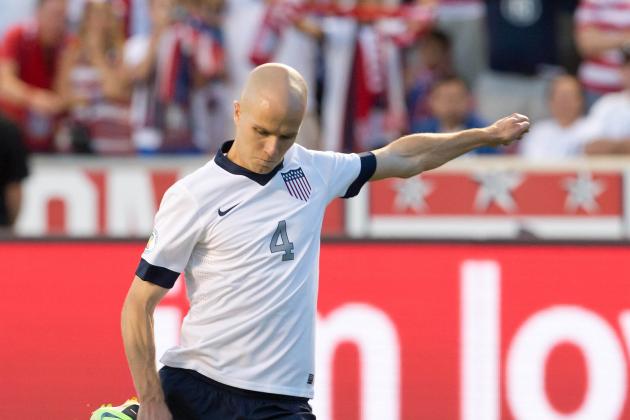 Russ Isabella-USA TODAY Sports

When Bob Bradley was coach of the USMNT, many people thought that son Michael Bradley was a fixture on the starting XI because of his dad. Anyone who thought that was the only reason he was on the team has been proven wrong since Jurgen Klinsmann's been in charge.
Since summer 2011 he's been a force in Serie A and a top player at both Chievo Verona and AS Roma. If he can stay healthy all year long, Roma will do better than it did last year guaranteed (unless Daniele De Rossi and Francesco Totti both go down).
Michael Bradley's tactical awareness is better than any other American player's. He knows when to stay back and intercept balls, when to shield the back four, when to get involved in the attack and has a knack for making perfect runs at key moments (see USA vs. Slovenia in the 2010 World Cup).
Having only turned 26 last month, the New Jersey-born Bradley has 11 goals in 80 caps for the USMNT. Honestly, I don't mind who partners with Bradley in midfield, as long as that person makes sure to let Bradley do whatever he wants.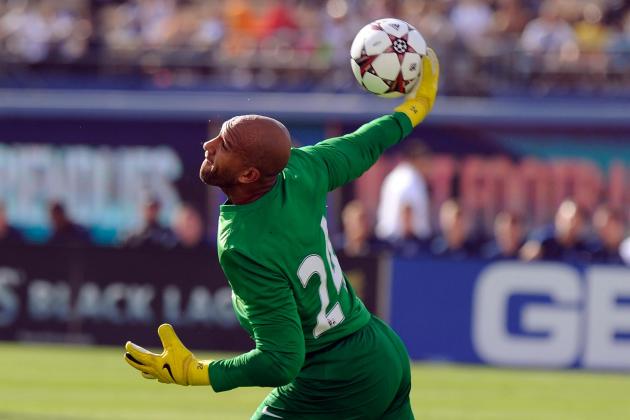 Robert Hanashiro-USA TODAY

The top American player is...Tim Howard!
The U.S. has a knack for consistently having great goalkeepers, even several of them at a time. Brad Guzan and Nick Rimando would also do very well as National Team No. 1s. (I think Dan Kennedy would do a good job also, but tell me what you think about that in the comments).
So, now I have to defend my choice. Tim Howard is, simply, a fantastic goalkeeper. He has 91 caps for the USMNT. He's one of the most reliable goalkeepers in the world. If a ball gets past him, it's very likely no one in the world could have stopped it.
He seems to always come up with one huge same every game. In one-on-one situations he makes himself big and closes down angles, making scoring against him very difficult. He never shies away. He makes himself the biggest man on the pitch when balls are whipped into the box, and if he comes out to get a ball, he will get that ball.
Howard also started arguably the greatest goal in U.S. history.
In the game against Algeria in the 2010 World Cup, Howard made a stop, then threw the ball almost to midfield—and Donovan picked it up before scoring the goal that secured the USMNT's qualification to the Round of 16.
Club-wise, he's been a fixture at Everton for years with over 100 clean sheets. He also showed his goal-scoring prowess against Bolton Wanderers, but that's another story.
All in all, Tim Howard is a top-class leader, competitor and footballer. Let's hope he has five more great years in him. He's 34, but goalkeepers tend to have longevity, so who knows.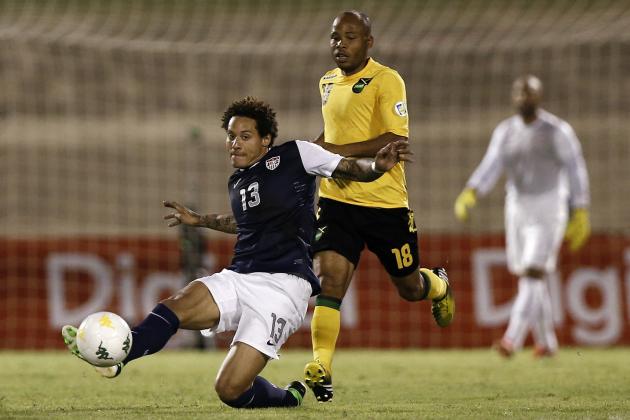 Winslow Townson-USA TODAY Sports