Rickie Lambert: 10 Things You Didn't Know About England's New Hero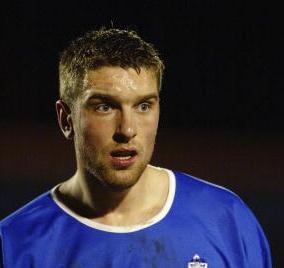 (Getty Images)
Lambert's route to the top of the game was, to say the least, a little unconventional.
After getting released by Blackpool at the age of 18 in November 2000, he remained a free agent for nearly four months before joining Macclesfield Town. While there, he made ends meet by working in a beetroot factory. He told The Guardian:
"After Blackpool I didn't have a contract and wasn't getting paid for four or five months, a difficult time, and I was debating what I could do outside the game. But I didn't want to leave the football. I tried my best to get to Macclesfield, an hour and 15 minutes away, and to do that I needed a job. The beetroot factory was one of the only ones I could get at the time, putting lids on jars for £20 a day. I'd work in the day, train in the evening."
If the rest of the England team had to go through adversity like this instead of being pampered from their early teens, they might have a completely different work ethic.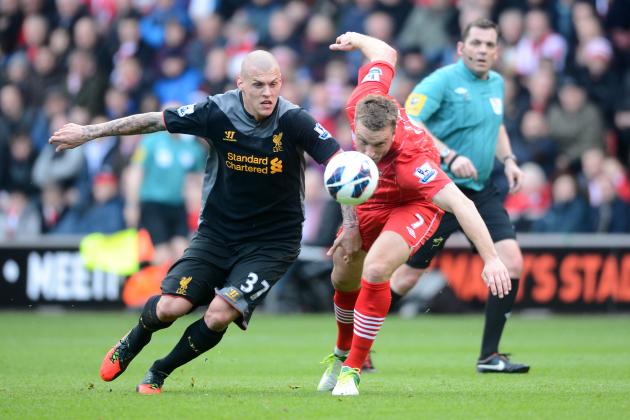 Mike Hewitt/Getty Images

Born and raised on Merseyside in Kirkby—the same town that brought the world Leighton Baines, Alan Stubbs and Phil Thompson—Lambert joined local side Liverpool as a 10-year-old. He told The Guardian that he was let go at 15:
"I was at Liverpool from 10 to 15 but was basically told I wasn't good enough, a hard thing to take at the time. I thought it was the end of the world. But I can tell people in the same situation now that it should drive you on to succeed even more."
If only The Reds had played the long game and kept him on the books, they might have saved £35 million on Andy Carroll...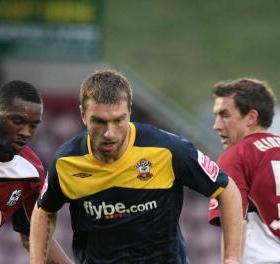 (Getty Images)
It may have taken him years to reach the upper echelons of the game, but Lambert certainly knows how to make a good first impression once given a chance.
He made his debut for Southampton on August 11, 2009 in a League Cup game against Northampton, scoring the opener in a 2-0 victory.
That season, he became the Saints' top scorer with 36 goals in 58 appearances, including 30 goals in the league.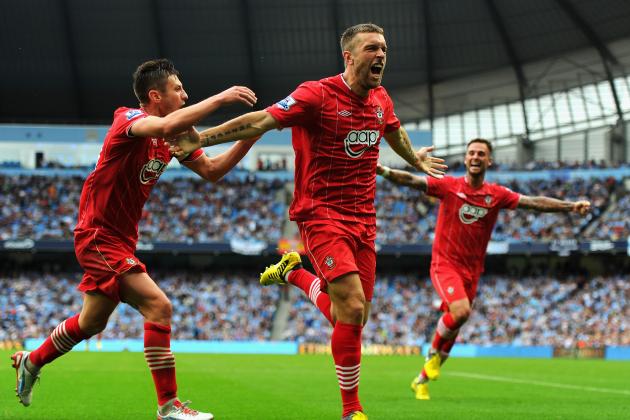 Michael Regan/Getty Images

On the first day of the 2012-13 season, Lambert played his first top-flight match at Eastlands.
Man City ended up 3-2 victors in a thrilling opener over newly promoted Southampton, but our man scored an equaliser in the second half, minutes after replacing Jay Rodriguez.

(Evidently, he has form for scoring quickly on debuts from the bench in matches with 3-2 scorelines!)
Incidentally, Southampton's other goal that day was also scored by debutant Steven Davis. Those were the only two shots on target that they had.
At 31 years of age, you can forgive Lambert for not waiting by the phone when the England squad to face Scotland was announced. However, with Daniel Sturridge and Andy Carroll injured, he duly earned his first call-up.
The Saints striker was one of the last to hear about this good news, as he was busy witnessing a different kind of blessing: The birth of his third child. Lambert explained his crazy day to The Guardian:
"I knew England were playing Scotland but I'd forgotten about it and didn't know the squad announcement was happening," he said. "It'd been a late night and I didn't wake up until about 12.55pm, saw my phone and called the gaffer [Mauricio Pochettino]. He was the one who told me. I couldn't believe it, a complete shock. The most unbelievable moment in my life. I wasn't expecting it at all."
Thankfully, his daughter Bella arrived before he discovered the news, or he may have been tempted to call her "Hodgson."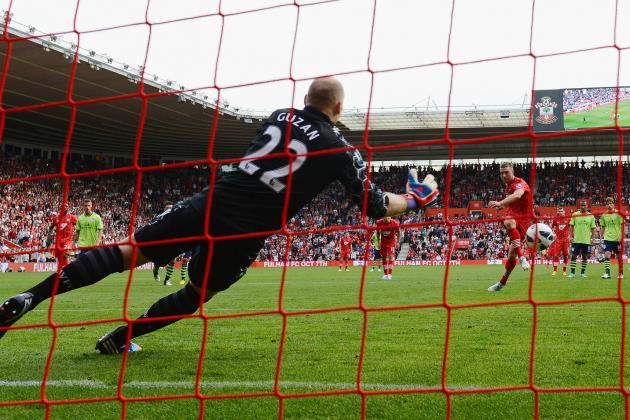 Mike Hewitt/Getty Images

If there is one thing Lambert can be relied upon, it's his ability to convert from 12 yards.
The 31-year-old has taken 31 penalties in a Southampton shirt, and has not missed a single one. His only career penalty miss, in fact, came at Bristol Rovers in 2009.
This record puts him in similar stead to Saints legend Matt Le Tissier, who missed just one penalty in 49 attempts over 16 seasons.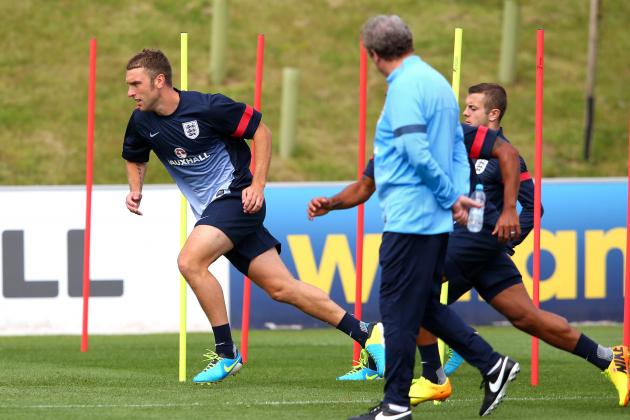 Alex Livesey/Getty Images

At 31 years and 179 days old, one would expect Rickie Lambert to be among the oldest players to debut for England.
In fact, according to englandfootballonline.com, he is nowhere near earning that accolade, as 42 other Englishman were older when they had their first international run-out.
There have been 17 other 31-year-old debutants, including Steve Bould and Chris Powell. The oldest is thought to be goalkeeper Alec Morton, who was either 41 or 42 when he broke into the Three Lions team in 1873.
He's also not the first to score on his debut, as Francis Jeffers and David Nugent both managed that task. That's where Lambert will hope the similarity ends, as those two only ever earned a single England cap each.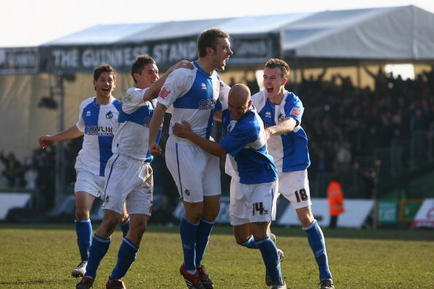 (Getty Images)
Rickie has scored a total of 93 goals across League One, The Championship and the Premier League for Southampton.
After appearances in the fourth tier for Bristol Rovers, Rochdale, Macclesfield and Blackpool, he is also one of a small band of players to have scored in all four English professional divisions.
Other members of this exclusive club include Grant Holt, Steven Morison, Simeon Jackson and Aaron Wilbraham.

The most impressive record, however, belongs to Toronto FC's Robert Earnshaw, who has scored hat-tricks in all four divisions, as well as the FA Cup, the League Cup and international level.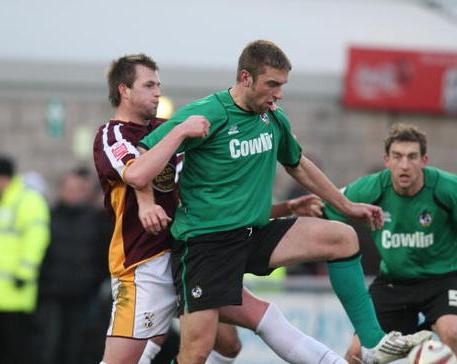 (Getty Images)
Lambert has a host of accolades adorning his mantle piece, including two PFA League One Team of the Year awards, a PFA Championship Team of the Year nod, Championship Player of the Year for 2011-12 and two Southampton Player of the Year awards.
Lambert won the League One Golden Boot in consecutive years in 2008-09 and 2009-10, knocking back 29 goals (for Bristol Rovers) and 31 goals (for Bristol and Southampton) respectively.
During Southampton's 2011-12 Premier League promotion campaign, Rickie found the net 27 times, five more than his closest Championship rival Ricardo Vaz Tê.
In a game that takes itself far too seriously far too often, Lambert provides a welcome sense of comic relief.
On April Fool's Day this year, he claimed he was making himself available for New Zealand, inventing a story that his grandfather was born in Christchurch. "I've made no secret of the fact that I would love to play international football, but I haven't yet managed to break into the England squad," he told the Southampton FC official website (via The Metro).
Now, Lambert may not need to invent bogus relatives to get a shot at going to Brazil next summer...