Mexico vs. Ivory Coast: 6 Things We Learned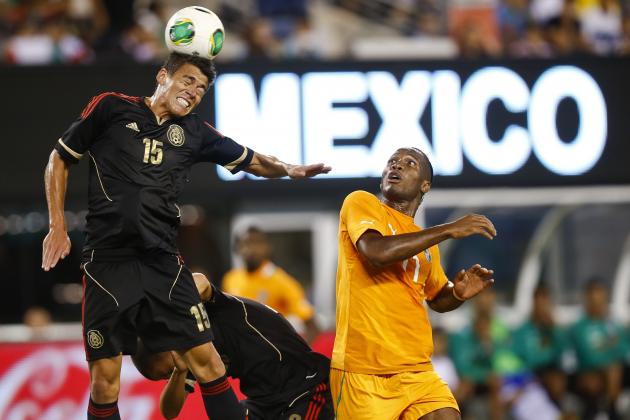 Jeff Zelevansky/Getty Images
Mexico had not scored more than two goals in 2013.
Jose Manuel de la Torre can breathe another month thanks to El Tri's performance against Ivory Coast.
Mexico beat the African side 4-1, and even though it was just a friendly match, it is definitely a key result for a team that had not scored more than two goals in a game in 2013.
The addition of two naturalized players and the inclusion of some Mexico-born footballers was also a factor in the game.
Join me to find out what we learned from the match.
Begin Slideshow

»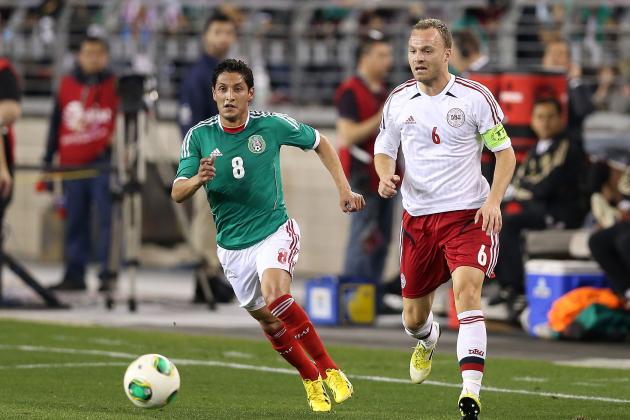 Christian Petersen/Getty Images
Angel Reyna was recently acquired by Mexican club Veracruz.
Angel Reyna was sharp. He gives the team a lot of depth with his unbalancing skills.
The Veracruz midfielder is fast and accurate with his passes. Plus, he scored once.
Reyna worked closely with Giovani dos Santos, Christian Gimenez and Oribe Peralta to put Ivory Coast in distress.
His creativity and eagerness to keep the ball are two elements that Mexico lacked in previous games.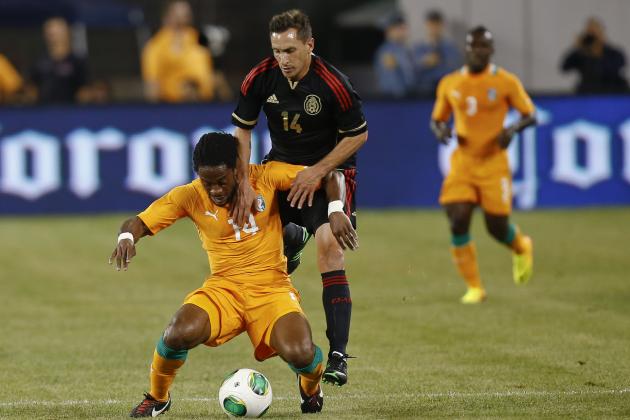 Jeff Zelevansky/Getty Images
Christian Gimenez made his debut with Mexico against Ivory Coast.
The recently naturalized footballer made his debut in style. He started the game between Angel Reyna and Giovani dos Santos, making a creative trifecta that generated constant danger to Boubacar Barry's goal.
Gimenez spent most of his time on the pitch in the midfield, helping with ball possession and feeding passes to his teammates.
He showed his gifted right foot with two shots from outside the box.
Jeff Zelevansky/Getty Images
Diego Reyes left Mexico this summer to join FC Porto.
The performance of Diego Reyes in the last couple of games has been impeccable, and for Javier Rodriguez, this could mean staying on the bench.
Reyes is now playing in Europe, for Porto, and at age 20 is destined to have a bright future. His fine touch and toughness make him a consistent centre-back.
Diego made a great partnership with Hector Moreno. Although Ivory Coast is not the toughest opponent, Reyes has been at his best regardless of who the team has played.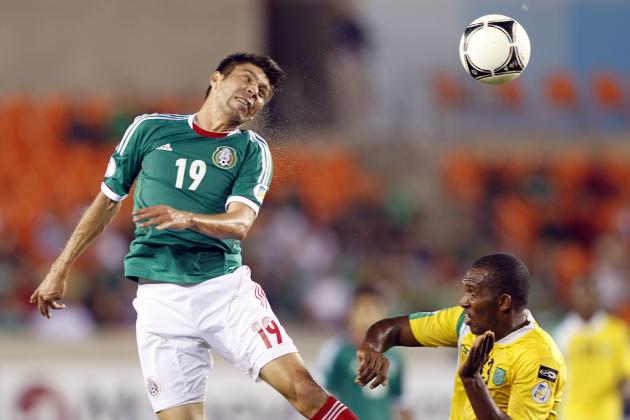 Bob Levey/Getty Images
Oribe Peralta has scored six goals with El Tri.
Oribe Peralta scored twice and proved to be going through a very good moment.
The Santos striker is one of the most complete footballers in Mexican football. He takes his chances from outside the box, is very fast and strong and has an amazing header.
"El Cepillo" has to be in the starting lineup, not only because of his skills, but also because of his mindset. A positive player who will not give up is precisely what a team that lacks goals needs.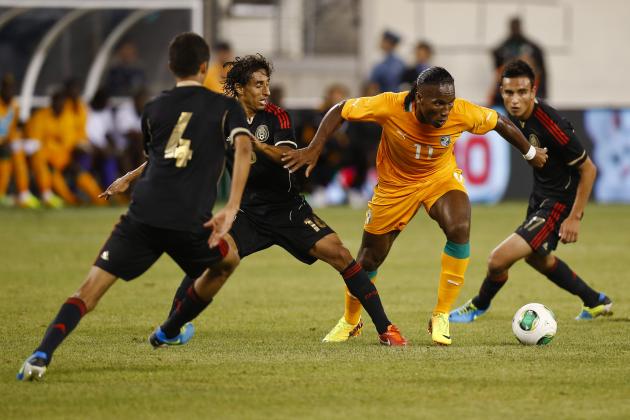 Jeff Zelevansky/Getty Images
Mexico and Ivory Coast had never faced each other.
El Tri needed a break after the failure in both the Confederations Cup and the Gold Cup.
The final result is the reflection of a group that has a clear idea of what it wants to achieve. Mexico's game had looked a lot different to the one they showed us in 2011 and 2012, when the first team lost only three games and conquered the Gold Cup.
In all fairness, the victory is not a total relief, but it surely will increase El Tri's confidence ahead of one of its most important matches against Honduras at the Azteca.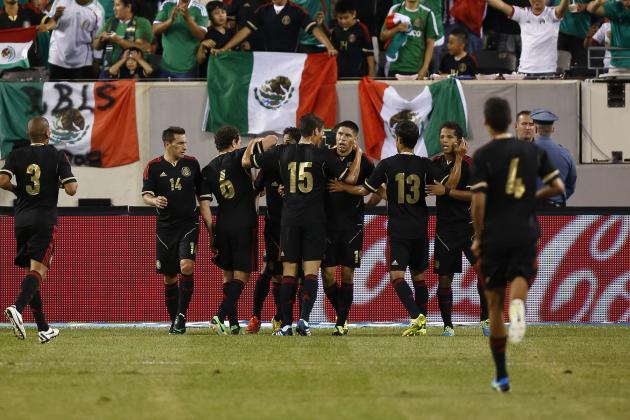 Jeff Zelevansky/Getty Images
Jose Manuel de la Torre only called three footballers that play abroad.
Jose Manuel de la Torre went with a new strategy and a different lineup, which at the end of the day paid off. The team was full of creative players, such as Angel Reyna, Giovani dos Santos, Christian Gimenez and Fernando Arce.
Somehow, they managed to become a solid group and play with clarity, which is different from what we had seen in previous games.
Next month, El Tri receives Honduras at the Azteca in a match that has more importance than many would want. Mexico has yet to win on home turf in this year's Hexagonal and "Chepo" knows that one more draw can cost him his job.
However, the performance against Ivory Coast takes a lot of pressure off him because these players showed him, the media and the fans that they can actually play rather than run around the pitch with no idea of what to do.