Mexico picked up a nice 4-1 friendly win against Ivory Coast on Wednesday night.
For an El Tri side struggling to pick up positive results, this match helps Jose Manuel de la Torre breathe a little easier.
He was helped out by Ivory Coast defender Arthur Boka, who gave his team a mountain to climb with his own goal in the ninth minute.
Although it was an own goal, Mexico deserve a lot of credit for making it happen. They were throwing men in the box, with Oribe Peralta in particular really making himself a nuisance for the Ivory Coast back four. That own goal doesn't happen if El Tri aren't applying the kind of pressure around goal that they were.
It was once again Peralta right in the thick of the action as he scored in the 28th minute. And once again, it was Mexico's pressure that led to the goal. El Tri weren't giving Ivory Coast any time on the ball, even in their own half. Giovani dos Santos was pressing Jean-Jacques Gosso hard, and Gosso made an ill-advised back pass.
Peralta intercepted the pass and fired home a rocket. Mexican football expert Tom Marshall thought the goal hearkened back to the first one Peralta scored in the 2-0 win over Brazil at the 2012 Olympics.
Gooool Mexico - 28th min - Oribe Peralta pounces on a defensive error. Rather like that opener in the Olympic final. Mexico 2-0 Ivory Coast.

— Tom Marshall (@mexicoworldcup) August 15, 2013
Would you believe Mexico scored a third goal in the first half, and it didn't involve Peralta? Of course you wouldn't. It was Peralta who headed home a cross from dos Santos in the 45th minute to give El Tri a commanding 3-0 lead.
This is the kind of performance that Mexico supporters have been waiting to see. Rather than being their usual timid selves, El Tri actually showed some adventure on the pitch. Pressing high up the pitch is a bit risky, as you leave yourself exposed on long balls over the top. De la Torre wasn't afraid to take that risk, and the decision paid off in spades.
Of course, even the most ardent El Tri supporter has to concede Ivory Coast looked like they couldn't be bothered to do much of anything. The Elephants were lacking in almost every phase of the game.
Sports Illustrated's Grant Wahl brought up a somewhat valid point.
Glad I skipped the trip to MetLife for Mexico-Ivory Coast. If the Ivorians don't care, why should anyone else?

— Grant Wahl (@GrantWahl) August 15, 2013
The American Soccer Network's Jason Davis was at least entranced by the Ivory Coast's orange kits. So they've got that going for them.
Cote d'Ivoire looks great. I mean terrible. Great and terrible. Kits, great. Play, terrible.

— Jason Davis (@davisjsn) August 15, 2013
Brian Sciaretta of Yanks Abroad was a little more blunt.
Ivory Coast is awful. Talk about sleepwalking through a game.

— Brian Sciaretta (@BrianSciaretta) August 15, 2013
Sabri Lamouchi made four substitutions to start the second half, and Ivory Coast seemed to get a little more urgent as a result. They were putting some moves together and making an effort on the defensive end.
It made the match a lot more fun to watch, as the second half opened up and became much more competitive. You can only watch a one-sided drubbing for so long, especially if you're a neutral.
The Elephants got a major lifeline in the 61st minute. Didier Drogba had a free kick just outside the area. He looked to have just smashed the kick into the wall, erasing any threat for Ivory Coast.
However, the official whistled and pointed to the spot for a handball on Gerardo Torrado. Upon looking at the replay, the ball looked to have struck Torrado in the side, rather than the arm.
Drogba stepped up and calmly slotted home the penalty.
Despite Ivory Coast getting that critical first goal, the match slowed down as the second half went on. Mexico weren't pressing as high up the pitch and rather chose to drop a little deeper and protect their two-goal lead.
The match also wasn't helped by the number of substitutions both managers were making. As more and more new players came on, both teams struggled to retain their fluidity.
Mexico added a fourth in the 90th minute, courtesy of Angel Reyna.
Although this is only a meaningless friendly, Mexico should be encouraged by the result. This was their best performance of the past few months. The result won't help them in World Cup qualification, but it's positive momentum.
Key Player Grades
Oribe Peralta: A+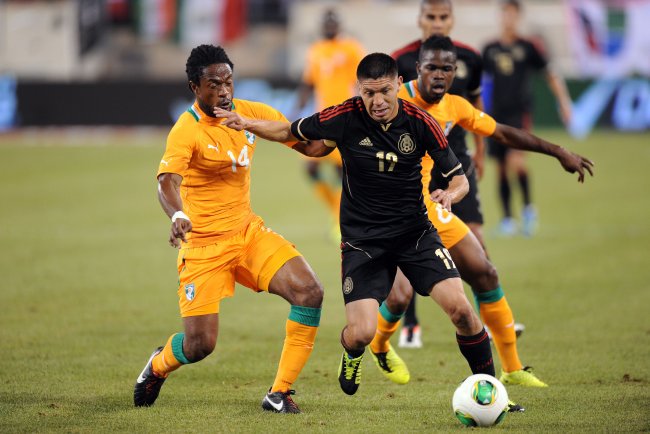 Joe Camporeale-USA TODAY Sports
Peralta was absolutely faultless in this match. He did everything you'd expect of a target man. The 29-year-old wasn't picking the ball up at the halfway line and darting through the defense.
Instead, Peralta was staying close to goal and wreaking havoc on the Ivory Coast back four. He made the most of his chances, and he even created some for himself by pressing opposing defenders when they had the ball.
Giovani dos Santos: B+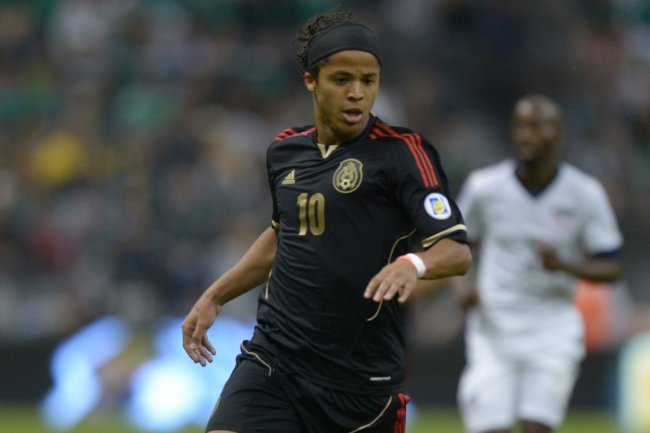 Kirby Lee-USA TODAY Sports
Maybe dos Santos should just wear his Mexico shirt under his Villarreal kit this season. When dos Santos plays with El Tri, he's a different player.
The 24-year-old winger was flying all over the pitch. He pressed high when not in possession and looked to create for his teammates when on the ball.
Mexico Player Grades

| | |
| --- | --- |
| Player | Grade |
| Jose Jesus de Corona | B |
| Carlos Salcido (off '63) | B |
| Diego Reyes | A- |
| Severo Meza (off '78) | B+ |
| Hector Moreno | B |
| Gerardo Torrado (off '63) | B+ |
| Christian Gimenez (off '77) | B |
| Fernando Arce | B+ |
| Angel Reyna | A- |
| Giovani dos Santos (off '56) | B+ |
| Oribe Peralta (off '67) | A+ |
| Substitutes | |
| Damian Alvarez | C+ |
| Jorge Torres | C+ |
| Jesus Zavala | C+ |
| Raul Jimenez | B |
| Marco Fabian | INC |
| Miguel Layun | INC |
Lineups via ESPN FC
Ivory Coast Player Grades

| | |
| --- | --- |
| Player | Grade |
| Boubacar Barry | C |
| Arthur Boka | C- |
| Didier Zokora (off '46) | C- |
| Christopher Aurier (off '46) | C |
| Souleymane Bamba | C |
| Mathis Bolly (off '58) | C- |
| Jean-Jacques Gosso | D+ |
| Abdul Razak | C |
| Giovanni Sio (off '46) | C+ |
| Seydou Doumbia (off '46) | C- |
| Wiflried Bony (off '72) | B- |
| Substitutes | |
| Didier Drogba | B+ |
| Salomon Kalou | B- |
| Brou Angoua | C- |
| Brice Dja Djedjé | C- |
| Gervinho | C |
| Gohi Bi Zoro Cyriac | INC |
Lineups via ESPN FC
What's Next
Ivory Coast take on Morocco on September 7 in their next match of CAF 2014 World Cup qualifying. Mexico have Honduras on September 6 in CONCACAF qualifying, and then four days later, they have a critical match in Columbus, Ohio, against the United States.