USA Rugby vs. Canada: Complete World Cup Qualifier Preview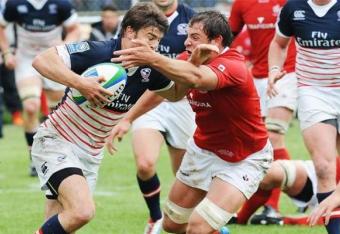 The USA Eagles face Canada this weekend in World Cup qualifying action.

USA Rugby will host Canada in Charleston this Saturday as part of the 2015 Rugby World Cup Qualifiers.
This weekend's home match for the USA Eagles is part of a home-and-away series versus Canada that will see them travel to Toronto's BMO Field the following weekend. The team that posts the biggest scoreline across the two games will win the World Cup Qualifying series on aggregate and claim a spot in the 2015 showcase as Americas 1.
First, however, North America's two biggest rugby rivals will throw everything into the first half of the battle in Charleston, in an effort to claim continental bragging rights.
For the Americans, one has to think a win in the home portion of this series is essential. The Eagles were able to defeat Canada in Charleston by a score of 12-6 during the previous World Cup Qualifying cycle in 2009; however, they went on to lose the following week to the Canadians by a score of 41-18, in Edmonton.
Neither country would go on to earn the two wins necessary at the 2011 World Cup to secure automatic qualification for 2015, and so once again North American rugby fans are girding themselves for another chapter in their cross-boarder war.
Since those 2009 encounters, the two countries have gone through enormous changes in their respective rugby programs.
Canada and USA have both made some effort to centralize their sevens rugby programs, which has resulted in some important talent development across each country's back line. Both countries have also been successful in securing overseas contracts for an increasing number of their high-end players.
So, how then is one to assess each country's chances heading into this weekend's important opening clash?
Fortunately, a recent body of evidence lies before us.
USA Rugby vs. Canada: A Recent Form Guide
The summer of 2013 marked the first time Canada and USA competed in the IRB Pacific Nations Cup tournament. Take that, combined with a North American Tour by a visiting Irish squad, and you are left with a solid amount of evidence—albeit mixed evidence—as to where these two rugby nations stand at the moment.
Canada
went undefeated
in the first three games of that competition, defeating the U.S., Fiji and Tonga before ultimately losing a close match to Japan at the end of the tournament.
The U.S., meanwhile, failed to record a win all summer, losing every one of its Pacific Nations Cup matches. The Eagles were the only team in that event to allow more than 100 points against in four tournament matches.
These numbers do require some context, however.
While it is true that the Pacific Nations Cup represented a challenging time for USA and head coach Mike Tolkin, the American squad was at full strength for only one contest during the summer campaign. That fixture was its heroic June 8 battle against Ireland in Texas.
In that match, the Eagles, led by an imposing back row of Scott LaValla, Samu Manoa and captain Todd Clever, battered the Irish in the tackle and at the breakdown, nearly causing one of the greatest upsets in USA rugby history.
Should the Eagles bring the same level of intensity from that narrow 15-12 defeat to their World Cup Qualifying campaign, they may claim the victory in Charleston that they so desperately need.

To the Victor Go...No Spoils Whatsoever
Both coaches and their teams will tell you that only one option exists for them in these contests: to win and claim North American bragging rights for another four years. The raucous rugby fans on either side of the 49th Parallel expect nothing less.
However, once the celebrations die down for the winner of this series, a much harsher reality will set in.
By winning this World Cup Qualifying series and claiming the Americas 1 slot in Pool D of the 2015 Rugby World Cup, one of these countries will have bought itself a far more challenging schedule than it otherwise would like.
Americas 1 is destined to occupy a World Cup pool alongside France, Ireland and Italy, with only a lowly European qualifier left to offer any relief to what will be a battered group of North Americans.
What is more, the International Rugby Board has shouted from the rooftops that its 2015 World Cup schedule is now completely fair, all while condemning the already hard-pressed North American qualifier to play on five fewer rest days than the three RBS Six Nations teams who also inhabit Pool D.
No, there will be no hiding place for the team lucky enough to claim the Americas 1 title, while a far more optimistic road awaits the nation that will play as Americas 2.
It is true that the loser of the USA vs. Canada series will be forced to play off against a South American opponent for the right to advance, but if successful, that Americas 2 ticket promises both an easier schedule and more hope of World Cup success.
The team that qualifies as Americas 2 will play in Pool B at the World Cup and have the opportunity to challenge, Japan, Scotland and Samoa—three nations that a North American qualifier might hold hope of defeating. The only near-impossible opponent will come in the form of the mighty South African Springboks.
Americas 2 will also enjoy more rest days at the 2015 World Cup than their Americas 1 brethren, a crucial advantage for nations with limited player depth.

Predictions and Analysis
Both nations are seeking to bring their strongest possible lineups to this series; however, Canada will suffer from some disappointing absences.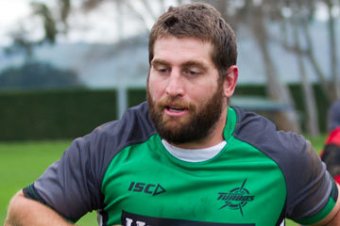 Canada standout prop-forward Hubert Buydens will be in New Zealand for the two contests, as he recently
signed a professional contract
with Manawatu and will not be released for the games.
Sevens star Conor Trainor will be on the sidelines for Canada, as he has been all summer, having broken his ankle in the final days of last season's IRB Sevens Series.
Finally, new Ospreys signing Jeff Hassler is suffering from illness and has been ruled out of the series, replaced by fellow Canadian speedster Sean Duke.
So, it will be something less then a full-strength Canada side that will look to retain their status as North America's top rugby nation, but they will at least be able to celebrate the return of one important player.
ASM Clermont-Auvergne star Jamie Cudmore will return to the field for Canada, and he will be needed to help defeat an imposing USA forward pack.
As it did with Ireland, USA will look to slow down a dynamic Canadian attack with its fully professional back row. If the Americans are able to cause the same kind of havoc at the breakdown area that they did against the Irish this summer, Canada will have limited time and space in which to put its superior back line to work.
Much will depend on how the game is officiated; however, Canada is no stranger to physically minded opponents.
One needs only to look at the match video from the June contest against Tonga to see that the Canadians are capable of excelling in such conditions—and that was prior to the returns of Cudmore, Sale winger Phil Mackenzie and Glasgow flyer DTH van der Merwe.
The visitors will be forced to endure a fierce opening 20 minutes of American pressure; however, in the end, there will be enough space for Canada's superior attacking skills to prevail.
Make sure to use the forum below to let us know your call on this weekend's big North American clash.

Our Bleacher Report Prediction: Canada 21, USA 15
Make sure tune in for our Bleacher Report live blog of this Saturday's action.
Match Date: August 17, 2013
Match Location: Blackbaud Stadium, Charleston, S.C.
Kickoff Time: 6:30 p.m. EST

Rugby Canada Player Pool
Tyler Ardron
Ray Barkwill
Nick Blevins
Aaron Carpenter (Captain)
Jamie Cudmore
Nanyak Dala
Tom Dolezel
Sean Duke
Matt Evans
Ryan Hamilton
Ciaran Hearn
Nathan Hirayama
Tyler Hotson
Harry Jones
Phil Mack
Phil Mackenzie
Jason Marshall
John Moonlight
Jon Phelan
James Pritchard
Jebb Sinclair
Andrew Tiedemann
Liam Underwood
DTH van der Merwe
Sean White
Doug Wooldridge

USA Eagles Player Pool
Chris Biller
Trevor Cassidy
Chris Chapman
Todd Clever
Peter Dahl
Shaun Davies
Cameron Dolan
Brian Doyle
Zachary Fenoglio
Eric Fry
Robert Garvis
Graham Harriman
Luke Hume
Seamus Kelly
Scott LaValla
Titi Lamositele
Toby L'Estrange
Samu Manoa
Takudzwa Ngwenya
Folau Niua
Mike Petri
Shawn Pittman
Blaine Scully
Robbie Shaw
Louis Stanfill
Andrew Suniula
Roland Suniula
Phil Thiel
Nick Wallace
Travis Whitlock
Chris Wyles

Jeff Hull is a Featured Columnist of Bleacher Report.
To follow the author on Twitter, click on the link below.
This article is
What is the duplicate article?
Why is this article offensive?
Where is this article plagiarized from?
Why is this article poorly edited?