Bosnia-Herzegovina probably thought they had wrapped things up in the first half, but the United States came roaring back, erasing a two-goal deficit and ultimately prevailing 4-3 in Sarajevo, behind a second-half hat trick by Jozy Altidore.
Edin Dzeko showed why he is a star, scoring two goals and adding an assist for Bosnia-Herzegovina.
It was all about the home team in the first 45 minutes, and Bosnia-Herzegovina needed just seven to take the lead.
After a dreadful turnover by Eddie Johnson just outside of the Americans' box, the ball was played to Dzeko. His first shot was blocked by Tim Howard, but Dzeko scooped up the rebound and sent the ball past several United States defenders to get the goal.
It was a pretty terrible giveaway by Johnson, as all he needed to do was clear the ball, which Steve Davis of Pro Soccer Talk lamented:
Ooof. Eddie Johnson just learned a big, big lesson there. We hope #USMNT

— Steve Davis (@SteveDavis90) August 14, 2013
It appeared as though Mikkel Diskerud was fouled in the box in the 19th minute, but the ref didn't see it that way and play resumed.
Andy Glockner of Sports Illustrated didn't understand why a penalty kick was not given:
That's ridiculous. How was that not a penalty? Mix was fouled like three times.

— Andy Glockner (@AndyGlockner) August 14, 2013
Bosnia-Herzegovina nearly doubled the lead in the 23rd minute, as Dzeko whipped a low cross into the box for Vedad Ibisevic, but the forward had his redirection deflected just wide of the net by Geoff Cameron.
Bosnia-Herzegovina would double the lead in the 29th minute, however.
After Bosnia's initial corner was cleared by Cameron, they recovered the ball and came back on the attack. Zvjezdan Misimovic swung a cross from the left flank and Ibisevic was there to meet it with his head, giving Bosnia-Herzegovina a 2-0 lead.
However, Taylor Twellman of ESPN pointed out (both on the broadcast and later on Twitter) that the flag should have been raised for offside:
Knew I was right...Ibisevic was offside #USAvBosniaHerzegovina pic.twitter.com/VVHgVFft06

— Taylor Twellman (@TaylorTwellman) August 14, 2013
The call was missed, however.
As Paul Carr of ESPN noted, it's been quite a while since the United States have stared down a 2-0 deficit:
#USMNT is down 2-0 for the first time since May 2012 vs Brazil.

— Paul Carr (@PCarrESPN) August 14, 2013
The United States nearly gave away another goal in the 35th minute, as Jermaine Jones turned the ball over in the midfield and Miralem Pjanic was set free on the break. His poor effort went wide, and the United States weren't punished for another bit of sloppy play.
The United States seemed to calm down a bit after that and held more possession during the final stages of the first half, but the game went into the half with the USMNT trailing 2-0.
FOX Soccer Trax offered a pretty scathing review of the United States' first 45:
Half-time. Bosnia with a well-deserved 2-0 lead. No argument. American defense badly disjointed, midfield ineffective, forwards isolated.

— FOX Soccer Trax (@FOXSoccerTrax) August 14, 2013
Grant Wahl of Sports Illustrated wasn't quite as harsh:
Not sure BIH was 2 goals better, but clearly better. Early hesitation by EJ/Altidore in box hurt. Diskerud had pen claim. Johansson 2H?

— Grant Wahl (@GrantWahl) August 14, 2013
The United States eventually struck first in the second half, getting on the board in the 54th minute.
Michael Bradley played a lovely ball over the top and Jozy Altidore beat keeper Asmir Begovic to the ball. His light touch set up Eddie Johnson—who moved from winger to striker after the United States made the tactical switch to a 4-4-2 at the half—with a wide open net, and he calmly passed the ball into the goal.
Five minutes later, Altidore equalized.
This time, Fabian Johnson played the striker into the left side of the box with a deft little pass and Altidore took a touch before letting it rip with his left foot, screaming his shot inside the right post.
That strike was a record-setter, as Carr noted:
Jozy Altidore is the first #USMNT player to score in five consecutive games.

— Paul Carr (@PCarrESPN) August 14, 2013
Howard had his moment of the match in the 66th minute, as Edin Visca tore into the box and got his boot on a near-post cross, forcing the American keeper to make a clutch, one-handed save.
Bosnia again was this close to taking the lead in the 73rd minute, after John Brooks fouled Dzeko just outside the box. Misimovic stepped up and curled the free kick just wide of the upper-left post—a relief for the United States as the shot looked to have Howard beat.
But it was the United States and Altidore that would later tally the go-ahead goal.
Stepping up to take a free kick, Altidore calmly curled a brilliant effort past a helpless Begovic. Without question, it was the goal of the match.
He wasn't done, folks. A minute later, Altidore got the hat trick (and Sunderland fans raised their glasses in anticipation of his Premier League debut).
This time, Sacha Kljestan won the ball back in the middle of the park and played a streaking Bradley down the center of the pitch. The American talisman coolly laid the ball off for Altidore, who easily finished for the United States.

But not to be outdone, Dzeko got his brace in the 89th minute.
This time, Dzeko played the role of target, flicking a clever little header past Howard to cut the deficit to 4-3.
But that would be all she wrote in a truly exciting contest, with the United States extending their winning streak to 12 games.
Man of the Match: Jozy Altidore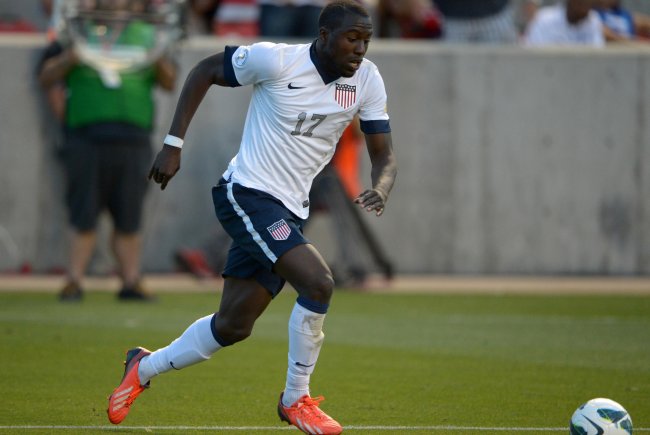 USA TODAY Sports
Was there any doubt?
With three goals and an assist, Altidore was excellent in this match—especially in the second half. He held up play well, his movement was superb and his finishing was obviously on point.
There's a reason optimism is high for next year's World Cup, and Altidore is it.
Honorable Mentions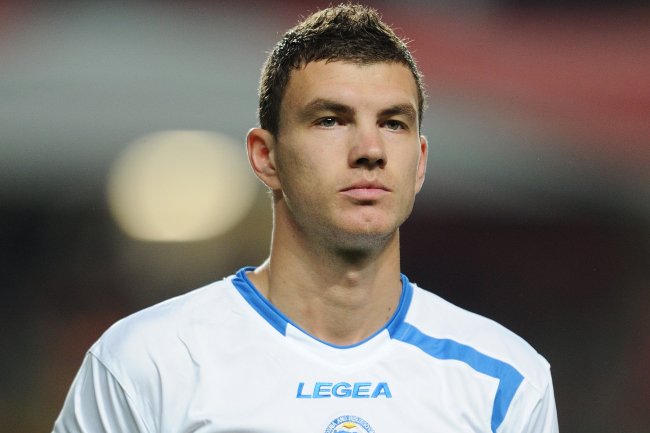 Jasper Juinen/Getty Images
Edin Dzeko was the best player in the first half and easily could have had more than two goals. He gave Brooks and Cameron all they could handle for most of this match.
Ditto for Ibisevic, who wasn't as effective as Dzeko but nonetheless made an impact—especially in the first half.
For the United States, Bradley was quite good as he normally is while Johnson showed why he is effective as a striker but leaves plenty to be desired on the wing.
Where the youngsters are concerned, Diskerud was quite active in the first 45 and showed promise. Brooks displayed his potential as well, but was unquestionably out of his league matched up against Dzeko.
Newcomer Aron Johannsson formed a threatening pair with Altidore and showed why he has a serious future with the USMNT.
Grades
United States Grades

| | | |
| --- | --- | --- |
| Player | Position | Grade |
| Tim Howard | GK | B+ |
| Fabian Johnson | D | B |
| Geoff Cameron | D | C+ |
| John Brooks | D | C+ |
| Brad Evans | D | B- |
| Michael Bradley | MF | A- |
| Jermaine Jones | MF | B |
| Alejandro Bedoya | MF | C |
| Mix Diskerud | MF | B |
| Eddie Johnson | MF | C+ |
| Jozy Altidore | F | A+ |
| | | |
| Substitutes | | |
| Edgar Castillo | D | B- |
| Joe Corona | MF | B- |
| Aron Johannsson | F | A- |
| Sacha Kljestan | MF | B |
| Michael Parkhurst | D | B- |
Bosnia-Herzegovina Grades

| | | |
| --- | --- | --- |
| Player | Position | Grade |
| Asmir Begovic | GK | C+ |
| Miralem Pjanic | D | C+ |
| Ervin Zukanovic | D | C |
| Emir Spahic | D | C |
| Ermin Bicakcic | D | C+ |
| Elver Rahimic | MF | B+ |
| Zvjezdan Misimovic | MF | B |
| Sejad Salihovic | MF | B- |
| Senad Lulic | MF | B |
| Edin Dzeko | F | A |
| Vedad Ibisevic | F | A- |
| | | |
| Substitutes | | |
| Adnan Zahirovic | MF | C |
| Toni Sunjic | D | B |
| Miroslav Stevanovic | MF | C |
| Avdija Vrsajevic | D | C+ |
| Edin Visca | MF | B |
| Haris Medunjanin | MF | B- |
What's Next?
The United States travel to Estadio Nacional in San Jose, Costa Rica, for their next World Cup qualifier on Sept. 6 before hosting Mexico in Columbus on Sept. 10.