Simply put, the card for UFC Fight Night 26 is stacked. It's funny that an event without a title fight could possibly offer the best MMA card this year. On Saturday night, this historic event will take place live from TD Gardens in Boston, Mass.
Because this event will help launch the Fox Sports 1 network, the grocery list of compelling fights couldn't come at a better time. Putting Chael Sonnen—the promotion's No. 1 mouthpiece—opposite the legendary and understated Mauricio "Shogun" Rua creates a nice balance for the feature bout.
What Dana White and the UFC have done is compiled an event filled with bouts that could be co-main events—or at least main-card bouts—on most cards. Assembling them should make for an excellent night of MMA action.
Here's how you can watch the action as well as my predictions for each bout. The highlighted predictions will feature a deeper analysis below. Check out the Fight Night Bonus section as well for my predictions on the fighters whose performances will earn them extra cash.
UFC Fight Night 26 - Full Card, Predictions and Viewing Info

| | | | |
| --- | --- | --- | --- |
| Facebook Preliminaries Begin at 4 p.m. ET | | | |
| Matchup | Weight Class | Prediction | Fight Night Bonus Pick |
| Ramsey Nijem (7-3) vs. James Vick (4-0) | Lightweight | Vick by TKO | |
| Cody Donovan (8-2) vs. Ovince St. Preux | Light Heavyweight | St. Preux by KO | |
| Manny Gamburyan (14-8) vs. Cole Miller (19-7) | Featherweight | Miller by decision | |
| Fox Sports-1 Card Begins at 6 p.m. ET | | | |
| Diego Brandao (21-8) vs. Daniel Pineda (18-9) | Featherweight | Brandao by decision | Fight of the Night |
| Mike Brown (26-8) vs. Steven Siler (22-10) | Featherweight | Brown by decision | |
| Conor McGregor (13-2) vs. Max Holloway (7-2) | Featherweight | Holloway by KO | |
| Brad Pickett (24-7) vs. Michael McDonald (15-2) | Bantamweight | McDonald by decision | |
| Joe Lauzon (22-8) vs. Michael Johnson (13-8) | Lightweight | Lauzon by submission | Submission of the Night |
| Uriah Hall (8-3) vs. John Howard (20-8) | Middleweight | Hall by KO | |
| Matt Brown (19-11) vs. Mike Pyle (25-8-1) | Welterweight | Brown by decision | |
| Urijah Faber (28-6) vs. Iuri Alcantara (27-4) | Bantamweight | Faber by decision | |
| Alistair Overeem (36-12) vs. Travis Browne | Heavyweight | Browne by KO | KO of the Night |
| Mauricio Rua (21-7) vs. Chael Sonnen (28-13-1) | Light Heavyweight | Sonnen by decision | |
UFC.com and Sherdog.com
Diego Brandao Will Edge Daniel Pineda in a Thriller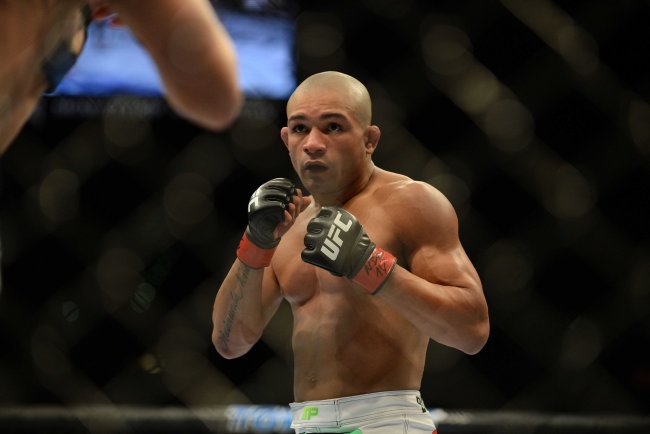 Ron Chenoy-USA TODAY Sports
I expect the event to produce a good number of entertaining bouts, but this featherweight clash is my pick as the Fight of the Night. When you match two solid submissions artists who have both shown the ability to do damage in the stand-up game, the fighters will usually deliver a well-rounded display of MMA action.
Both men have won Submission of the Night in their UFC careers. Pineda took home the honor at The Ultimate Fighter 17 against Justin Lawrence. Brandao won it against Dennis Bermudez at the Ultimate Fighter 14 finale.
Because this fight figures to be a stalemate on the ground, expect to see matters settled with striking.
Brandao is a bit more dynamic in this department, and he should have the edge in significant strikes. Fans should be treated to some excellent groundwork from both men and a touch of brawling.
When the dust settles, Brandao will have his hand raised.
Michael McDonald Will Eek Out a Win Over Veteran Brad Pickett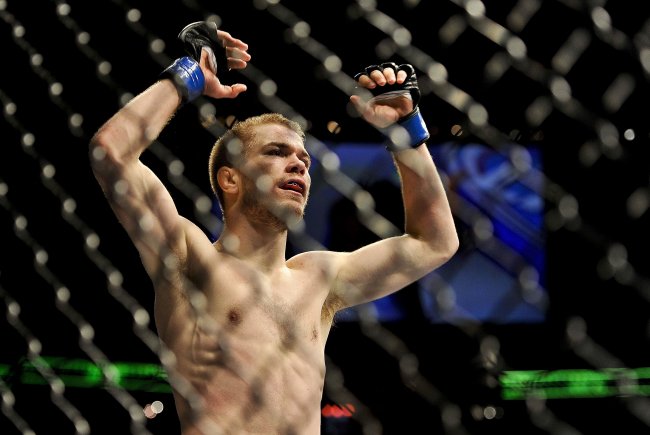 Paul Abell-USA TODAY Sports
I went back and forth with this bout and the Brandao-Pineda fight as my choice for Fight of the Night. Both have potential to be excellent contests. Pickett is 34 years old, but he has resisted the notion that he is at the end of his rope.
He has won Fight of the Night three times and KO of the Night once in his UFC career. The man they call "One Punch" has tremendous power and is a world-class wrestler. He's physically stronger than McDonald, but the 22-year-old has the edge in overall athleticism.
McDonald is a dynamic striker who ran into a buzz saw in Renan Barao in his last fight. This one figures to be exciting and bloody. It could easily end in a knockout considering the two fighter's striking prowess, but both men also have solid chins.
McDonald's speed will lead to a striking advantage and a decision victory.
Joe Lauzon is Going to Twist Michael Johnson Up Like a Pretzel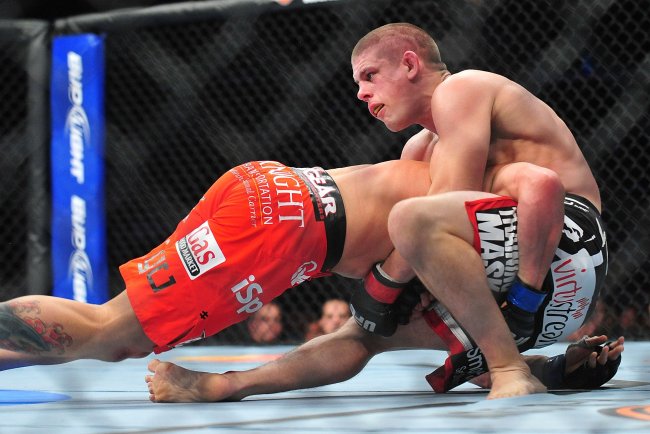 Gary A. Vasquez-USA TODAY Sports
This fight couldn't be better set up for Lauzon to shine. He is one of the best submission artists in UFC history, having won Submission of the Night five times in his career.
Johnson seems to be a sitting duck here. Six of his eight losses have come by way of—you guessed it—submission.
In his last fight against Reza Madadi, he seemed lifeless, reserved and was simply waiting to be made to tap out. Lauzon won't make him wait too long. Despite his grappling style, his fights only last an average of 6:28, per FightMetric.com.
This is the best bet for Submission of the Night.
Overeem or Browne? Someone is Going to Get Knocked Out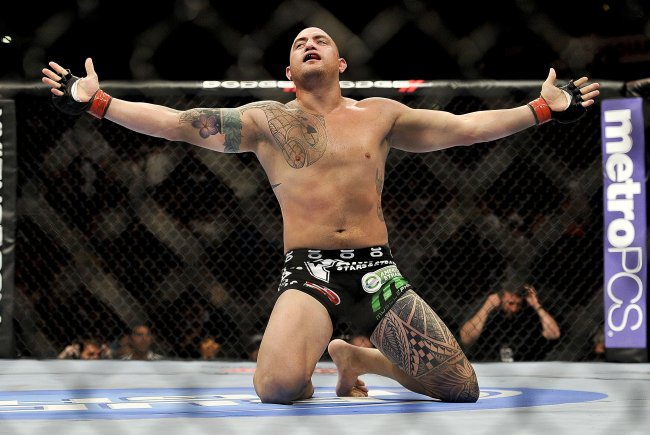 Paul Abell-USA TODAY Sports
Not only is this fight almost assured of ending in a KO, the climax is probably going to be vicious. With over 510 pounds of beef in the Octagon, something explosive is on the horizon.
Both fighters have histories of dishing and absorbing brutal knockouts. This fight is easily the best candidate for KO of the Night.
Overeem and Browne have felt the wrath of Antonio "Big Foot" Silva, but pitted against each other, it is hard to predict which giant will land first.
It is possible the first man to land a significant shot will win this fight. Browne has shown the better chin in his career, but despite holding a three-inch height advantage, Overeem has the longer arms with a ridiculous 80" reach.
In what amounts to a toss-up, I'll take Browne simply because it is hard to believe in Overeem after his embarrassing loss to Silva. The loss was demoralizing and almost a microcosm of Overeem's big potential, but underachieving existence in MMA.
Browne is also a better conditioned fighter and if the two men survive the initial barrage of strikes, stamina could play a major role.
Sonnen Will Finally Find the Big-Name Fighter He Can Beat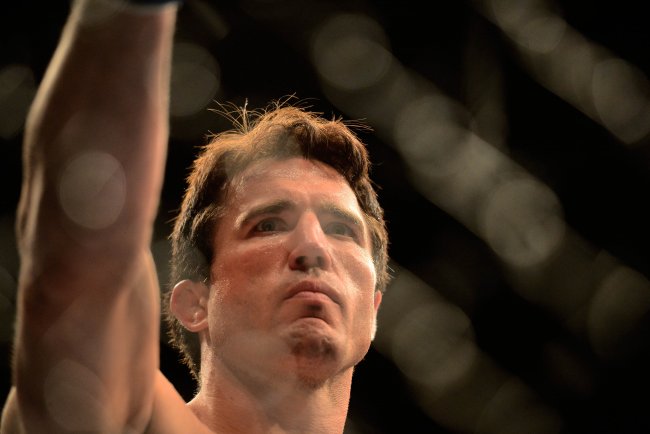 Mark J. Rebilas-USA TODAY Sports
Sonnen has called out the biggest and best in the UFC and failed to deliver a win. That trend will end on Saturday night. In Rua's most recent fights, he's looked slow and tired after the first round.
It is almost a given Sonnen will take this fight to the ground and expose Rua's declining stamina. While Rua is a black belt in Brazilian jiu-jitsu, he leans more towards his Muay Thai background.
At this stage in his career, he doesn't possess the quickness, reach, athleticism or varied attacks to prevent Sonnen from driving him to the mat.
Chael will win a decision as he dominates positioning in the main event.
Follow me and witness my passion for sports and video games.