It was a busy day at the 2013 IAAF World Championships on Tuesday.
Between qualification rounds and finals, there was plenty of action to keep track and field fans satisfied both at the arena and watching at home.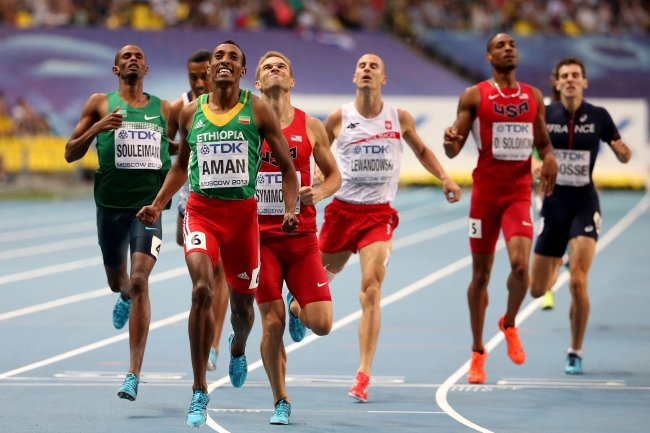 Christian Petersen/Getty Images
Some of the sport's biggest stars saw their bid for gold end in success, while others will have to wait two more years to try to make their dreams of winning a world title come true.
The gathering's Twitter account posted the last names of the day's winners following Tuesday's action in Moscow:
Today champions: Lashmanova, Melnichenko, Chemos, Isinbayeva, Harting, Aman, Merritt.

— Moscow 2013 (@mos2013com) August 13, 2013
With four days done and another five days still on the schedule, we're headed for a grand finish at this year's event. Let's take a look at some of the results from Day 4 before peeking ahead to Day 5 on Wednesday.
*For a complete look at the results from this year's World Championships, click here (via IAAF.org).
Tuesday Results
2013 IAAF World Championships Day 4 Finals Results

| | | | |
| --- | --- | --- | --- |
| Event | Gold | Silver | Bronze |
| 20km Race Walk (Women) | Elena Lashmanova | Anisya Kirdyapkina | Hong Liu |
| Heptathlon (Women) | Ganna Melnichenko | Brianne Theisen-Eaton | Dafne Schippers |
| Discus Throw (Men) | Robert Harting | Piotr Malachowski | Gerd Kanter |
| Pole Vault (Women) | Yelena Isinbayeva | Jenn Suhr | Yarisley Silva |
| 800m (Men) | Mohammad Aman | Nick Symmonds | Ayanleh Souleiman |
| 3000m Steeplechase (Women) | Milcah Chemos Cheywa | Lidya Chepkurui | Sofia Assefa |
| 400m (Final) | LaShawn Merritt | Tony McQuay | Luguelin Santos |
*via IAAF.org.
Recapping Day 4 Events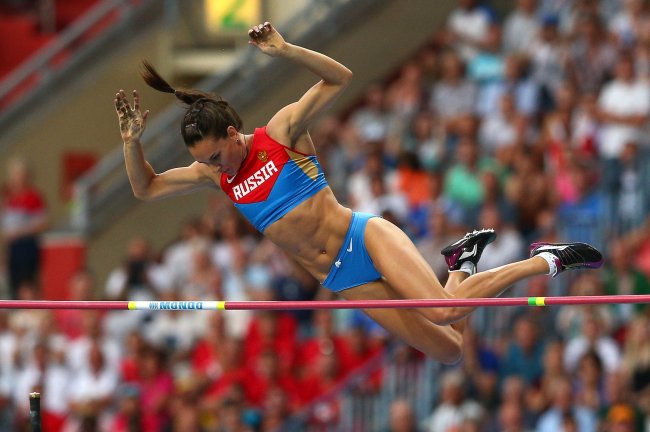 Cameron Spencer/Getty Images
While the big stories of the day surrounded those who will be taking home medals, we would be remiss not to mention the men's 5,000-meter heats.
Mo Farah, who won the 10,000-meter final over the weekend, punched his ticket to the final with a strong showing. Although he didn't win his heat, he led after 3,000 and 4,000 meters and cruised to the finish line comfortably to keep his golden double bid intact.
Farah will compete for his second gold in Moscow on Friday.
Elsewhere, American LaShawn Merritt gave a strong showing to win the men's 400-meter final.
Taking the lead just before the final turn and increasing that lead well through the final straightaway, Merritt pulled away from the field to earn an impressive gold medal that was never really in doubt.
Behind him, fellow American Tony McQuay won silver. USATF's official Twitter account had this congratulatory tweet for the two teammates after Merritt crossed the tape:
MEDAL ALERT - LaShawn Merritt wins GOLD, Tony McQuay SILVER men's 400m #moscow2013 #TeamUsa

— USATF (@USATrack_Field) August 13, 2013
Other men's finals included discus throw, where Robert Harting's fourth attempt was enough to hold off the rest of the field for gold, and the 800-meter race, where Mohammad Aman made an incredible run to outlast Nick Symmonds.
Symmonds made a late charge around the final turn and looked poised to capture his first gold medal. But the Ethiopian found another gear as he too hit the straightaway and managed to overtake Symmonds to become the youngest man ever to win at 800 meters at the World Championships.
The event's Twitter account confirmed:
Aman is the youngest 800 m world champion ever.

— Moscow 2013 (@mos2013com) August 13, 2013
Women's finals on Tuesday included the 3,000-meter steeplechase, pole vault, 20-kilometer race walk and the last three events that counted toward the heptathlon standings.
Guardian Sport posted this tweet during the steeplechase final, which was won by Milcah Chemos Cheywa:
Sport picture of the day: steeplechase water jump at the world championships http://t.co/aa08Kjec4e via @guardian pic.twitter.com/s1d5mrKLmb

— Guardian sport (@guardian_sport) August 13, 2013
Russian star Yelena Isinbayeva won her third world title in the pole vault, taking down 2012 Olympic champion Jenn Suhr in the process. Yarisley Silva took bronze in the event.
In the heptathlon events scheduled for Tuesday, Brianne Theisen-Eaton couldn't do enough to overtake Ganna Melnichenko. Although the Canadian finished higher than the gold medalist in the 800-meter final, she did not record enough points to overtake Melnichenko's 6,586 points.
Day 5 Preview
Day 5 Schedule

| | | | | |
| --- | --- | --- | --- | --- |
| Event | Gender | Round | Start Time (ET) | Start Time (BST) |
| 50K Race Walk | Men | Final | 12:30 a.m. | 5:30 a.m. |
| Hammer Throw | Women | Qualification Group A | 1:30 a.m. | 6:30 a.m. |
| 5000 Meters | Women | Heats | 1:40 a.m. | 6:40 a.m. |
| Long Jump | Men | Qualification | 2:25 a.m. | 7:25 a.m. |
| 1500 Meters | Men | Heats | 2:35 a.m. | 7:35 a.m. |
| Hammer Throw | Women | Qualification Group B | 3:10 a.m. | 8:10 a.m. |
Only one event final is scheduled for Wednesday, with the men's 50-kilometer race walk taking the honor for the day.
Elsewhere, women will compete in hammer throw and 5,000-meter qualification while men will try and move closer to the finals in the 1,500-meter and long-jump events.
*via IAAF.org.
Follow B/R's Ethan Grant (@DowntownEG) on Twitter.