The Most Dominant Boxer of Every Decade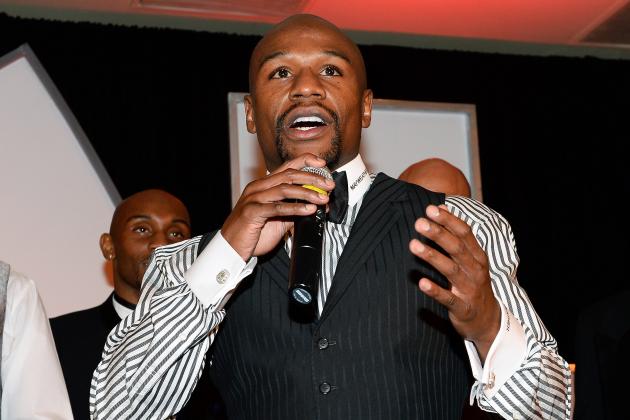 Ethan Miller/Getty Images

There are many criteria that can be considered when compiling lists of greatest fighters, and all of them have wonderful potential for provoking argument and debate. Ranking pound-for-pound boxers from different eras against one another is always problematic, considering the vastly different conditions under which fighters in different eras campaigned.
But ranking fighters against each other from within the same decade creates a slightly clearer picture. Even then, certain fighters have a distinct advantage given the way their careers arbitrarily line up with the start of a decade.
A fighter whose best years run from the second half of one decade and into the early part of the next doesn't have the same resume to consider when making fighter-of-the-decade decisions.
Still, every fighter on this list could realistically be included within somebody's all-time top-10 ranking.
Begin Slideshow

»
The 1880s could fairly be called the John L. Sullivan decade—not just in boxing but in American popular culture in general. Aside from Wild West legends like Wyatt Earp and Billy the Kid, nobody came close to capturing the public's imagination the way that the brash and boisterous Boston Strong Boy did.
According to Nat Fleischer's The Heavyweight Championship, Sullivan captured the bare-knuckle heavyweight world title in February 1882 when he starched the gigantic Paddy Ryan. In July 1889, he won the last bare-knuckle championship bout in history when he outlasted Jake Kilrain in 75 rounds.
But throughout the decade, Sullivan popularized the use of boxing gloves, paving the way for the sport to transition to its current, legally accepted format.
He entertained fans as much outside of the ring as in it. His carousing was as legendary as his fighting, and both were covered in every detail by The National Police Gazette and other tabloids of the era.
The ultimate salt-of-the-earth hero, the Great John L. was as comfortable hobnobbing with royalty as he was tossing down shots and beers at a workingman's pub.
Bob Fitzsimmons is the smallest man to ever hold the heavyweight title, and prior to Roy Jones Jr., he was the only former middleweight champion to ever move up and capture the big prize.
Born in Cornwall, England and raised in New Zealand, Fitzsimmons was a blacksmith by trade, and no doubt pounding iron with a hammer for long hours accounted for some of his ferocious punching power.
But pop like Fitzsimmons had can't be developed by any training methods. It can only be handed down by the boxing gods. Few fighters his size have ever had a more powerful punch.
He captured the world middleweight title in 1891 when he demolished Nonpareil Jack Dempsey, who had been regarded as a dominant champion. Fitzsimmons then proceeded to go undefeated for most of the rest of the decade, usually while fighting larger men.
In March 1897, he knocked out Jim Corbett to become the third world heavyweight champion of the gloved era. He was finally stopped in June 1899 by Jim Jeffries, an athletic bear of a man who outweighed "Ruby Robert" by 40 pounds.
In November 1903, at age 40, Fitzsimmons beat George Gardner to capture the light heavyweight championship to become the first three-division world champion in boxing history.
Joe Gans was the first African-American to win a world title in boxing. From 1902 to 1908, he reigned as lightweight champion of the world, but throughout the decade he routinely fought and beat much larger men.
His professional record is listed on BoxRec.com as 145-10-16, but that is an incomplete accounting of his professional accomplishments. Records for the early 20th century are impossible to document with precision.
Fighters like Gans often fought several times a week and even multiple times in the same day. Due to the tenuous legal status of boxing in this era, bouts were usually presented as exhibitions, with newspaper decisions printed the next day.
The situation is further clouded due to unscrupulous sports editors sometimes publishing inaccurate results at the behest of shady promoters.
But newspaper records of the era also make clear how dominant he truly was. Known as "The Old Master," he was routinely described as the elite fighter of his time. Boxing historian Monte D. Cox has an impressive catalog of contemporary praise for Gans on his website.
The video of Gans included here is of poor quality and antique, but he looks like a thoroughly modern fighter. I can't help noticing the similarity between the way he and Floyd Mayweather both employ the lead right.
Over 90 years after he retired from the sport, Jimmy Wilde is still regarded by many boxing historians as the greatest flyweight of all time. The 5'2", 108-pound Welshman known as the "Mighty Atom" also ranks among the sport's top pound-for-pound punchers.
In 2003, The Ring ranked Wilde the third greatest puncher of all time.
From the time of his professional debut in 1911 until the end of 1919, he compiled an official record of 124-2-1 with 94 KOs. For his career, his official record was 134-4-1 with 99 KOs.
But considering the era he fought in, it's a certainty that he fought many more fights that went unrecorded. Like all the greats of his era, he fought and knocked out much larger men on a regular basis.
In boxing historian Monte D. Cox's excellent online biography of Wilde, heavyweight champion Gene Tunney is quoted as calling Wilde "the greatest fighter I ever saw."
Harry Greb established himself as perhaps the greatest middleweight in history during the 1920s. The only fellow middleweight he lost to during the decade was Tiger Flowers. That fight came after Greb had fought nearly 300 professional fights and suffered serious retinal damage.
Aside from Flowers, the only fighters Greb lost to during the decade were light heavyweights and heavyweights. He fought bigger men with regularity and nearly always won. He is the only man to ever beat Gene Tunney.
Greb's record during the decade nearly defies comprehension. In 1925, he fought 25 times and lost only to Tunney.
Known as the "Pittsburgh Windmill," he was an explosive ball of energy inside the ring and a legendary carouser outside of it. Greb's near-mythical status is enhanced by the fact that almost no known footage exists of him in the ring.
According to BoxRec.com records, Henry Armstrong lost his first professional fight to Al Lovino in July 1931. He proceeded to lose two of his next three fights.
From this inauspicious start, he proceeded to have perhaps the greatest decade in the history of the sport.
For the entire decade of the 1930s, he averaged over a fight per month and compiled a professional record of 103-12-7. "Hammering Hank" started at the very bottom and took the hard road up the ranks.
In the second half of the decade, he achieved an unprecedented level of dominance. In October 1937, he knocked out Petey Sarron to capture the world featherweight title.
In May 1938, he roughed up fellow legend Barney Ross to capture the welterweight title via unanimous decision. That August, he beat Lou Ambers to add the lightweight title to his trophy case.
At that time in boxing, there were only eight weight classes and only one world champion in each weight class. Armstrong was the top dog from 126 to 147.
In today's boxing world, as many as 20 or more fighters at any given time hold a claim to a "world title" within that same 21-pound span.
From 1937 to 1949, Joe Louis reigned as the heavyweight champion for an unprecedented 12 years.
He was perhaps even more dominant in the 1930s than he was in the 1940s. During that decade, he knocked out all five men who proceeded him as champion: Jack Sharkey, Primo Carnera, Max Baer, James Braddock and Max Schmeling.
You could also make a fair argument for Sugar Ray Robinson as the dominant fighter of the 1940s, but we will be getting to him shortly as it is.
But he was the face of boxing during the decade and one of the biggest stars in all of professional sports. He was the first American hero of any kind whose popularity transcended race.
Louis went 18-0 with 15 knockouts during the 1940s. His level of competition was frequently maligned at the time, but his dominance had a lot to do with how poor everybody else looked.
During the hard years of the war and the early post-war boom, few things were constant in American society. But there was one thing you could rely on: Joe Louis was the heavyweight champion of the world.
Sugar Ray Robinson began the 1950s as the reigning world welterweight champion. On February 14, 1951, he captured the middleweight belt via Round 13 TKO of Jake LaMotta in the iconic St. Valentine's Day Massacre fight.
Robinson was even more dominant in the 1940s, when he lost just once in 10 years. But he was still better than everybody else in the '50s, even with a two-and-a-half-year retirement from June 1952 to January 1955.
Robinson went 41-5 for the decade. Four of the five opponents who beat him were Hall of Famers, and three of them fell to Robinson in rematches.
One of them, Joey Maxim, was the light heavyweight champion, and Robinson was far ahead of him on the cards when he collapsed from heat exhaustion after Round 13.
Robinson ended the 1950s as the middleweight champion of the world.
The majority of Muhammad Ali's most iconic fights occurred during the 1970s. But by then he had slowed down a step and was forced to alter his style and rely on guts and guile to win wars of attrition.
During the 1960s, Ali dominated the heavyweight division as thoroughly as anyone before or since. He combined legitimate heavyweight size with the quickness of a middleweight, and the combination made him nearly untouchable.
He turned professional in 1960 after winning Olympic gold. Between then and March 1967, he put together a perfect 29-0 record with 23 KOs. In 1964, he captured the world title from the menacing Sonny Liston when he made the Big Bear quit after six rounds.
In 1967, Ali refused to be drafted into the military in protest of the Vietnam war. He was denied boxing licenses and stripped of his titles, but the move made him a political icon in addition to a boxing superstar.
By the time he was able to return to the sport, it was a new decade, and a second chapter of his remarkable career was about to begin.
Roberto Duran was involved in some of boxing's greatest moments during the 1980s, a decade in which he collected world titles at welterweight, junior middleweight and middleweight. But he entered that decade already established as an international superstar and one of the sport's top pound-for-pound fighters.
During the 1970s, Duran had a dominant run to rival any fighter in the sport's history. He entered the decade as an undefeated, teenage super featherweight.
He was ferocious but unrefined. His manager Carlos Eleta procured the services of legendary trainers Ray Arcel and Freddie Brown, and under their tutelage he developed slick defensive techniques to augment his relentless offense.
By the end of the 1970s, a significant percentage of boxing historians regarded "Hands of Stone" as the greatest fighter in the history of the lightweight division.
Duran compiled a record of 54-1 with 41 KOs for the decade. His only loss came by decision to the super-tough Esteban de Jesus. Duran won their two rematches by stoppage.
In the 1980s, Julio Cesar Chavez put the great boxing tradition of Mexico front and center on the world stage. For the decade, the man known to his fans as "JC Superstar" compiled a record of 68-0 with 56 knockouts while collecting world titles at super featherweight, lightweight and junior welterweight.
One of the great body punchers of all time, Chavez was all about physical domination. He relentlessly walked down opponents, unconcerned with waging a war of attrition.
He became something closer to mortal during the 1990s, though he retained his superstar status and remained a dangerous opponent.
In this century, Roy Jones Jr. has compiled a pedestrian record of 16-7. He's been knocked out four times, most recently by such second-tier talents as Danny Green and Denis Lebedev.
He's become so average in the past 13 years that it's almost difficult to remember how thoroughly he dominated the 1990s.
He turned professional in 1988, after falling victim to the worst judging decision of any kind in the entire history of the Olympic Games. In May 1993, he won the vacant IBF middleweight title by beating Bernard Hopkins.
In November 1994, he moved up to super middleweight and beat James Toney for the IBF title. He lost a single fight during the entire decade by disqualification when he accidentally struck Montell Griffin after Griffin had taken a knee during their March 1997 fight.
Jones won the rematch five months later by Round 1 KO.
For the decade, Jones compiled a record of 36-1 with 29 KOs. He ended the last century as the undisputed light heavyweight champion of the world.
This decade is still too young to declare a most-dominant fighter for it. So I've included it with the past decade.
And in either case, the choice would be the same. Floyd Mayweather has been the most dominant fighter in the sport over the first 13 years of this century.
There's some room for Mayweather's legion of haters to criticize his record. It would appear more impressive if he had opted to fight Paul Williams and Antonio Margarito in 2008, instead of briefly retiring to trifle with professional wrestling.
Obviously the fight that never happened with Manny Pacquiao will hang over his legacy, at least in the immediate future.
But he's still been more dominant than anybody else in the sport, in both the last decade and so far in this one. In my opinion, he's had exactly one close fight, when he beat Jose Luis Castillo with an injured arm in their first bout.
I scored his 2007 split-decision win over Oscar De La Hoya 116-112 for Mayweather and don't really see how Tom Kaczmarek ended up 115-113 for "Golden Boy."
Mayweather has handed down plenty of beatdowns in his career, especially at lower weights. But he dominates through pure boxing acumen. He is a defensive wizard with a ring IQ that rates among the best of all time.
By the time this decade ends, a new fighter will have emerged to lay claim to the title of most dominant. But for now, Mayweather's 44-0 places him firmly at the top of the mountain.