Steven Gerrard is one of the greatest midfielders in the history of the game. Gerrard has led Liverpool to two FA Cups, three League Cups and a Champions League title. He has captained both club and country admirably and is looked at as one of the best players of his generation.
However, like all careers, Gerrard's is on its way to an end. Gerrard is still one of the most productive midfielders in the Premier League, but the 33-year-old has definitely seen better days.
With that being said, Liverpool are already looking towards grooming the next Gerrard, and Derby County's Will Hughes might just be the next great English midfielder brought in to lead the Reds.
The 18-year-old Hughes is one of the most wanted youngsters in English soccer, as there is reportedly interest from Liverpool, Arsenal, City and even Spanish giants Barcelona.
However, according to Mirror.Co.UK, the Reds are working to get the Derby star, while also potentially allowing him to stay with the Championship side on loan.
One person Hughes has been able to impress is former Liverpool player and current Derby manager Nigel Clough, who has done his best to groom the young star.
"People will know all about him now – but knowing what he's about and stopping him are two different things," said Clough, according to The Daily Star. "He is as intelligent and level-headed as you can get. I chat with him on a regular basis and the other players won't let him get above himself."
Despite being only 18, Hughes has become an integral part of Clough's side. The youngster has already developed into one of the midfielders in the Championship.
"'Just give him the ball', that is what we tell the lads," Clough told BBC Sport. "They have the confidence to give him it all over the pitch. People say 'is he really only 17?'. It is like having a senior pro in the team. His composure belies his age and there are not many 17-year-olds in the country playing to the standard that he is; it sets him apart."
Clough also expects the big clubs to come calling in the near future, but he hopes to hang on to the young midfielder for as long as possible.
"Maybe a team will have a look at him and make an offer but that hasn't happened yet," said the Derby manager according to The Daily Star. "We are delighted to hang on to him while we can. He can help us achieve a top-six place and that's the aim – to keep him around."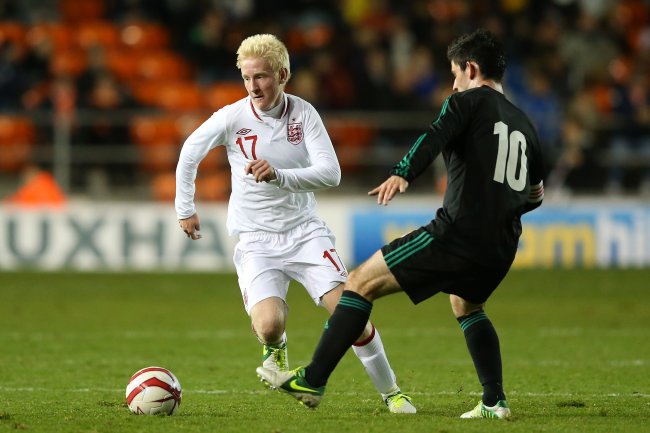 Alex Livesey/Getty Images
Hughes has also received attention on the international level, as the youngster made his debut for the England U-21s last November, despite being only 17 years of age. Hughes caught the eye of former England U-21 manager Stuart Pierce, who praised the midfielder's performance to BBC Sport.
"Will's technically a very sound player," said Pearce, who's contract was not extended after this summer's UEFA U-21 Championships. "He rarely gave the ball away in training or in the game he played [against Northern Ireland], which is vitally important at international level. He's progressing really well."
Despite being from Surrey, England, Hughes does not play with the typically physical English style, as Hughes is becoming known for his brilliant through balls and flair. According to BBC Sport, Hughes looks up to the likes of Xavi and Andres Iniesta and models his game after the style of the Spaniards.
We should get in Will Hughes from Derby, class player in the making #LFC

— Daniel Griffiths (@dangriff90) August 12, 2013
Spearing and Shelvey out, Will Hughes in? I'd take that #lfc

— Sharopy (@Sharopy05) August 12, 2013
If rumors of a bid for Will Hughes are true that's great news if we can pull that off. Real talent. SG replacement in the making. #lfc

— 5 Times LFC (@5_Times_LFC) August 12, 2013
Will Hughes would be a great signing for @LFC Sign and loan back to Derby for a year would be ideal #LFC #fb #derby

— Marc Graham (@marc_graham87) August 12, 2013
Hughes is the type of player that will make Liverpool supporters long for the days of Gerrard's pinpoint passing to the likes of Fernando Torres. The Derby midfielder has the technical ability to fit perfectly with Brendan Rodgers' style of play, as his passing would be a valuable asset to future Liverpool sides.
However, despite his on-the-field ability, Liverpool supporters will be most excited about the youngster's off-the-field allegiances, as Hughes appears to have Scouse blood running through his veins. Hughes has taken to twitter to discuss everything from his admiration of Rafa Benitez to his annoyance of Liverpool being last on BBC's Match of the Day.
I'm Liverpool for those who are asking.

— Will Hughes (@willhughes44) November 15, 2012
How are Liverpool on last? #whatajoke

— Will Hughes (@willhughes44) November 17, 2012
If Rafa is appointed new Chelsea boss they will win the league #genius

— Will Hughes (@willhughes44) November 21, 2012
Champions league isn't the same without Liverpool in it.

— Will Hughes (@willhughes44) December 4, 2012
So the club stuck by him even when he was in the wrong and now he wants out? Classy that, Suarez.

— Will Hughes (@willhughes44) May 31, 2013
Rafa Benitez could win a european cup with Accrington Stanley.

— Will Hughes (@willhughes44) May 15, 2013
With that being said, look for Liverpool to chase the young starlet in an effort to prepare for the future. Hughes may never live up to the moniker of the next Gerrard, but Hughes definitely looks to be the type of player that could impact the Reds for years to come.
Does Will Hughes have what it takes to be England's next great midfielder? Have your say with a comment or tweet @R_Tolmich with your views on the Derby midfielder!