The Greatest Coach Freakouts of All Time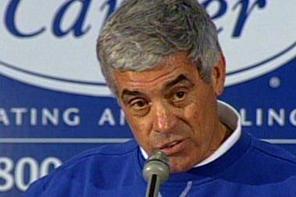 Why do we watch sports? Mostly because, for one reason or another, they're entertaining.
We watch because we enjoy seeing our favorite players achieve greatness. We watch because we enjoy watching our least favorite players embarrass themselves. Not to quote Jimmy Fallon in Fever Pitch, but sports make us feel like we're a part of something bigger than ourselves.
But we also watch on the off chance that we get to see a coach throw an epic temper tantrum.
When a prominent coach publicly experiences a mental break, it makes almost as many headlines as it would if LeBron registered a quadruple-double. It's hilarious. It's humiliating. It happens just rarely enough so that it's still exciting when it does.
Grown men jumping up and down and throwing stuff. It's why we watch.
Begin Slideshow

»
Oh, these minor league managers and their meltdowns. They have to make names for themselves somehow, don't they?
A couple of months ago, Marty Brown was just the semi-anonymous manager of the Triple-A Buffalo Bisons. Now, he's the guy who sunbathed in protest in the middle of one of his team's games.
Brown was mad that the umpires made a no-interference call during one of the Bisons' games in June, and after vehemently arguing with them, he was—as expected—tossed. With nothing else to lose, he decided to put on a show, plopping down in the infield grass as if he were laying out on a sunny day and refusing to get up.
Sometimes, even the ladies become enraged over blown calls. WNBA coach Cheryl Reeve of the Minnesota Lynx was one of them.
Last October, Reeve was mad because one of her players was assessed a technical foul for arguing that she had been fouled on the previous play. Granted, Reeve had a right to get a bit heated—it was the WNBA Finals, after all, and there was a lot at stake—but her meltdown was one of the biggest in the history of her league.
Not only did she rip off her jacket and throw it at someone, thereby breaking the microphone attached to the lapel, but she also had to be restrained by one of her assistant coaches and then by one of her own players.
Isiah Thomas makes a lot of people mad. In that regard, George Karl's rage is understandable.
But most people don't unleash it during a postgame news conference, in the presence of an abundance of television cameras.
Karl—then the head coach of the Denver Nuggets—took issue with Thomas' accusations that his team had a tendency to run up the score, insisting that he had a "young team" that was "learning to win."
He then added a string of expletives to describe Thomas before concluding, quite simply, that he is a jerk.
Terry Francona was one of those managers who threw himself into umpire altercations with gusto. He went the whole nine yards, yelling until the veins in his neck popped out so far, you thought they were going to explode.
One of Francona's best performances came in May 2009, after starting pitcher Josh Beckett started screaming obscenities at the home plate umpire over a call he didn't like. Catcher Jason Varitek joined in the fun, too, in an effort to protect his pitcher. He got tossed, forcing Francona to come to their aid.
Naturally, Francona did what he had to do to get himself thrown out of the game. Then, the neck vein started popping as Francona physically demonstrated everything that was wrong with the plate ump's strike zone.
When it's the NBA Finals and you're a reporter sitting before the head coach of one of the teams playing for basketball's most coveted prize, you must proceed with caution if you deign to ask a question.
One poor reporter for the Dallas News did not proceed with caution. So then-Dallas Mavericks coach Avery Johnson let him have it.
After being asked for his "impression" of a controversial play during that night's game, Johnson turned it around and asked the reporter for his own impression. The reporter attempted to get out of the awkwardness diplomatically; it didn't work. Johnson was relentless, insisting several times that the reporter offer an honest answer, explaining, "We have people from all over—Israel, Minnesota, Chicago…Germany…"
When the reporter attempted to follow up with another question, Johnson interrupted him to snap, "Don't stutter" before finally shaming him into submission, once and for all.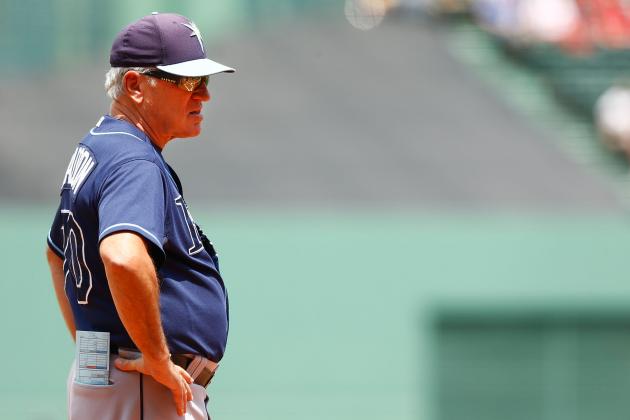 Jared Wickerham/Getty Images

The umpires frequently toss managers for behaving in ways that are inappropriate—but what happens when a manager attempts to toss an umpire for the same reason?
Well, nothing. It's just way funnier.
In April 2011, fiery Tampa Bay Rays manager Joe Maddon was thrown out in the midst of his team's 6-1 loss to the White Sox. But he really made it count.
Maddon was mad because the umpires reversed a call that would have allowed Tampa's Johnny Damon to score. Once the call came down, Maddon spoke his piece, got tossed and then returned the favor to second base umpire Dana Demuth.
Ozzie Guillen is someone who frequently buries himself in deep, deep holes because of his lack of a filter. His inability to care about what comes out of his mouth on any given day may have indirectly cost him a managerial position in Major League Baseball, but hey—at least people know who he is!
Even before the whole Fidel Castro fiasco happened in 2012, Guillen made headlines with his outspokenness while he was still managing the Chicago White Sox in 2008.
Instead of taking responsibility for his team's six-game losing streak—or for the fact that it had finished 72-90 one season earlier—Guillen chose to berate the fans and the media for reacting unfavorably to the team's struggles.
Because picking on your own fans always ends well.
It's not every day that you get to see a coach accuse his star player of trying to get him fired—during a live media scrum—and then you get to see that player crash the media scrum and deny everything.
The tension between former Orlando Magic head coach Stan Van Gundy and former Magic star Dwight Howard is well documented. But nothing documented it better than this.
In April 2012, Van Gundy stood before the television cameras, calmly drinking a Diet Pepsi, and told them he had it on pretty good authority that Howard had gone to the front office and demanded his head on a platter.
Before Van Gundy could get too far, Howard joined his coach, slinging an arm around his shoulders in a way that appeared far more threatening than friendly and asking, in a sinister voice, "What's our main concern right now?"
It doesn't get more awkward—or more entertaining—than this. Ever.
Joe Mikulik may not be as well known as some other tantrum-throwing minor league managers, but he's the one who set the precedent for them all. Mikulik has engaged in not one, but two epic freak outs on the diamond.
Way back in 2006, Mikulik—then the manager of the Single-A Asheville Tourists—argued the umpire's ruling that an opposing player was safe at second base.
After being ejected, Mikulik threw everything he could, including second base and a collection of bats, then doused home plate in water before making his exit and continuing his tantrum in the clubhouse.
But that's not all.
Six years later, in July 2012, Mikulik was at it again after he was ejected for vehemently arguing yet another safe call. This time, Mikulik reenacted the play for the umpires and also captured third base and awarded it to a fan.
Where Lou Piniella is concerned, there are a plethora of meltdowns to choose from. He was one of the most fiery managers in the history of baseball and is just as well known for his temper as he is for the three World Series rings he won.
In 2007, his second season as the manager of the Chicago Cubs, Piniella was tossed from a game for coming to the defense of one of his players, and as managers are wont to do, he made the most of it.
First, he tried kicking some dirt and getting in the umpire's face. Then, he tried kicking some dirt on the umpire. This went on until another official stepped in. At that point, Sweet Lou wasn't quite ready to give up, so after tossing his hat and earning raucous cheers from the crowd, he attempted to take on three umpires at once with his dirt-kicking.
Eventually, he lost, but it was still entertaining.
Jim Boeheim isn't really one of those college basketball coaches who gives you the warm and fuzzies. He's tough. He yells. He says what he's thinking.
And, on occasion, he pauses in the middle of postgame news conferences to berate ESPN reporters who were once his friends.
Earlier this year, ESPN's Andy Katz attempted to ask Boeheim a question. Boeheim—who was still mad about the fact that, months earlier, Katz had repeatedly asked him questions about the Bernie Fine scandal during a sit-down interview—responded, "I'll answer anybody's question but yours because you're an idiot and, really, a disloyal person."
A horribly awkward silence ensued. This video is extra special because the camera actually pans to Katz to try to catch his reaction to Boeheim's epic put-down.
John Calipari has endured a lot of ill will throughout his 31-year coaching career, but only one man (that we know of) has threatened to kill him. That would be John Chaney.
In 1994, Chaney—then the men's basketball coach at Temple University—was furious over what he perceived as Calipari's attempts to manipulate the referees. Therefore, he did what any reasonable coach would do: He stormed Calipari's postgame news conference and attempted to charge the podium.
He was restrained by security, but not before he managed to yell, "I'm gonna kick your ass!" and, several times, "I'll kill you." It was an SNL skit come to life.
Chaney was suspended one game for his threats.
There are very few college basketball coaches who have proven to be as irascible as Jim Calhoun. And there are very few college basketball coaches who could have taken this wannabe watchdog goon blogger to task quite the way he did.
Clearly, Ken Krayeske didn't know who he was dealing with when he tried to troll Calhoun for being the highest-paid state employee in Connecticut in the midst of an enormous budget deficit. Not only did Calhoun refuse to apologize for his bloated salary, but he went completely Will McAvoy on Krayekse, exposing him for the fool he is.
In one of his greatest victories ever at the podium, Calhoun asked the reporter—among other things—"You're not really that stupid, are you?" and he crescendoed with a verbal fact sheet about how much money UConn basketball generates.
And of course, there was this line: "My best advice to you? Shut up."
These days, we are fortunate enough to be privy to the musings of Herm Edwards throughout the week, via his appearances on ESPN. Back during his coaching days, we usually had to wait until Sunday.
Edwards' most memorable tirade as the head coach of the New York Jets came in October 2002, following a loss to the Browns that dropped his team to 2-5.
A New York Times reporter asked Edwards a question about his team's ability to win, and he responded with a legendary rant that featured the line, "You play to win the game. Hello? You play to win the game."
Then again, being the coach of the Jets would drive anyone to hysteria, so we can't really blame him.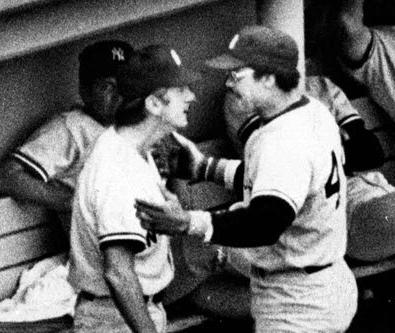 Source: Real Clear Sports
Billy Martin fought pretty much everyone and anyone he could during the course of his illustrious career as a player and then as a manager. He had plenty of brawls—with teammates, with opponents, with traveling secretaries, with fans—but one of his most famous came against a formidable opponent in Reggie Jackson.
When you're a Yankee, a series against the Red Sox—especially one at Fenway Park—tends to bring out the crazy in you. In June 1977, then-Yankees manager Martin decided to replace the irascible Jackson in the middle of an inning because of a perceived lack of effort.
Legend has it that when Jackson returned to the dugout, Martin was so furious with him that he had to be physically restrained by his fellow coaches so that he didn't deck his player.
And then the Yankees got swept.
Minor league baseball managers never make headlines unless they do something like this. So in that sense, bravo, Phil Wellman.
The former manager of the Mississippi Braves and current hitting coach for the Springfield Cardinals became a cult hero in June 2007, when the umpires tried to eject him from a game against Chattanooga after he argued against their decision to eject his player for using a foreign substance.
But instead of simply yelling and throwing his cap, Wellman got creative. He covered home plate with dirt, then traced the outline of a much bigger home plate.
He threw the rosin bag at the umps like it was a grenade—only after crawling toward them on his elbows like a soldier. He uprooted third base and attempted to take it with him after getting ejected.
It was a performance for the ages and earned him a three-game suspension.
One of the most infamous rants in the history of college football belongs to Oklahoma State head coach Mike Gundy.
In 2010, the Cowboys were embroiled in a bit of a quarterback controversy that culminated in the demotion of Bobby Reid. An Oklahoman reporter published an article detailing the reasons Reid may have been demoted, which didn't sit well with the man who benched him.
Therefore, following a win over Texas Tech, Gundy chose to take his post game press conference as an opportunity to berate the Oklahoman reporter, issuing the infamous line, "Come after me! I'm a man! I'm 40!"
There are so many treasures to choose from the trove of Jim Harbaugh, it's almost impossible to pick just one. It is rare when he doesn't throw a tantrum during the course of a game.
But we'll go with the most GIF-able one.
During the 2013 NFC Championship game, Atlanta's Harry Douglas caught a critical third-and-2 pass in the fourth quarter, and Harbaugh challenged the ruling on the field, claiming it was an incomplete pass.
Obviously, judging by this GIF, he lost the challenge.
Look at that passion. You have to respect it.
Jim Mora will not go down in history as a coach who could turn terrible teams into contenders. He will forever be remembered as the guy who issued the "Playoffs!?" tirade.
Mora was never one to remain reserved and level-headed during news conferences. Therefore, it shouldn't have come as a surprise when—following a late November loss to the 49ers in 2001 that left his Colts with a 4-6 record—he reacted unfavorably to a question about Indy's chances of making the playoffs.
TV reporter Tim Bragg is the man who provoked Mora into one of the greatest news conference rants of all time.
Bob Knight is an angry guy. His anger, however, had a tendency to motivate his players and is part of what made him such a legendary college basketball coach: His resume includes three NCAA tournament wins as a coach, five Final Fours and an Olympic gold medal.
But sometimes, Knight's anger got the best of him. Like on February 23, 1985. The then-head coach of Indiana became enraged when the refs, instead of calling a jump ball, called a foul on one of his players during a scramble. As expected, Knight received a technical foul for throwing a tantrum on the sideline.
But the tantrum wasn't over. As the Purdue player stepped up to the line to take his free throws, Knight hurled a red plastic chair onto the parquet floor. He was ejected from the game and suspended for another one.