Welcome to the NFL 2009-2010 Hot Seat!
This is the point of the NFL offseason when expectations are the highest.
Teams have completed the first free agency period and the draft, and most teams have had their first mini-camp by now.
Optimism is at its peak, but for every franchise, there is always one guy or group of guys who has just a little more riding on each season. These are the ones who'll be under the microscope of either the media or management—the ones who there is just a little extra pressure on.
The reasons are many:
Some might be looking to rebound after a bad season or performance.
Some might need to justify a questionable decision or two or three...
Others just need to step up to their potential.
This has the makings of a very entertaining football season.
Join me in welcoming the following to the NFL Hot Seat!
Arizona Cardinals: Rod Graves/GM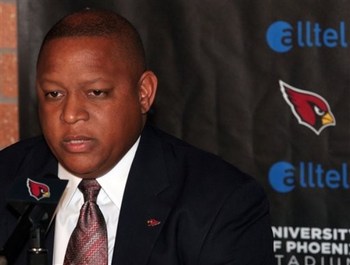 Strange to start off with a GM, but in this case it's valid.
Graves himself would admit he wished he handled the Anquan Boldin situation better. As good as Larry Fitzgerald is, he is able to be even more successful with Boldin on the other side of the field.
Boldin has not been moved or received a raise, and recent history has said that there can be no good that comes from this.
The Cardinals GM has also let go of Edgerrin James, at James' request, and replaced him with rookie Chris Wells.
The Ohio State back has some question marks, specifically about how NFL-ready he is. Although the Cardinals run the ball almost as often as the Philadelphia Eagles, which is to say not a lot, Wells will be asked to pass protect—something few backs coming out of college are good at.
With J.J. Arrington also gone, the Cardinals will need to pick up a veteran back, or it could be a short year for Warner.
The Cardinals also let go of Rod Hood, a leader on defense on the field and in the locker room, and may need to part ways with Darnell Dockett. Dockett (like so many other economically challenged players) feels as though he's outperformed his contract. He's seeking a trade as well.
Graves is quickly learning the cost of success in the NFL, and if he doesn't right the ship soon, the Seattle Seahawks will be sending him a fruit basket this season.
After all, it does make a lovely gift!
Atlanta Falcons: Matt Ryan/QB
Nothing puts a QB under more pressure than success—especially when it comes as a surprise.
Had then-rookie QB Matt Ryan struggled, no one in Atlanta would have batted an eye. The expectations were so low (due to the Falcons' former franchise QB, not Ryan) that fans would have been happy if he managed to keep from embarrassing himself.
Ryan's numbers were solid (3,440 yards, 16 TDs, and 11 INTs), and he led the Falcons to the postseason. Given the addition of Pro Bowl TE Tony Gonzalez to an already good passing attack and the emergence of Michael Turner, there's no reason in the eyes of most why Ryan shouldn't shatter his rookie numbers.
This puts enormous pressure on him to avoid the sophomore slump.
With the Saints on the rise and Carolina fuming from their postseason exit, that task is even harder.
Baltimore Ravens: Greg Mattison/DC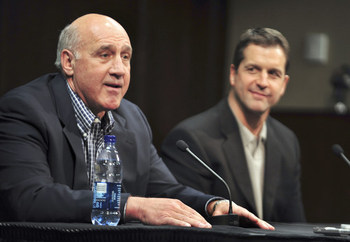 Greg Mattison (far left) has some big shoes to fill.
Since Rex Ryan's arrival in 1999, the one thing the Baltimore Ravens have not had to worry about is defense.
In fact, the Ravens spent the majority of his tenure in the top 10 or better in nearly every statistical category on defense.
Now that Ryan has moved on to NY, there are questions about the defense for the first time in nearly a decade.
Most of those questions actually have nothing to do with Mattison, but all of the success or failure of the defense will be placed squarely in his lap. Rex Ryan had an inventive mind and was able to keep most offenses off balance for long stretches of games. He also preached turnovers, which the players responded to racking up 26 INTs and 19 fumbles.
If the two leaders, Ray Lewis and Ed Reed, can continue to perform at a high level, there is plenty of young talent on the roster to keep the Ravens D elite.
It will be Greg Mattison's job not to mess it up.
Buffalo Bills: Tie—Dick Jauron/HC and Terrell Owens/WR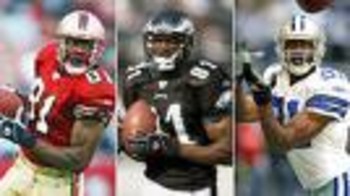 The faces of Terrell Owens are many.
He's the guy who cried when he caught that touchdown in the 49ers' playoff victory against Green Bay in 1998, showing the human side of an at times seemingly superhuman game.
But he's also the guy who in the middle of a season routinely throws QBs under a train, because a bus would just be too gentle.
There's no denying his talent, just as there's no denying his incredibly schizophrenic behavior.
His coach is the opposite.
Dick Jauron has one face, and that face is of a no-nonsense NFL head coach. He doesn't coddle players, and he doesn't mince words.
In the past, Owens has played under very different types of coaches, all with varying degrees of success.
Steve Mariucci admits to coddling Owens, while Andy Reid, along with management, took a very hard line with him. Bill Parcells never referred to him by name, and Wade Phillips pretty much prostrated himself at Owens' feet.
If the Bills are to have any success, Jauron cannot change who he is as a coach, unless he wants team dissension.
If Owens is to have any shot at more than a one-year deal, he's going to have to be Terrell (a very likable guy in player circles) more than T.O. (Team Obliterator).
The two are going to have to find a way to coexist if they want to climb out of the AFC cellar.
Carolina Panthers: Jake Delhomme/QB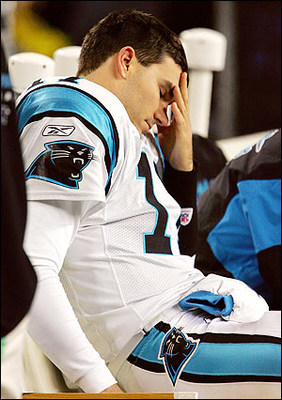 The last time Jake Delhomme was on a football field, he looked nothing like the man who led the Panthers to the NFC South title and a first-round bye.
Five interceptions and an apologetic press conference later, the Panthers' offseason got off to an inauspicious beginning.
Things didn't really get any better from there.
There were some losses at the OT position with Frank Omiyale signing with Chicago and Geoff Hangartner going to Buffalo.
The WR position is a year older.
And thanks to a trade with Philadelphia, they had no first round pick.
Before the playoffs, Delhomme was enjoying one of his best seasons as a pro. So far with little help added, he's expected to prove that last season's ending was the exception, not the rule.
Chicago Bears: Jay Cutler/QB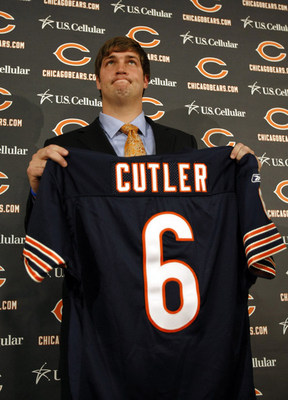 You could easily take the quarterback from most teams, put them in the hot seat, and not get much argument. For the Chicago Bears, though, it's a legitimate call.
Since the 1985 Super Bowl win, the Bears have used 15 different QBs. Of those 15, only the 2006 starter, Rex Grossman, led his team to the Super Bowl.
Make no mistake about it, it was not his pinpoint accuracy and cannon arm that made the difference in that run to the championship.
Cutler is the first true starter at the QB position the Bears have had this decade, which makes the Bears the favorite to win the weak NFC North.
The events leading up to his unceremonious departure from Denver compound the pressure on Cutler to prove his worth.
Cutler is fighting his league-wide perception, a locker room that was completely behind the departed Kyle Orton, and his own desire to show Denver exactly what they're missing.
Cincinnati Bengals: Marvin Lewis/HC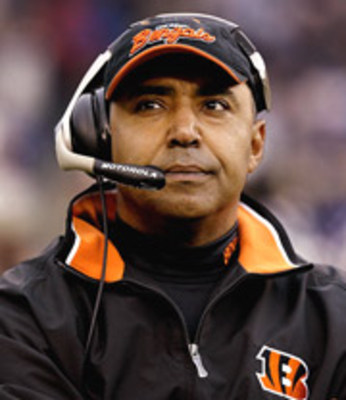 Since coming to the Bengals in 2003, Marvin Lewis has had one winning season. His 2005 Bengals went 11-5, winning the division. That exceptional season is bookmarked by two 8-8 seasons and 8-8, 7-9, and 4-11-1 seasons. Not exactly the mark of excellence.
Lewis is not a bad coach, which explains how he has remained employed this long, but it also makes his record all the more damaging.
He's had to overcome players getting arrested, suspended, and demanding trades, along with injuries to his starting QB; through it all, he has managed to keep his optimism and his desire to win in Cincinnati.
Watching the Steelers and the Ravens seemingly cruise to double-digit wins year after year makes it an even more difficult task.
Ownership has so far been behind their coach, but how long can that last?
Cleveland Browns: Eric Mangini/HC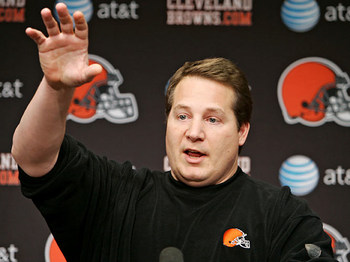 Derek Anderson or Brady Quinn?
Who replaces Kellen Winslow and possibly Braylon Edwards' production?
Does Jamal Lewis have anything left?
Can the Browns stop ANYBODY???
The Mangenius comes into Cleveland with more questions than answers in the wake of Romeo Crennel's departure. Most give him almost no chance to be successful in year one.
Of course, they said the same thing about him going to the Jets, and in his first year all he did was take a 4-12 team to 10-6 and a playoff loss to the Patriots.
Browns fans and management, albeit unrealistically, are expecting similar results. Given the fact that Mangini was only given three years in NY and how long Romeo Crennel was given to turn things around, one imagines the leash is even shorter for Mangini.
Dallas Cowboys: The entire team except Tony Romo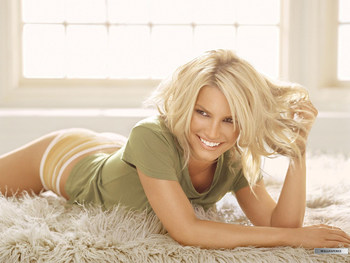 Whenever I think of the Cowboys QB... (See left, and you're welcome!)
Tony Romo is apparently bulletproof. Any time you can bounce on a vacation before a playoff game and people barely bat an eye, you're pretty much golden.
But that diplomatic immunity only covers him.
The Cowboys have got to be tired of hearing how long it's been since they've won a playoff game, or how many Pro Bowlers they have on their roster. They've got to be sick of fielding questions about Terrell Owens, or about their HBO special possibly disrupting their focus, or whether their owner is Al Davis bonkers... (Well, no one is THAT crazy!)
Even owner Jerry Jones has had his fill of answering Wade Phillips questions, although if he'd just say Jason Garrett will be the coach in 2010, then we could get on with our lives...
The fact is that since Bill Parcells' last year, the Cowboys have been underachievers, and with the excising of Tank Johnson, Pacman, and T.O., there is no longer any room for chemistry excuses.
Look for one more year of the Cowboys being able to use Wade Phillips as a scapegoat.
Denver Broncos: Brian Dawkins/S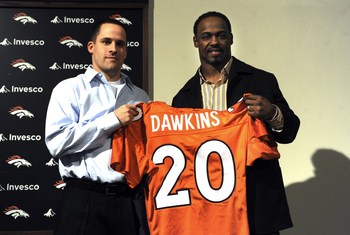 The Broncos defense was horrible last season. They gave up 28 points and 374 yards a game—but that's not why Brian Dawkins was brought in.
Dawkins was brought in because he is an unquestioned locker room leader, a force to be reckoned with. He was brought in to be another coach on the team, because the real reason Mike Shanahan was let go is because the Broncos were an undisciplined bunch of underachievers.
With Jay Cutler gone, it will be up to Kyle Orton and Brian Dawkins to right the locker room, but you have to believe that with Dawkins' credentials, his words carry more weight.
The question is this: Can the fiery leader summon the passion to lead a team and a city in a perpetual state of ennui?
If Dawkins can't shake them out of their blasé state, no one can.
Detroit Lions: Lions Offensive line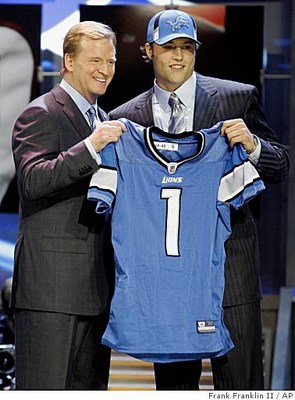 Some people think the pressure is all on Matthew Stafford to turn things around for the Lions.
The truth is that when the team that drafts you went 0-16, a nearly impossible feat in today's NFL, then the pressure is on everyone.
In getting a potential franchise QB in Stafford, the Lions made the only choice they could. Problem is, no quarterback is very good throwing while on his back. Not only can you not see who's open, but it's illegal to do so.
Had the Lions built up their offensive line at all in the draft or free agency, then Stafford would have a better shot at turning things around, but at least they've given him plenty of targets.
The Lions picked up the best TE in the draft and also the Penn State all-purpose weapon Derrick Williams to possibly slide into the slot with Calvin Johnson on the outside.
If the offensive line can keep Stafford on his feet, he's going to have plenty of options in the passing game.
If not, it's David Carr all over again.
Green Bay Packers: The Defense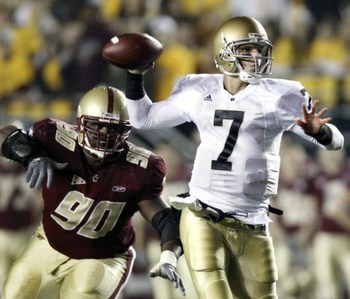 Aaron Rodgers did all he could to help the Pack win last year, but more often than not, the final result was taken out of his hands.
The defense, which had played so well in Favre's final year, came up small for the replacement.
So the Packers brass picked up two college studs on the defensive side of the ball: B.J. Raji the DE, and Clay Matthews the OLB.
The Packers, like many teams, are positioning themselves to transition to the 3-4 scheme. By doing this, they hope to shore up a defense that gave up 334 yards per game, with 131 of those coming on the ground.
With standouts like A.J. Hawk and Aaron Kampman on the roster, there's no reason for a repeat of last year's 6-10 record.
Houston Texans: Steve Slaton/RB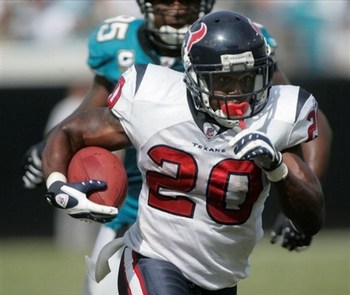 After a slow start, the Texans went 8-4 to close out the season.
The Texans have a solid QB in Matt Schaub and an All-Pro wideout in Andre Johnson, and Steve Slaton exceeded expectations by racking up 1,200-plus yards rushing last season. The offensive potential is there.
The big question is if Slaton is the long-term answer at running back for the Texans. If he can continue to be consistent (4.8 yards per carry), then Johnson and Schaub will have an easier time connecting for scores. If he struggles, then that offensive line will spend a lot of time pass blocking, which is not a strength of theirs. So the running game can't afford to be ineffective.
Last year, Slaton often found holes where there literally weren't any. Unfair or not, he'll be expected to pull off a repeat performance.
Indianapolis Colts: Reggie Wayne/WR
With the departure of Marvin Harrison, Reggie Wayne is now truly THE guy.
Some would argue he has been the go-to guy for the last three years, but with the threat of the precise route running of Harrison on the field, teams couldn't simply key on Wayne. That will all change this season.
Wayne is also now the elder statesman of the WR group; the most veteran receiver has only three years of NFL experience. Can he bring the same leadership and work ethic to the team Harrison did?
The Colts are banking on the fact that he can.
Jacksonville Jaguars: David Garrard/QB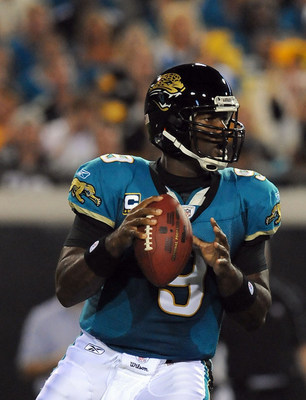 In his first full season as the Jaguars starter, Garrard put up some solid numbers. Not franchise QB numbers, considering his team did go 5-11, but solid.
Jack Del Rio is banking on the addition of Torry Holt to give Garrard a legitimate No. 1 receiver and the continued production of Maurice Jones-Drew to push Garrard to that next level.
Garrard has shown he has the poise and command of a top QB, but in an AFC South Division featuring the Colts, Titans, and a Texans team on the rise, he will need to be more than good to get his team back to the playoffs.
Spending their day one picks on the offensive line with Eugene Monroe and Eben Britton and seven of their overall nine picks on the offense shows the Jags' commitment to Garrard. It's up to him to step things up.
Kansas City Chiefs: Matt Cassel/QB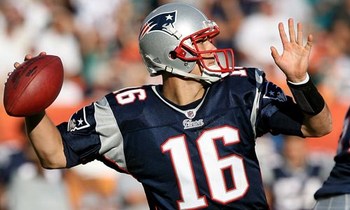 Let's face it: Matt Cassel had a pretty sweet gig last season.
Throw the ball deep to Randy Moss.
Throw the ball underneath to Wes Welker.
Repeat until touchdown is scored.
In KC, the talent at the wide receiver position is not quite the same.
If we're being brutally honest, it's like comparing Mercedes to Daewoo; nobody is passing up the chance to drive the Mercedes.
With the exodus of Tony Gonzalez to Atlanta, Cassel's top targets are Dwayne Bowe and...and whoever else wants the job.
Miami Dolphins: Tony Sparano/HC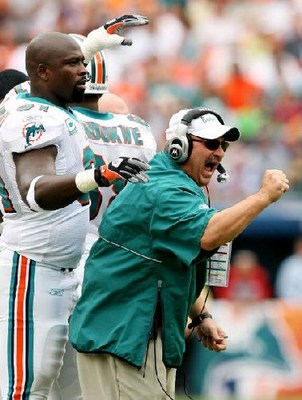 Before Sparano, the Dolphins were one late rally away from going 0-16. In his first year on the job, he not only increased the Dolphin win total to 11, but he did so with essentially the same roster that went 1-15.
Despite their postseason loss to Baltimore, which was bad on all fronts, optimism is still high for the Dolphins to continue to be competitive.
Sparano will be expected to keep the team from getting caught up in last season's success, while also continuing to improve the team overall.
Minnesota Vikings: Rick Spielman/GM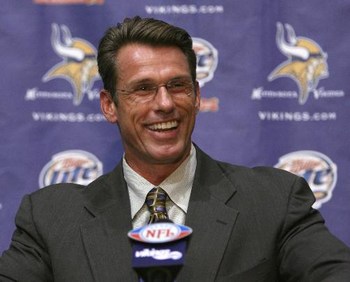 If you look at Tarvaris Jackson's numbers last year (59 percent completion rate, nine TDs, and two INTs), it doesn't seem like quarterback is a position of pressing need.
Maybe you bring in a veteran who can help the young quarterback's game continue to develop. You don't bring in Brett Favre.
Unless you really think that the all-time career leader in interceptions is a good teacher for Jackson.
"Hey, if you get blitzed, just heave it off your back foot downfield—somebody will catch the ball."
Or...
"Your word is only as good as the reporter who heard you say it. You can always clarify what you really meant later."
Spielman is not only running the risk of damaging the progress of Jackson, but also taking away all the good that the Vikings accomplished last season.
New England Patriots: Tom Brady/QB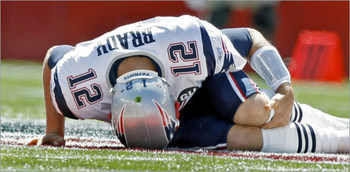 The prevailing opinion is that the Patriots missed the playoffs because Brady was injured early in the season.
Not because the traditionally weak AFC East was actually competitive for a change.
Not because the defense was inconsistent.
So guess what, Tom?
No one cares that you're coming off an injury that tends to take 18 months to two years to fully recover from. You are expected to lead the Pats to the playoffs and the Super Bowl in your first year back.
No exceptions.
New Orleans Saints: Reggie Bush/RB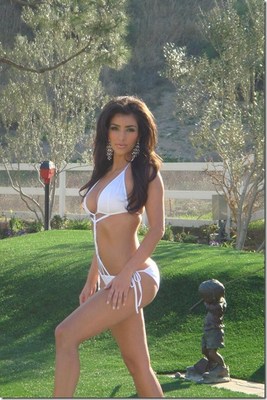 Right now? Reggie Bush's fiancée has done more to make the Saints productive than he has. That sounded somewhat provocative...
Let's try another tactic:
If you combine Bush's rushing and receiving yards from last season, he still doesn't top 1,000 yards.
In three years, Bush has more total fumbles (13) than TDs (12), and no one is impressed with last year's 3.8 yards per carry.
This is not what the Saints expected to get from the most dangerous player in college football.
On the other hand, there have been flashes of brilliance, so the potential is there, but the Saints would prefer results.
Considering Pierre Thomas' production last year, it's not crazy that Bush could end up in another city before the trade deadline.
New York Jets: Mark Sanchez/QB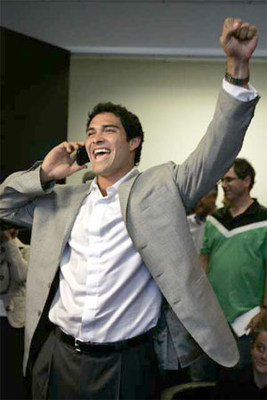 Nobody was more elated than Mark Sanchez (except maybe Mike Greenberg of Mike & Mike fame) that he was drafted by the New York Jets.
I have to imagine, though, that once he realized Jerricho Cotchery is essentially his only weapon, some of that excitement dissipated.
After the failed Brett Favre experiment, Sanchez is going to be called upon to erase that mistake from the memories of ticket holders and his teammates. Like Matthew Stafford, he has the tools to be successful.
Unlike Stafford, he doesn't have the weapons.
New York Giants: Osi Umenyiora/DE
No one missed Osi Umenyiora more than Justin Tuck.
Tuck was excellent in relief of the departed Umenyiora, racking up 12 sacks on the year, but wore down by the end of the season.
The Giants defense suffered, as no one else was able to generate much of an outside pass rush, and went 1-3 over the final four games.
If Osi can return to the team at the level he left it, the Giants defense should once again be a force in the NFC. If not, the NFC East crown could easily slip through their fingers.
Oakland Raiders: Darrius Heyward-Bey/WR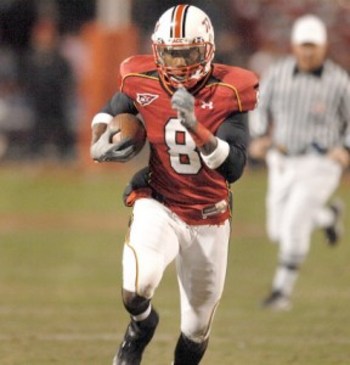 Unfair as it may be, Bey will have to justify being picked No. 7 overall in the draft over Michael Crabtree. He bears the burden of proving that Al Davis may be crazy, but he was right on this one.
With a still very raw quarterback, an offensive scheme still in flux, and a defense that gave up eight more points than the offense scored, it's up to the rookie from Maryland to pull off the impossible.
Be productive in an offense that made Randy Moss look washed up and effectively ended Jerry Porter's career? No problem, right?
At least he can count on Davis looking to move him for a fourth round pick in about three years.
Philadelphia Eagles: Brian Westbrook/RB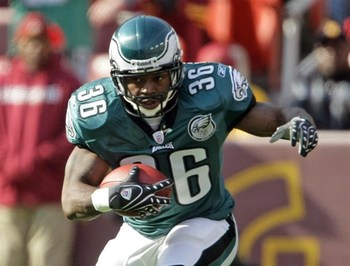 In Philadelphia, every year it seems that quarterback Donovan McNabb is under some scrutiny. This year may be the exception.
The versatile Brian Westbrook was given a new contract, and he proceeded to have his least productive season since becoming the full-time feature running back.
Injuries and inconsistency on the offensive line, along with the Eagles not having a true fullback, hurt his production.
In the offseason, the Eagles got younger and stronger on the offensive line (Jason Peters and Stacy Andrews), brought in a true fullback (Leonard Weaver), and drafted a back who can spell the 30-year-old back in LeSean McCoy.
All the pieces are in place for Westbrook to return to Pro Bowl form. The rest is up to him.
Pittsburgh Steelers: Santonio Holmes/WR
What can you do for an encore???
Every kid dreams of making a game-winning play.
We count down shot clocks and narrate closing seconds. Holmes lived it.
Hines Ward may be No. 1 on the depth chart in Pittsburgh, but Holmes is going to be thrust into the spotlight in a major way next year.
Corners are going to look forward to shutting out a Super Bowl hero, defensive coordinators will start to roll coverage, and the media will have a microphone in his face after every game.
He's talented enough to produce, but will he be able to handle the additional scrutiny he'll have to face after making one of the most amazing plays in Super Bowl history?
Or will he Desmond Howard his way out of the league?
St. Louis Rams: The Remaining Wide Recievers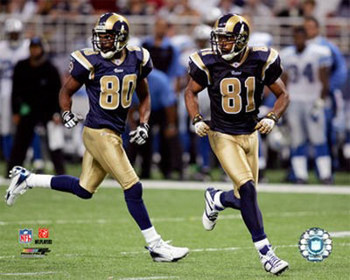 Quick!
Name the projected starters at wide receiver for the St. Louis Rams!
...Exactly!
With Torry Holt and Isaac Bruce suiting up in different states, Marc Bulger's going to have to develop chemistry with the new starters fast.
The wide-open offense that the Rams were once famous for has lost its last two veterans, leaving newcomer Tim Carter as the vet with seven years' experience. Unfortunately, none have been with the Rams.
The longest tenured Ram receiver is Derrick Stanley, who has two seasons under his belt as the No. 4 receiver.
San Diego Chargers: Philip RIvers/QB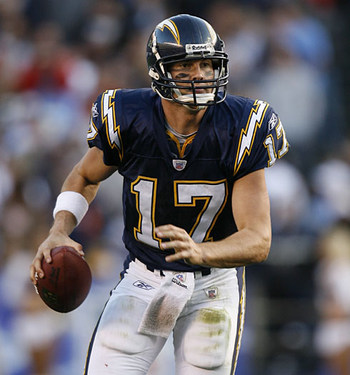 You wouldn't know it by the Chargers' 8-8 record, but Philip Rivers was nothing short of brilliant last season.
With career highs in completion percentage (65.3 percent), yards (4,009), and touchdowns (34), the Chargers appeared set to be the most dangerous team in the playoffs.
After dispatching Manning and the Colts, the Chargers could hold their head high knowing they lost to the eventual Super Bowl champion Steelers.
Now that a defense that was sorely missing their leader (Shawne Merriman) has him back, the expectation is that the Chargers should walk away with the AFC West title. Much of that will be determined by the arm of Rivers.
San Francisco 49ers: The Starting QB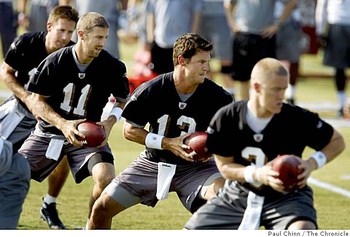 It's going to be an open battle in camp for the starting job at quarterback this year, and whoever wins the battle is going to be expected to perform.
Not because any of the incumbents are particularly gifted, but because of who they will have their choice of playing catch with.
Rookie Michael Crabtree.
Veteran Isaac Bruce.
Tight end Vernon Davis.
Plus running backs Frank Gore and Michael Robinson.
On paper, that's a pretty good lineup, one that most quarterbacks would be successful with.
But the 49ers have been looking for a franchise QB since Steve Young's retirement.
Seattle Seahawks: T.J. Houshmandzadeh/WR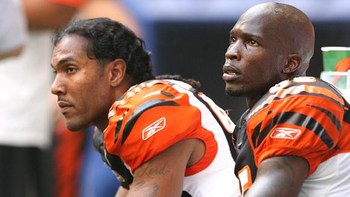 T.J. Houshmandzadeh has spent his entire career with the benefit of playing next to Chad Johnson. The two had been one of the most successful tandems in the NFL but had only been to the postseason once (2005) in their careers together.
Houshmandzadeh, a free agent, signed with the Seattle Seahawks this offseason. The Seahawks play in a division that is wide open, despite Arizona's run to the Super Bowl last season (unlike the AFC North, where the Bengals seemed locked in an annual battle for third with the Browns).
How will T.J. perform without No. 85 on the other side of the field? There's no way to tell, but it should be interesting.
Tampa Bay Buccaneers: Byron Leftwich/QB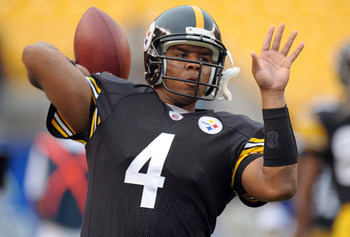 This may be the last chance for Byron Leftwich to be an NFL starter.
Coming off a year in which he performed well backing up Ben Roethlisberger, Byron looks to get the opportunity to compete in Tampa Bay.
The Bucs took a QB in the first round (Josh Freeman at 17), so at best this is a tryout for Leftwich to whet the appetite of other NFL teams.
How he performs this year will determine if he can be a starter elsewhere.
Tennessee Titans: Vince Young/QB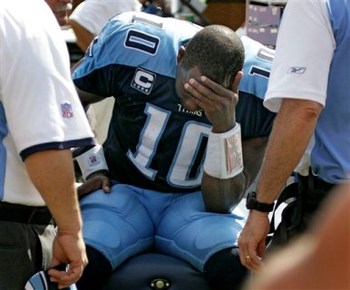 In the 2006 NFL Draft, Vince Young was taken third overall. It's a draft that may go down as the most overhyped in NFL history. Take a look at the achievements of the top 10 picks.
Vince showed the most promise, being named the NFL Offensive Rookie of the Year and earning a roster spot on the AFC Pro Bowl team while leading his team to the playoffs.
Since then things have not gone as smoothly for the Heisman runner-up. After a mental breakdown early in the 2008 season, he was replaced by Kerry Collins for the remainder of the season.
The success the Titans enjoyed with Young as a spectator has led to speculation as to whether Young is best for the team's future. If he doesn't win his job back this year, Young could have a lot of free time on his hands.
Washington Redskins: Albert Haynesworth/DT
Dealing out punishment (see left) is one of the reasons Albert Haynesworth was given a record contract by the Washington Redskins this year.
The 100 million dollar man will also get $41 million guaranteed in the first three years, and the maximum value of the deal could be $115 million.
Given the economic climate, that's a lot to live up to.
Of course Haynesworth has the talent; it's been a matter of attitude.
Will he be able to stay motivated if the Redskins start slowly?
Will he be as effective against the very talented offensive lines of the Cowboys, Eagles, and Giants?
Will he be able to keep his nose clean in a city like DC, where opportunity for vice is around literally every corner?
The Redskins have a lot riding on him being able to.
Keep Reading