Ranking the 10 Greatest PGA Championships of All Time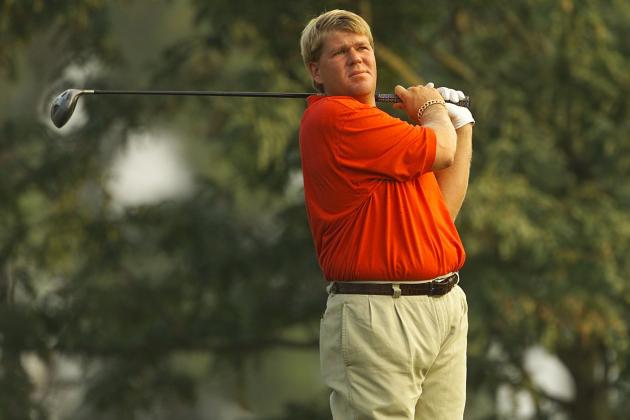 Jamie Squire/Getty Images
A much younger John Daly wowed golf fans in 1991.
There's a great deal of talk that this week's PGA Championship could turn out to be one of the best ever with Tiger Woods and Phil Mickelson both playing well.
And, by Sunday evening, we may have witnessed one of the greatest ever.
But we do know there have been some classic PGA Championships over the years, and they became classic for a variety of reasons.
Here is a list of 10 that jumped out at me as being really special.
Begin Slideshow

»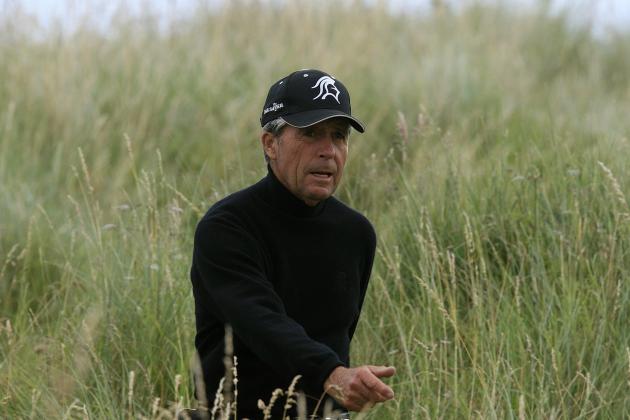 Phil Inglis/Getty Images
Gary Player always walks proudly on the golf course, regardless of where that walk takes him.
Winner: Gary Player
Why It Stands Out: Gary Player always got attention with his never-ending focus on physical activity and being in shape. It helped him with longevity, and even in his later years, he was able to play the game at a high level as a result of physical conditioning.
He needed all of that at Oakland Hills when faced with a difficult second shot on the 16th hole on Sunday afternoon. He was in deep rough and needed to launch his shot over a tall willow tree and a pond in front of the green. He pulled the shot off, ripping a 9-iron to four feet for an easy birdie on the way to a two-shot win.
Historical Significance: It was the first of four major championships Player would win after the age of 37.
Michael Cohen/Getty Images
John Mahaffey still swings at it occasionally on the Champions Tour.
Winner: John Mahaffey
Why It Stands Out: Mahaffey's stirring comeback Saturday on a very difficult golf course was legendary stuff. Winning with a 12-foot birdie putt gave him his first and only championship. It also was as close as Tom Watson got to winning the PGA and completing his quest for the career Grand Slam.
Historical Significance: Mahaffey set a PGA Championship record by overcoming a seven-shot deficit in the third round and ended up winning on the second extra hole. It was something of poetic justice for Mahaffey, who lost in a playoff in the 1975 U.S. Open and was beaten in the final round by Jerry Pate in the 1976 U.S. Open.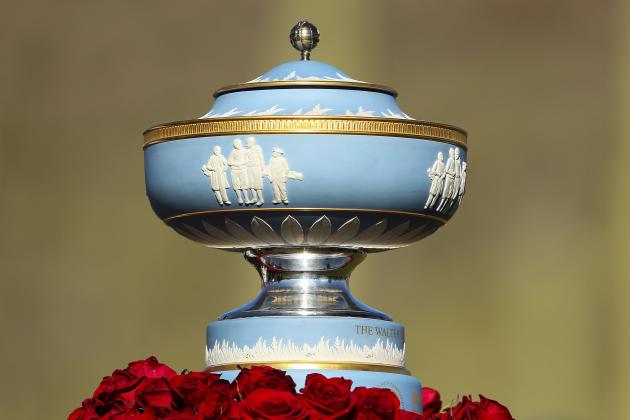 Andy Lyons/Getty Images
Players compete in the Accenture Match Play Championship to win this trophy.
Winner: Walter Hagen
Why It Stands Out: Hagen's 1-up victory over Joe Turnesa (the PGA was a match play event back then) was his fourth consecutive triumph in the PGA Championship. It was also his fifth overall PGA Championship title and the ninth of his 11 major titles.
Historical Significance: Hagen was the first real advocate for professional golfers, making him a force on and off the course. The win in 1927 improved Hagen's match record in the 1920s to 30-1, the only loss coming to Gene Sarazen in 38 holes in 1923. He had a 20-match winning streak after winning in 1927.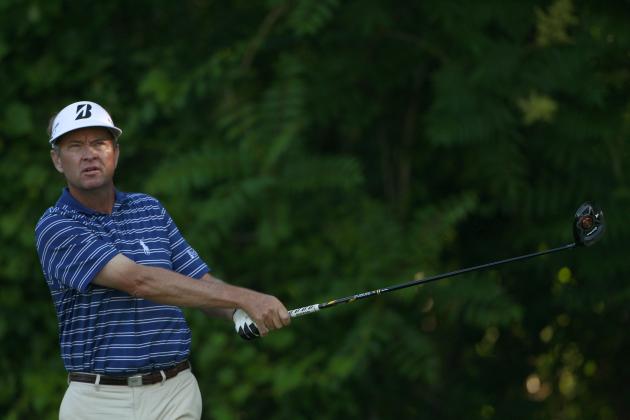 Michael Cohen/Getty Images
Davis Love III will never forget the 1997 PGA Championship.
Winner: Davis Love III
Why It Stands Out: Love had been runner-up in the 1995 Masters, losing by a shot to Ben Crenshaw. In 1996, he three-putted the final hole in the U.S. Open and finished a shot behind Steve Jones.
This time he blistered Winged Foot with a 66 on Saturday and was tied with Justin Leonard after three rounds. He pulled away from Leonard late, and when he drilled home an 18-foot birdie putt on the final hole, a rainbow broke through the clouds.
Historical Significance: The win ended all the talk about Davis Love III being the best player to have never won a major. It also validated DLIII as being one of the best players in the game.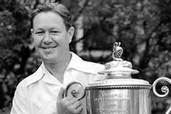 Byron Nelson was mafgnificent in 1945.
Winner: Byron Nelson
Why It Stands Out: Byron Nelson was in the middle of one of the greatest seasons ever in golf when he birdied the 29th hole (in a 36-hole match play final) and then three more in a row to catch and defeat Sam Byrd.
Historical Significance: In a year in which he won an incredible 18 tournaments, the PGA Championship was the eighth straight win for Nelson on the way to 11 straight. It was a season of consistency and domination that most likely will never be matched.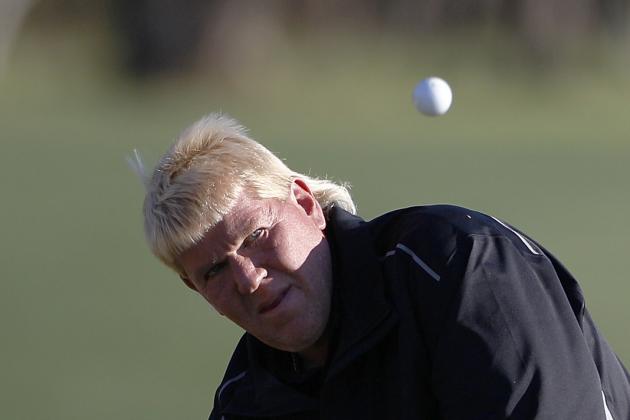 Michael Cohen/Getty Images
John Daly could have been so much better than what he's turned out to be.
Winner: John Daly
Why It Stands Out: Mullet-headed John Daly, the most unknown of even the greatest unknowns, took the tournament by storm. He didn't have a practice round, but he was able to shoot 67 in the second round and take control of the tournament.
Historical Significance: He came from being the ninth alternate to the PGA champion. It was the launch pad for what could have been a spectacular PGA Tour career with his unbelievable length of the tee and his amazing touch and creativity around the greens.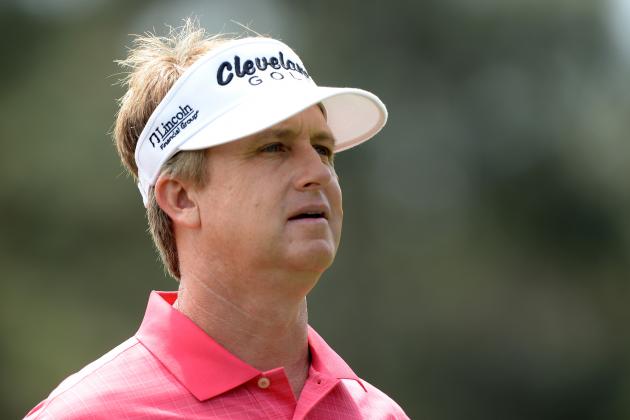 Harry How/Getty Images
David Toms was applauded for his strategy in the 2001 PGA Championship.
Winner: David Toms
Why It Stands Out: Toms faced a pair of memorable moments in this event and pulled both of them off. In the third round, he aced the par-three 15th, a brute of a hole at 243 yards. That helped him gain a two-shot lead over Phil Mickelson after three rounds.
In the final round on the 18th hole, Toms' drive found some deep rough on the right side. If he decided to go for the green, he'd have to hit a long iron from that stuff. He opted to hit a wedge short of the pond in front of the green and hit another wedge close to make par that way. And that's exactly what he did to win, sinking a 12-footer for par.
Historical Significance: It was Toms' greatest individual moment in golf and his lone major championship. For Mickelson, it was just another pothole on the road to winning his first major title.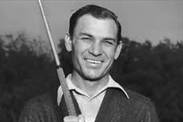 Ben Hogan had a spectacular career, even with a near-fatal automobile crash.
Winner: Ben Hogan.
Why It Stands Out: By the time the 1946 PGA Championship came around, Ben Hogan had already won 30 times and was still without a major. Just as impressive was the fact that he had won nine times in 1946 leading up to the year's last major. Hogan defeated Ed "Porky" Oliver, 6 and 4, to really kick off the best half of his career.
Historical Significance: What followed that victory was truly amazing. He was 34 years old at the time, just getting into the prime of his career. He won 33 more times, a number that included eight more major titles. He also was involved in that near-fatal automobile accident that he recovered miraculously from and played well into the early 1950s.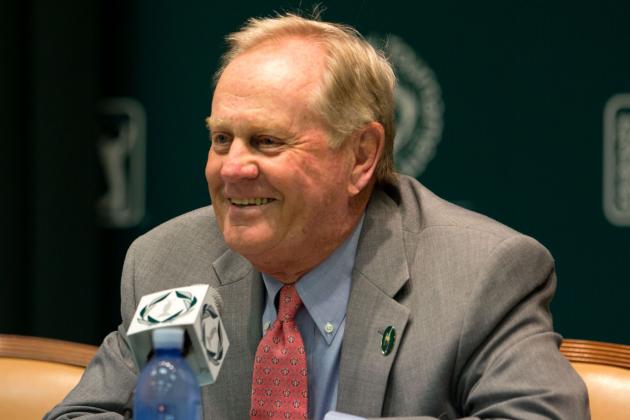 Allan Henry-USA TODAY Sports
Jack Nicklaus can smile after the career he had.
Winner: Jack Nicklaus
Why It Stands Out: Nicklaus shot a third-round 66 to amass a three-stroke lead and wound up winning by seven. That margin of victory remained as the largest for 33 years until Rory McIlroy won by eight last year at Kiawah Island.
Historical Significance: The victory made Nicklaus only the second player to win two majors in his 40s. The first was Ben Hogan in 1953, and Mark O'Meara made it a trio in 1998.
Denny Medley-USA TODAY Sports
Bob Tway won his only major championship in spectacular fashion.
Winner: Bob Tway
Why It Stands Out: As he did in every major that year, Australian Greg Norman led after 54 holes in Toledo. He not only led, but also led by four. He frittered away all of those shots after 17 holes on Sunday, and he and Bob Tway finished in a tie.
They had a Monday playoff, and both missed the 18th green. From the front bunker, Tway hit a spectacular shot that went in. Norman couldn't sink the chip to tie and lost again in a major.
Historical Significance: As it turned out, the win was Tway's only major title, even though he did win four PGA Tour events. For Norman, it was just another in a succession of bitter disappointments on golf's biggest stages.