San Diego Padres' Report Card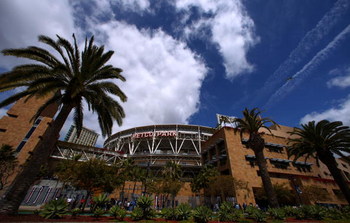 The San Diego Padres (13-19) will begin a three-game series in Chicago against the Chicago Cubs. They've struggled in just about every facet of the game, but only a few times have they done that all at one time.
When they've had a good pitching performance, their offense has been absent. When their offense has put up enough runs to win, it's their pitching that hasn't been up to par. And when they've had both offense and pitching, it's a defensive laps that gives a team another chance.
So, with all that being said, it's time to hand our the report card for the offense of the San Diego Padres. We'll grade each hitter, talk about where the team needs to improve as well as hand out awards for the team's top performers.
Brian Giles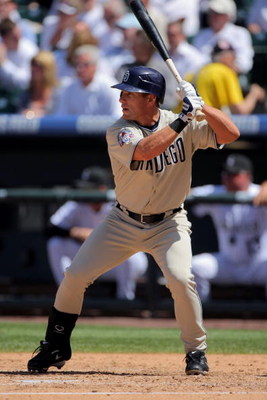 Brian Giles, by far, has been the most disappointing player thus far for the Padres. With him being in a contract year, the Padres were hoping that Giles would use this year to prove that he can still play at a high level, but he's yet to do anything at a high level.
His batting average currently sits at .158, not where the Padres need him, especially not if they want to improve from their 99-loss season in 2008.
Giles started the season batting third in the lineup, but when he struggled to a .175 start to the season, the Padres thought maybe he would be better suited for the leadoff spot, somewhere Giles was familiar with. But Giles hasn't been much better, hitting .160 (4/25).
Giles is known for being one of the most patient hitters at the plate, which led him to 87 walks and a .398 on base percentage in 2008. But this year has been different, he has more strikeout (15) than walks (13) and his statistical numbers are mind boggling for a guy the Padres need to be their catalyst.
With the bases empty, Giles is hitting .119 (7/59) and he's struck out 11 times. The category that will get Giles benched or traded is his hitting with runners in scoring position, where he's currently hitting .179 (7/39).
If he can't fix those numbers, he may be seeing a lot more bench time than playing time.
Grade: F
David Eckstein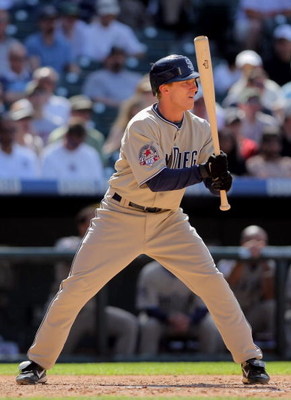 The San Diego Padres needed a spark plug at the top of their lineup, someone that would give them speed on the base paths as well as leadership in the clubhouse.
The Padres found that guy in David Eckstein, and, thus far, he hasn't let the team down, coming up with a game-winning single against the Arizona Diamondbacks on Thursday, May 7.
Through 32 games, Eckstein is hitting .261 with 9 RBI, 11 walks and 12 runs scored with an On Base Percentage (OBP) of .336.
Although Eckstein is hitting .286 (8/28) with runners in scoring position, there have been numerous times, with the game on the line, that he has failed to come through.
Where he has struggled the most is runners in scoring position with two outs, hitting only .214 (3/14).
The Padres didn't bring in Eckstein to be a catalyst offensively, but when he's called upon, he needs to come through.
Grade: C+
Scott Hairston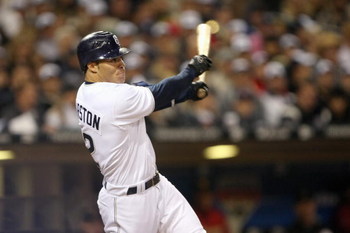 Scott Hairston has been a bright spot for San Diego in 2009 and although he's been splitting time with Jody Gerut, when Hairston is in the ballgame, he makes his presence known.
He's currently hitting .333 with 4 HR's and 16 RBI, proving protection for first baseman Adrian Gonzalez, something the Padres have lacked so far in 2009.
Even more staggering are his situational statistics. With runners in scoring position, he's hitting .563 (9/16) and with runners in scoring position and two outs it's even more impressive, hitting .714 (5/7).
It's probably the reason Hairston has been getting more playing time lately, we'll see if that continues down the road.
Grade: A
Adrian Gonzalez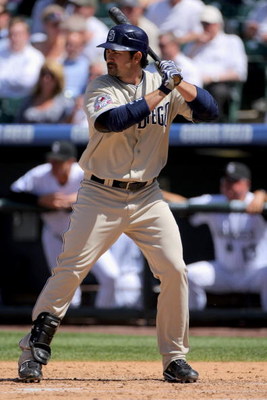 What more can you say about Adrian Gonzalez. He's far and away the Padres' MVP thus far in 2009 and one of only a select few players that have contributed.
You know what you'll get from Adrian, he has the capability to go on a hitting streak of 20+ games, launch a 450 foot home run or get that timely hit when the team needs it.
But the lack of protection around Adrian has led to a lack of offense for the Padres this season and it has shown in several games. Until they get that, this team is going to continue their struggle.
The Padres' first baseman is currently hitting .294 with 10 HR's and 22 RBI. Unfortunately for San Diego, Adrian is at his best when there isn't a single runner on base, hitting .314 (22/70).
Where they need Adrian the most is with runners in scoring position, a category most of the team struggles in. Gonzalez is hitting .200 (5/25) with eight walks and eight strikeouts.
Grade: B-
Chase Headley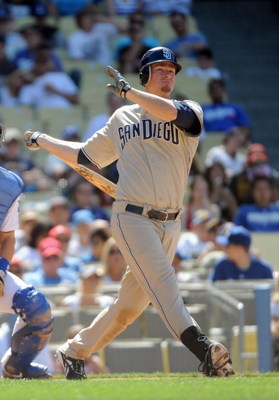 The young left fielder is playing in his first full season with the Padres and is slowly making the most of it.
The recently turned 25-year old switch hitter is currently hitting .255 with three home runs and 15 RBI, not a bad start for a second-year guy.
He's definitely improved in the statistical categories as well, hitting .318 (7/22) with runners in scoring position and .333 (4/12) with runners in scoring position and two outs.
Although those numbers could improve, they're getting what they expected from Headley, but he needs to cut down on his strikeouts (27), that's the one thing that continues to hinder his progress.
Grade: C+
Kevin Kouzmanoff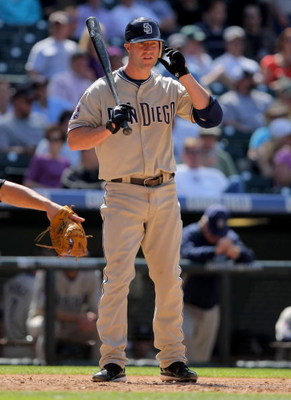 Another player, like Giles, that is really off to a disappointing start for San Diego. This was a guy that a lot of people were looking forward to, someone they thought was going to be a breakout player, but that breakout has yet to surface.
Kouzmanoff is currently hitting .222 with just one home run and eight RBI. His situational stats are even worse to this point. Kouz is hitting .179 (5/28) with runners in scoring position and .188 (3/16) with runners in scoring position and two outs.
If you want the reason for the Padres' lack of offense, you can look to Kouzmanoff and Giles, although Adrian is helping any with runners in scoring position.
Grade: D
Nick Hundley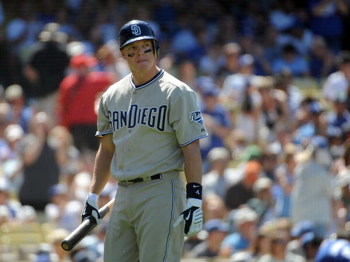 Hundley is in his first full year with the San Diego Padres and has seemed to hold his own thus far, giving San Diego something they lacked in the past, a catcher that can throw runners out.
The 25-year old catcher out of the University of Arizona, is hitting .263 with one home run and eight runs batted in thus far in 2009. Hundley had been splitting time with veteran catcher Henry Blanco but has now been getting most of the playing time, only sitting when Jake Peavy takes his turn in the rotation.
Like just about every other Padre in the lineup, Hundley also struggles in situational hitting, batting just .190 (4/21) with runners in scoring position and isn't much better with runners in scoring position and two outs, hitting .222 (2/9), striking out five times.
Grade: C-
Henry Blanco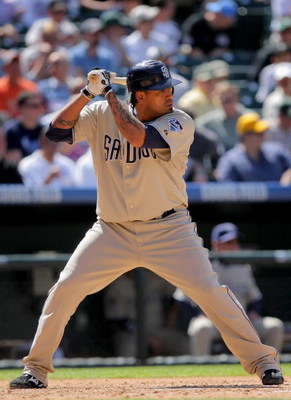 Blanco is another one of the Padres that has struggled out the gate, batting .176 with three home runs and four runs batted in.
Though he only gets playing time with Peavy is on the hill, the Padres need him to take advantage of the time he does have on the field and help this lackluster offense.
Blanco has yet to get a hit with runners in scoring position (0/9) or with runners in scoring position and two outs (0/4). Don't be surprised if the Padres release or trade Blanco if those numbers don't improve.
Grade: D-
Jody Gerut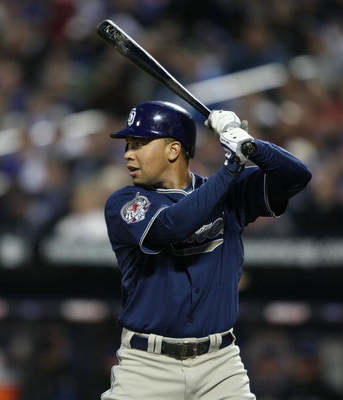 Jody Gerut was another player the Padres were excited about, he showed flashes of being the center fielder this team had been looking for, the kind of player that would give them a spark at the top of the lineup.
Gerut hasn't exactly lived up to expectations in 2009, although he has hit four home runs and driven in nine, his .228 batting average leaves something to be desired, not to mention his .195 (6/31) average thus far in May.
What the Padres were hoping for was a young hitter who could drive runs in or start rallies, but with Gerut hitting .176 (3/17) with runners in scoring position and even worse with runners in scoring position and two outs (.125), it may lead San Diego to give Scott Hairston more playing time.
Grade: C-
Chris Burke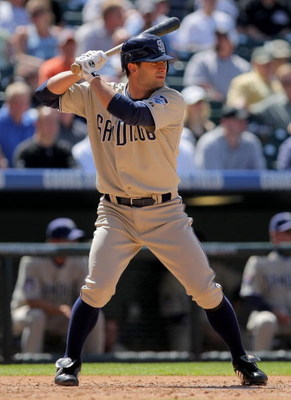 Burke wasn't even supposed to be a part of the Padres' roster in 2009, having been traded to the Seattle Mariners a few days prior to the start of the season. But after an injury to young short stop Everth Cabrera, the Padres called Seattle back and brought Burke back into the fold.
The decision hasn't exactly payed off. Burke's two errors on Sunday afternoon led to four unearned Houston runs in a 12-5 San Diego loss.
Burke seems ok with no one on base, hitting .357 (5/14), his numbers get worse from there. He is hitless with runners in scoring position (0/7) as well as runners in scoring position and two outs (0/3)
Grade: D+
Edgar Gonzalez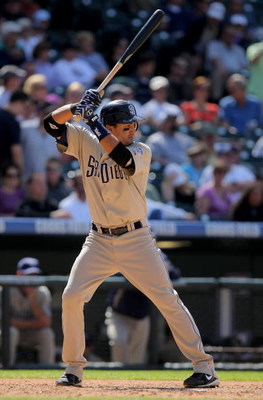 The older brother to first baseman Adrian Gonzalez, Edgar Gonzalez is in his second season with the San Diego Padres, becoming a viable option off the bench in 2008.
This season has been a different story. Gonzalez is hitting just .171 and with him not seeing much playing time with Chris Burke and Luis Rodriguez in front of him, he may not be with the Padres much longer.
Grade: D-
Luis Rodriguez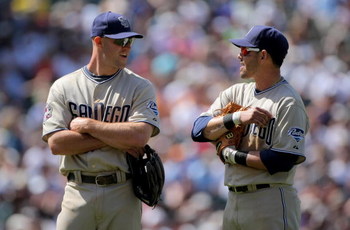 Luis Rodriguez (on right) came into the 2009 season expecting to be a backup to second baseman David Eckstein and maybe get a spot start or two at short stop, splitting time with young Everth Cabrera.
But after Cabrera's injury, Rodriguez has seen more playing time at short stop and the occasional start at second when Eckstein needs a breather.
Though Rodriguez finished the month of April hitting .245 with a home run and seven RBI, the month of May hasn't exactly started out the way he had planned.
He is hitting .250 (6/24) but has yet to drive in a single run this month, something the Padres desperately need out of this often missing offense.
Look for Rodriguez to get more playing time until Cabrera is ready to return sometime in June.
Grade: C+
Awards: Padres' Offensive MVP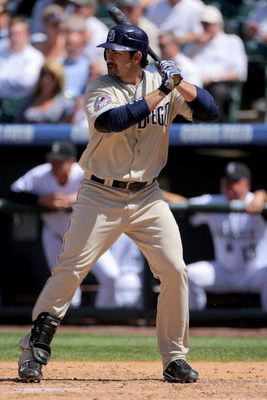 No surprise here, although Adrian's numbers with runners in scoring position aren't great, the guy is getting it done. He's been the only consistent offensive performer all season.
During an online chat with the fans, Padres' owner Jeff Moorad was asked about signing Adrian long term next season. Moorad responded "why wait until 2010." Shows how much respect Moorad has for the first baseman.
Awards: Just Plain Offensive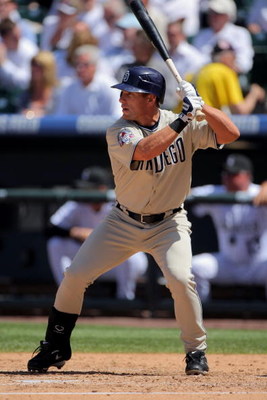 Again, no surprise. if Giles can't get above the Mendosa line (.200) by the end of May, look for the Padres to go with a platoon of Scott Hairston and Drew Macias or we may possibly see Chad Huffman or WIll Venable work their way up to San Diego from Triple-A Portland.
Awards: Best Newcomer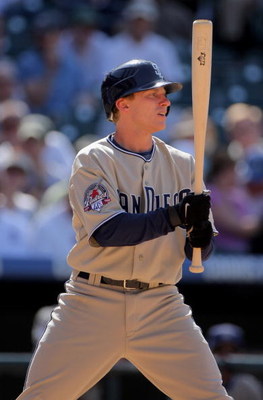 This was close between David Eckstein and rookie short stop Everth Cabrera, but since Cabrera is on the DL until late June, I had to go with Eckstein.
He has a game-winning hit already, a few big defensive plays and is the kind of guy that can provide a spark at any given moment.
Most Likely to be Traded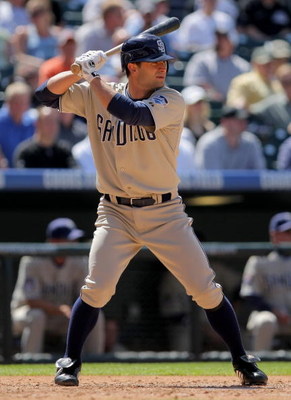 In this category, I was close to going with Brian Giles, but I can't imagine any team taking on a $9 million salary, especially since he's only hitting .158.
So, with that being said, it was a toss-up between Chris Burke and Henry Blanco, but since Burke was traded once already (to Seattle prior to the start of the season) I'll go with Burke to be traded again once Everth Cabrera returns.
Player to Watch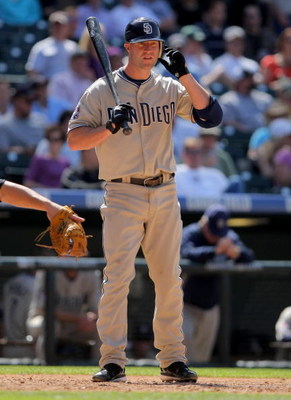 I think we haven't seen what Kevin Kouzmanoff can really do yet. He has a lot more potential than what he has shown thus far.
If he can get his swing right and show the kind of power he showed in 2008 (23 HR, 84 RBI), he could be a very big force in the Padres' lineup and finally bring some protection for Adrian Gonzalez.
In Closing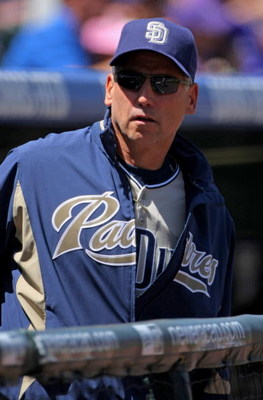 The San Diego Padres are among the worst in offensive categories in all of baseball.
If that trend continues, this team will be selling off pieces a lot faster than a lot of Padre fans expected, especially after the team's 9-3 start to the 2009 season.
Things could turn around once Walter Silva, Cliff Floyd and Everth Cabrera make their returns to the Padres, but it could be too little too late.
As for manager Bud Black, if the Padres continue their losing trend well into June, don't expect the Padres to keep him around as the manager. Although I'm a fan of Bud Black, change could be what this team needs but there's still a lot of baseball to play before that decision is made.
Keep Reading

San Diego Padres: Like this team?