5 Drivers Who May Not Be in Formula 1 in 2014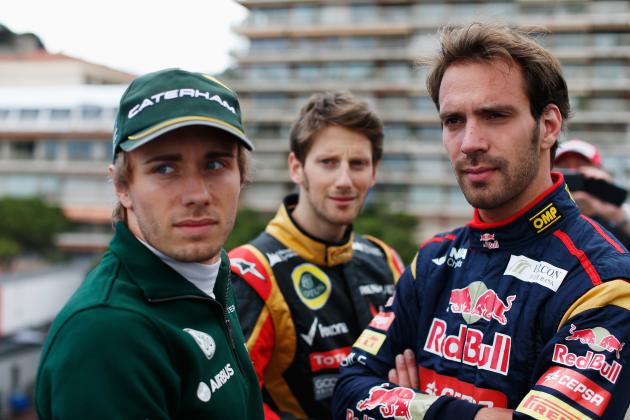 Peter Fox/Getty Images

We're entering Formula 1's 'silly season', a time when most drivers get linked to most seats and speculation mounts about who will be on the F1 grid in 2014.
Now is an era when even more rides on performance than before—the threat of another driver who brings a budget is more real than ever among the midfield teams.
It's unfair to suggest the drivers in this list will be axed at the end of the season, but what is fair is that they are under serious pressure to deliver if they are to retain their seats.
Whether you race for Ferrari or Marussia makes little difference if you prove yourself expendable. These drivers must do the opposite when the 2013 season resumes.
Begin Slideshow

»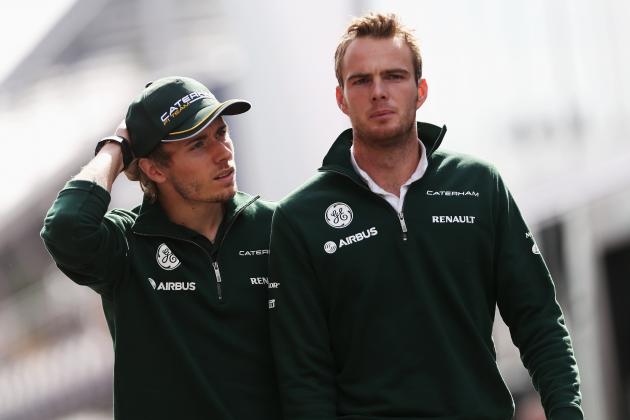 Mark Thompson/Getty Images
Pic (left) and van der Garde have battle a difficult car
The Caterham duo are included together for one simple reason - their car.
Charles Pic had an under-rated debut season in Formula 1. He ran Timo Glock, an experienced and quick driver, close during the second half of his season with Marussia.
While van der Garde may not be a ground-breaking driver, it's probably unfair to say he's been disappointing this year; his rookie season.
That adjective can be used on the team and the car, though.
That's what has restricted these drivers too, once again, only making up the numbers, and led to the team recalling Heikki Kovalainen to try and get to the bottom of their issues.
At the back of the grid, it's crucial to demonstrate ability that will see other teams inclined to give you another shot.
Jules Bianchi is doing that at Marussia, just as Pic did last season. Max Chilton could very well join the Caterham duo in missing out, but he has financial clout that, it could be said, these two can't match.
The Marussia boys will probably be safe. The circumstances surrounding Pic and van der Garde means that one, or maybe both, of their careers may well be on the line.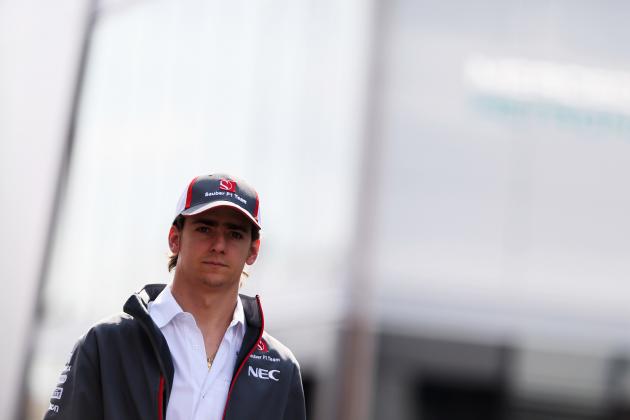 Mark Thompson/Getty Images
Gutierrez may be expendable given Sauber's recent investment
Should Nico Hülkenberg not be drafted by Ferrari, or elsewhere for that matter, the option would be to take up the second year of his Sauber contract.
This would throw a question mark over Gutiérrez's immediate future in the sport for two reasons, both of which are rather Russian.
The first is Sergey Sirotkin's mooted 2014 arrival; obvious, because there is no way Sauber would run Gutierrez as the lead driver alongside an 18-year-old rookie.
The second is the money the Russian investment will bring.
If Hulkenburg stays on, and Sauber's future is indeed more secure because of the long-term funding from the Eastern European project, why would Gutiérrez remain on their books?
I like Esteban – he has a solid if unspectacular junior record – but there are better drivers out there.
And Peter Sauber has a wonderful penchant for giving talented drivers a shot. Which would leave the young Mexican on the sidelines.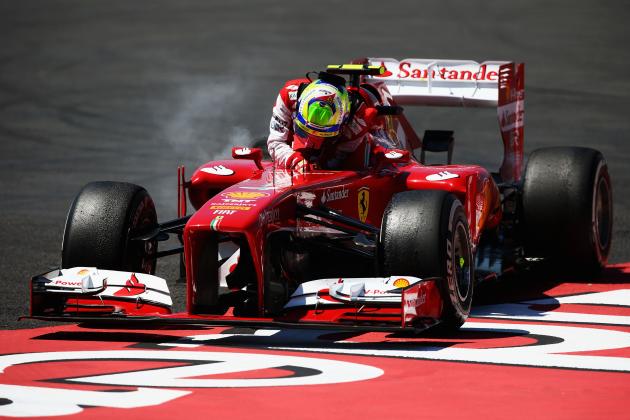 Paul Gilham/Getty Images
Felipe Massa's had an up-and-down season at Ferrari
Not a summer has gone by in recent years without Felipe Massa's seat being called into question.
That's down to his erratic form since his accident in Hungary, in 2009. Massa remains adamant he suffers no long-term effects from the crash; if we are to believe him, it's just a striking coincidence.
Nonetheless, his patchy form would be a problem for most teams. That he drives for Ferrari, and is supposed to be the rear gunner for the best driver on the grid, means his poor form is suddenly an even more serious problem.
There have been flashes from Massa to more than suggest he still has it in him. But Ferrari's patience has been wearing thin.
They like the Brazilian, but with a restless Alonso in the number one seat, surely they'd rather act now and replace him rather than run the risk of him being the lead driver should Alonso up and leave?
My choice in replacement would be Nico Hülkenburg; reality suggests he is too good to go somewhere to be a No. 2.
Where would his, or any driver's, arrival leave Massa? Likely out of F1.
He has a lot of baggage, and F1 isn't the same place as it was a few years ago. You don't fall out of a big team and drag your feet to the midfield like you could before .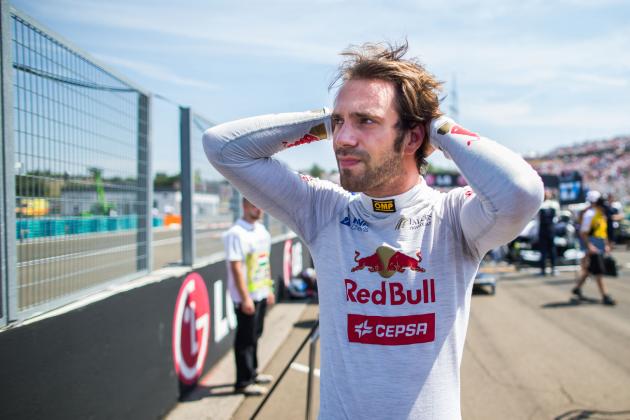 Peter Fox/Getty Images
Vergne is well-thought of, but inconsistent
Make no mistake, Jean-Éric Vergne is a highly talented young racing driver.
The trouble is, Jaime Alguersuari has potential. And so too does Sebastien Buemi. And, if you end up on the Red Bull scrapheap, it's easy for F1 to forget.
So, disregarding the potential the Frenchman has; disregarding the rumour he has a faster time on the Red Bull simulator than Sebastian Vettel himself – Vergne is a man whose time in F1 may be at an end if he doesn't up his game.
His qualifying performances are not, by and large, good enough and he is far too susceptible to car issues and problematic weekends.
He's suffered his fair share of misfortune but he's also been the architect of his own downfall on some occasions, too.
He must prove himself against Daniel Ricciardo; prove that with an extra year he can refine those rough edges. This is a must if he is to remain with Scuderia Toro Rosso for an unprecedented third season.
In all likelihood, he's probably not going to slot in immediately elsewhere.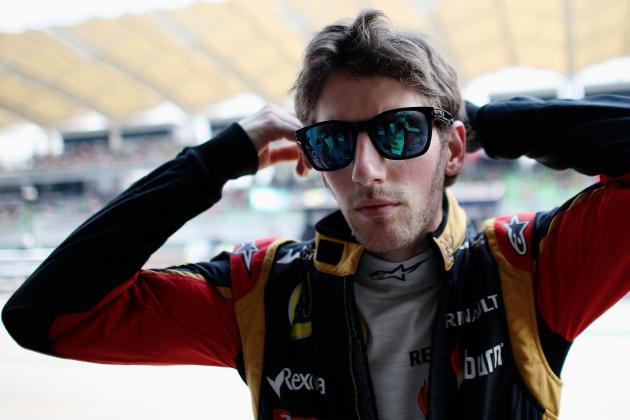 Mark Thompson/Getty Images
Grosjean is rapid, but frustratingly inconsistent
It might seem an odd choice, given Romain Grosjean could – and probably should – have won in Germany and Hungary.
But therein lies Grosjean's problem. His entire F1 career thus far has been remarkable potential blurred by incomplete weekends, errors of judgement and frustrating inconsistency.
String together a full season and he'd push, if not beat, Kimi Raikkonen on a regular basis.
The Frenchman has something about him – but he's come under pressure for not delivering when it matters.
With added investment, Lotus could become a serious and regular threat for race wins and championships in the coming season.
Raikkonen can't go on forever in his second coming, but can Grosjean be relied upon to lead a team?
Would he even be chosen, however highly he is regarded by his team, if he repeatedly fails to deliver and they can afford a replacement in the mould of Hulkenburg or Paul di Resta?
And where would he fit in outside of Lotus? If they ditch him, the first four teams will likely be unmoved, such is his reputation.
Without bringing a budget, the midfield becomes a minefield. And a driver of his pedigree will point blank refuse to tug around at the back.
Fail to convince Lotus, and Grosjean's highly-promising F1 career will likely prove a learning exercise for what, I believe, would be a fantastic career racing prototypes.